Welcome to Oh, honey honey : )  I assume at this point in the blog the three people reading this post are either related to me by blood or were heavily peer pressured by me to be here.  I can't remember exactly when I came up with the idea for the name of the blog, but anyone who knows me will be shocked that this was a decision that came fairly easily (minus the ah, honey/aw, honey/oh, honey debate I had with my mom a few days ago…).  The title is inspired by The Archies song "Sugar, Sugar" and so far I love that it gets stuck in my head every time I say the blog name.  We will see how long that lasts.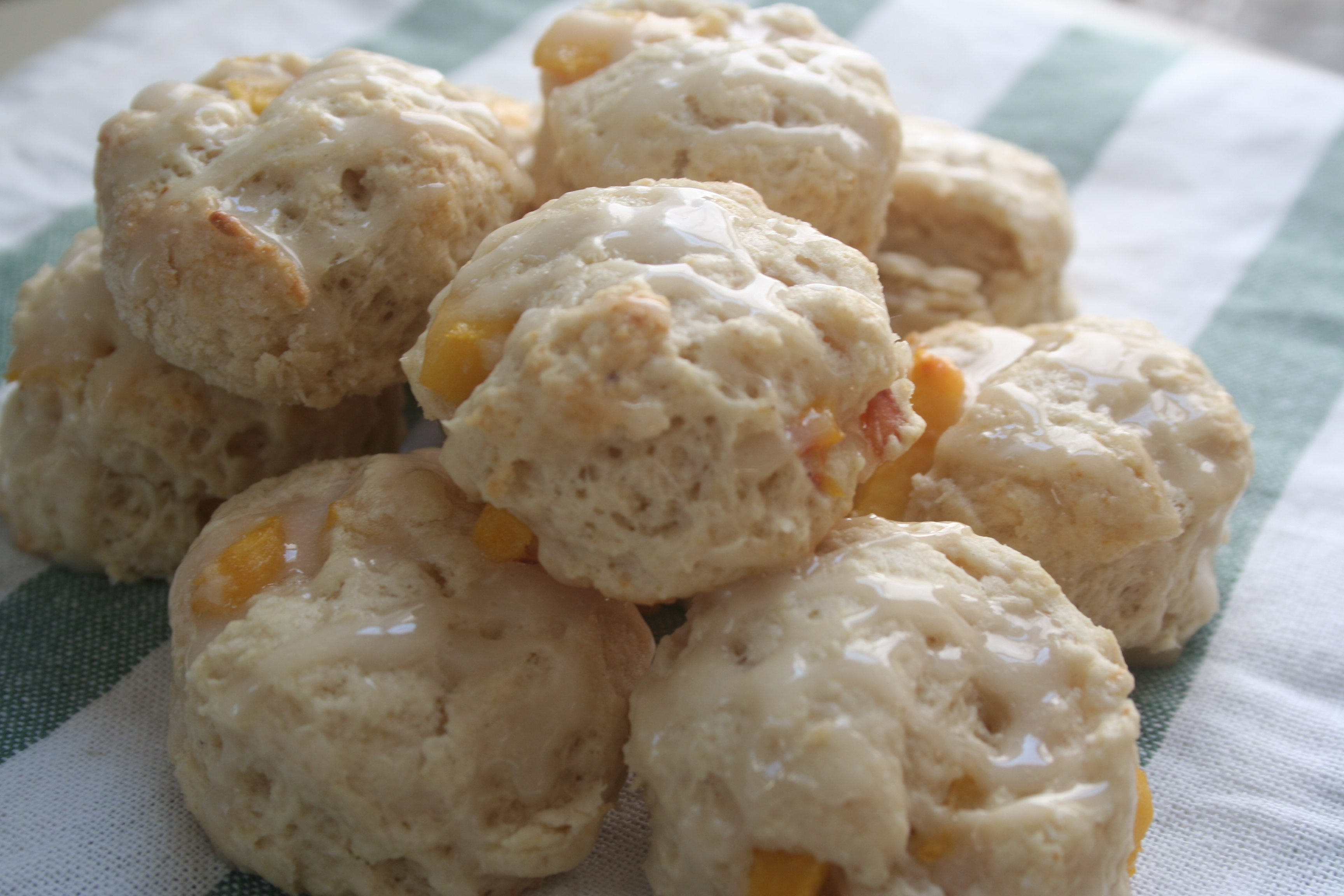 These peach scones are delicious and easy, which is exactly the type of baking I like to do.  Having just moved across the country, anything that required a hand mixer or even a cake pan was out of the question.  I found this recipe from Joy the Baker (who uses strawberries instead of peaches) and it seemed like a perfect fit.  These babies are mixed by hand and don't even require the cutting of cold butter into flour that most biscuits and scones do.  Who has time to cut butter into flour on a Tuesday.
These scones are mini in size because it's not always the right time to down a scone the size of your face (or is it?).  I used an ikea tea light holder to cut the shapes because I'm fancy like that but you can use a 1 1/4 inch biscuit cutter if you want to play by the rules.  The dough can also be cut into squares or triangles if you prefer that method.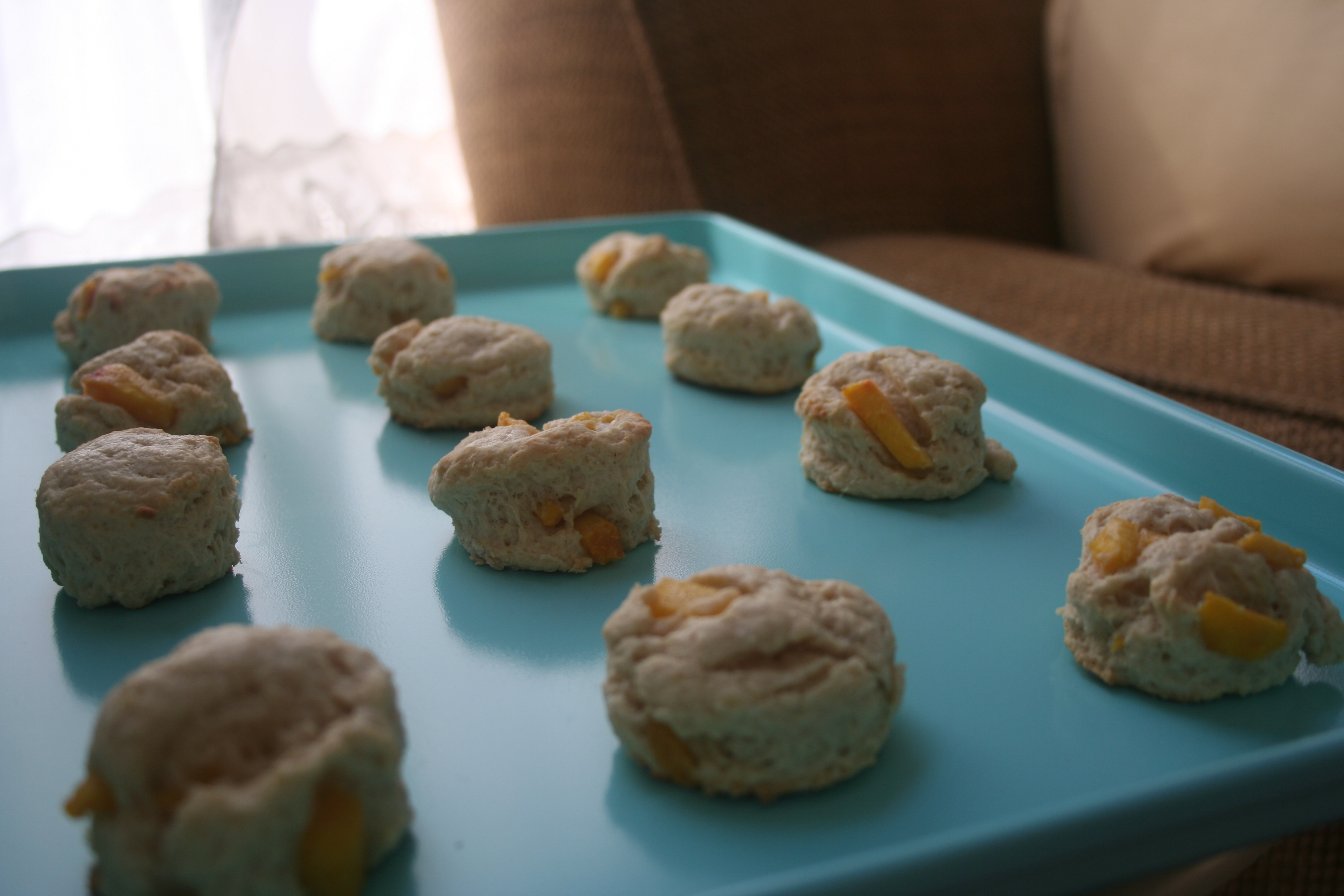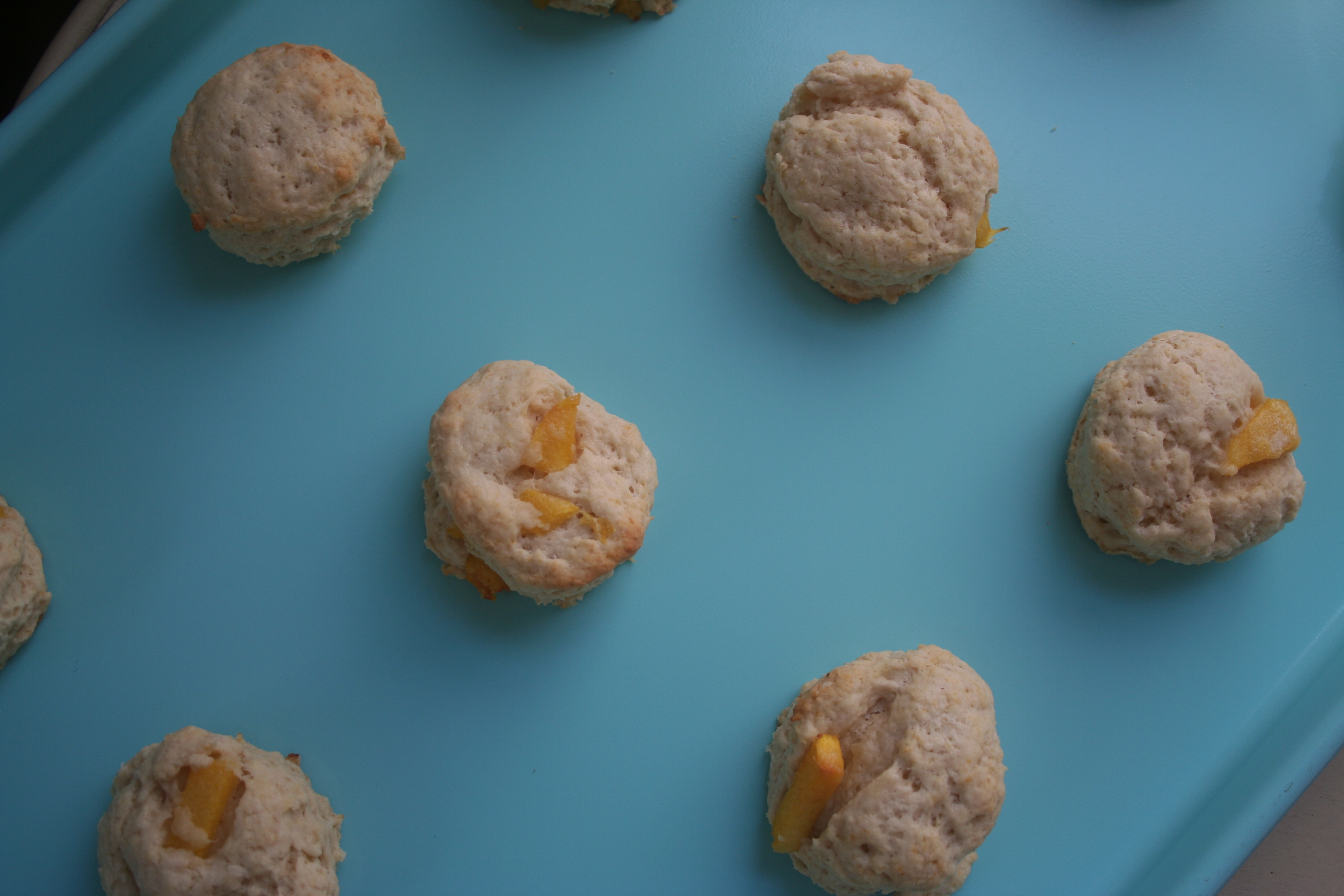 The salted honey glaze came from my desire to have a little consistency between title and first post.  Also glazes, icings, and frostings are some of my favorite foods.  The honey actually keeps this from tasting like a pure liquid powdered sugar, even though it is in fact sugar on top of more sugar.  Bottom line, honey is delicious and I look forward to using it excessively in this blog.
The proportions for the glaze can be played with and if you want a little more salt or a little less powdered sugar, go crazy.  If you eat a whole bowl of the glaze before you ever use it, that's ok too.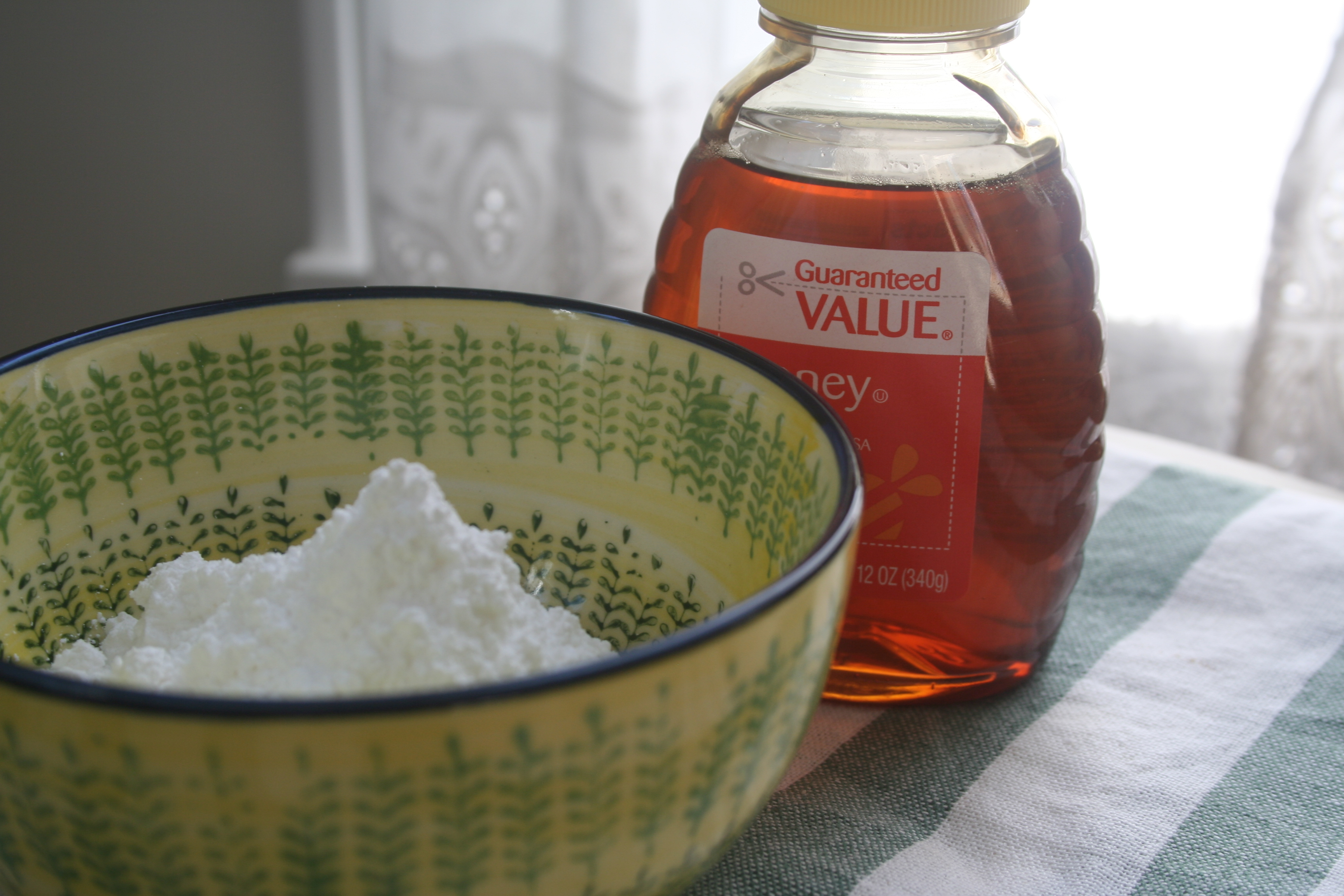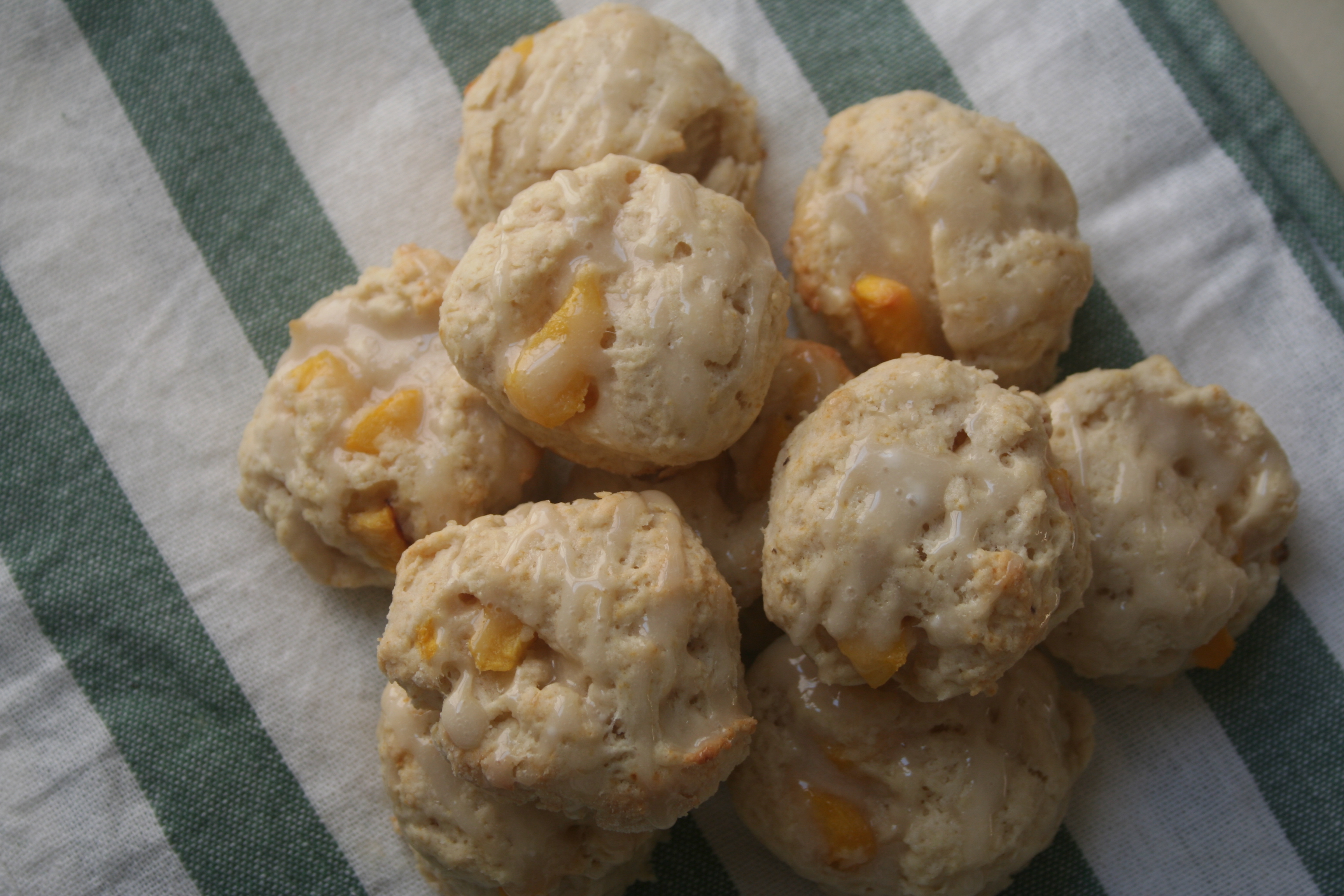 Thank you so much for making it this far in the post.  Now you can actually have the recipe.
Mini Peach Scones with Salted Honey Glaze
(adapted from Joy the Baker and King Arthur Flour)
Peach Scones
3 cups of all purpose flour
1 tablespoon of baking powder
1 teaspoon of salt
1/3 granulated sugar
1 teaspoon vanilla extract
1 1/3 cup heavy cream (plus a few more splashes if needed)
3/4 to 1 cup of finely diced peaches
Salted Honey Glaze
1 cup of powdered sugar
1 tablespoon of honey
Pinch of sea salt (table salt also works)
1-2 tablespoons of almond milk (or any other milk)
Directions
Preheat the oven to 425 degrees and line a baking sheet with parchment paper.
Wisk together dry ingredients (flour, baking powder, salt, and sugar) in a medium sized mixing bowl.
In a separate bowl stir together the vanilla and cream (full disclosure: I used a drinking glass as I don't have mixing bowls at the moment).
Slowly pour the cream/vanilla mixture into the dry ingredients, combining as you go.  Next, add in the diced peaches (or whatever fruit you like).
On a floured surface, knead the dough together and pat into a disk that is about 3/4″ thick.
Cut out your scone shapes and place on the baking sheet about 1″ apart.  These don't spread much so not much to worry about in that area.
Bake for around 12 minutes until slightly golden on top.  My scones were a tad small and really only took around 10 minutes.
For the glaze you just need to mix everything together in a bowl (taste testing encouraged) and use all the restraint you have to wait and glaze the scones once they are cool.
Enjoy!