This bread means I have to admit it's fall.  Fall is beautiful and full of flannel, football, and apple crisp – but it also means winter is coming.  I don't watch Game of Thrones so I don't totally understand that reference but I do know I feel the same blood curdling fear of winter that they do.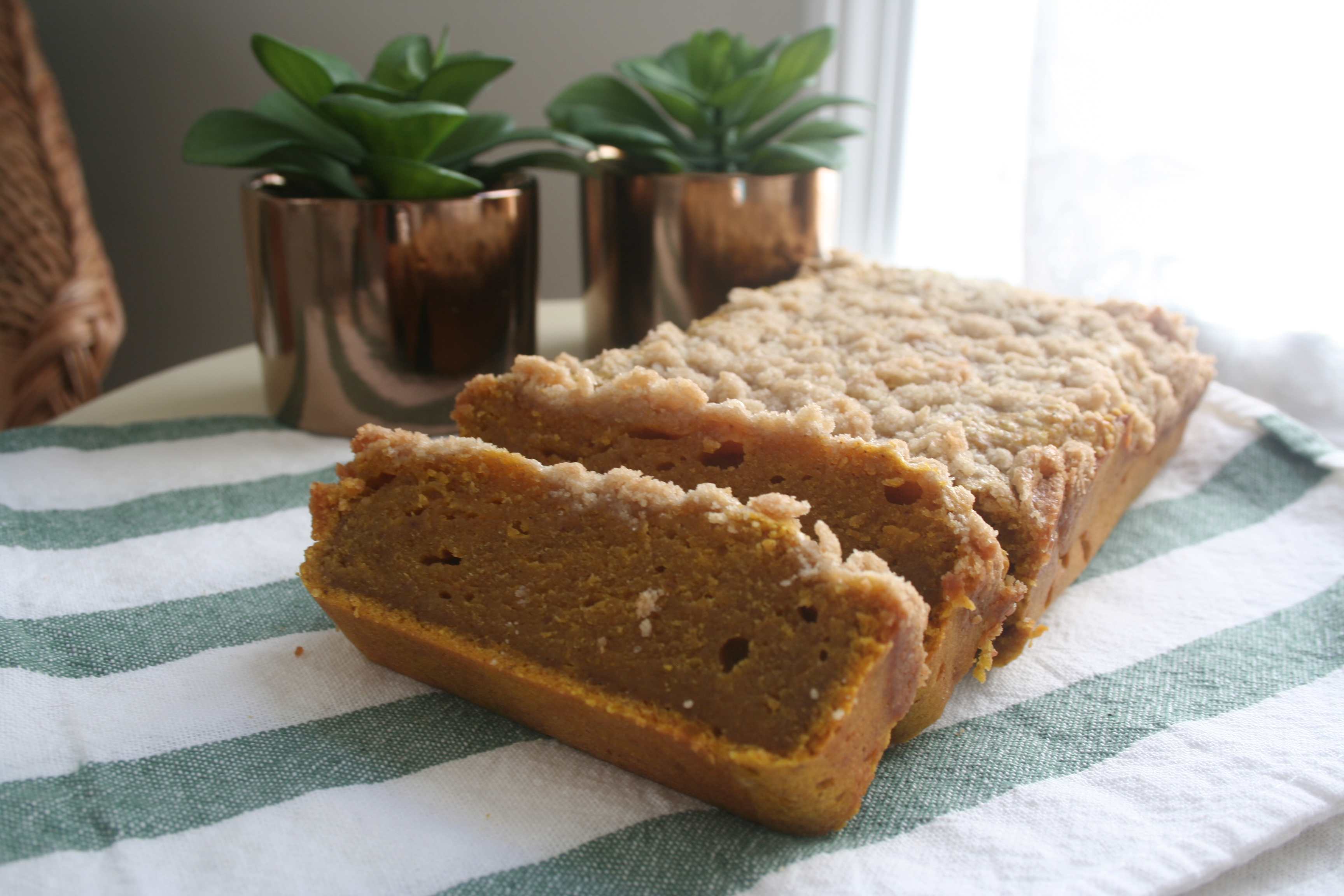 Having just moved back to the East Coast from perpetually beautiful San Francisco, I am not prepared.  Ask anyone who has crossed my path in the past 3 months and they will tell you I have complained in length about my worry of the cold weather coming.  When chatting with the firefighter checking my alarms today, I may or may not have asked him if not being able to shovel out my car was a good enough reason to call them in the future.  Keep in mind, it was 72 degrees at the time.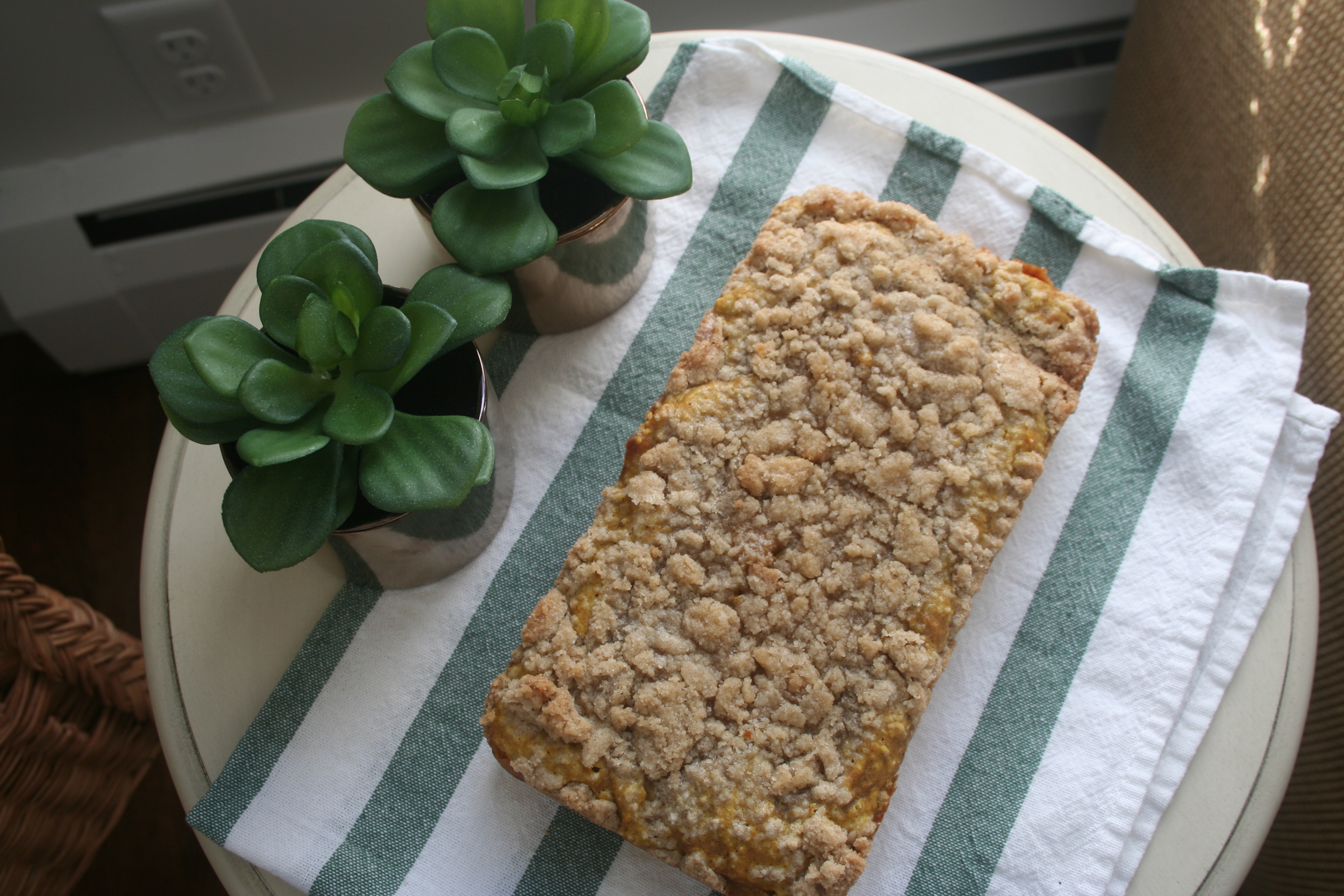 So instead of crying myself to sleep at night thinking about the 22 months of winter to come, I'm focusing on the good stuff.  The bread stuff.  Pumpkin bread is just so cozy.  When this was baking, my apartment smelled like warm cinnamon and buttery brown sugar crumbs.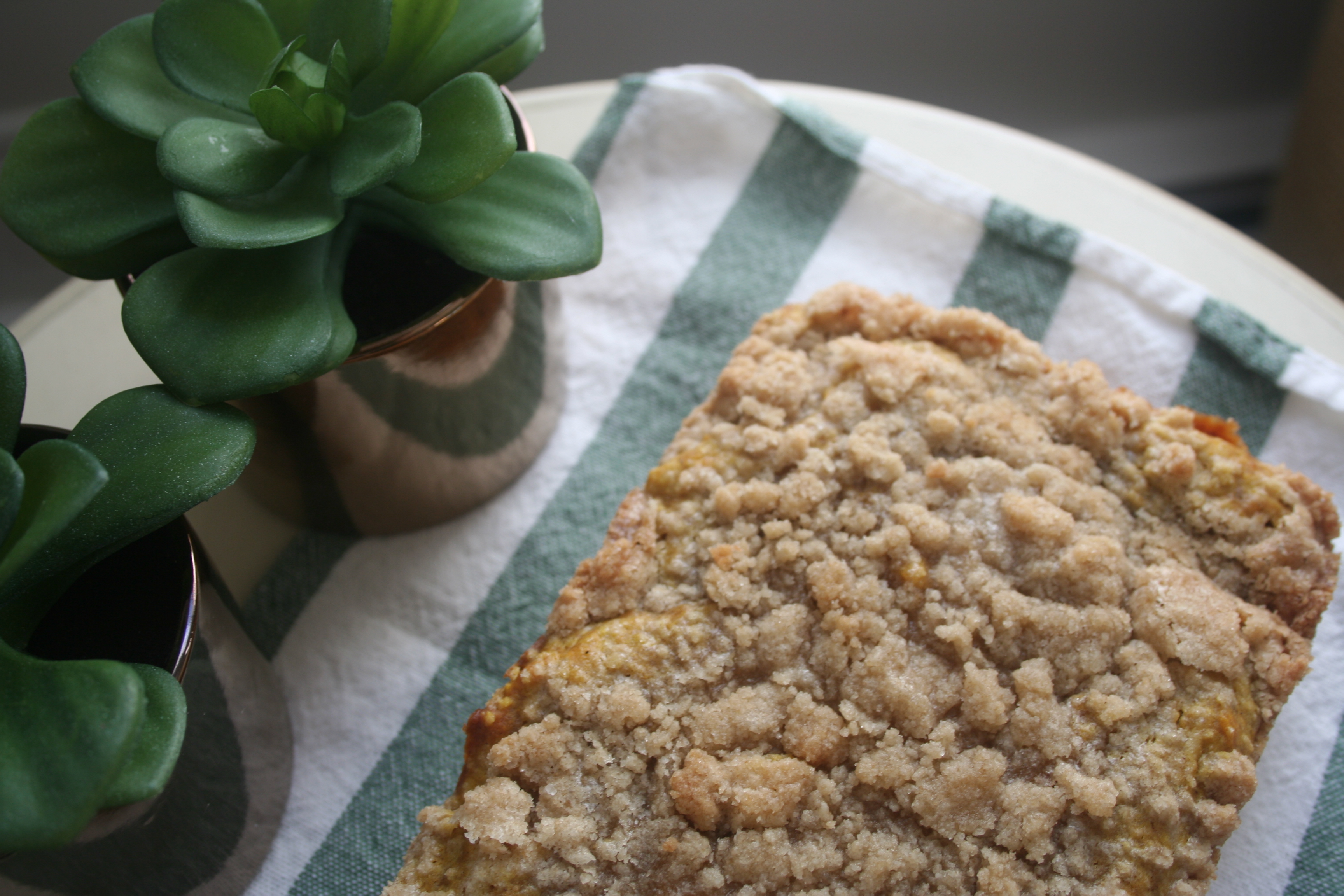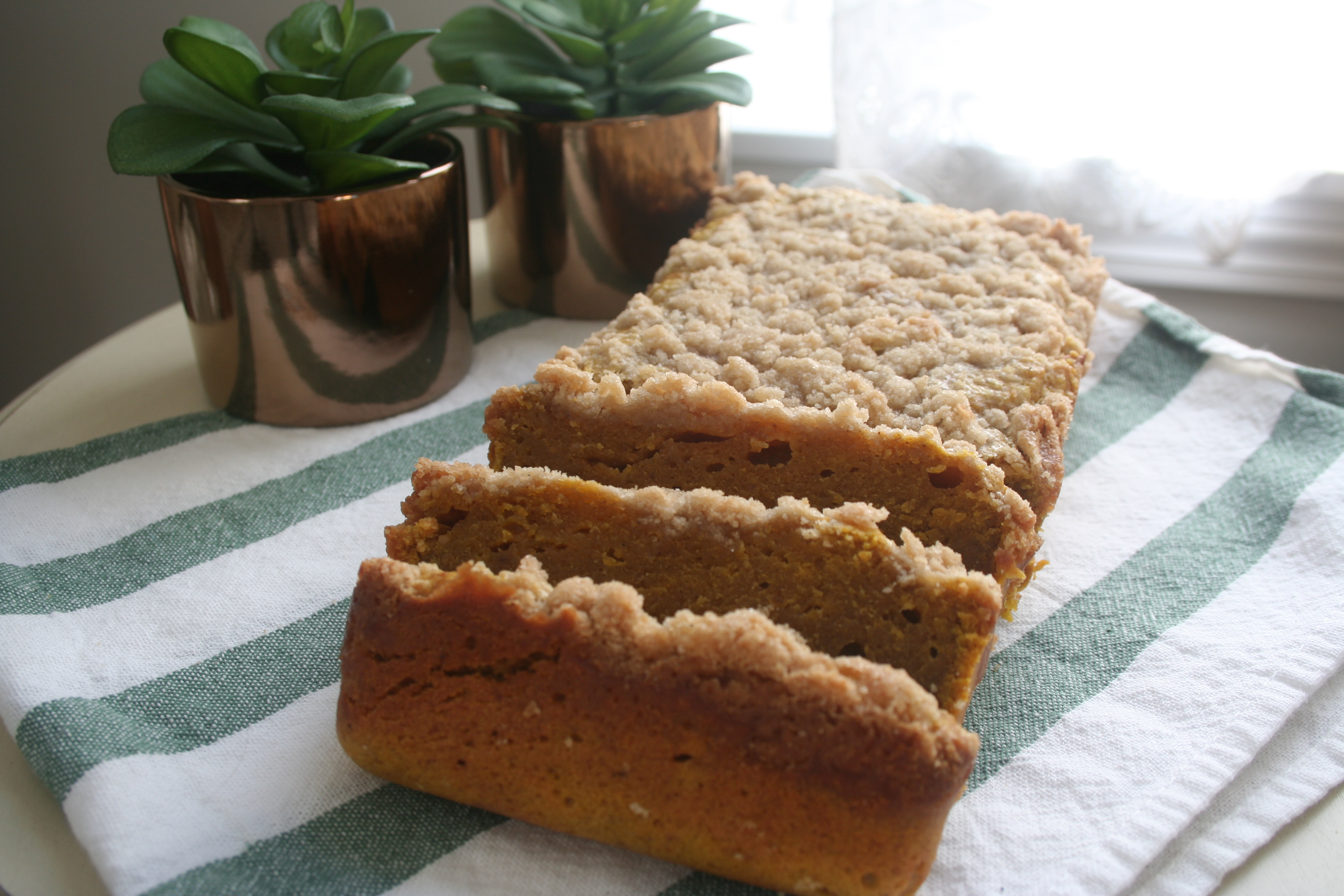 The recipe is originally from my aunt's girl scout troop and they recommended baking it in 3 coffee canisters.  I imagine this was meant to be crafty and/or encourage recyling.  Does coffee even come in canisters anymore or just bags?  I don't drink coffee because even though it is delicious, I start shaking like a leaf three sips in.
I added the streusel topping component myself because I think streusel topping should be it's own food group.  That being said I really layered it on and may have actually weighed the bread down since it came out a little flatter than usual.  There are worse problems to have.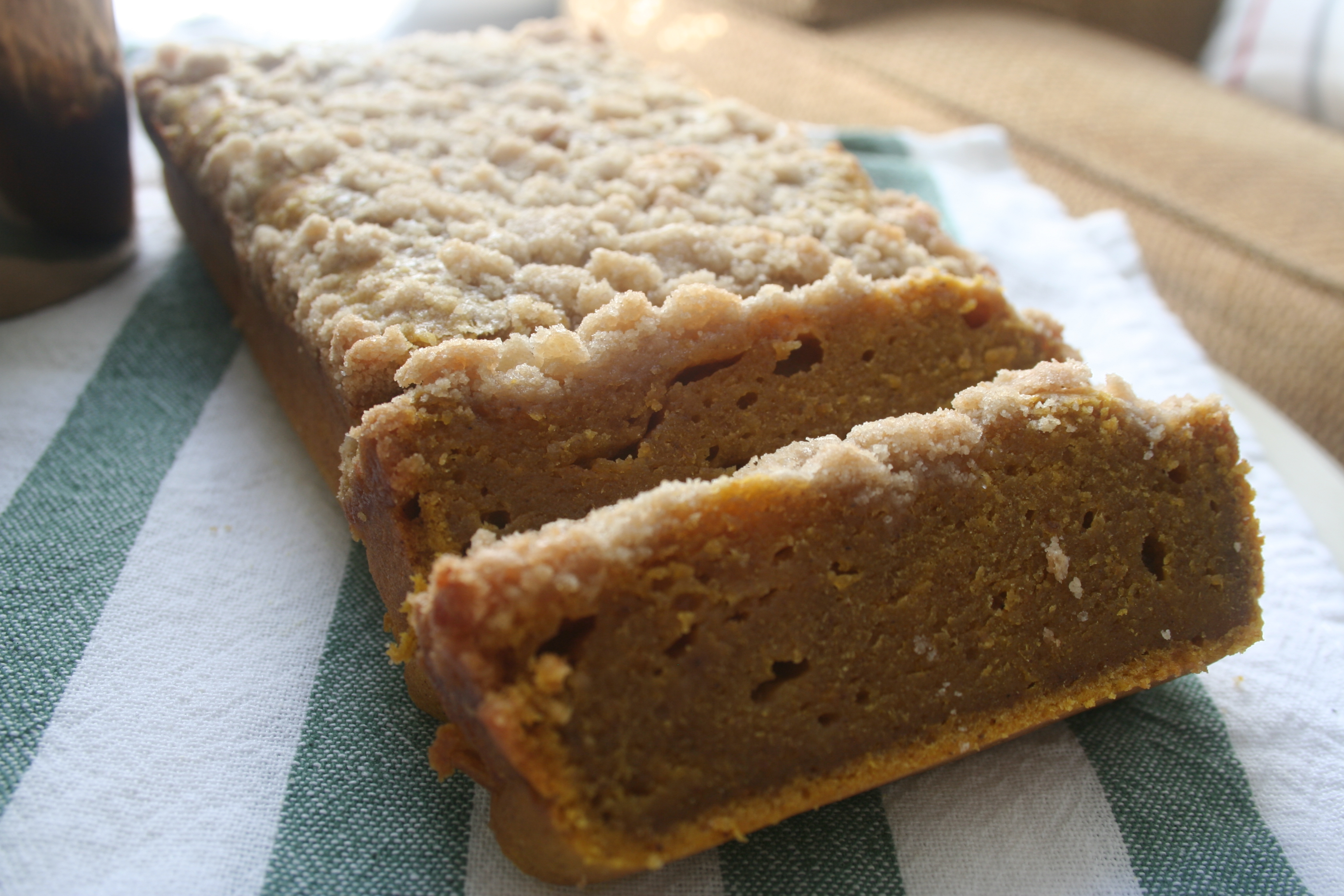 Aside from coming out a little short in stature, this bread is deliciously moist and dense without being overly sweet.  With all that pumpkin, it's practically a health food.
The recipe makes two loaf pans. One for sharing and one for hoarding while wearing your favorite flannel.
Pumpkin Bread with Brown Sugar Streusel Crumb
(recipe adapted from the girl scouts…?)
Pumpkin Bread
2/3 cup of butter
2 2/3 cups granulated sugar
4 eggs
1 can of pumpkin
2/3 cup of water
3 1/3 cups of flour
1/2 teaspoon of salt
1 teaspoon of cinnamon
1 teaspoon of ground cloves
Brown Sugar Streusel Crumb
1/2 cup flour
1/4 cup of butter
1/4 cup granulated white sugar
1/4 cup brown sugar
Directions
Preheat the oven to 350 and grease two loaf pans.  Cream the butter and sugar together, then add the eggs, pumpkin, and water.  Next incorporate all the dry ingredients.  You can also stir in any nuts, raisins, or chocolate chips at this point.  Or cinnamon chips!  That sounds like a great idea you just had.
Pour the batter evenly into the two loaf pans.  Mix together all of the streusel topping ingredients and don't be afraid to get in there and work with your fingers.  You want the end result to resemble a coarse crumb, similar to the look of the finished topping.
Spread the crumb topping over each loaf (you may have a little extra if you didn't go hog wild like I did).
Bake the two loaves for 40-50 minutes until the bread springs back a bit to the touch.
Enjoy!