In the movie "Waitress", Keri Russell is an impossibly adorable and quirky diner waitress.  She bakes pies and gives them equally adorable and quirky names like "Kick in the pants pie", "Marshmallow mermaid pie", and "Earl murders me because I'm having an affair pie".
Some names are more adorable than others.
If this pie had a name it would be "Last kid picked in kickball pie".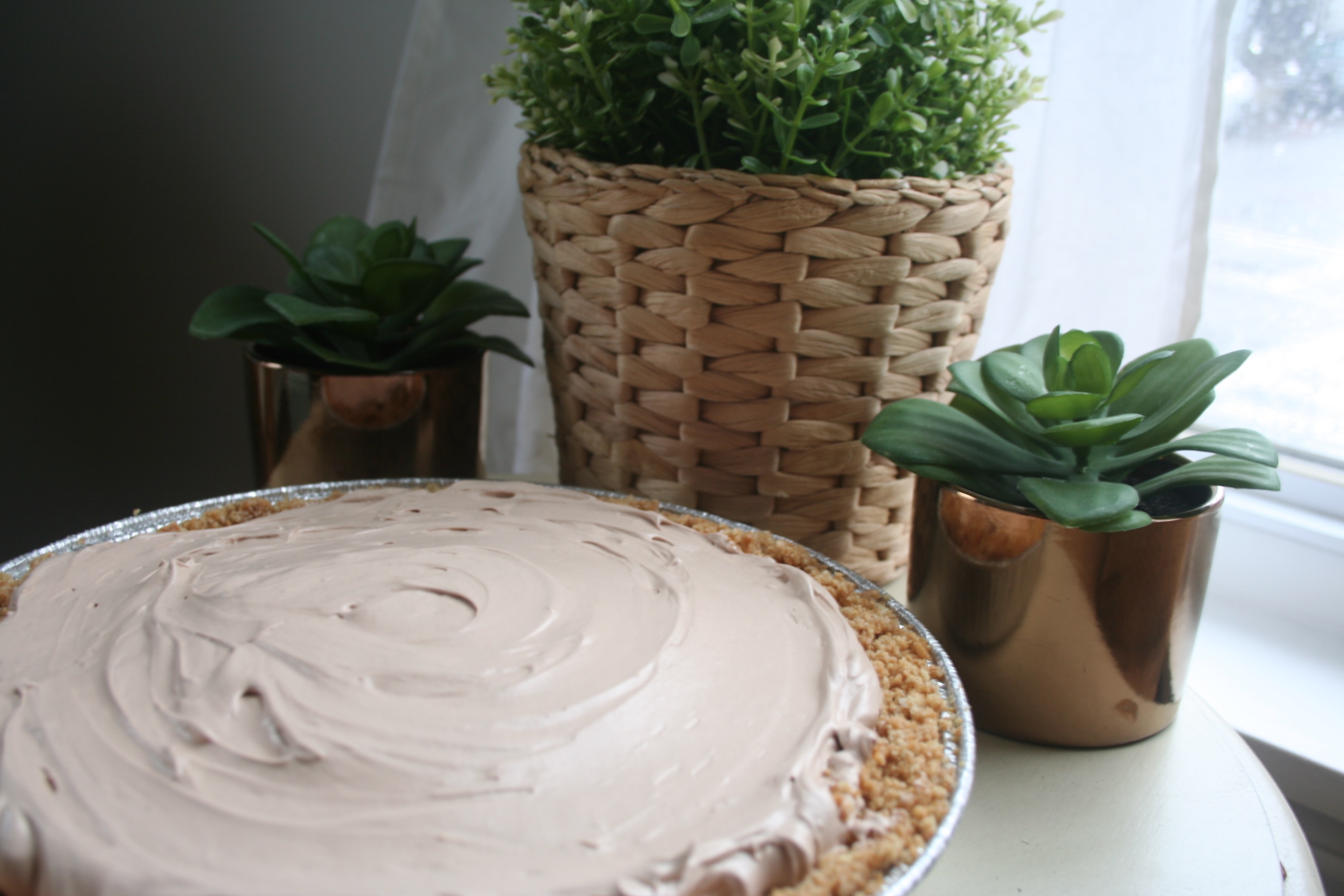 Don't get me wrong, this pie is delicious, but it wasn't the first thing that crossed my mind when I got a request for a graham cracker crust dessert.  I originally aimed far too high, thinking I would make s'mores bars with homemade marshmallow – but that requires a candy thermometer, which I 200% do not own.  Then I thought of making a cheesecake – but that requires a water bath baking method, and if anyone is getting a hot bath on a Friday night, it's me not a cheesecake.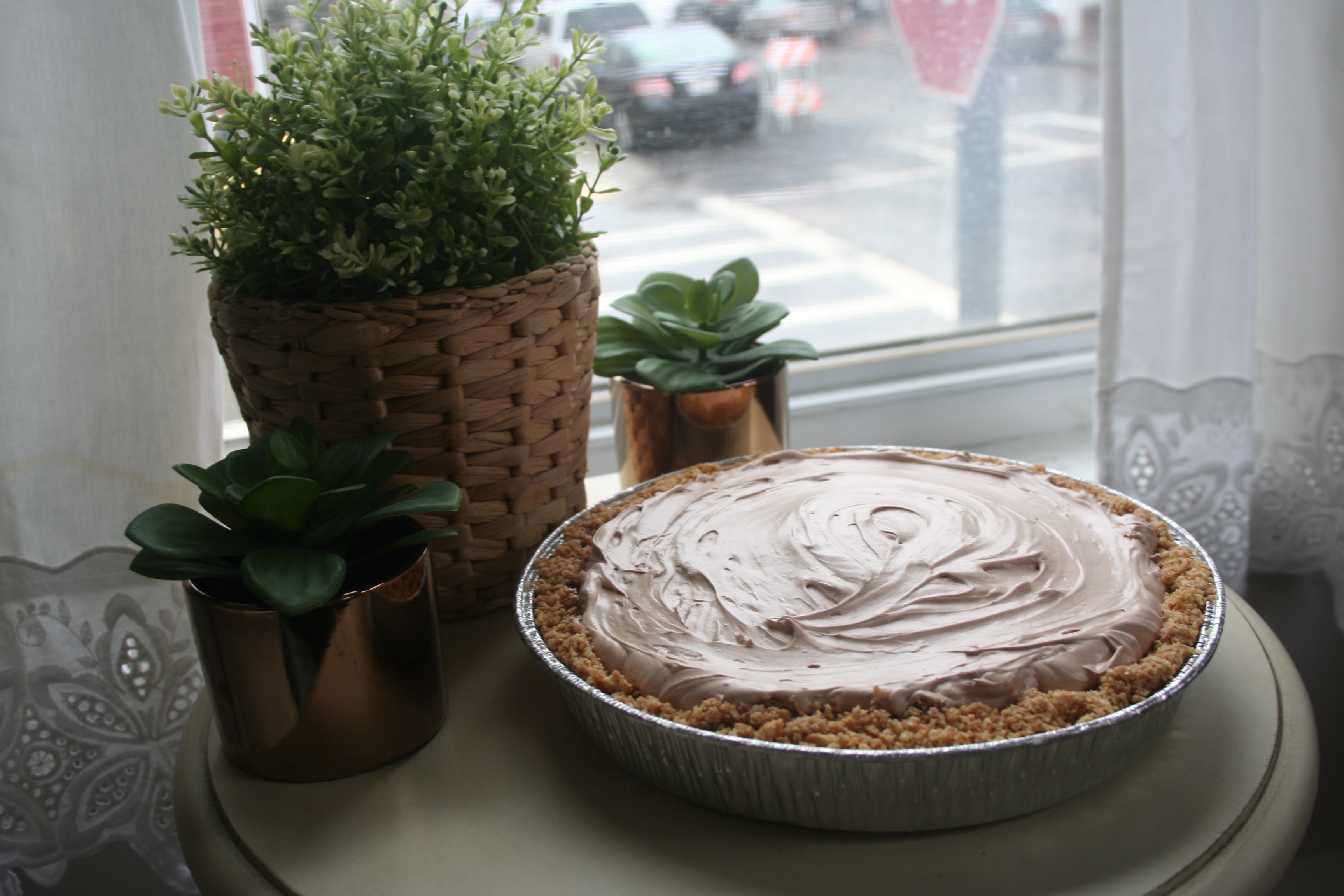 So that's how I ended up with this third-times-the-charm beauty.  Just like the true last kid picked in kickball, this pie deserves a chance.  A classic, buttery graham cracker crust is the base for a cheesecake-like filling (no bath required).  Nutella is one of my favorite food groups, so I was quite happy to stir some of it into the sweet, dreamy filling.
I don't normally lean towards mousse-like desserts.  I like my desserts to have substance.  However, this pie is magically rich and creamy, while also light and fluffy.  I attribute this to the tub of cool whip mixed in.  If there was ever a time to use a mystery non-dairy topping, this is it.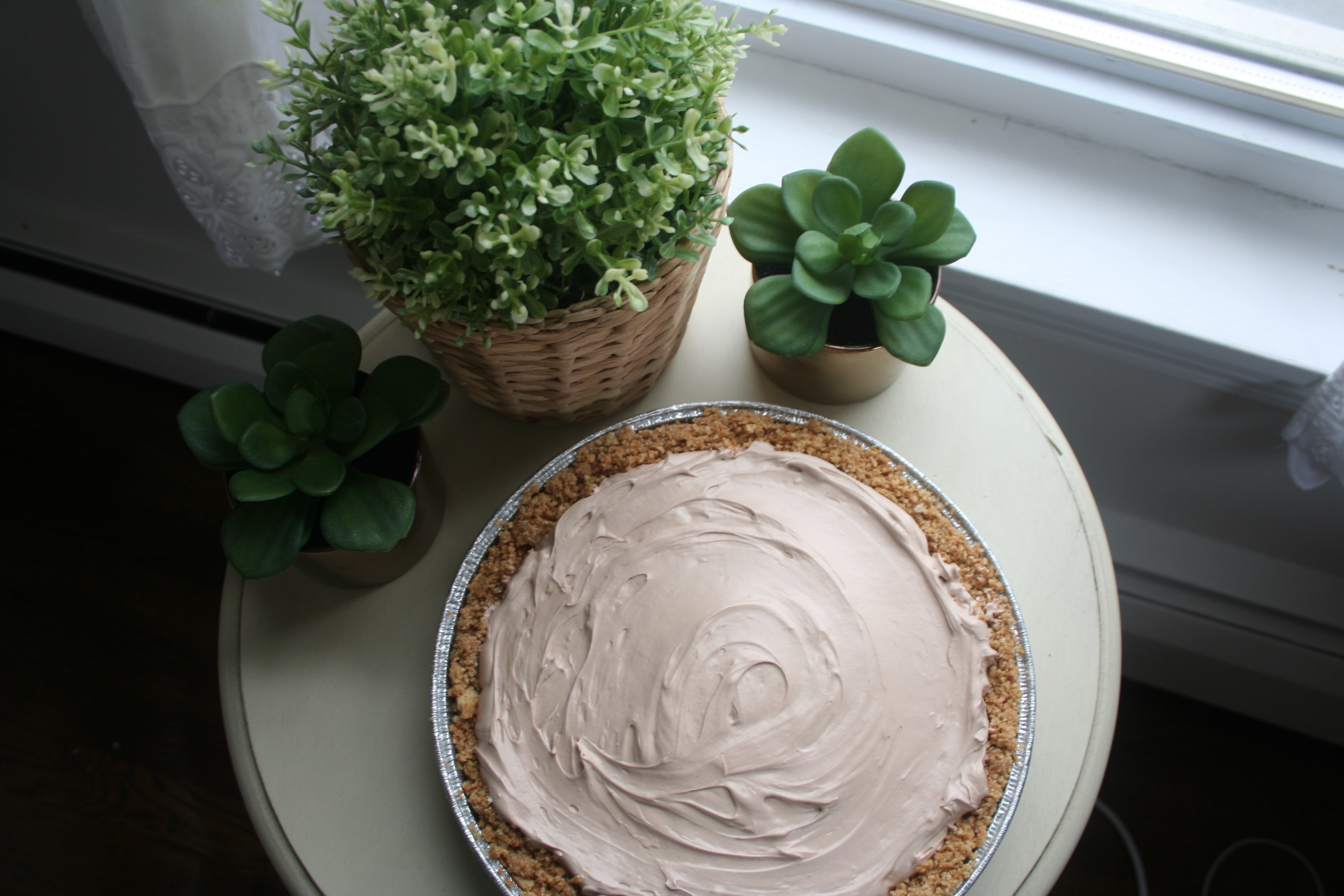 Please note – it was rainy the day I took these pictures.  My pie photos aren't normally so ominous.
This entire pie is no-bake, which means you basically whip a lot of things together and call it a day.  It does take a few hours to set in the fridge (4 minimum, but overnight is best) so keep that in mind when you plan what netflix show you are going to binge watch as it sets.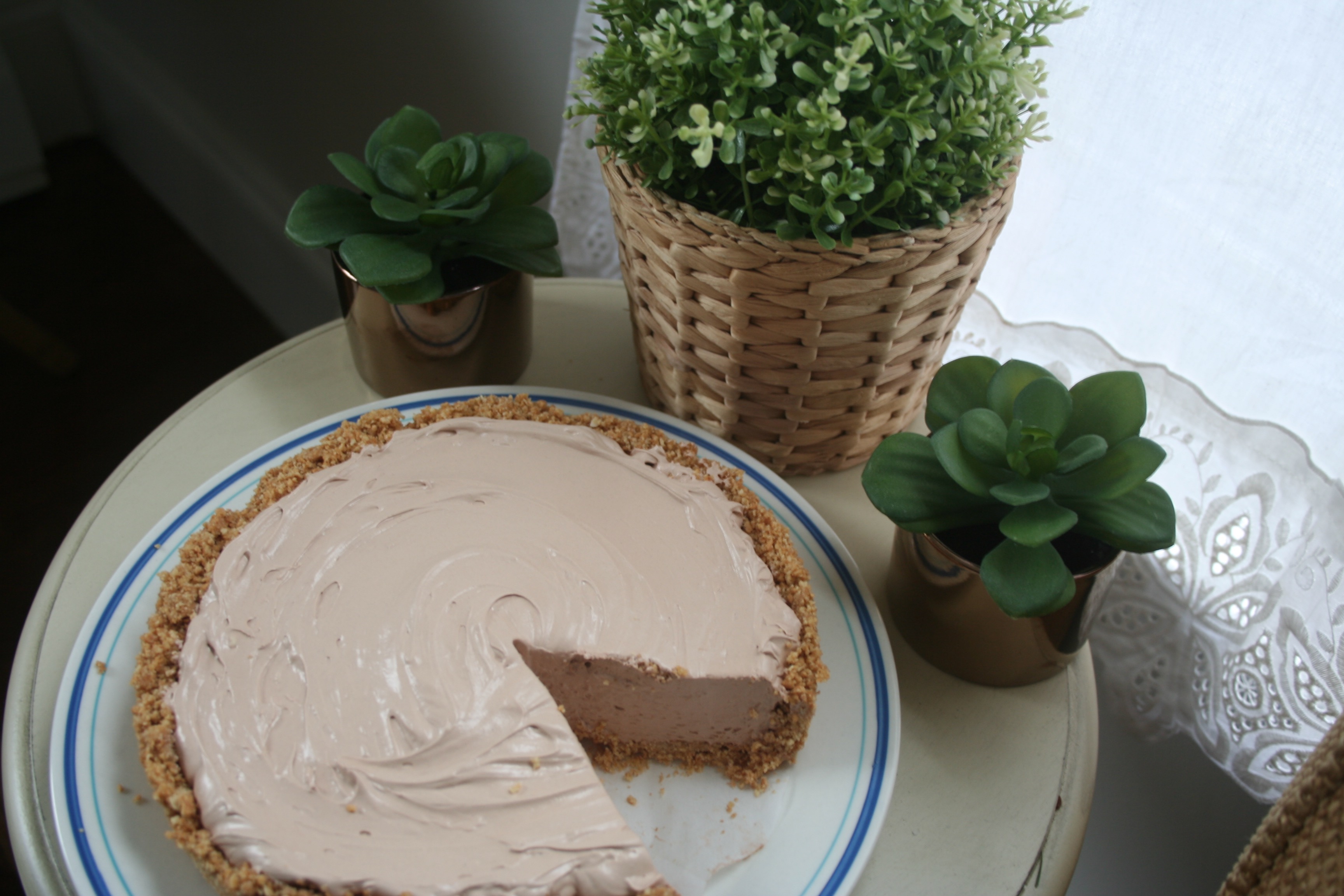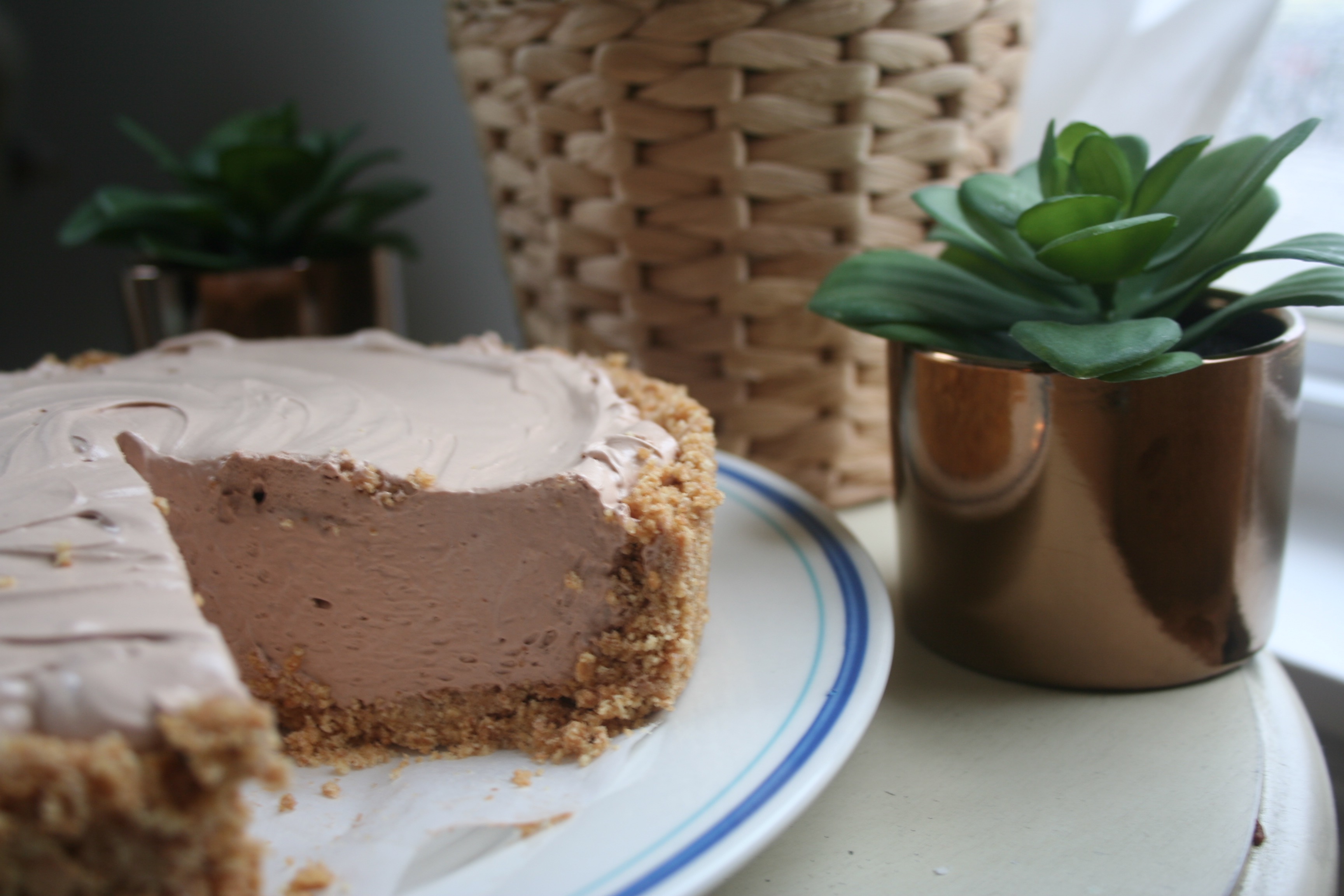 Can we take a moment to appreciate this next picture?  Having this slice come out perfectly is the closest thing to a miracle I've ever experienced.  I'm sure it's similar to the joy of having your first child. Maybe better.
 I may name my first child Nutella.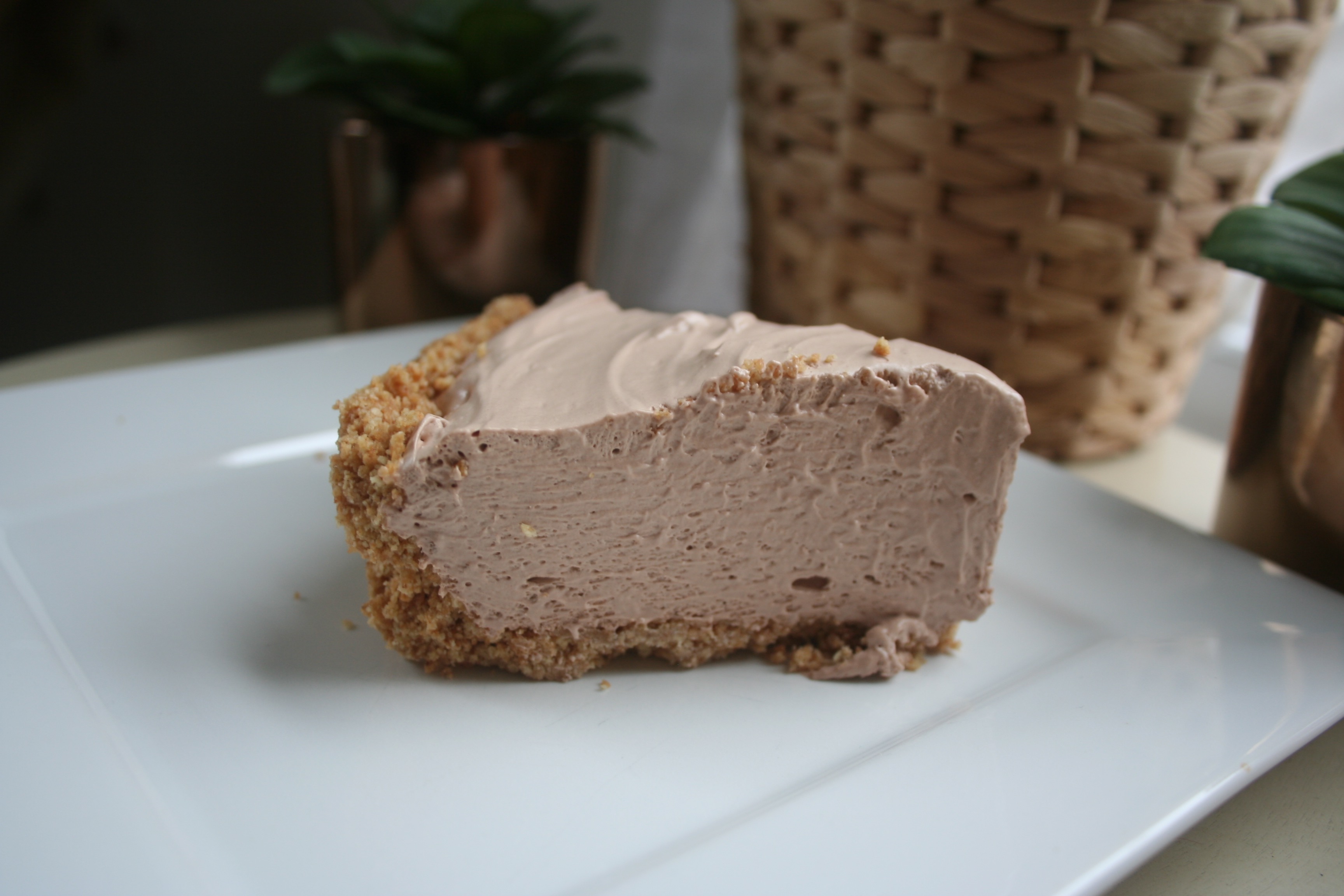 One last profile shot, because I'm a proud stage mom of this piece of pie.
Whipped Nutella Pie
(recipe from just add sprinkles )
 Graham Cracker Crust
2 1/2 cups graham cracker crumbs (about two sleeves)
1/2 cup butter, melted
Nutella Filling
1 8oz block of cream cheese
1 cup powdered sugar
2 teaspoons of vanilla extract
3/4 cup nutella
1 8oz tub of cool whip
Directions
Crush up your graham crackers either by pulsing in a food processor or going to town on them with a rolling pin.  Combine with the melted butter and press into an 8 or 9 inch pie pan.  I highly recommend lining the bottom of the pan with parchment paper for easy pie removal later.  You can keep the crust all on the bottom of the pie or press it up the sides as I did.  I didn't have a spring form pan but I used a disposable foil cake pan and was able to cut away at the sides in order to remove the pie at the end (hence the miracle slice).
In a stand mixer or with a hand mixer, beat the cream cheese first, then add the powdered sugar and mix that in.  Next add the vanilla and nutella and combine.  Finally, add the tub of cool whip in thirds so you don't end up wearing the cool whip.  Mix all ingredients together for about a minute until the filling is smooth and fluffy.
Pour the filling into the pie crust and let it set for 4-6 hours, or overnight.
Enjoy!