This bread is extremely nostalgic for me. My mom had 3 exceptionally good quick breads on rotation while we were growing up including zucchini bread, pumpkin bread, and this cranberry bread. Summer, fall, and winter as it turns out. Do people not eat quick breads in spring? Let's work together to change that.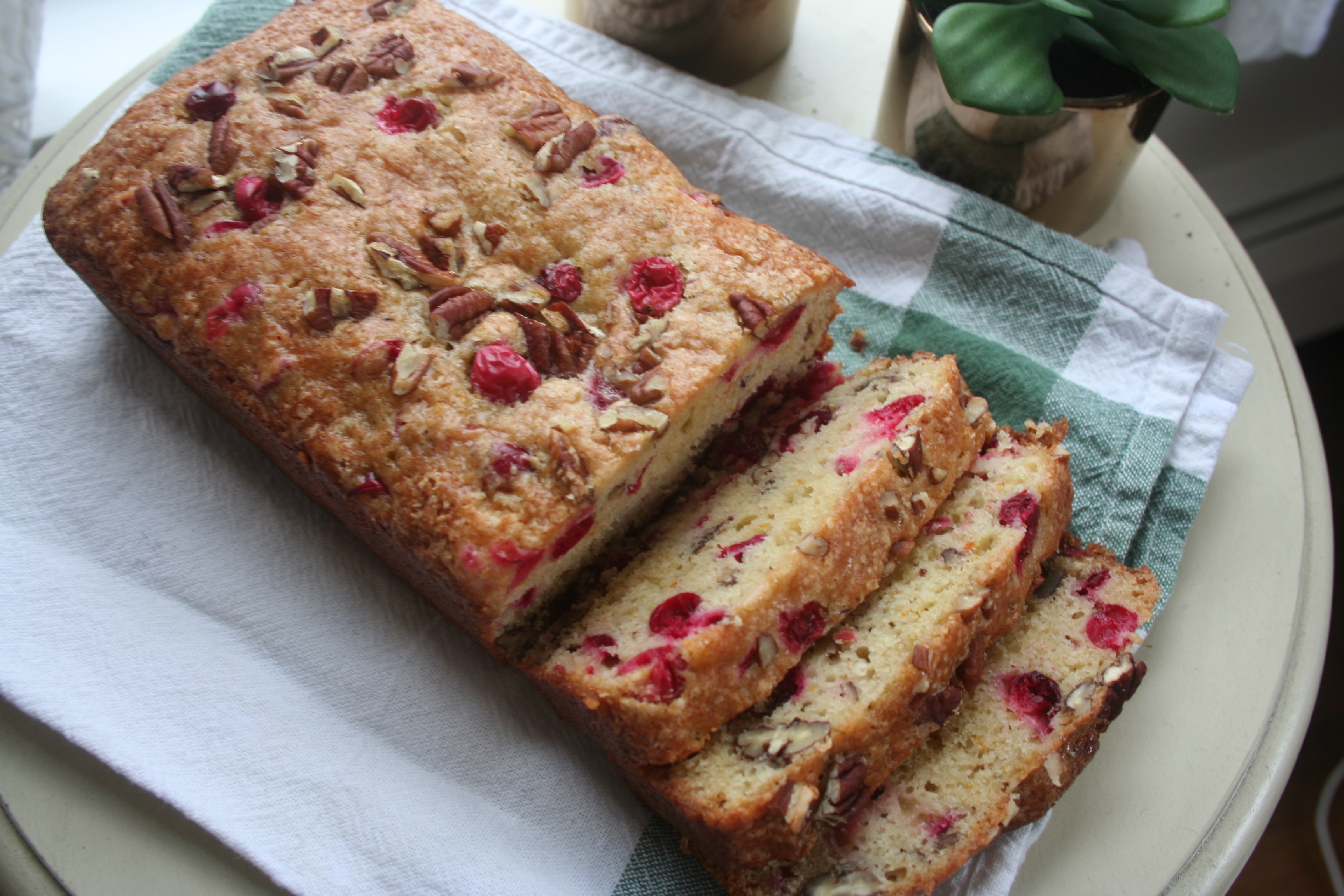 As a kid, I never really thought to request that she make the bread, so it was always just a fun little surprise when it turns out she had. Oh is it magical surprise bread day? Fantastic.
Of course now as adults, my sisters and I demand this bread in a decidedly un-adult way. Banging on pots and pans is not above us. Shockingly, she usually gives in, turning out two perfect loaves, one with nuts and one without. I used pecans this time and I think my mom usually uses walnuts. Use whatever nuts you please. Or don't. Go nuts.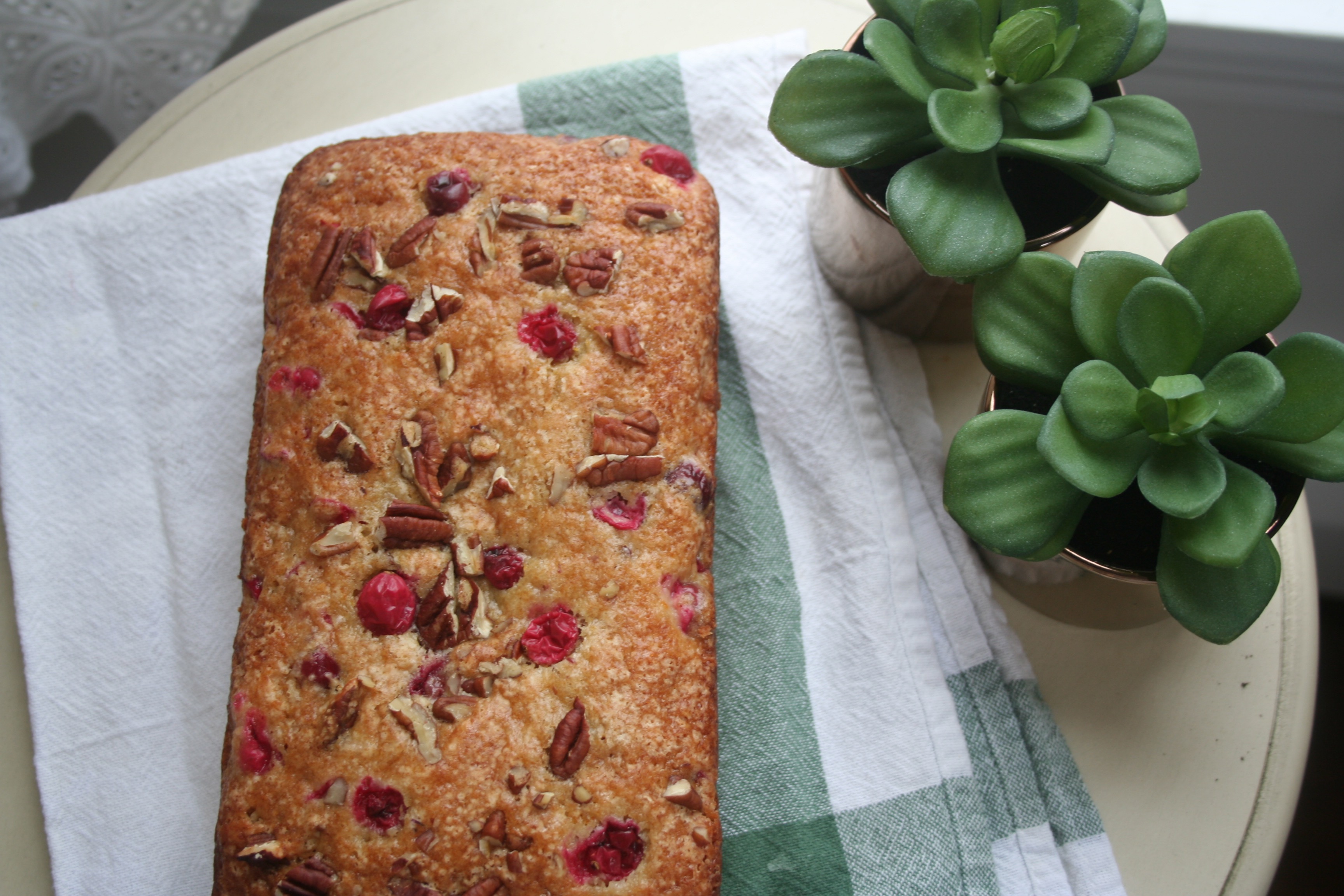 This bread is everything cranberry bread should be – a sweet and cakey, orange-scented base, with bright and tart pockets of fresh cranberries tucked inside. The flavors really settle in and get cozy on day two, so the experience is even more magical.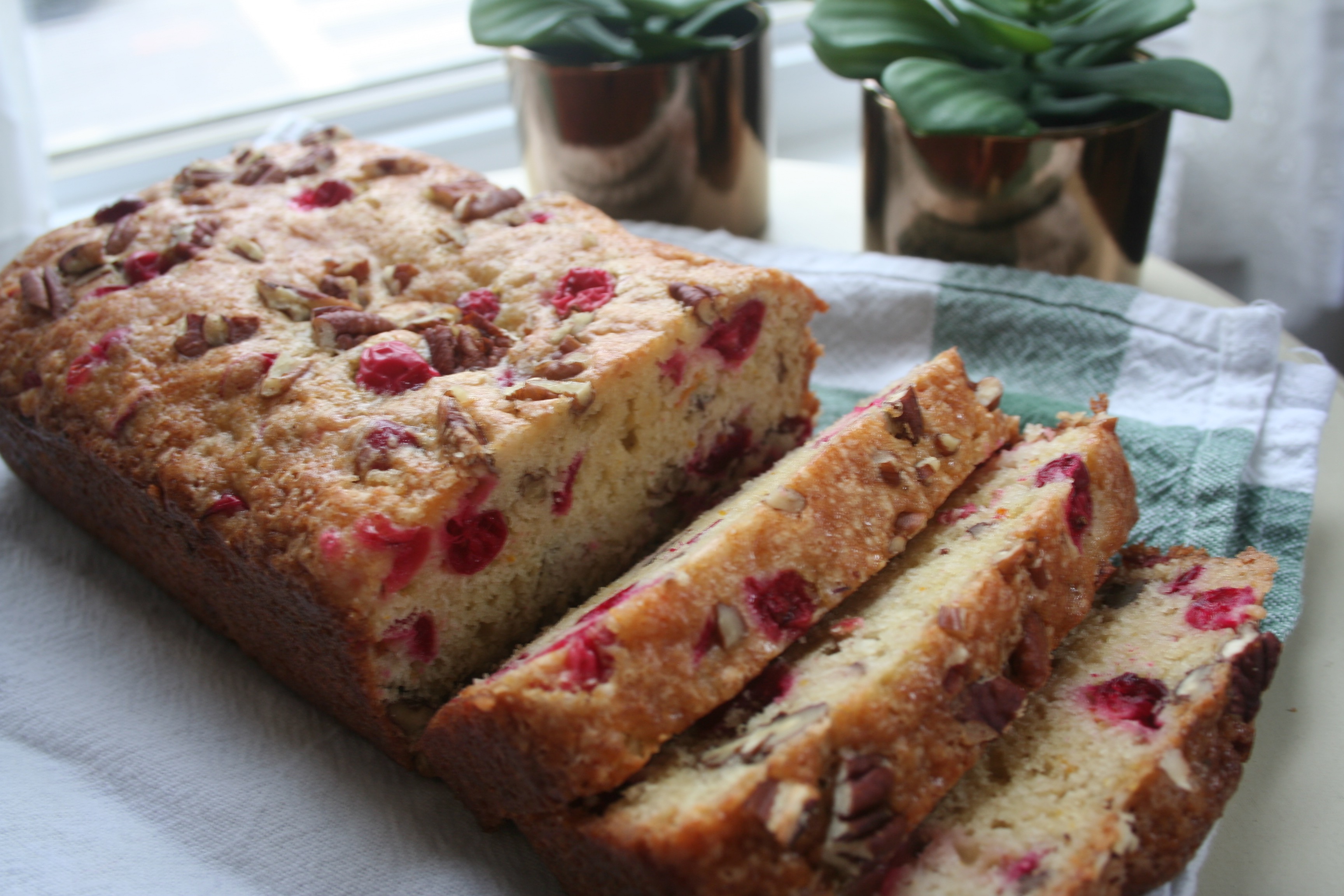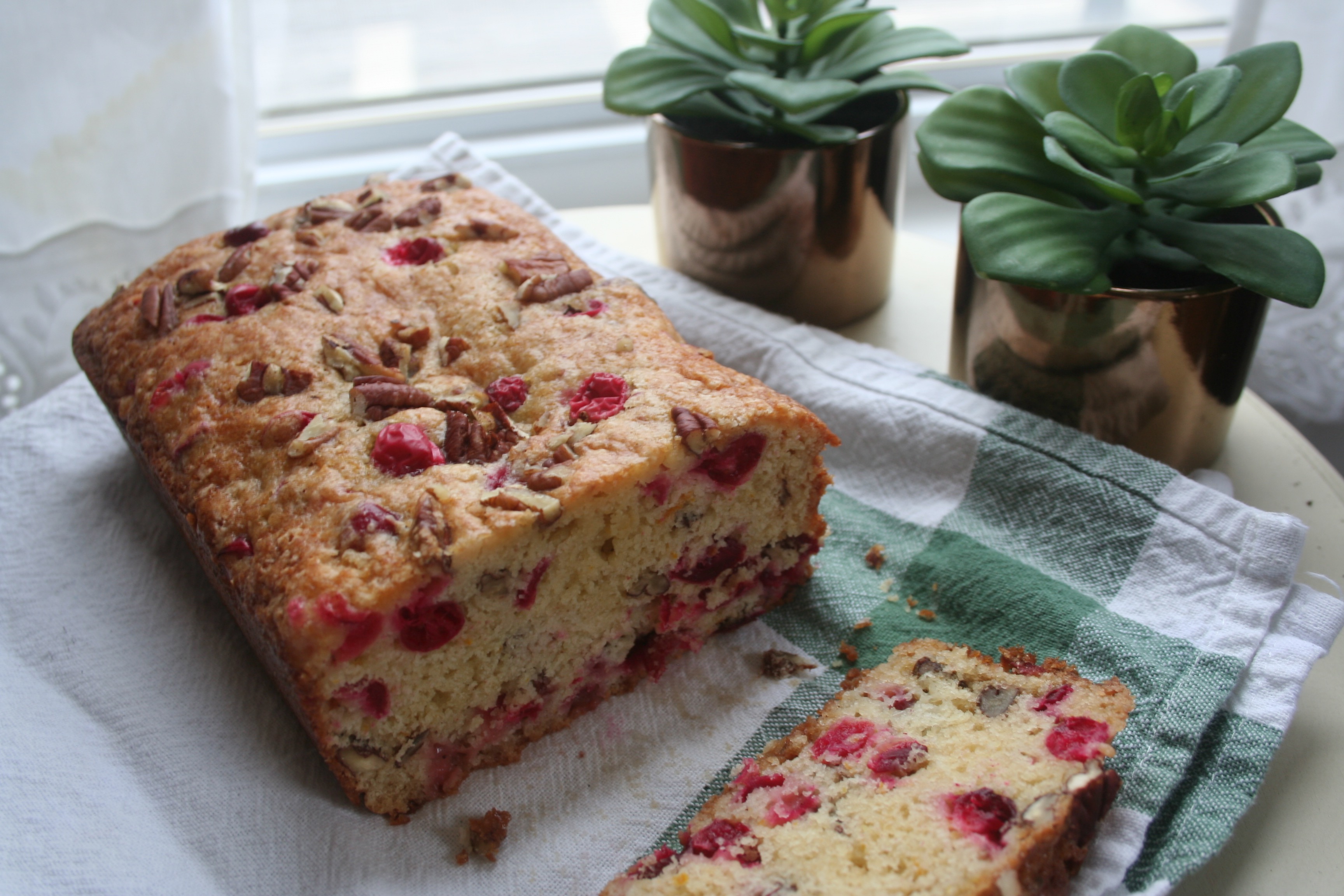 One major disappointment of this bread is that as it turns out, it does not make two loaves. My mom must have just been doubling the recipe and setting me up for failed expectations my whole life. Fool me once mom…
Though now that I live alone, it's probably in my best interest to not have two entire loves of what is essentially unfrosted cake lying around.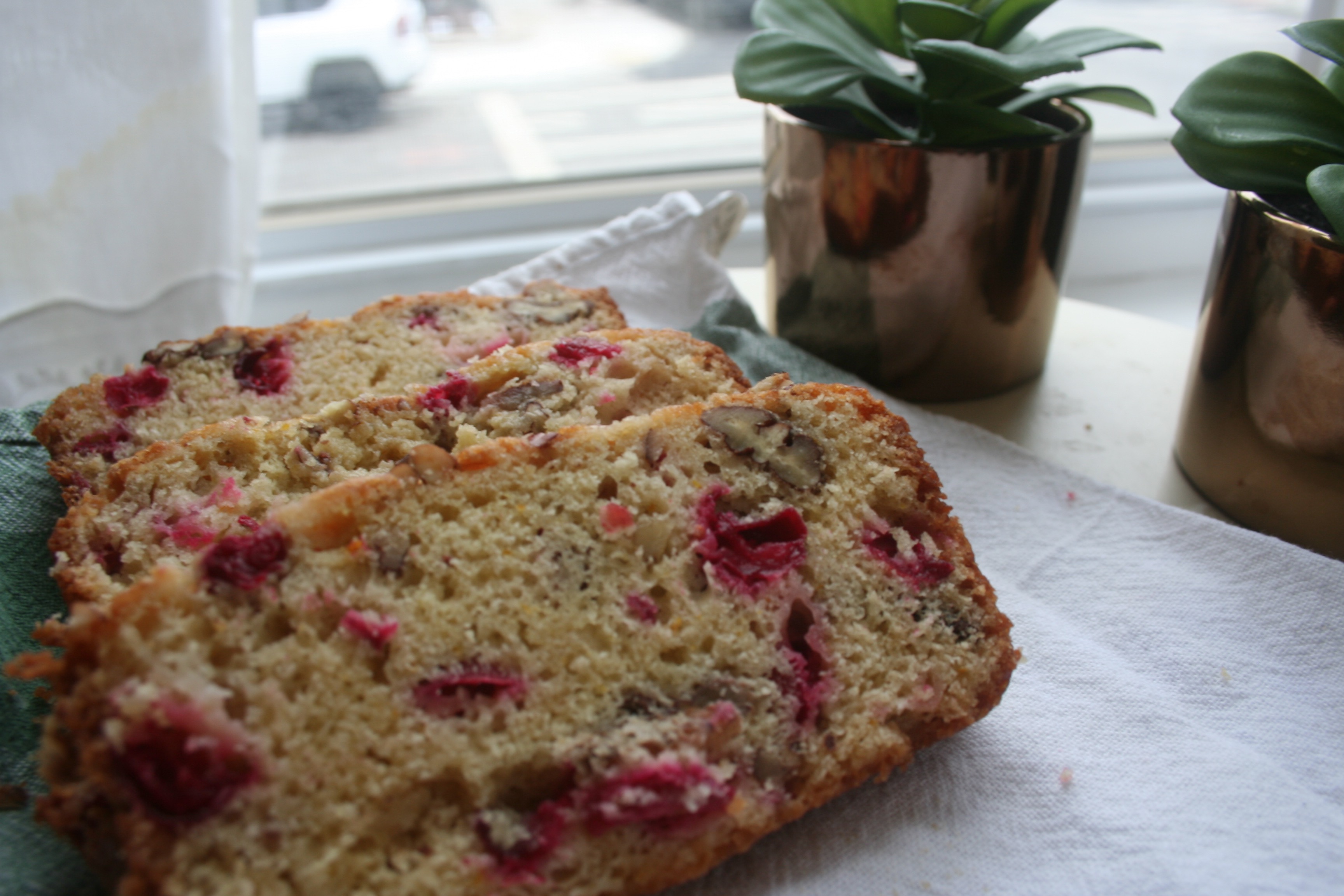 As a bonus, this cranberry bread is also extremely simple to put together. Everything is combined in a mixing bowl and if you can manage to rough chop some cranberries without every single one rolling off the counter, you are a far better person than I am.
Cranberry Bread
(recipe from Ocean Spray)
2 cups flour
1 cup sugar
1 ½ teaspoons baking powder
1 teaspoon salt
½ teaspoon baking soda
¾ cup orange juice
1 tablespoon of grated orange peel
2 tablespoons shortening (or nearly melted butter works just fine)
1 egg, well beaten
1 ½ cups fresh or frozen cranberries, roughly chopped (good luck)
½ cup chopped nuts
Directions
Preheat oven to 350 degrees and grease a 9 x 5 inch loaf pan.
Mix together flour, sugar, baking powder, salt, and baking soda in a large mixing bowl. Next, stir in the orange juice, orange peel, shortening/butter, and egg. Mix until well-blended together and then stir in the cranberries or nuts. Pour evenly into the loaf pan and bake for 45-55 minutes or until a toothpick inserted in the center comes out clean.
Enjoy!