Chocolate covered strawberries seemed to have cornered the Valentine's Day fruit and chocolate market.  Whoever does their PR needs a serious raise.
Also, please do my PR.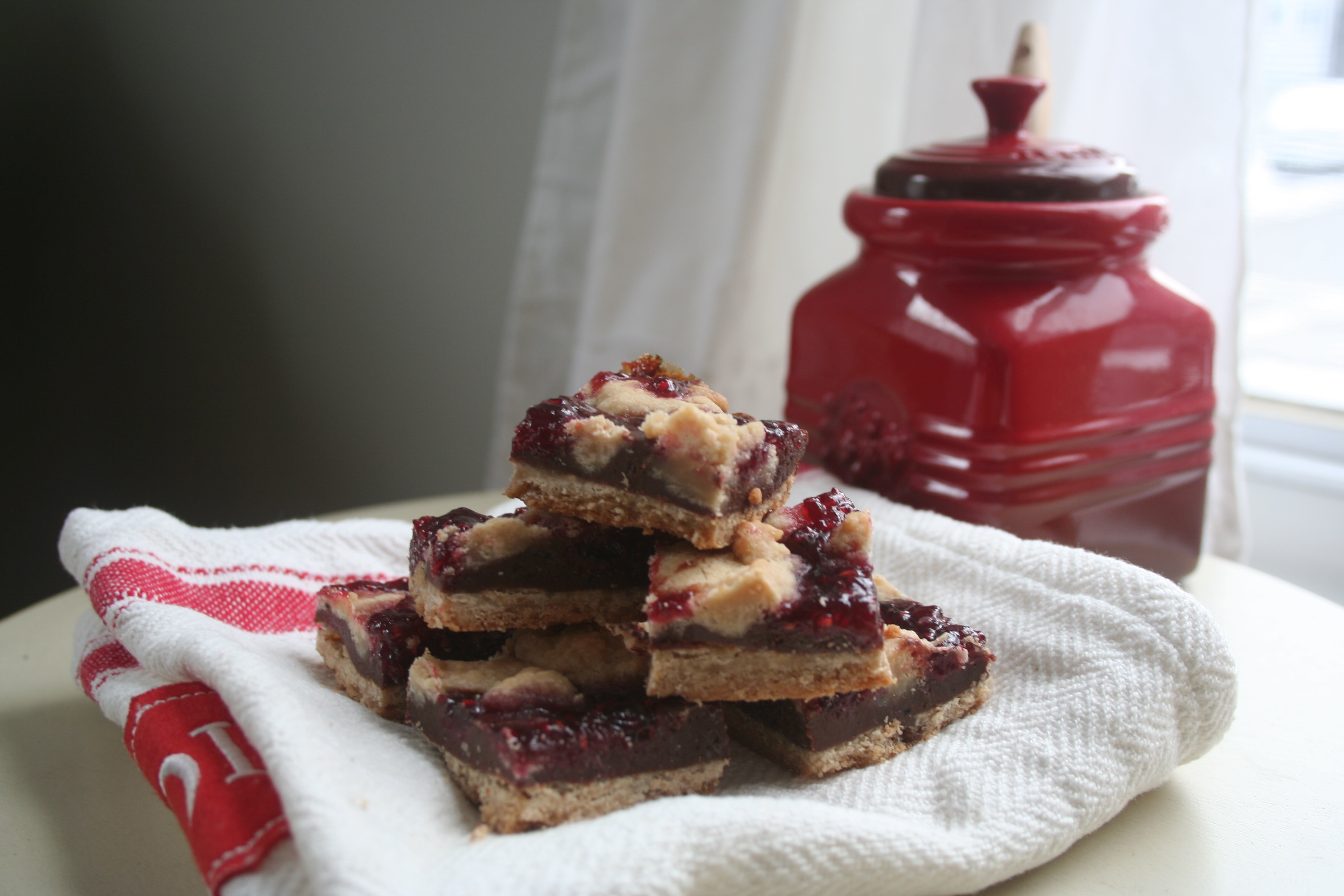 That being said, I'm about to admit something that's somewhat of an unpopular opinion (which means my readership may once again be a party of 1).
I don't really like strawberries that much.
Strawberry jam? Absolutely. Strawberry fields? Forever. But plain strawberries do not do it for me. I think it's extremely hard to find a ripe one and I cannot for the life of me figure out why people go nuts for them. I will give extra kudos for strawberries in tuxedos like this guy, but most likely I'd eat his suit and leave the fruit.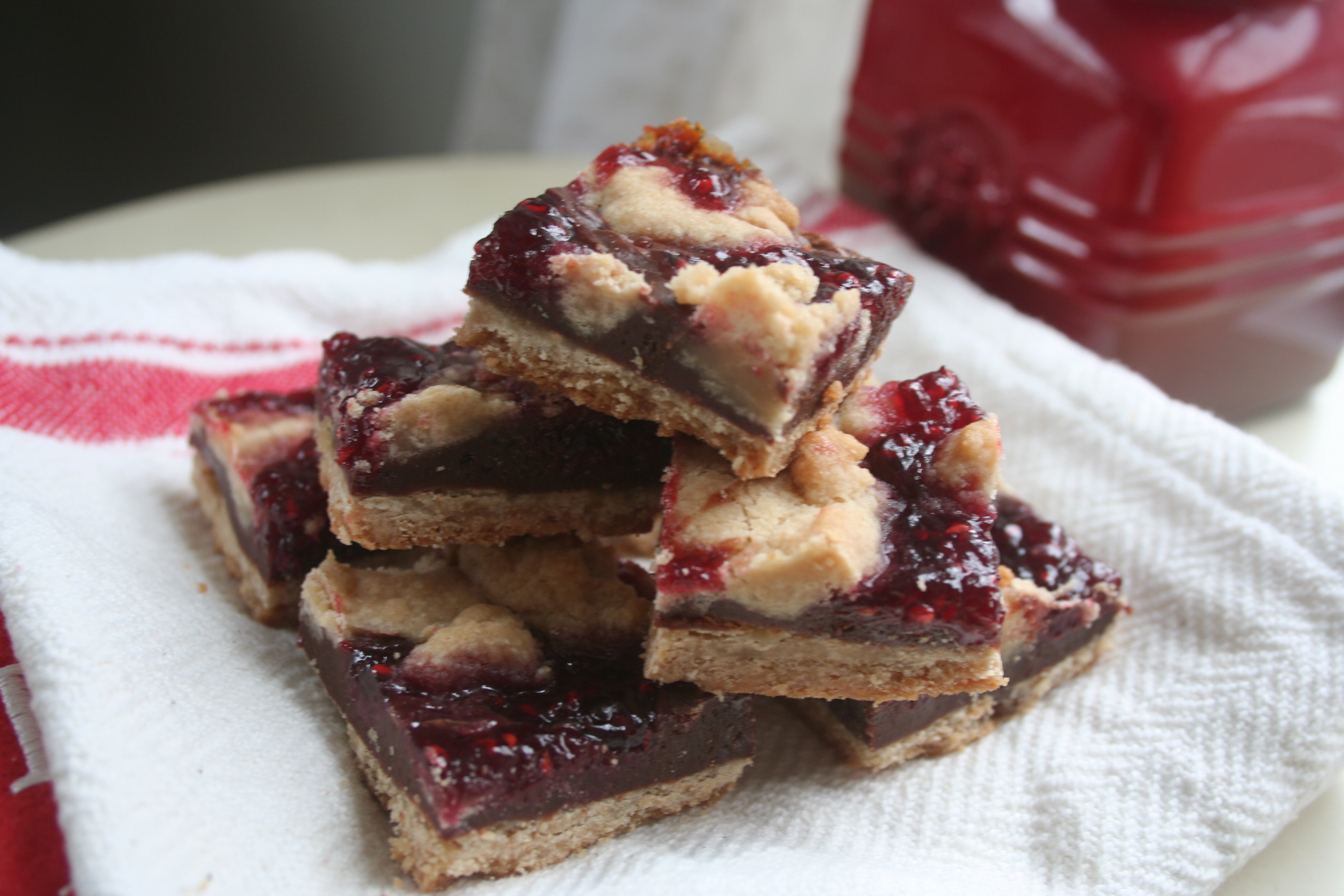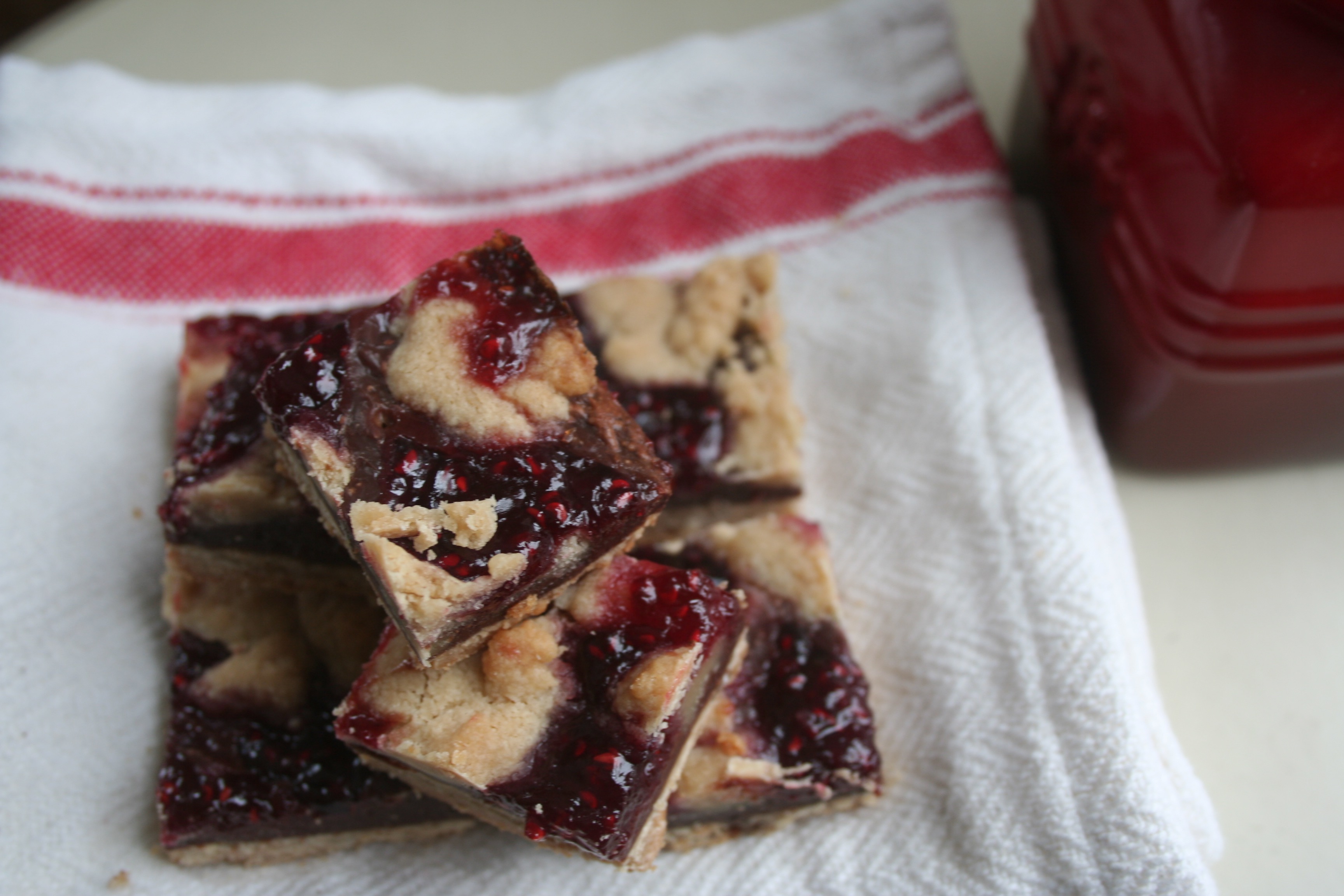 So instead of continuing to live a lie and pretending I'm all about strawberries and chocolate this week, here are some chocolate raspberry bars. These bars are similar to the traditional jam bars, but the addition of brown sugar and a fudgey, chocolate layer make them rich and indulgent in a whole new way.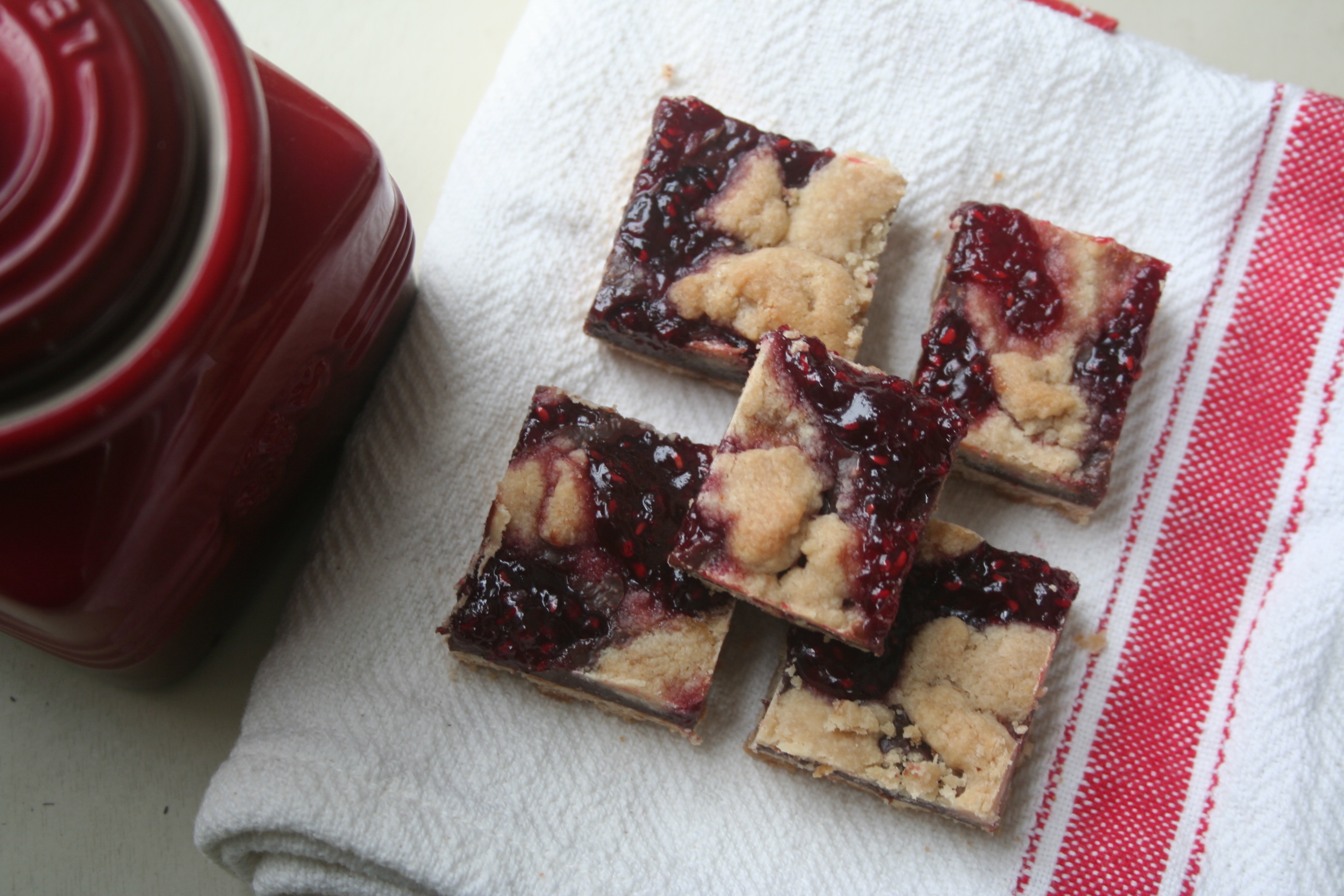 When I was younger, we sometimes ordered birthday cakes from a local bakery owned by a classmate's family. They had a dense chocolate layer cake with fudge frosting and thin layer of raspberry jam sandwiched in the middle. These bars remind me of that middle chocolatey, jammy layer in the best way possible. The raspberry preserves cook down in the oven to be a little smoother and sweeter but still fruity enough to contrast with the bittersweet ganache.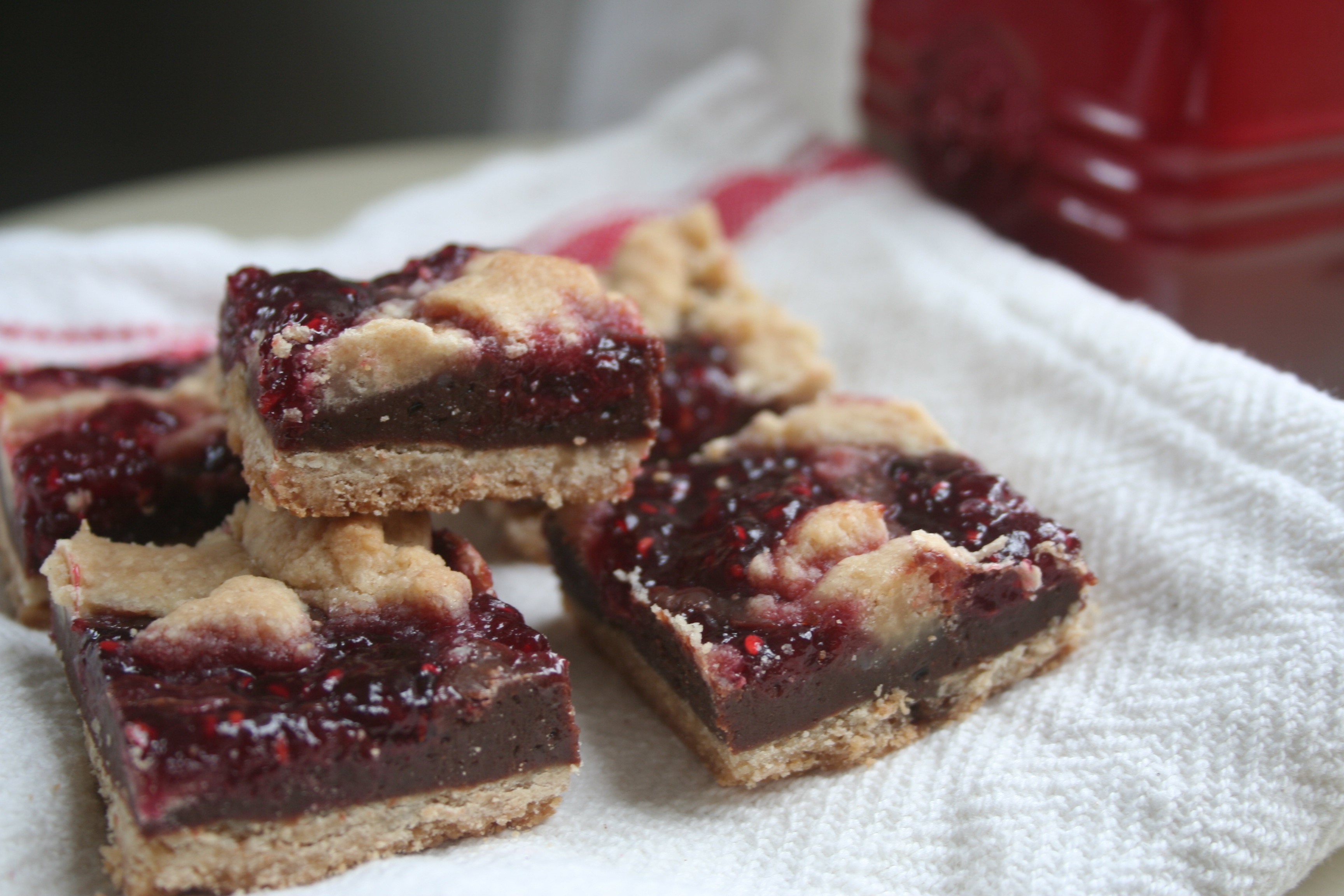 In my fantasty, this photo gets me an endorsement deal with Bonne Maman and I spend the rest of my days eating preserves by the spoonful in the south of France.
[Not pictured: the amount of raspberry I managed to accidentally get on my camera while taking these photos. Bonne Maman also now owes me a camera along with the cottage in France.]
Chocolate Raspberry Bars
(recipe very slightly adapted from hugs and cookies xoxo)
Cookie Base
2 sticks unsalted butter, room temperature
1/2 cup packed brown sugar
2 cups all purpose flour
1/2 teaspoon salt
Chocolate Raspberry Layer
1 cup bittersweet chocolate chips
1 14oz can of sweetened condensed milk
1/2 cup raspberry jam (more or less to taste)
Directions
Preheat oven to 350 degrees.  Cream together butter and sugar and then gradually add in the flour and salt.  The mixture will be crumbly but press together with your fingers.  Press about 2/3 of the mixture into the bottom of a foil-lined 9×9 square pan.  The original recipe uses a 9×13 inch pan but I wanted a more substantial cookie layer on the bottom.
Bake this bottom cookie layer in the oven for 10-12 minutes until golden brown.  While the cookie base is baking, combine the bittersweet chocolate chips and sweetened condensed milk together in a microwave safe bowl and microwave in 30 second increments until melted together.
Here is where you can take liberties with how much of a chocolate layer you want.  I wanted a thinner layer so I used about 1/2 the chocolate mixture and poured that on top of the cookie base (while still warm) but feel free to go crazy and use it all.  Next, crumble the rest of the cookie dough on top of the chocolate, followed by dollops of jam.  Or it might have been dollops of jam followed by cookie dough…I trust the results are delicious either way.
Bake for 25-30 minutes or until mixture it set (it will probably still be a little bubbly coming out of the oven).  Cool these before cutting and feel free to store in the fridge or on the countertop.
Enjoy!