Feels like it is time to brighten things up from the dark chocolate coma I put myself in last week. The weather report says it's going to be 70 degrees tomorrow and if I have anything to do with it, it will feel like summer from here on out.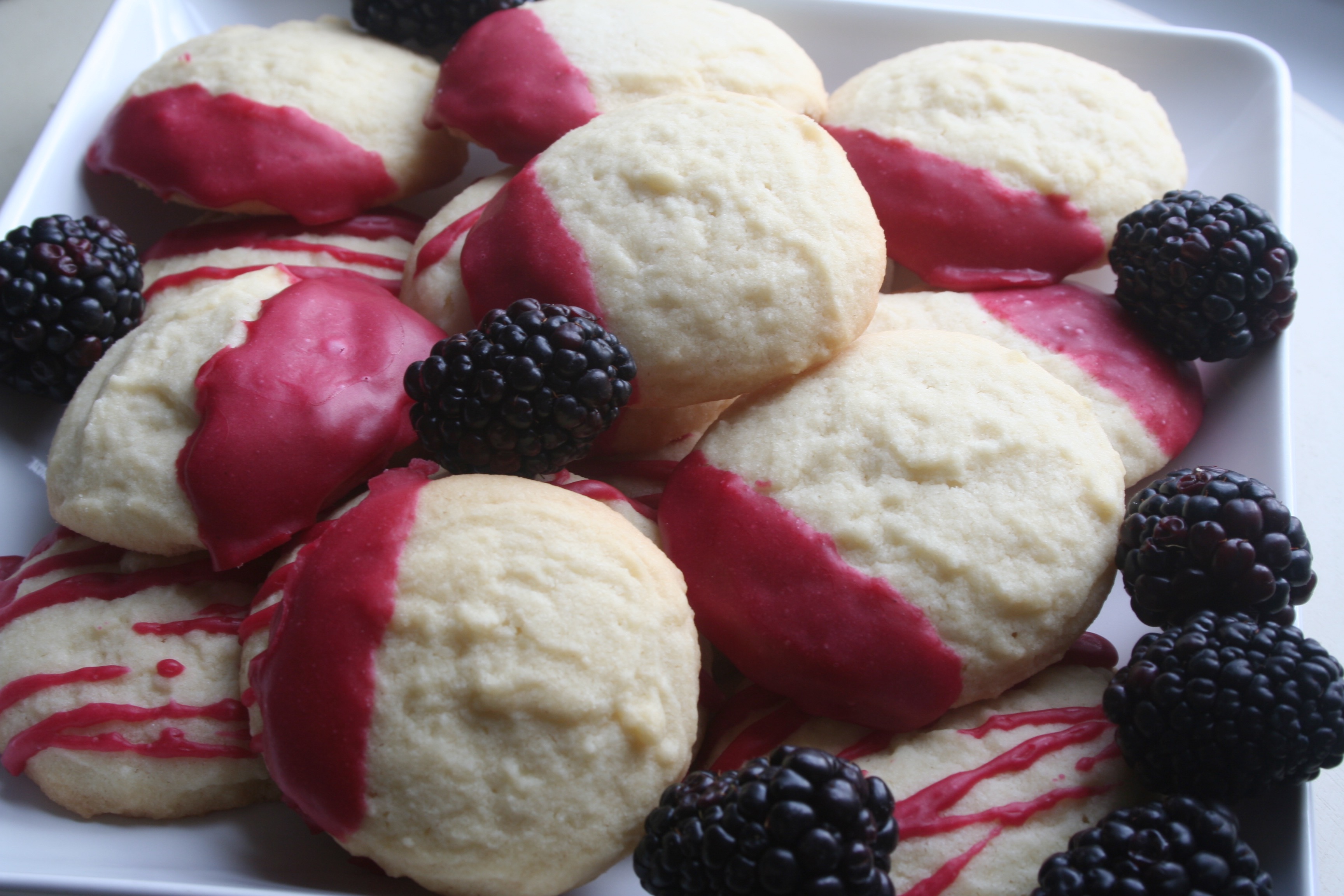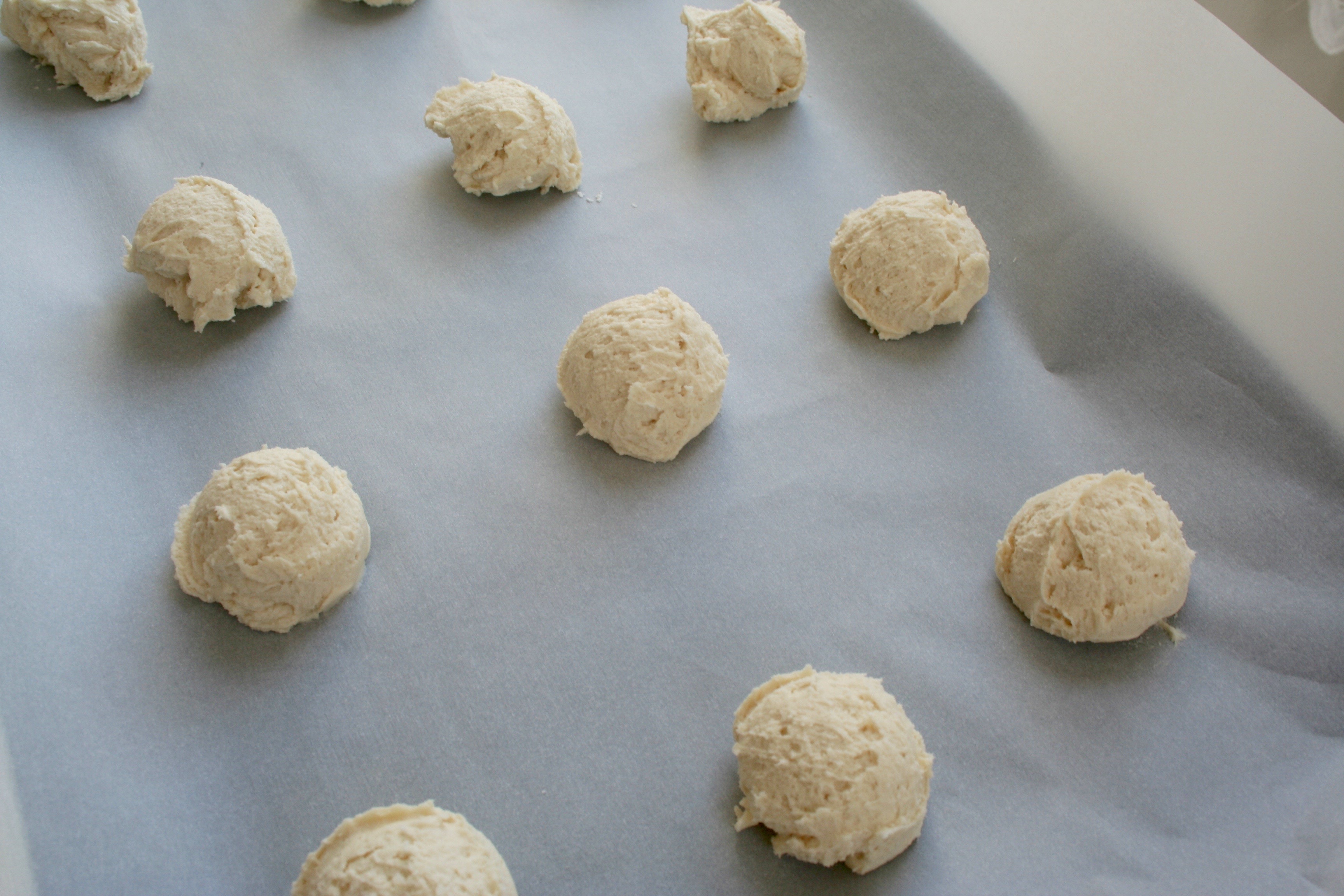 And nothing says bikini season like whipped butter.  Truly though, these whipped shortbread cookies are light, airy, and melt in your mouth good. The texture is quite different from these crisp and dense chocolate chip shortbread cookies from January. I may not be organized enough to swap out winter and summer clothes in my closet, but I certainly customize my cookie textures to the seasons.
The above picture is also just an attempt to show off my new cookie scoop.  If you're thinking 14 dollars seems like an excessive amount to spend on a glorified spoon, you are a far better person than I am.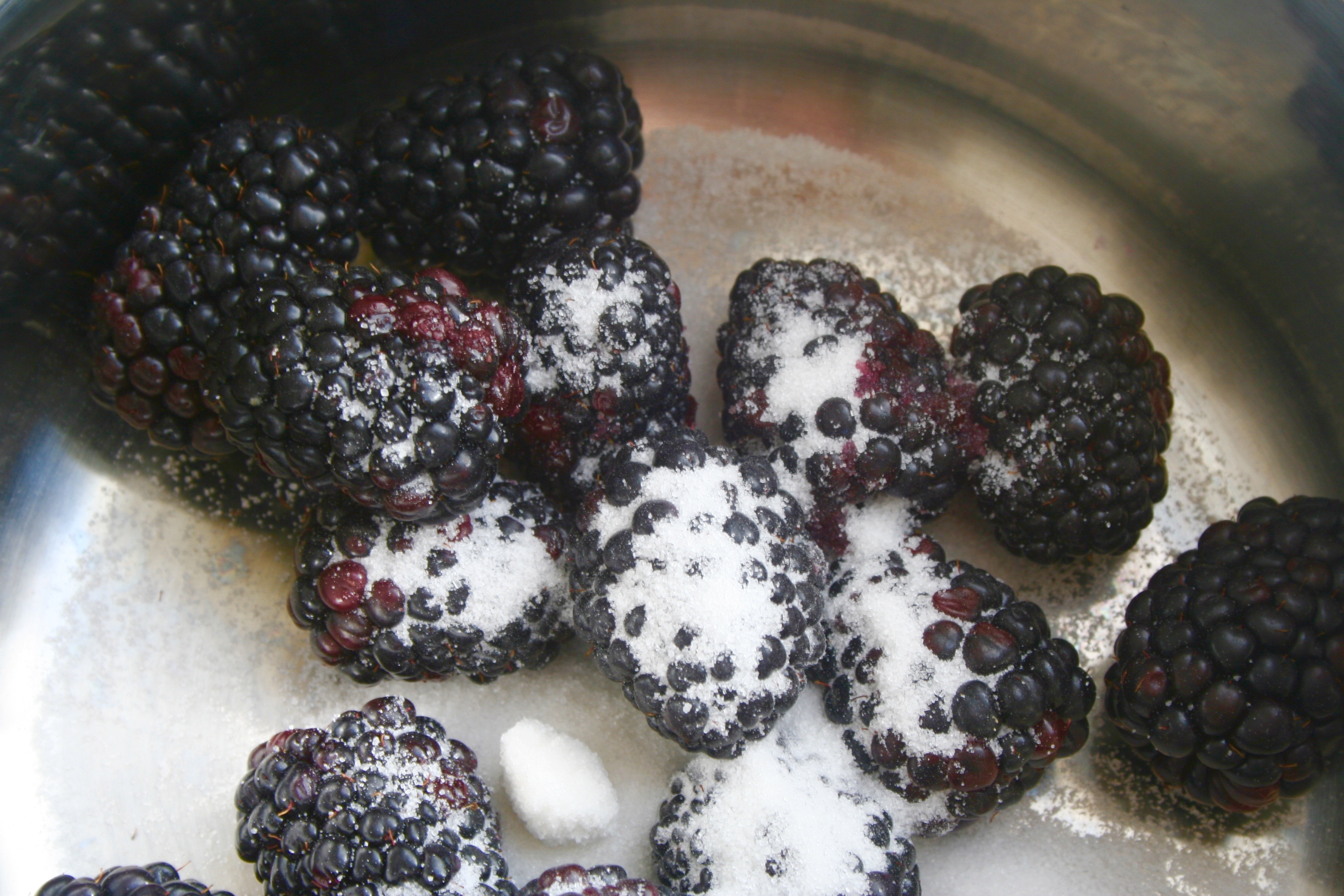 Once again, I have chosen to take the dangerous route and work with a fruit juice that is just dying to stain everything I own. I'm pretty much a daredevil when it comes to darkly colored fruits. First blood oranges and now blackberry icing. Next week I may just try dancing on my white shag carpet with a glass of red wine balanced on my head.
Stay tuned.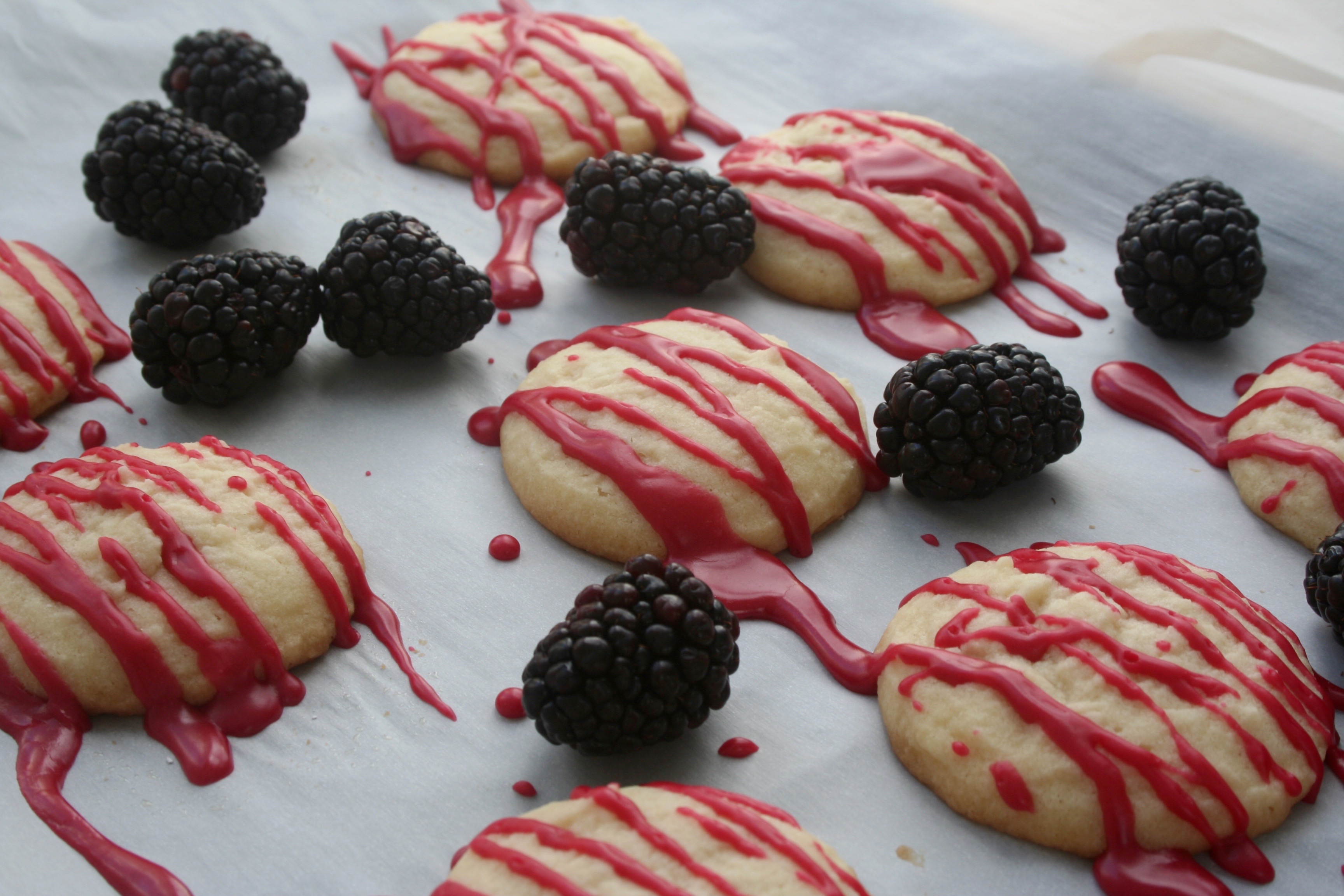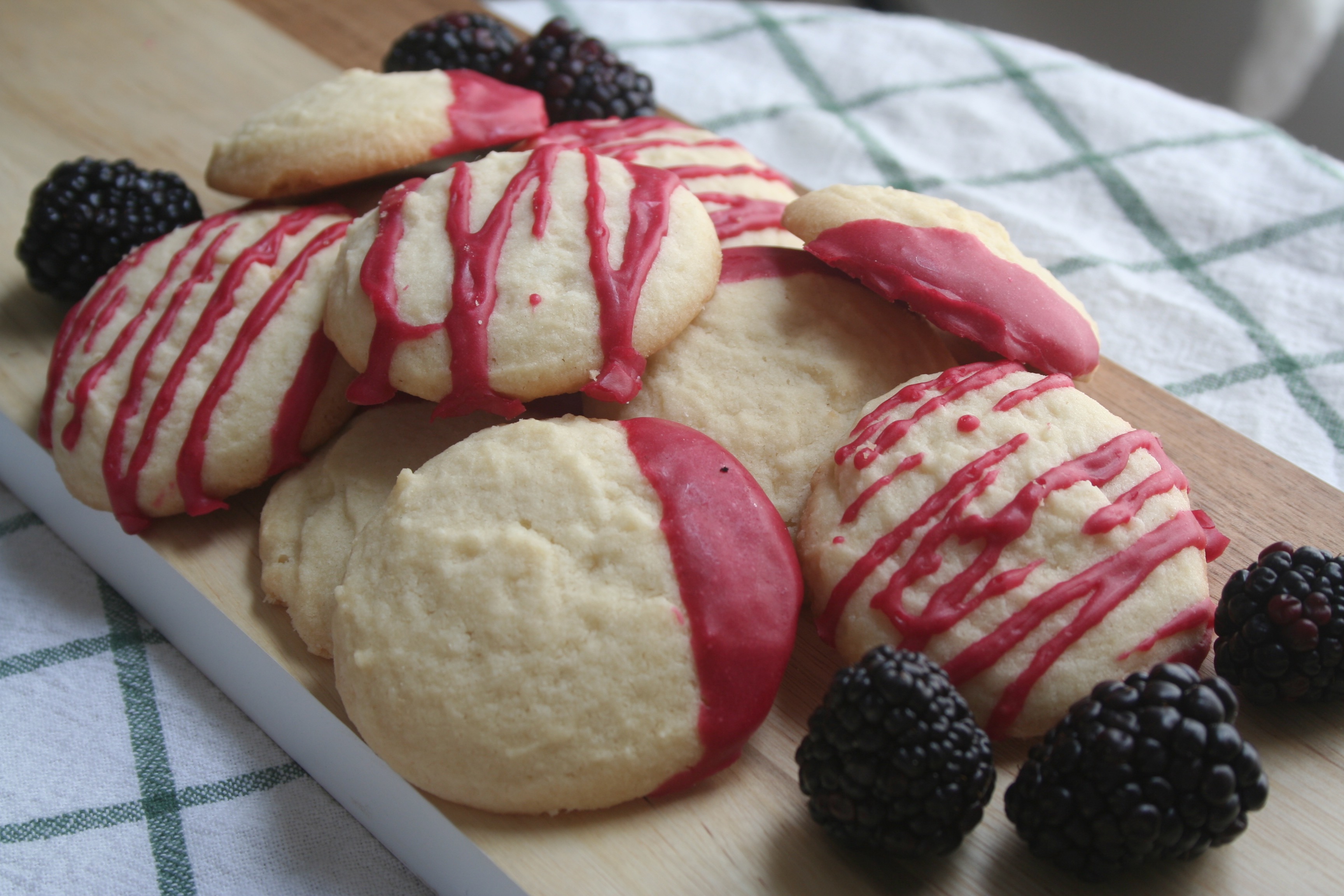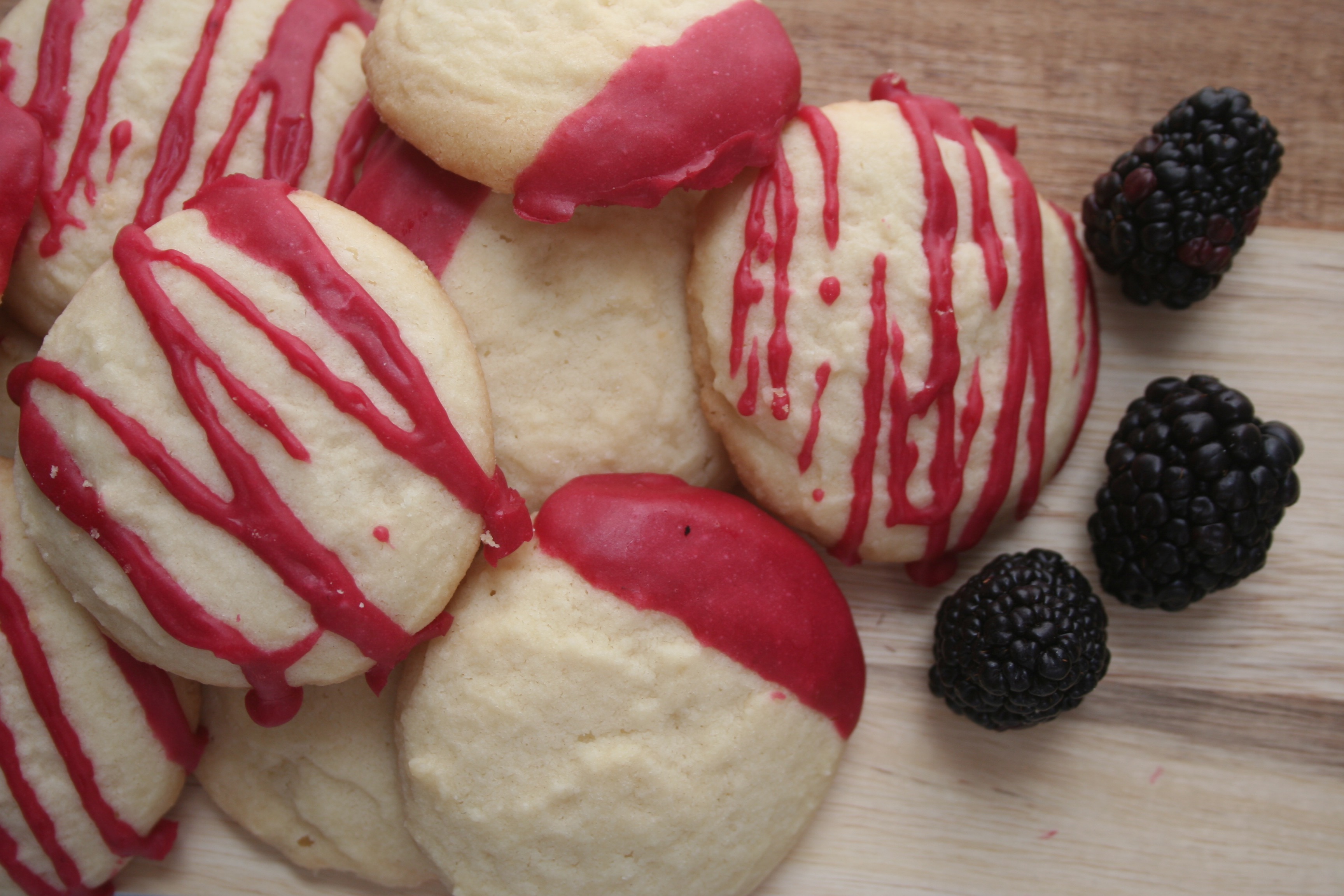 I was originally going to dip each cookie halfway into the glaze but 6 broken cookies and a full stomach later, I realized there were a little too delicate to do that. I ended up using a spoon to paint the icing on, which worked much better, and then drizzling the icing over the remaining cookies.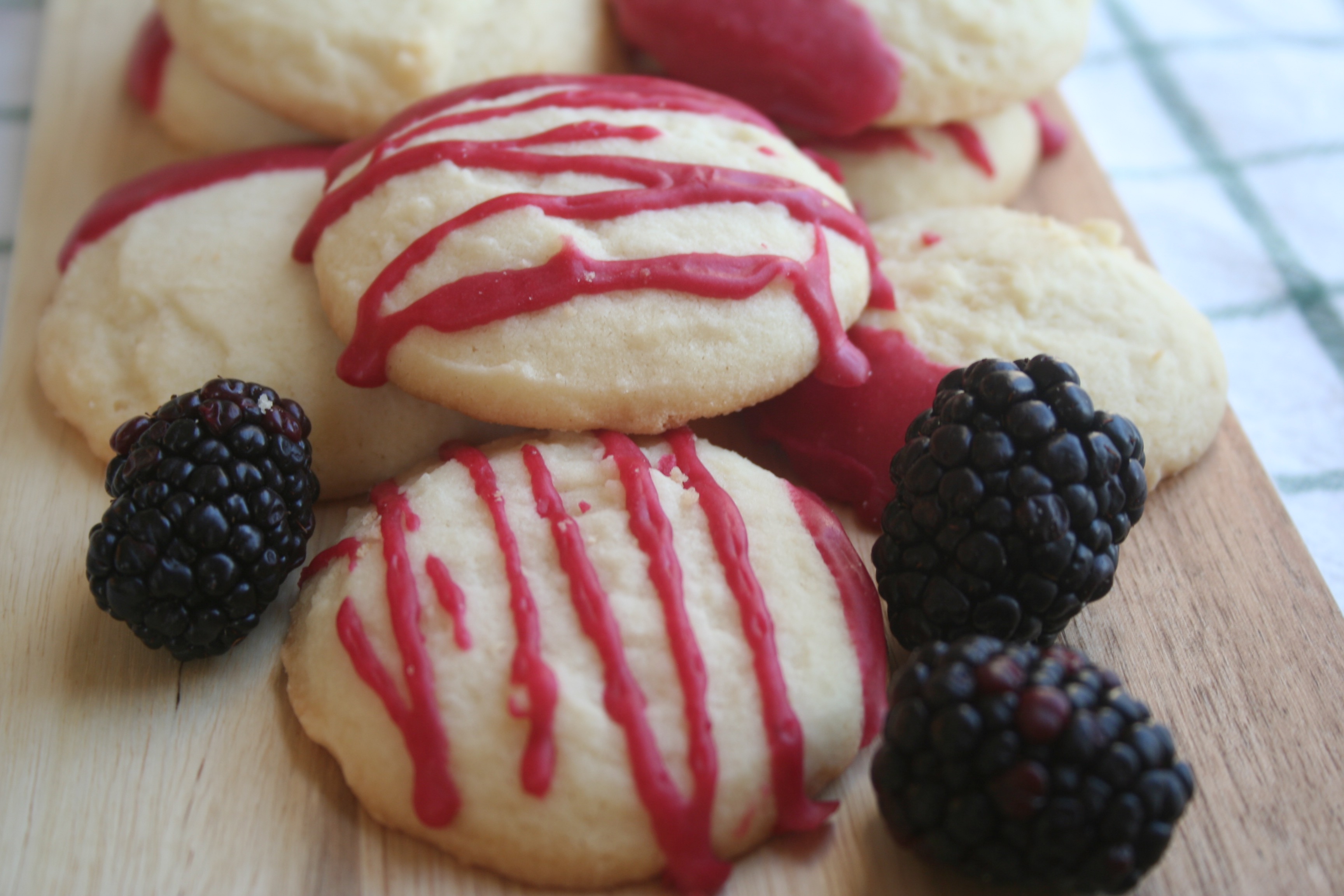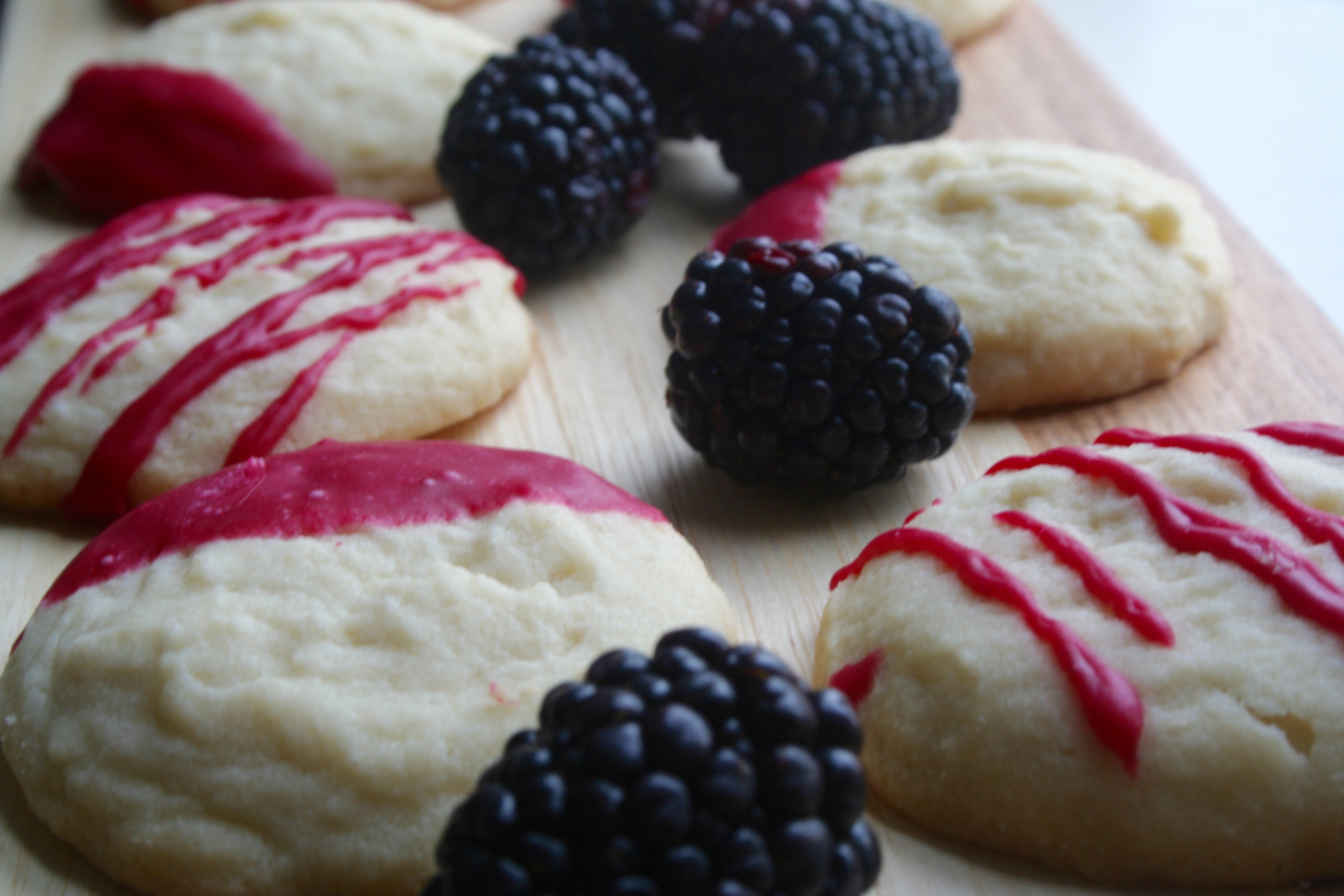 Whipped Shortbread Cookies with Blackberry Icing
(recipes from Bushel & a Peck and Buns In My Oven)
Shortbread cookies
2 cups butter (yes…4 sticks)
1 cup confectioners sugar
1/2 cup cornstarch
3 cups all purpose flour
1 teaspoon vanilla
1/2 teaspoon salt
Blackberry Icing
6 oz blackberries
1 tablespoon sugar
1 tablespoon lemon juice
2 cups confectioners sugar
Directions
Preheat oven to 350 degrees and line a few cookie sheets with parchment paper.  Whip your room temperature butter at high speed for about 3 minutes until light and fluffy.  Next add in your vanilla and reduce speed to medium.  Slowly add in flour, sugar, cornstarch, and salt, being careful not to end up with a cloud of flour flying out of your mixing bowl.  Once combined, I found it was helpful to chill the cookie dough in the refrigerator for 15 minutes or so, in order to help the cookies keep shape.
When the dough is chilled, use your handy dandy cookie scoop (or regular spoon for you practical readers) and dollop out tablespoon sized mounds onto your cookie sheet.  Bake for 12-15 minutes or until the edges are just golden brown.  I found this varied slightly per tray and depending on where it was in the oven.
When the cookies are cooling, begin making your icing.  In a pan on the stove, combine the berries, lemon juice, and sugar.  Cook them down together for about 3-5 minutes until the juices are released from the berries (it helps to smash them down with a fork but please don't wear white while you do this).  As a side note – your kitchen will now smell INCREDIBLE.  Once the berry mixture looks nice and juicy, strain it through a mesh sieve into a mixing bowl.  Whisk in your sifted confectioners sugar until you reach the consistency you want.
Dip, paint, or drizzle your cookies to your hearts content.  You will likely have extra icing and if you eat it by the spoonful, you will be in good company.
Enjoy!