I have a soft spot for rustic desserts.  They are so endearing and simple and for some reason I have the impression that they are all healthy too.  Oh these crumbly oat bars with berries peaking through?  They're basically paleo.
[I do not quite understand what paleo is]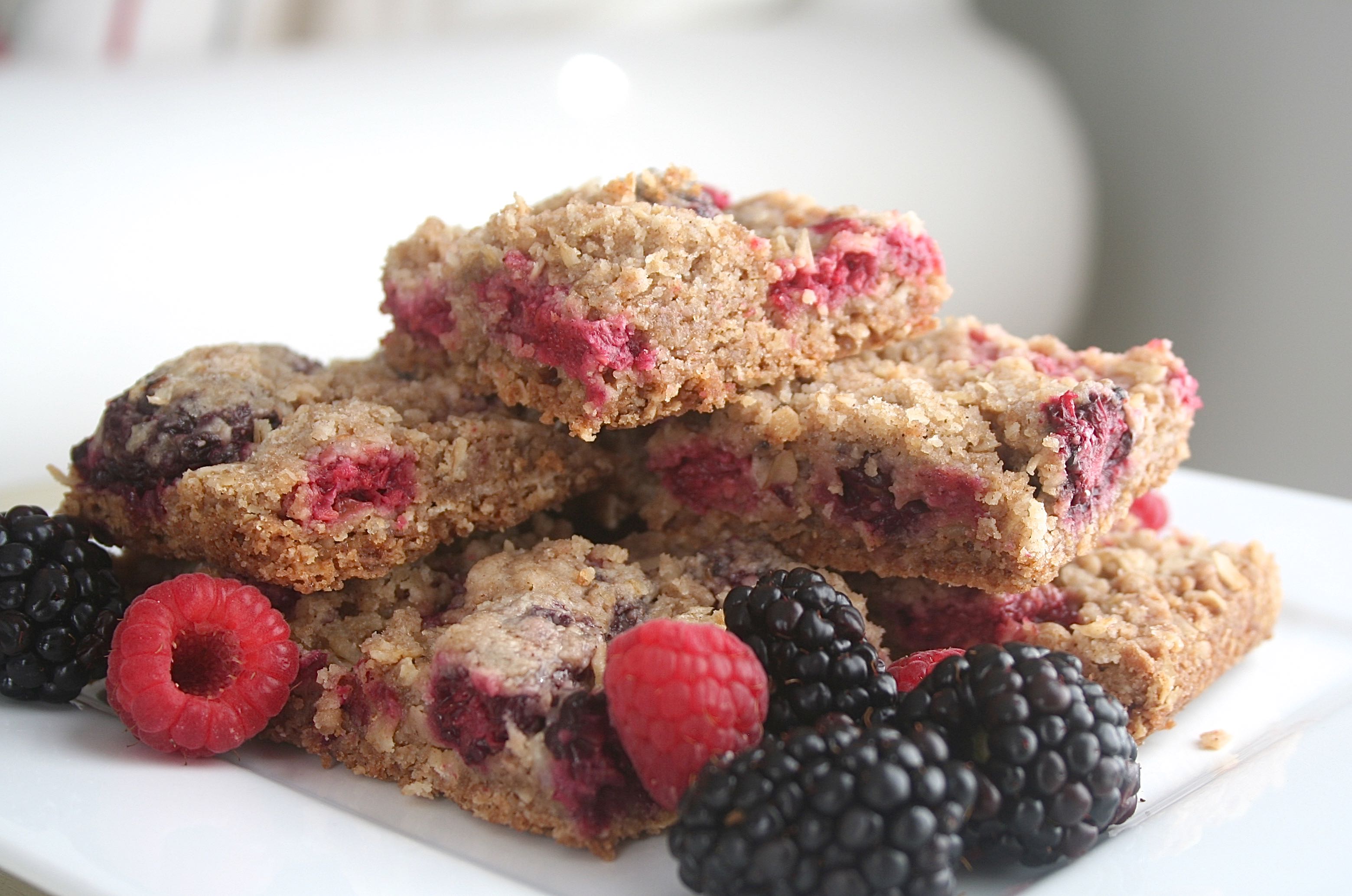 Berry breakfast bars remind me of a portable berry crisp.  This oat and cinnamon-spiced crust magically takes on two distinct textures.  The bottom layer stays crisp like a crunchy oatmeal cookie and the top layer stays soft and crumbly like a cobbler.
I want to wrap these bars up in a tea towel, grab an unreasonably expensive blanket from anthropology, and pack a picnic.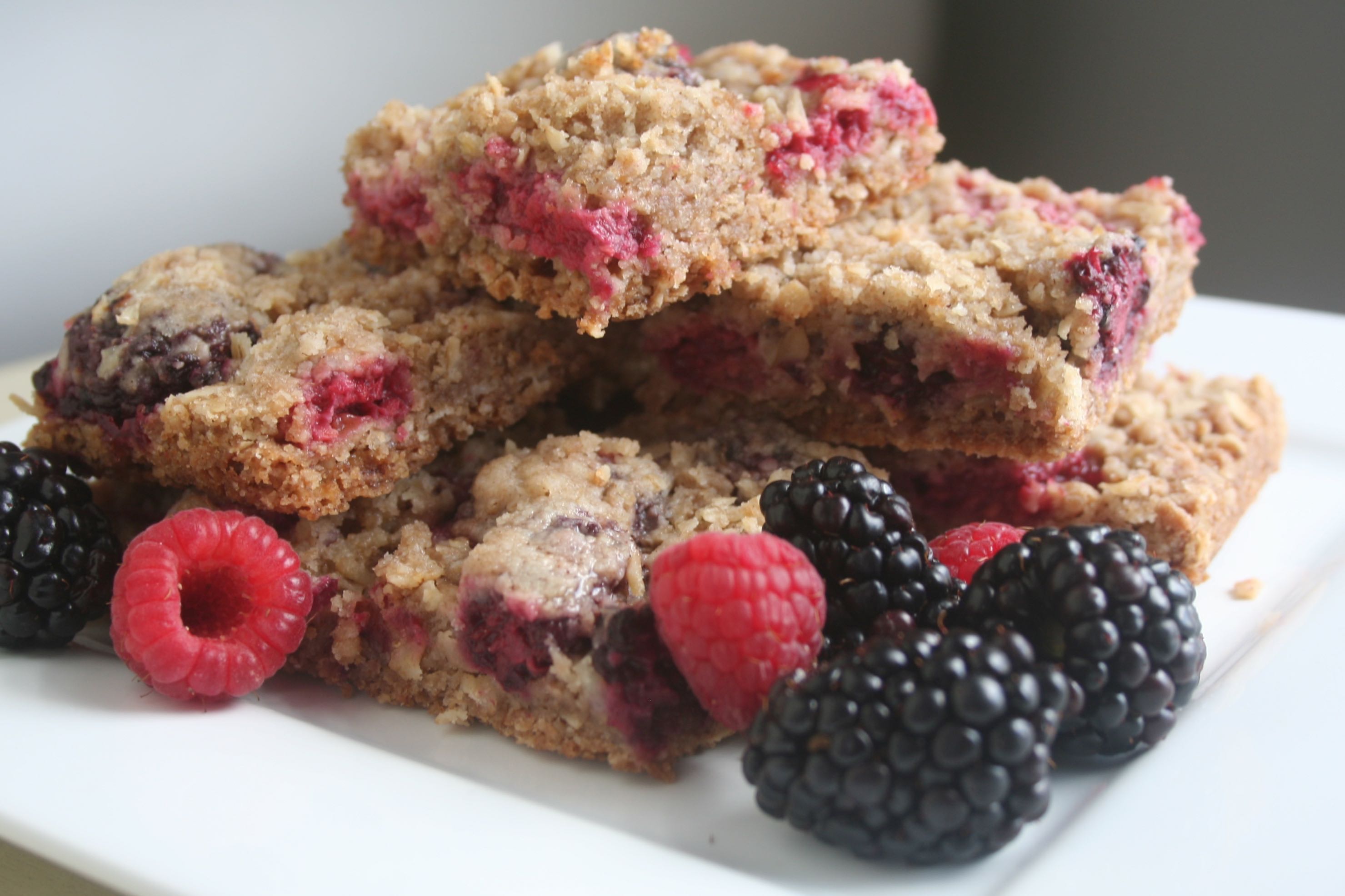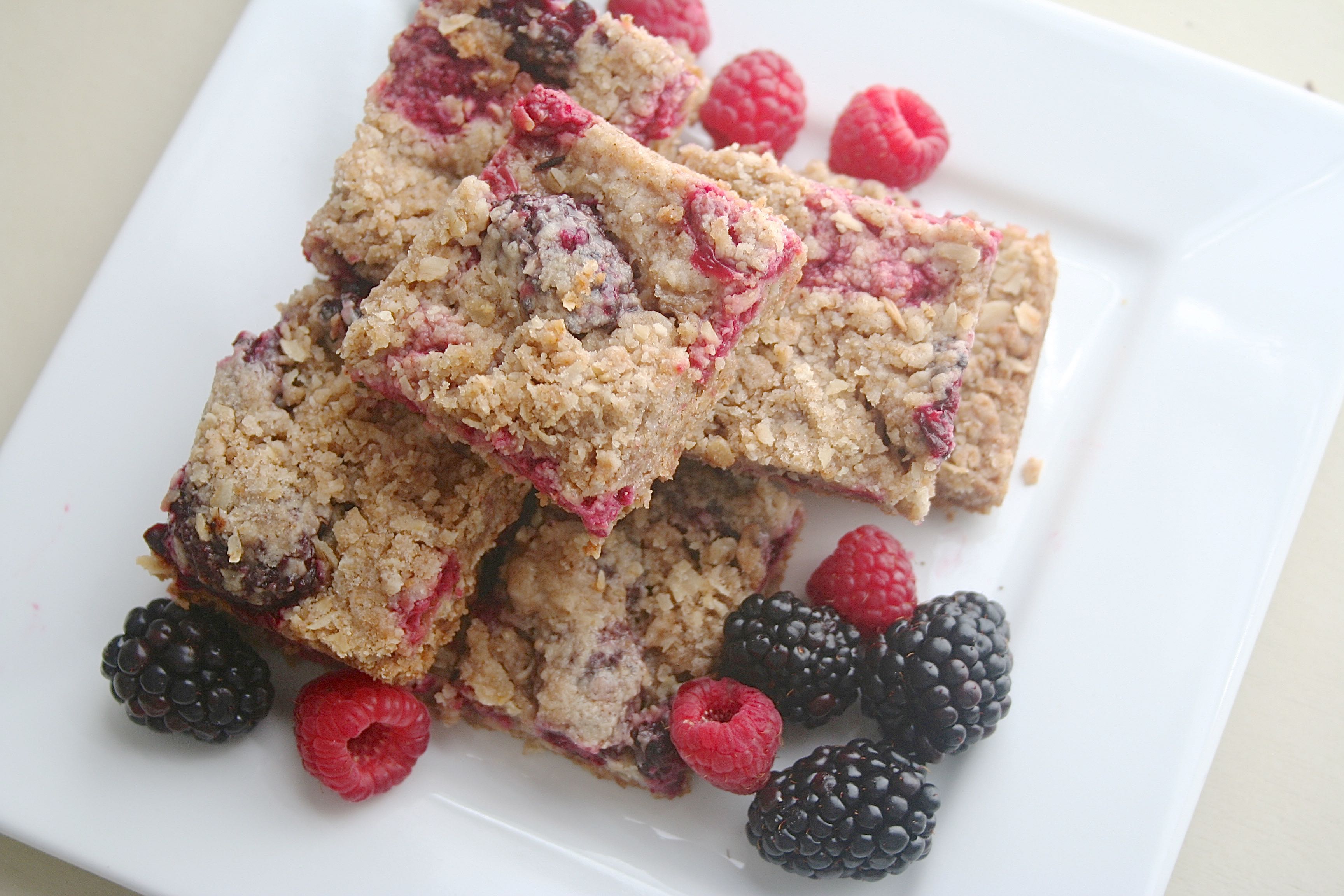 To be honest, I'm not quite sure why these are called breakfast bars.  It's that whole rustic thing getting me again.  Maybe serve them with a dollop of yogurt for breakfast and start your day off right?  Also completely acceptable to scoop some vanilla ice cream over these babies and treat yo'self.
Get ready for stacks…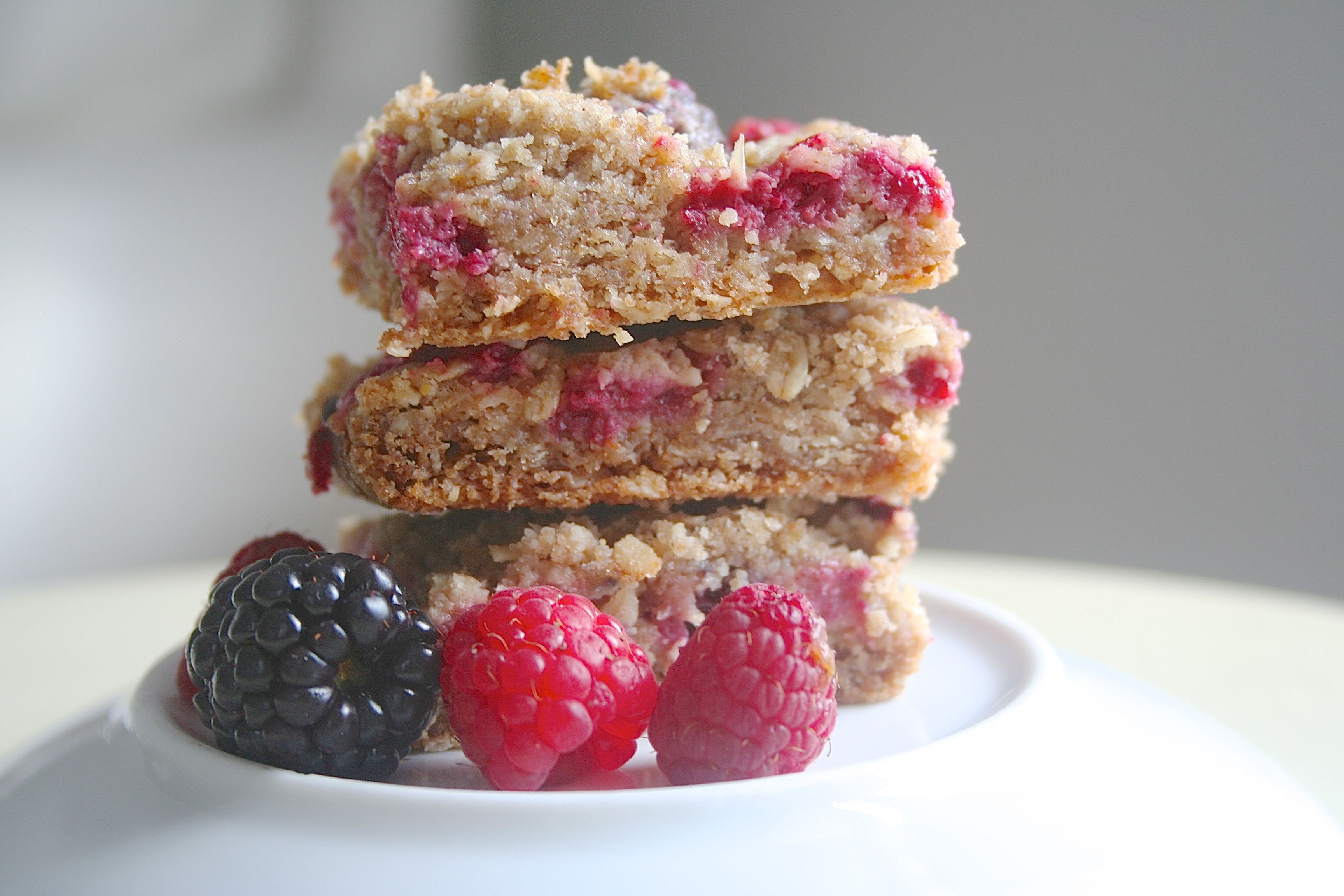 On stacks…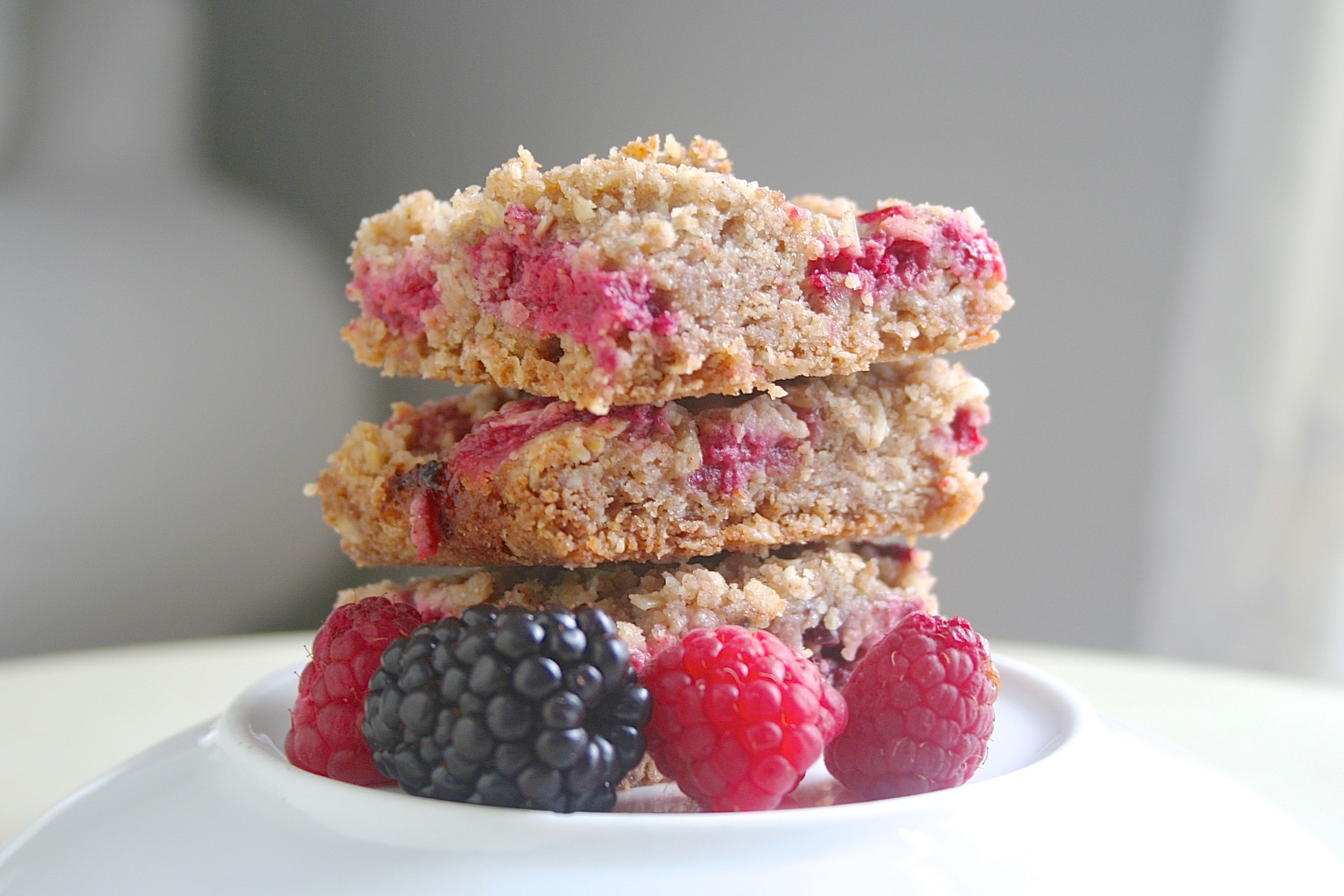 On stacks…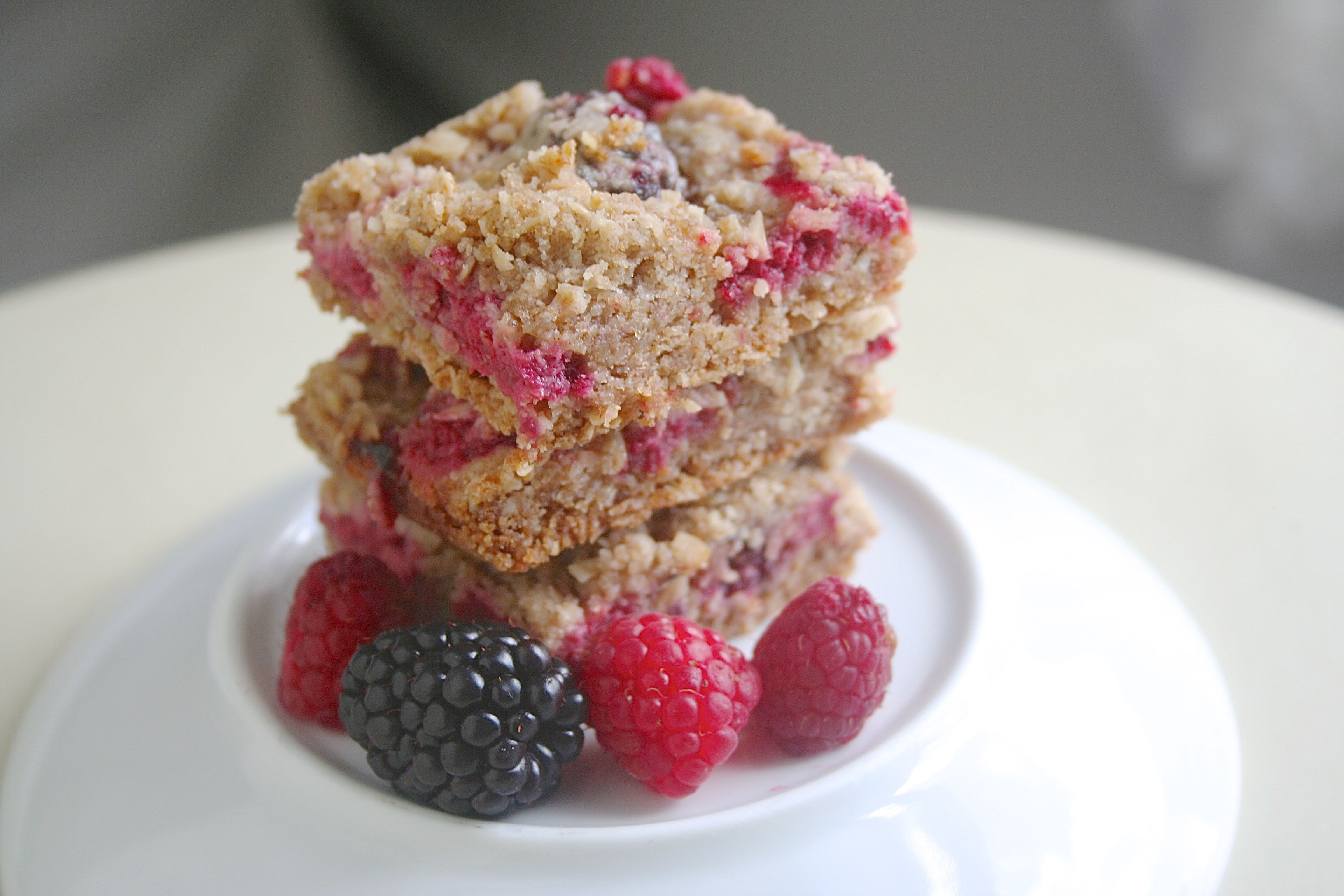 Feel free to customize your berry bars as you like.  I chose blackberries and raspberries but I imagine strawberries and blueberries would be wonderful as well.  The original instructions advise for a 9×13 inch pan but I found this caused the crumble to sink in between the berries rather than allow for a full bountiful berry layer like I had expected.  It's really up to you which situation you prefer.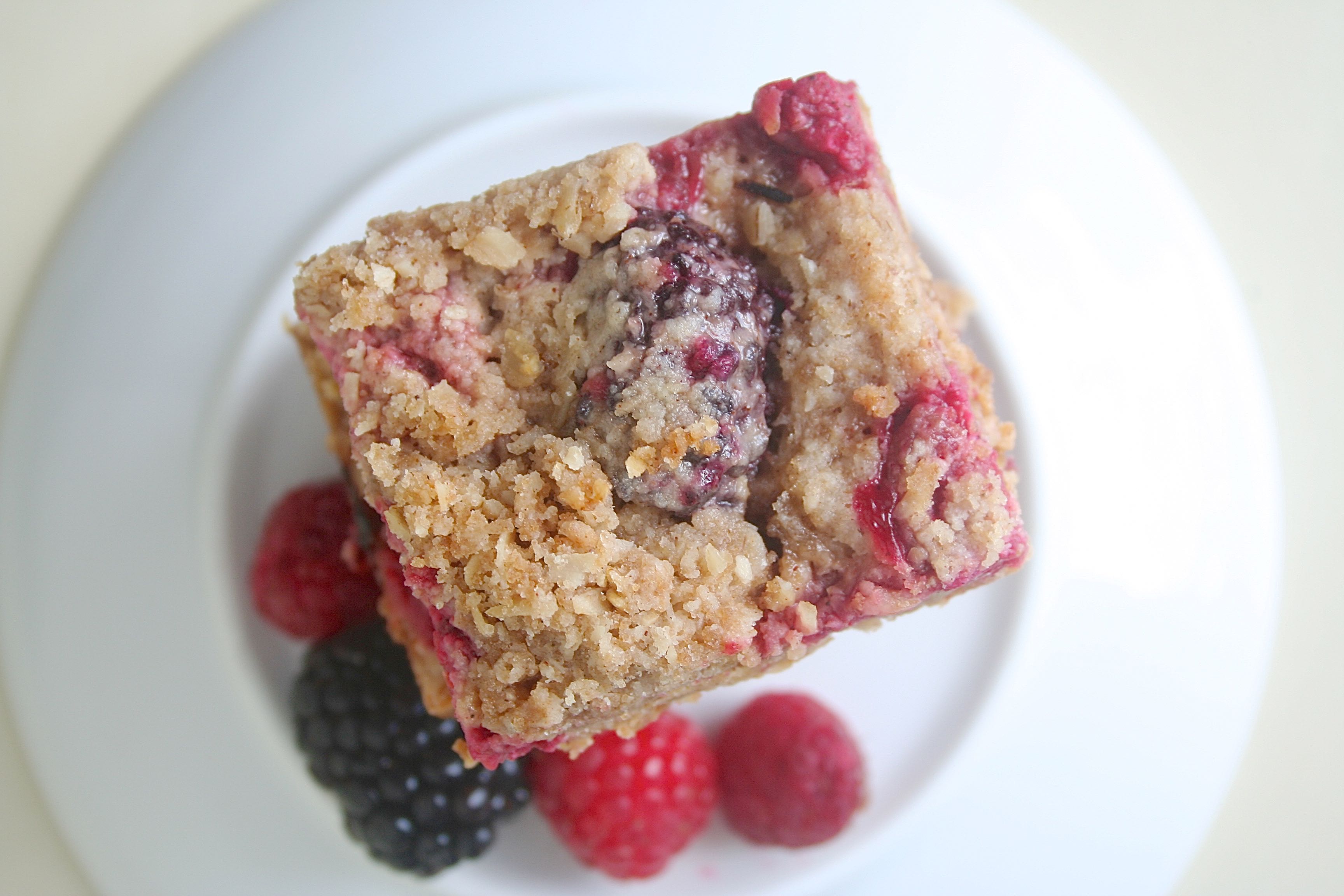 It's now of course occurring to me that I could have just added more berries to the middle layer…
Berry Breakfast Bars
(recipe from Baked: New Frontiers in Baking via Smitten Kitchen)
Oatmeal crust and crumble
1 1/2 cups flour
1 cup packed dark brown sugar
1 1/4 cups rolled oats (I always use whatever oats I have on hand)
3/4 teaspoon salt
3/4 teaspoon baking powder
1/2 teaspoon baking soda
1/2 teaspoon cinnamon
3/4 cup unsalted butter, cut into 1-inch pieces
Berry filling
1/4 cup packed dark brown sugar
1 tablespoon grated lemon zest (orange could also be nice)
1/2 teaspoon cinnamon
2 tablespoons flour
1 pound berries of your choice
1/4 cup fresh squeezed lemon juice
2 tablespoons unsalted butter, melted and cooled
Directions
Preheat your oven to 360 degrees.  Line a 9×13 inch pan with buttered parchment paper (or smaller pan if you want thicker bars).  In your food processor, pulse together the flour, brown sugar, oats, salt, baking powder, baking soda, and cinnamon until a crumb forms.
Set aside 1.5 cups of this crumble mixture for later and press the rest of it into the bottom of your prepared pan.  Bake this bottom crust until golden brown, around 12 minutes.  Let the crust cool as you prepare your berry filling.
In a separate bow, whisk together the brown sugar, lemon zest, cinnamon, and flour.  Stir in the lemon juice, berries, and melted butter and gently toss to coat the berries
Pour the berry filling over your cooled crust and sprinkle the remaining crumble mixture on top of that.
Bake for 40-45 minutes until the top is golden brown, rotating the pan every 15 minutes.  The instructions said to watch for the filling to bubble as well but since my berries were so spread out, this didn't really happen for me.
Let the bars cool before cutting into them.  Because the berry filling is so fresh these are best eaten the day of (picnic!) but can also be stored in an airtight container in the fridge for up to two days.
Enjoy!