This cake is deceptively wonderful.  I'm a firm believer everyone should have an extremely easy but extremely delicious cake in their back pocket.  Figuratively and literally.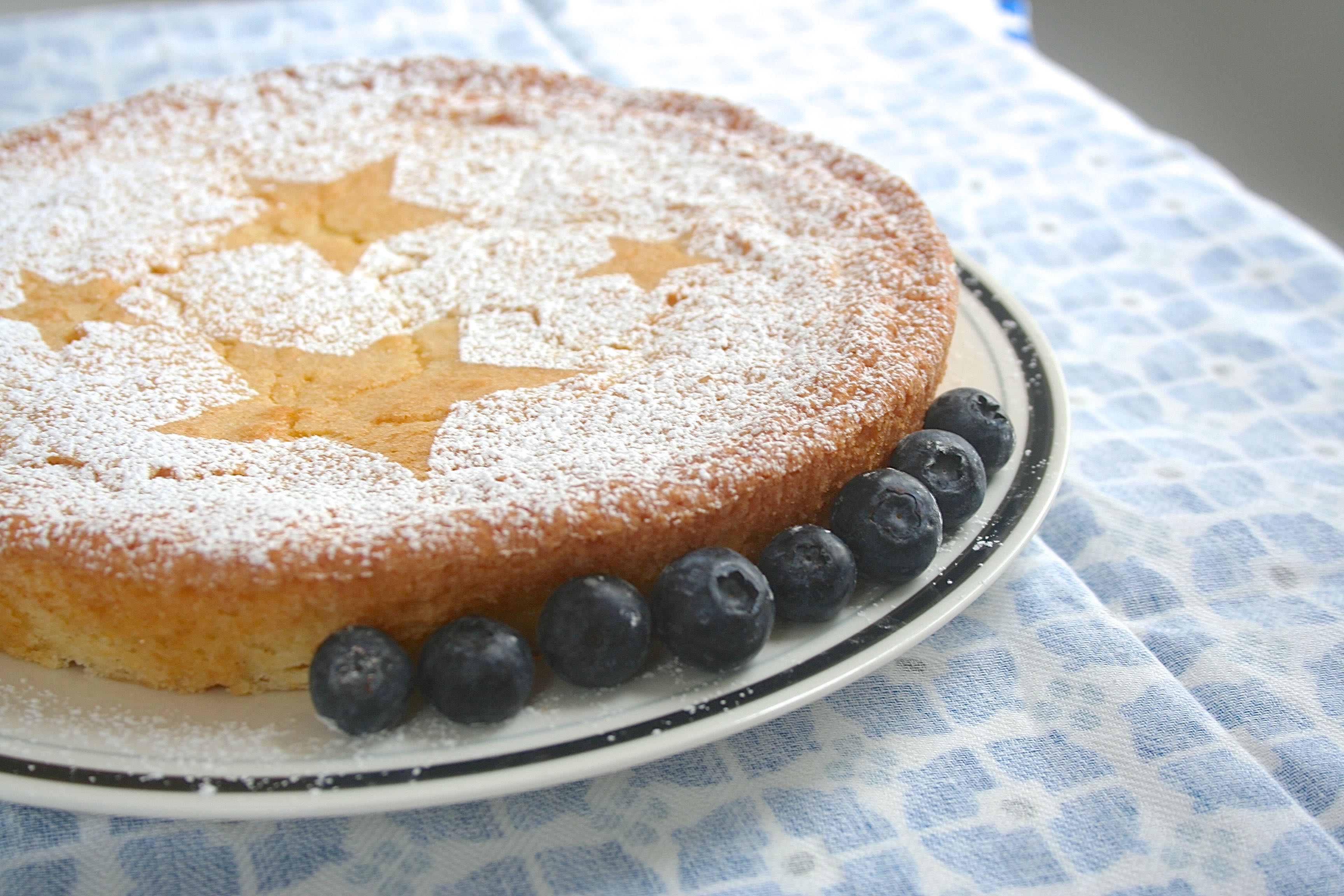 This almond cake comes together with a handful of seemingly unexciting ingredients but it's so good and so easy that I plan on making five or six of these cakes for my sister's baby shower next weekend.  To be fair, my family also shot down my over zealous plans for a complex, million-layer blue velvet cake.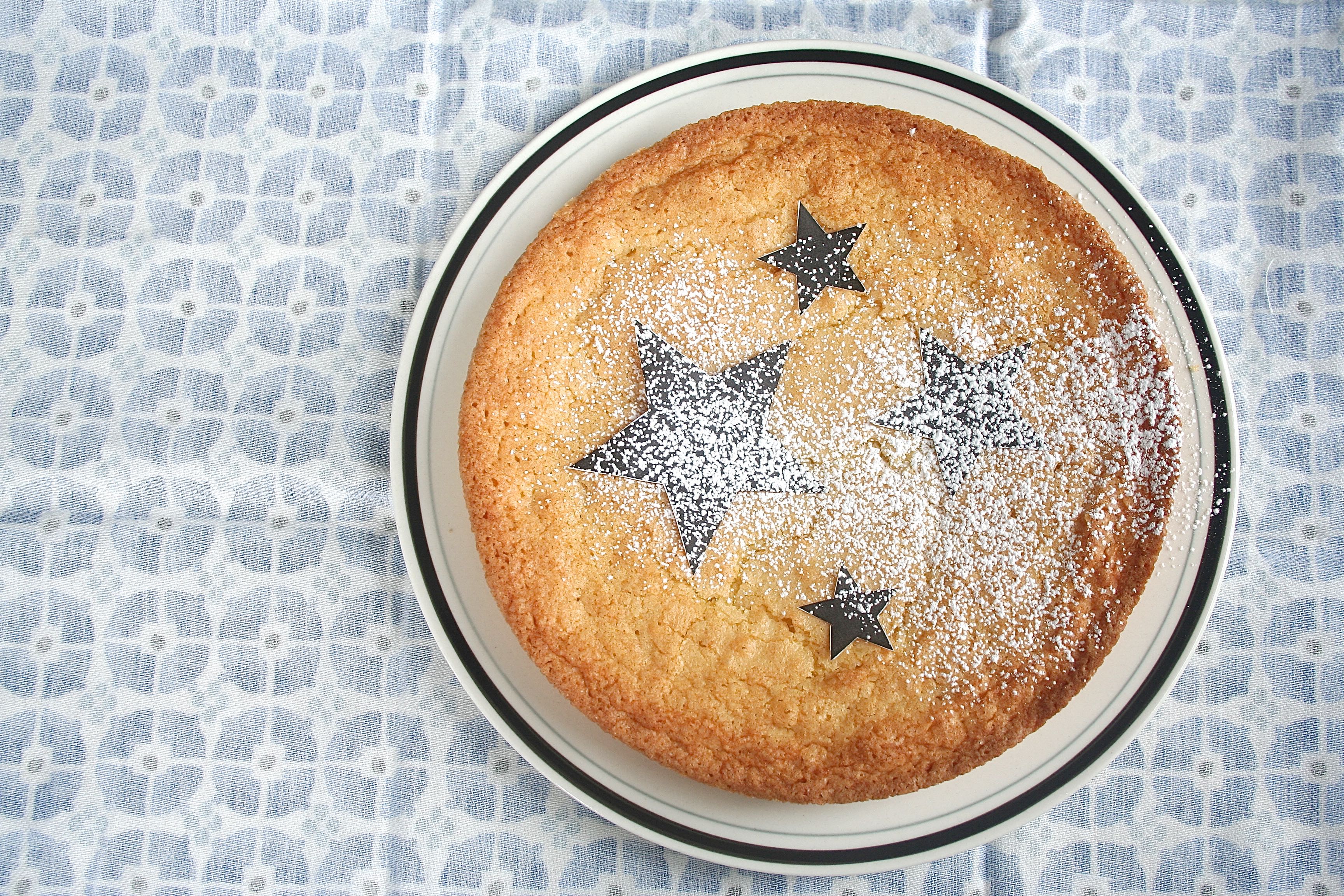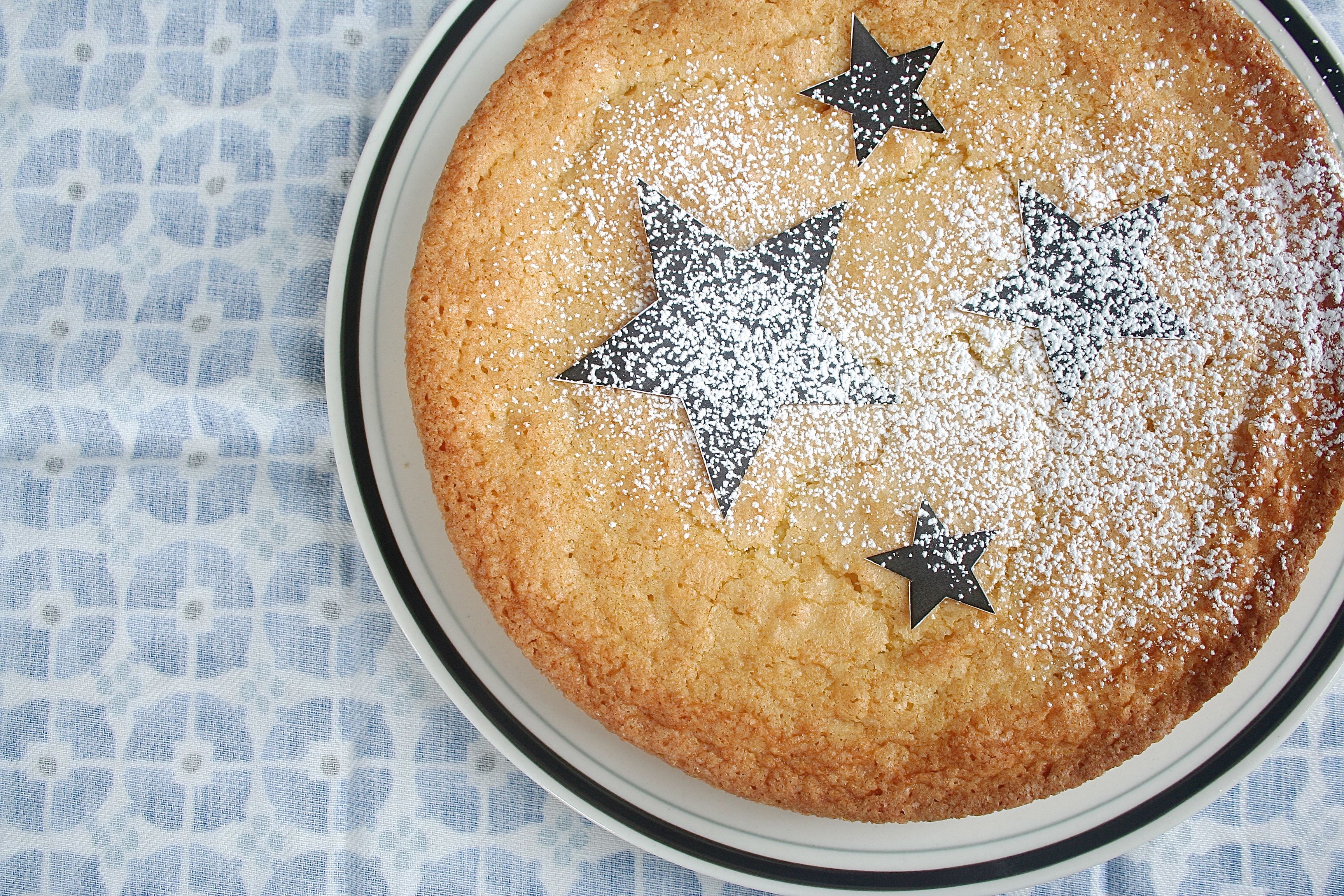 Because this cake isn't winning any beauty contests on it's own, I wanted to class the girl up a little bit since it's an actual event and not just me shoveling forkful's of cake into my mouth standing in the kitchen alone.
I contemplated drizzling this fresh fruit icing, but honestly this cake doesn't need an icing.  Instead, I opted for an easy powdered sugar decorating technique.  I cut out some star shapes, arranged them on the cake, and used a fine mesh sieve to dust the powdered sugar over the top.  This also works really nicely with stencils if you want to spell something out.  The trick is to lift off the cut shapes carefully so as to not spill more powdered sugar in the blank spaces.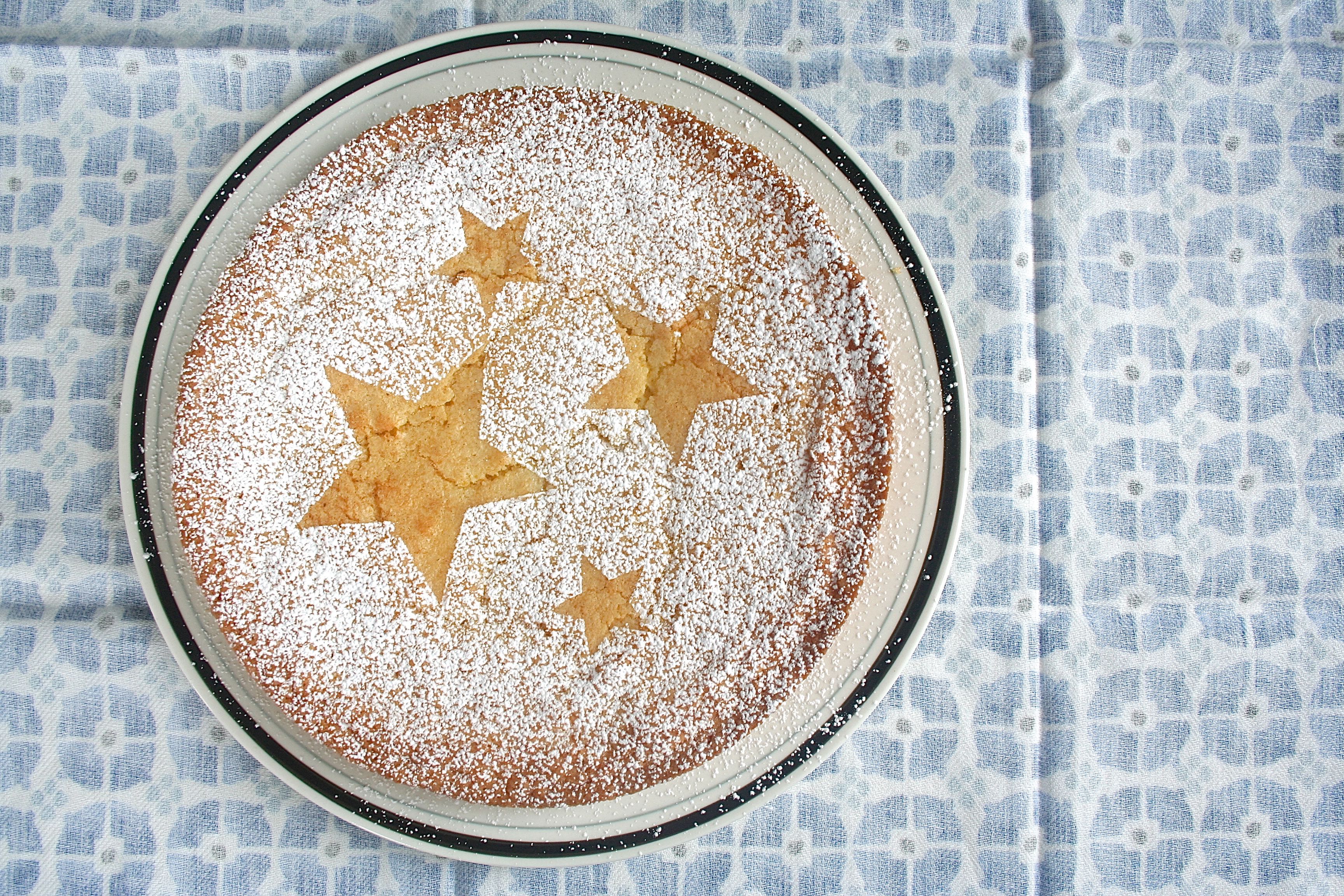 TA DA!!!
I actually think it's a pretty striking effect for minimal effort.  Even after wrapping up the cake and storing it in the refrigerator, the shapes stayed nice and clear for days.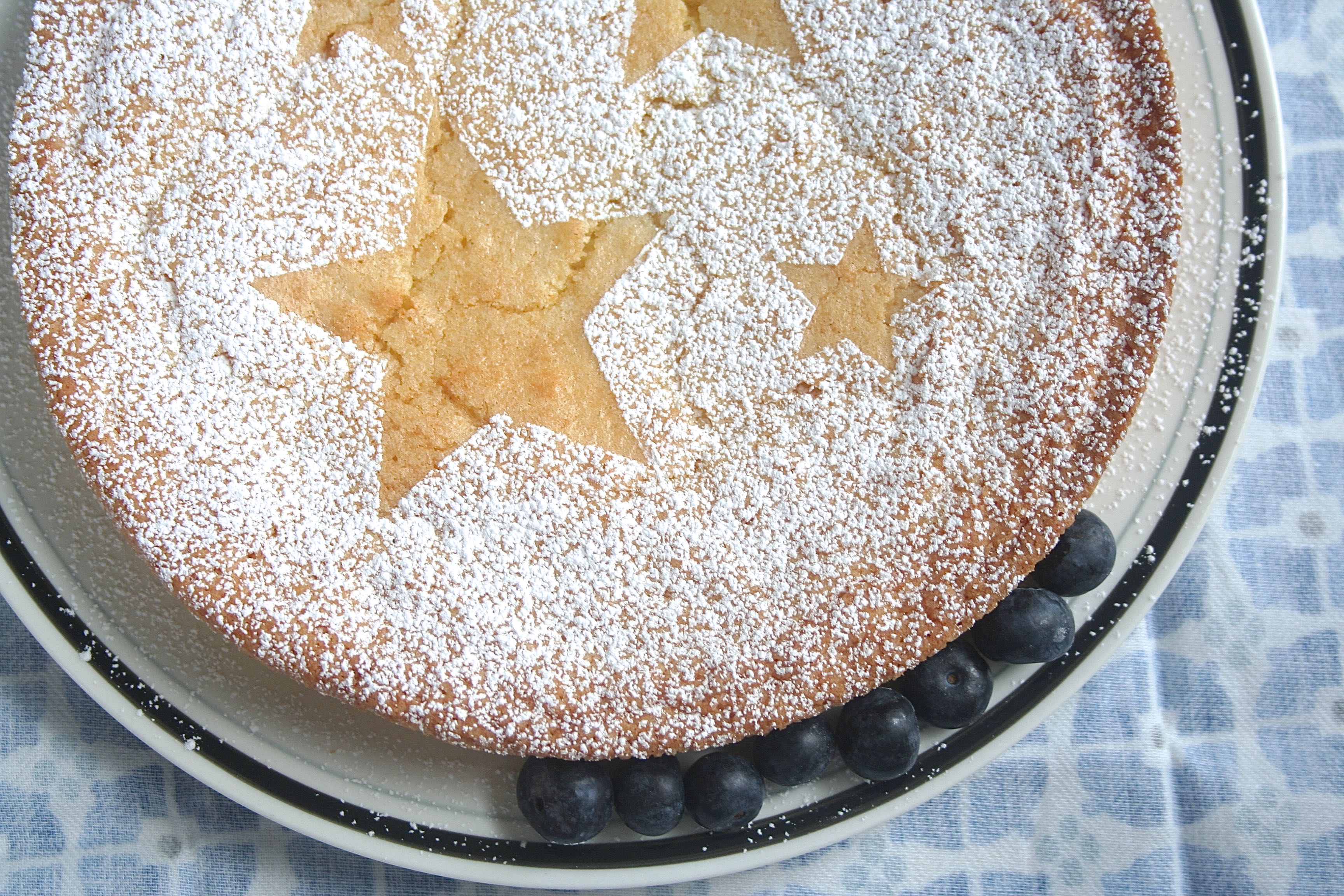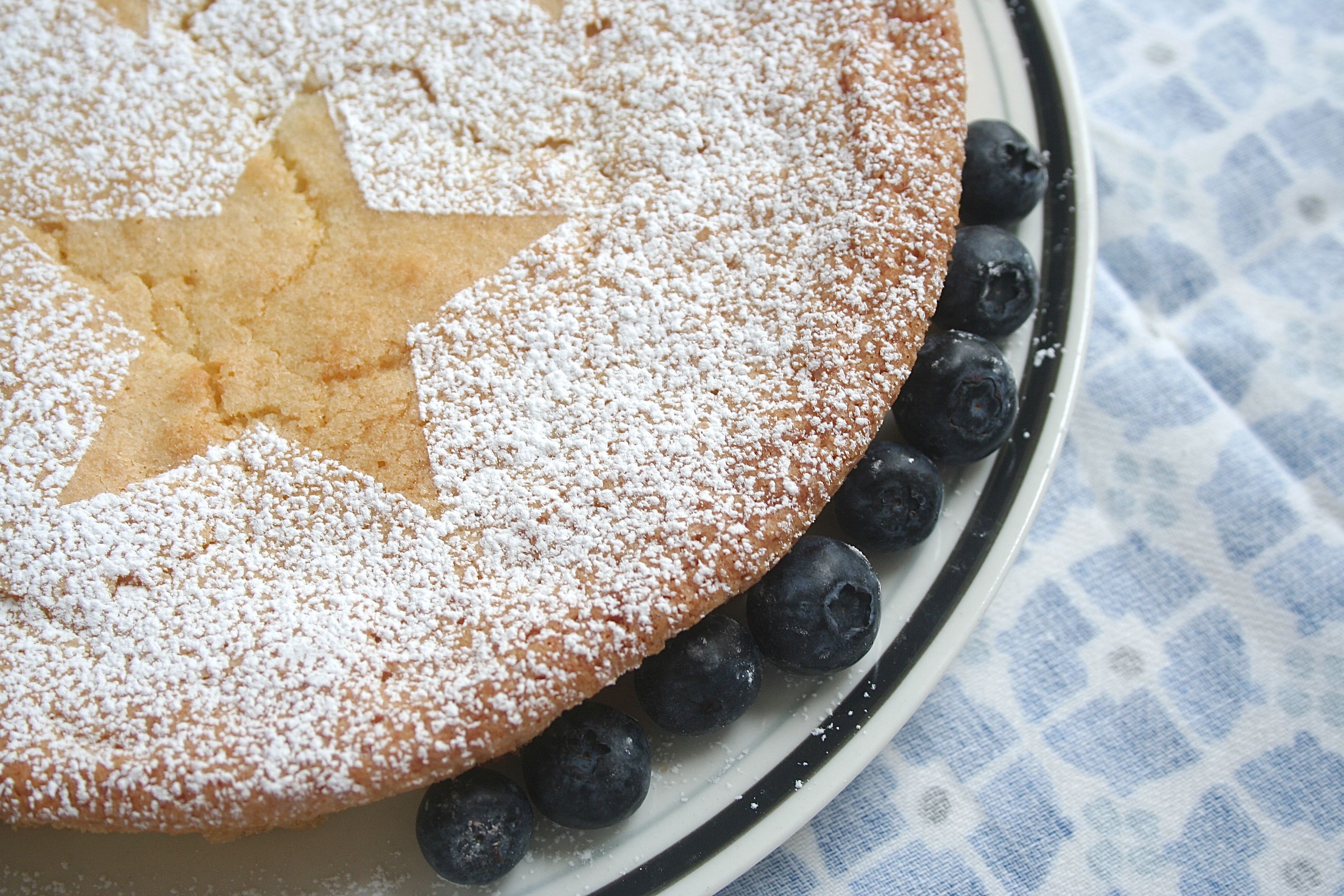 Now that I've wowed you with my artistic genius, it's important to actually speak to the flavor of this cake.  Even if you're not an almond fan, I suggest trying it.  It's almost cookie-like in texture with crackly caramelized edges and a chewy center.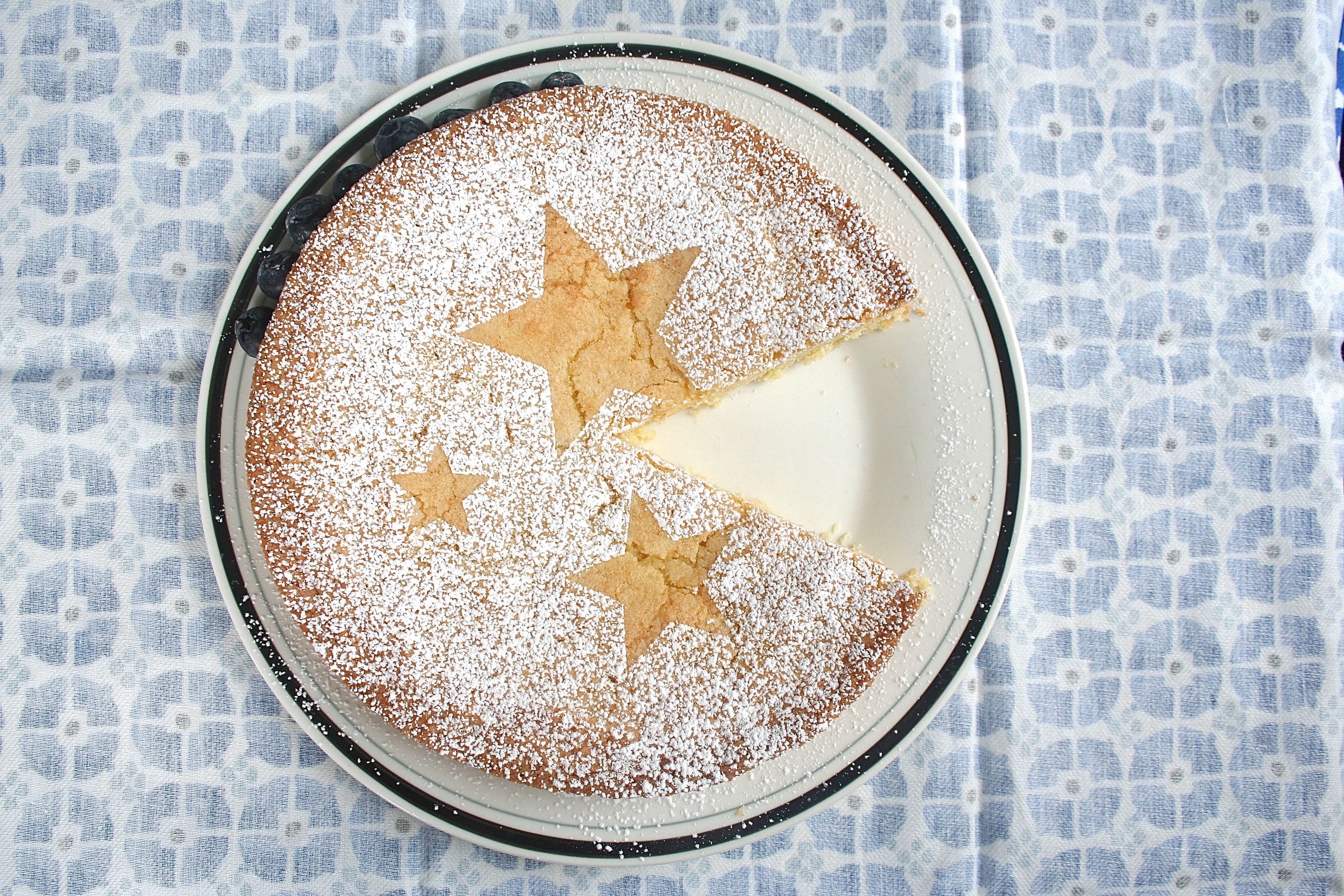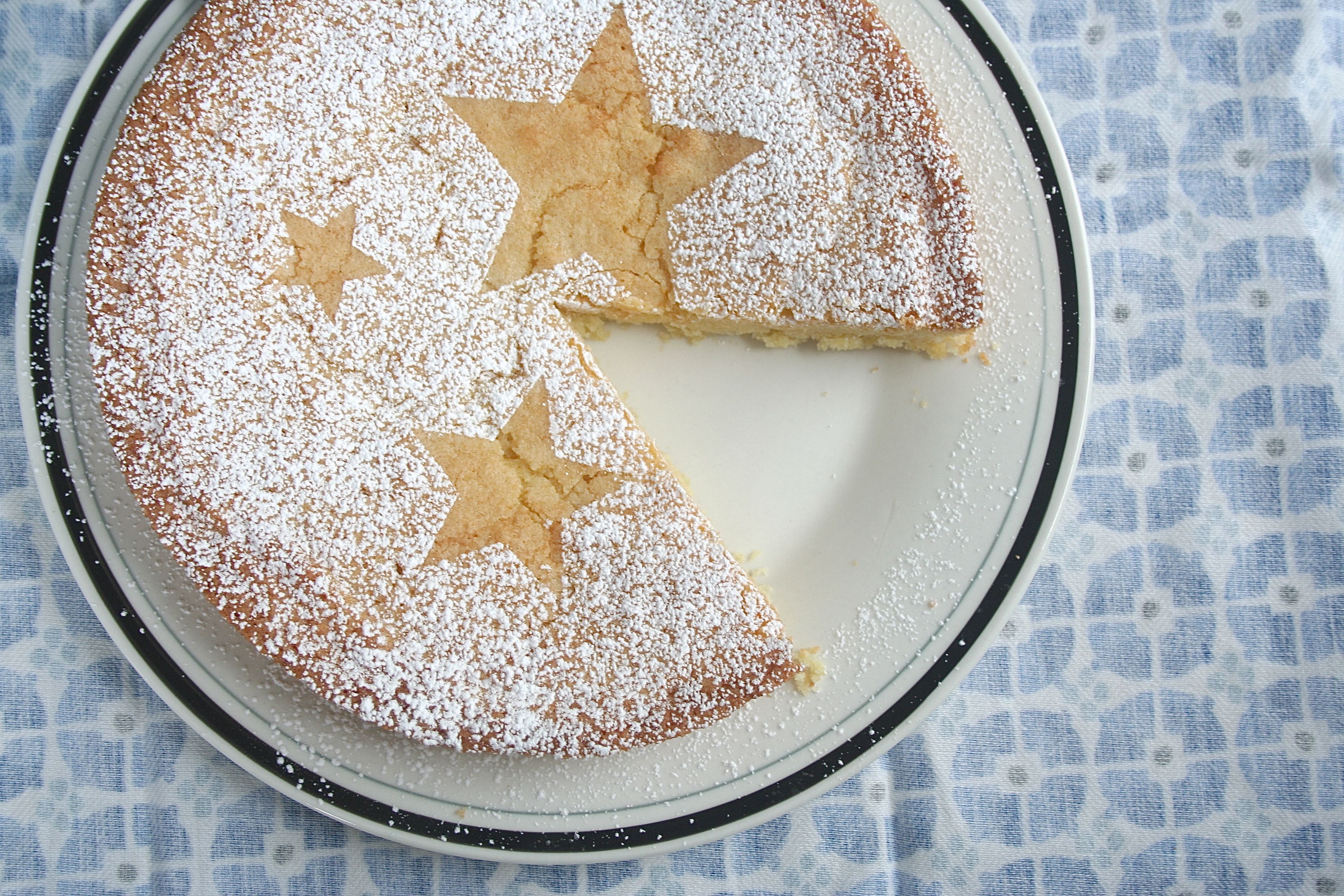 Two fun facts about this cake.  1) It's made with margarine!  I know what you're thinking.  Is this 1999?  Maybe.  But really, this cake must be made with margarine and not butter. I'm not sure why but it is written in capital letters on the recipe and I like to follow directions. 2) It's absolutely best when stored in the fridge.  I think this helps let the flavors settles and brings out the cookie-like texture.  You can certainly serve it at room temperature but I recommend a few hours in the fridge after baking.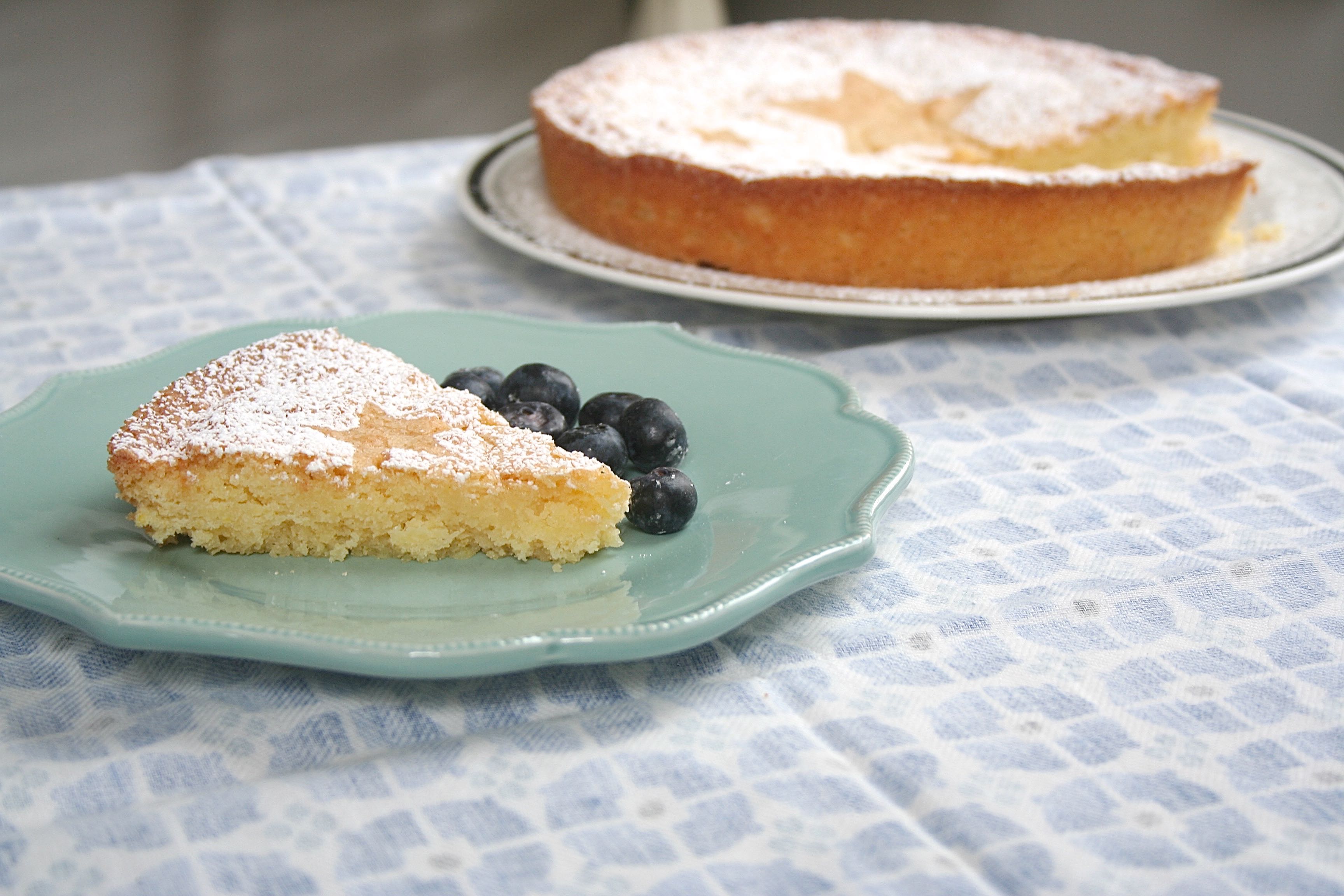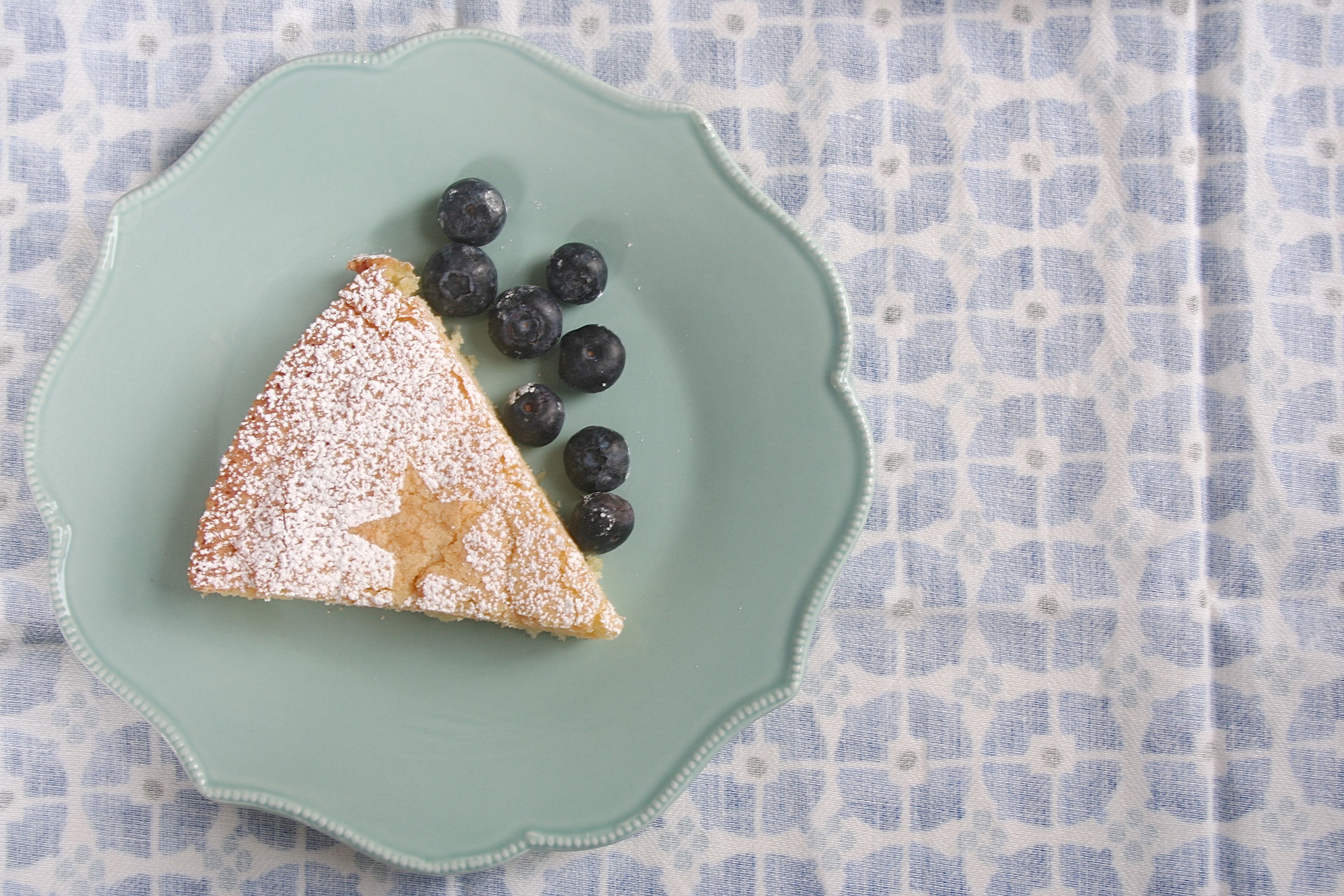 Thank you for noticing.  Why yes I did spend far too much money at anthropologie on new dish towels and plates.
Almond Cake
(recipe from Mary Genova…my mom's friend)
1 1/4 cups of sugar
1 egg
1 1/2 teaspoons of pure almond extract
2/3 cup of milk
1 1/4 cups of flour
1/2 teaspoon of baking powder
1 stick of margarine, melted (not butter)
powdered sugar for decorating
Directions
Preheat the oven to 350 degrees and grease and line an 8 inch or 9 inch cake pan with parchment.  Stir together the flour and baking powder.  In a separate larger bowl, mix together the sugar, egg, almond extract, and milk.
Stir in the dry ingredients and the melted margarine.  Pour batter into your prepared pan and bake in the oven for 40-50 minutes (shorter times for larger pans).  The edges will be golden and start to pull away slightly from the pan.
Let the cake cool completely before taking it out of the pan or it will probably crack.  Once cooled, decorate with your powdered sugar magic or simple serve with berries and whipped cream.  Store it in the fridge if you know what's good for you.
Enjoy!