The internet probably does not need another pumpkin recipe right now. I however, do need a lot more pumpkin in my life and maybe you do too.  This pumpkin crumb cake is a great start and makes up for the fact that I gave you pumpkin-less pumpkin spice cookies a few weeks ago. I'm really sorry about that again.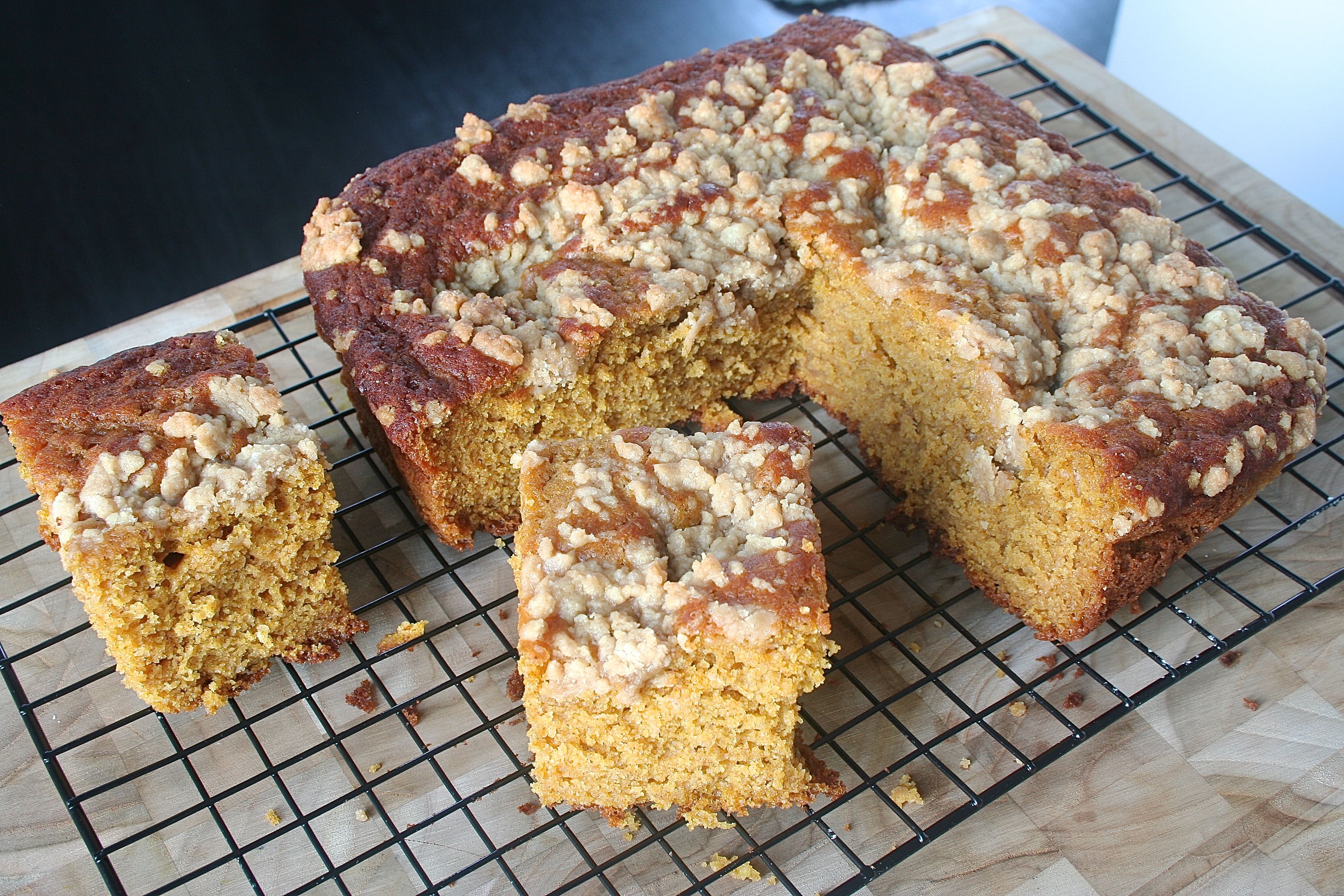 This cake is tall and comfy and I ate it for breakfast 6 days in a row. It's so much cake that it kind of hugs the crumb topping as it bakes, which is a nice way of saying the crumb sort of sunk and I'm not sure why. Normally I have a rule to always double the crumb topping and I didn't follow it this time.
Live and learn.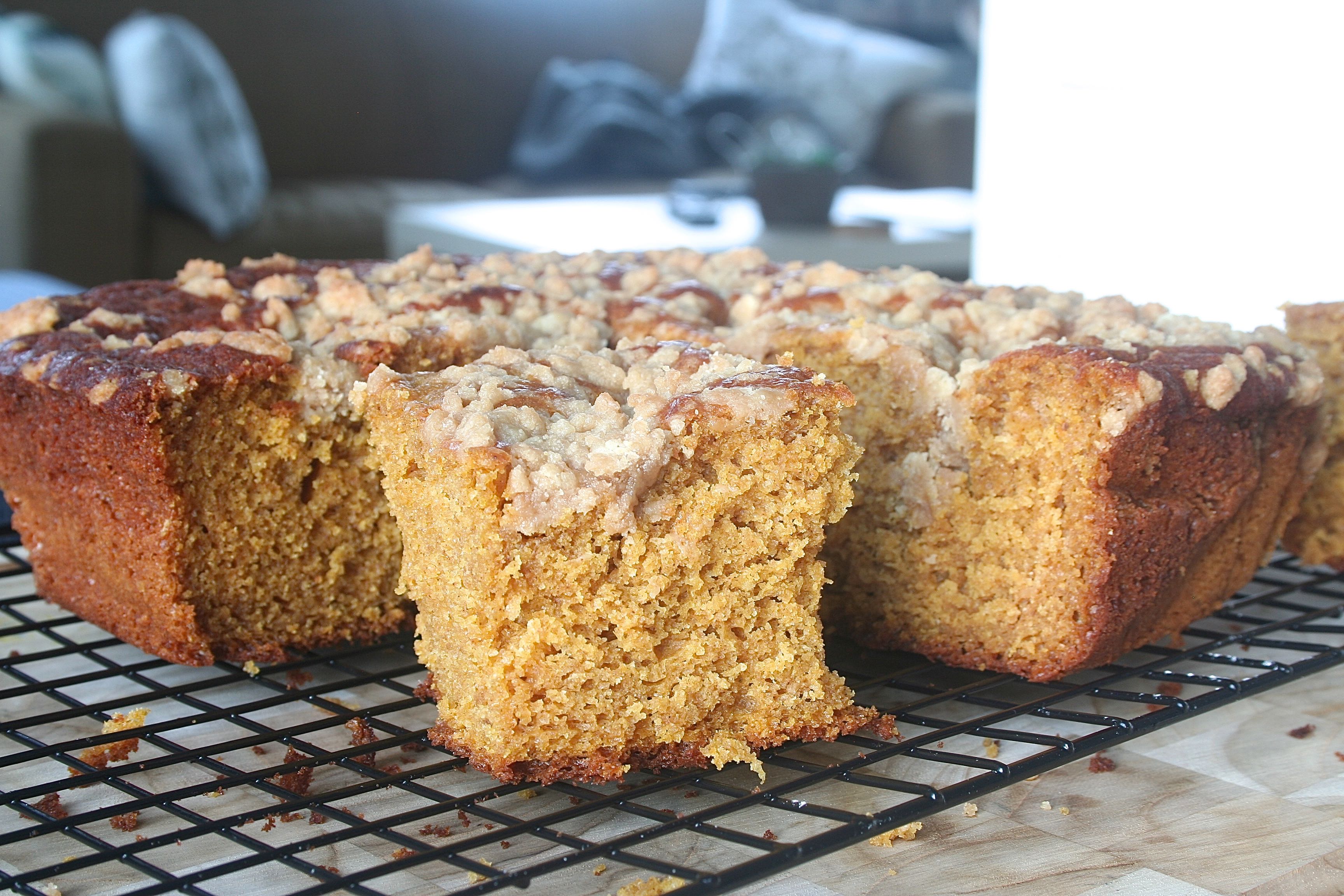 Now for all the avid fans of this blog (all four of you) –  I know what you're thinking.  Didn't I make pumpkin bread with streusel topping last year? Why yes I did, thank you for noticing.
This cake however, is different.  Whereas that bread was more dense, with a crunchy brown sugar topping – this coffee cake is soft and tender and pillowy. Choosing between the two would be like choosing a favorite pair of sweatpants. It's not only necessary, it's impossible.
I recommend making both and hunkering down until it's gingerbread season.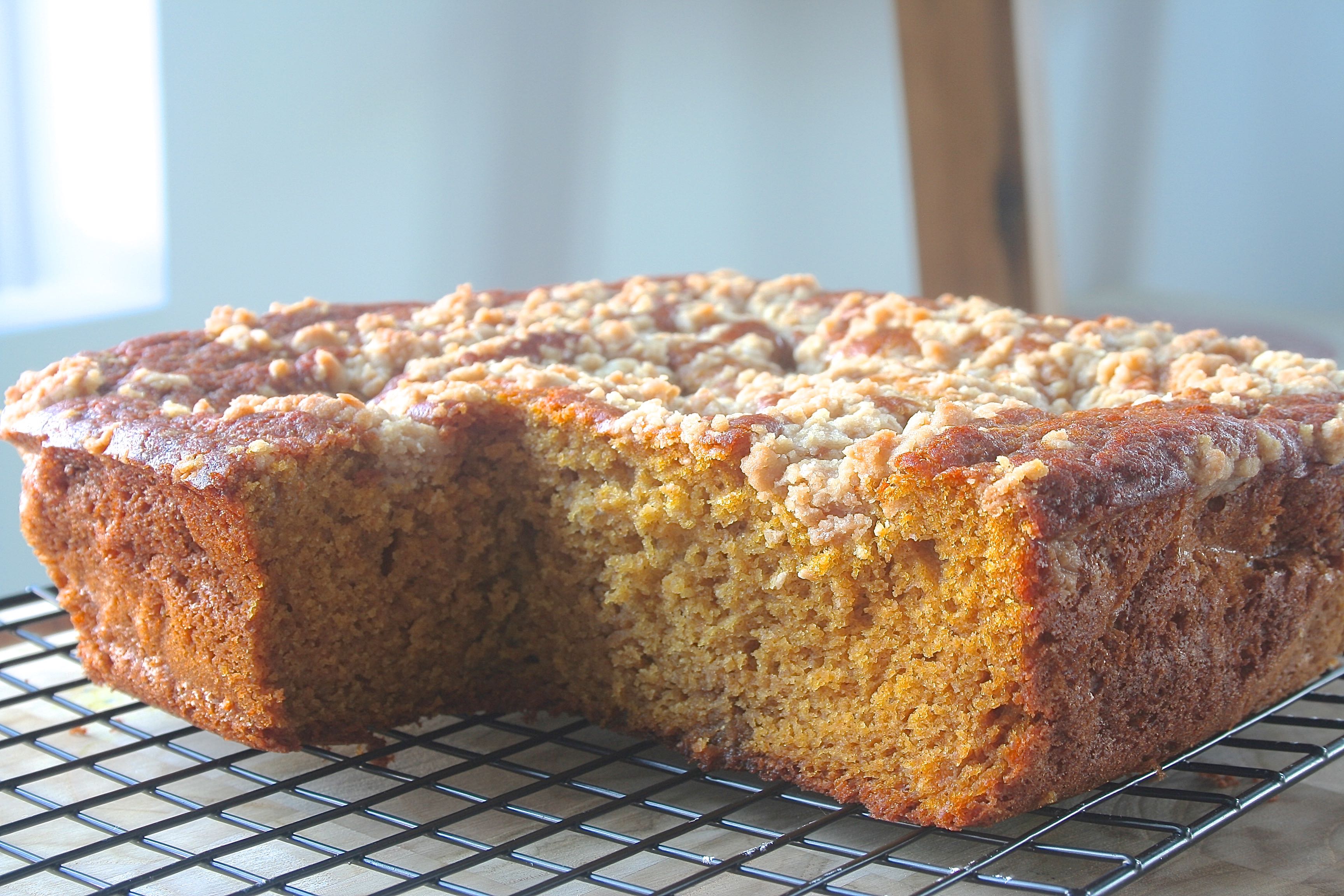 Side note – the photos of this cake are courtesy of my brand new camera tripod. I spent most of last winter in tears over my shaky and dimly lit photos so this year I splurged and spent a whole $39.99 on my sanity.  I have no idea if that's way too much or way too little to spend on a tripod but I have serious seasonal distress over losing daylight and owning a tripod is like a consolation prize for the darkness.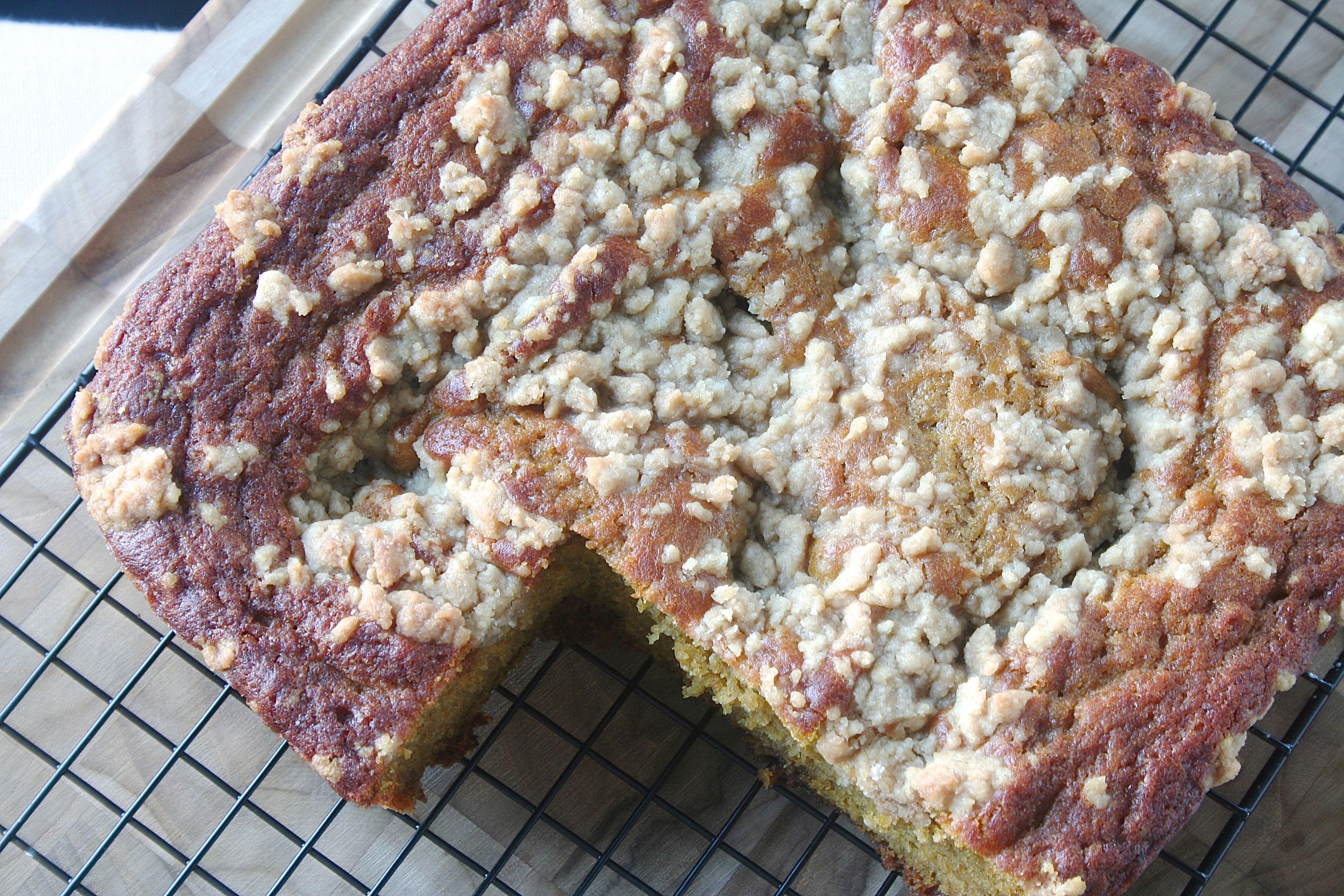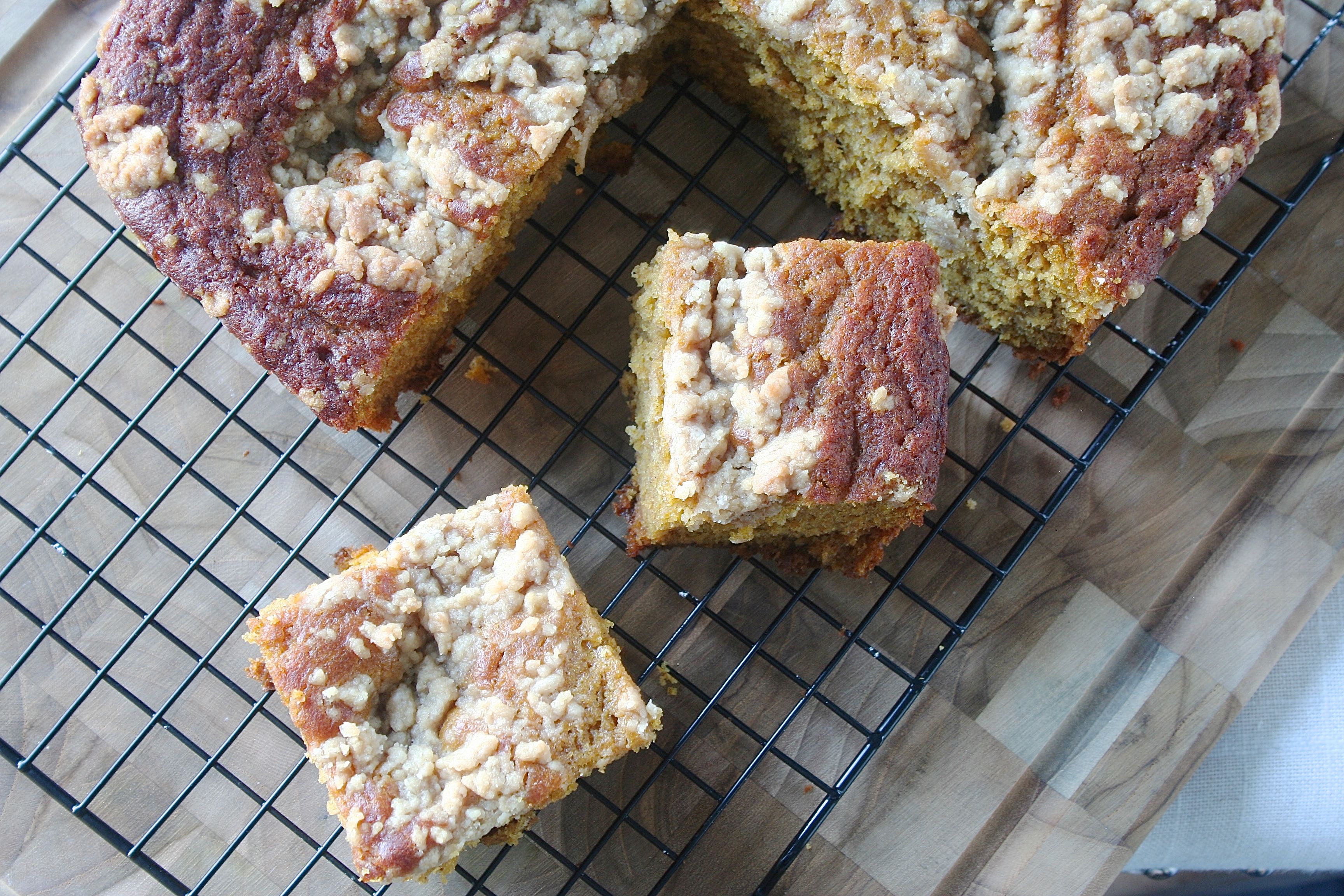 The jury is out on whether these photos are any better but I ended up with usable material and a lifetime supply of coffee cake. Win, win.
Pumpkin Crumb Cake
(recipe from I wash you dry – I chose to forgo the icing she uses and I almost don't recognize myself)
Topping
1/4 cup butter
1/3 cup brown sugar
1 teaspoon vanilla extract
1/4 teaspoon salt
3/4 cup flour
Batter
2 cups flour
1 cup brown sugar
1 1/2 teaspoon baking powder
1 1/2 teaspoon baking soda
1 1/2 teaspoon pumpkin pie spice
1 teaspoon salt
1 cup pumpkin puree
3 large eggs
3/4 cup vegetable oil
1/2 cup greek yogurt
1 teaspoon vanilla
Preheat the oven to 350 degrees and grease an 8×8 or 9×9 inch pan.
Prepare the topping by melting the butter in a sauce pan and then stirring in the brown sugar, vanilla, and salt until smooth. Remove from the heat and the stir in the flour. Set aside to cool.
Combine the flour, baking powder, baking soda, pumpkin pie spice, and salt in a medium bowl and whisk to combine. In a separate large bowl, whisk together the sugar, eggs, vegetable oil, vanilla, pumpkin puree, and greek yogurt until smooth.
Stir the wet ingredients into the dry ingredients until combined and then pour them into your prepared pan. Crumble the cooled topping over the batter and bake in the oven for 40 minutes. I made a double batch of this and one cake came out ready a lot sooner than the other. Wait until the cake springs back a bit to the touch or a toothpick inserted into the center comes out clean.
Enjoy!