Happy Halloween! This is a big day for me since it's the first official time I have a post up ON the holiday and not four days later because I have poor time management skills.
Let's celebrate by getting chocolate wasted?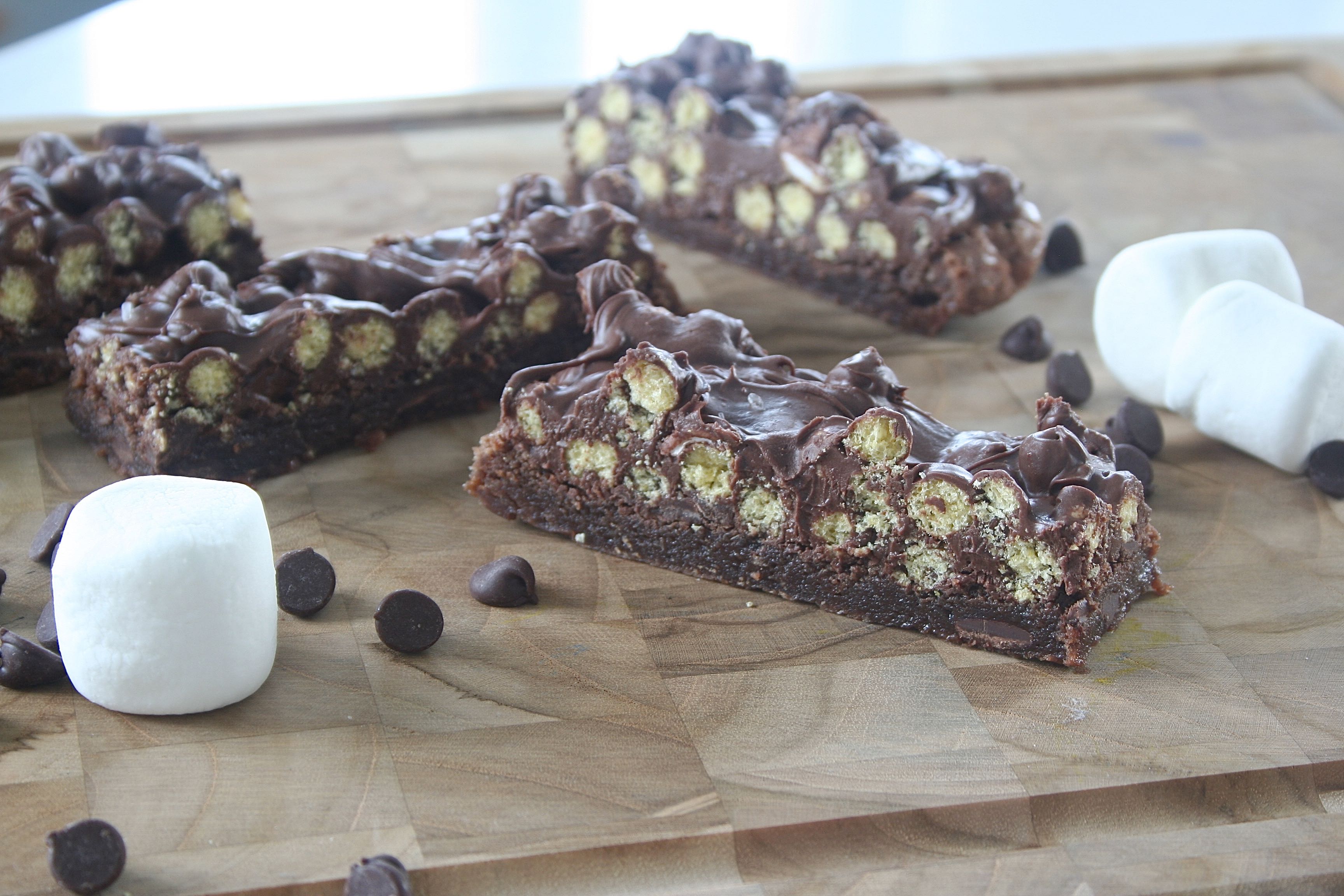 Last year I made candy bar blondies after watching Hocus Pocus with my cousin. This year I made fudgey cereal and marshmallow brownies while watching Atlanta with my boyfriend. It's spooky how active my social life is.
These brownie bars are an adaptation of the version Bakers Royale made, which is an adaptation of the Averie Cooks recipe Love and Olive Oil made. Still with me? I'm a grad student and extremely worried about plagiarism.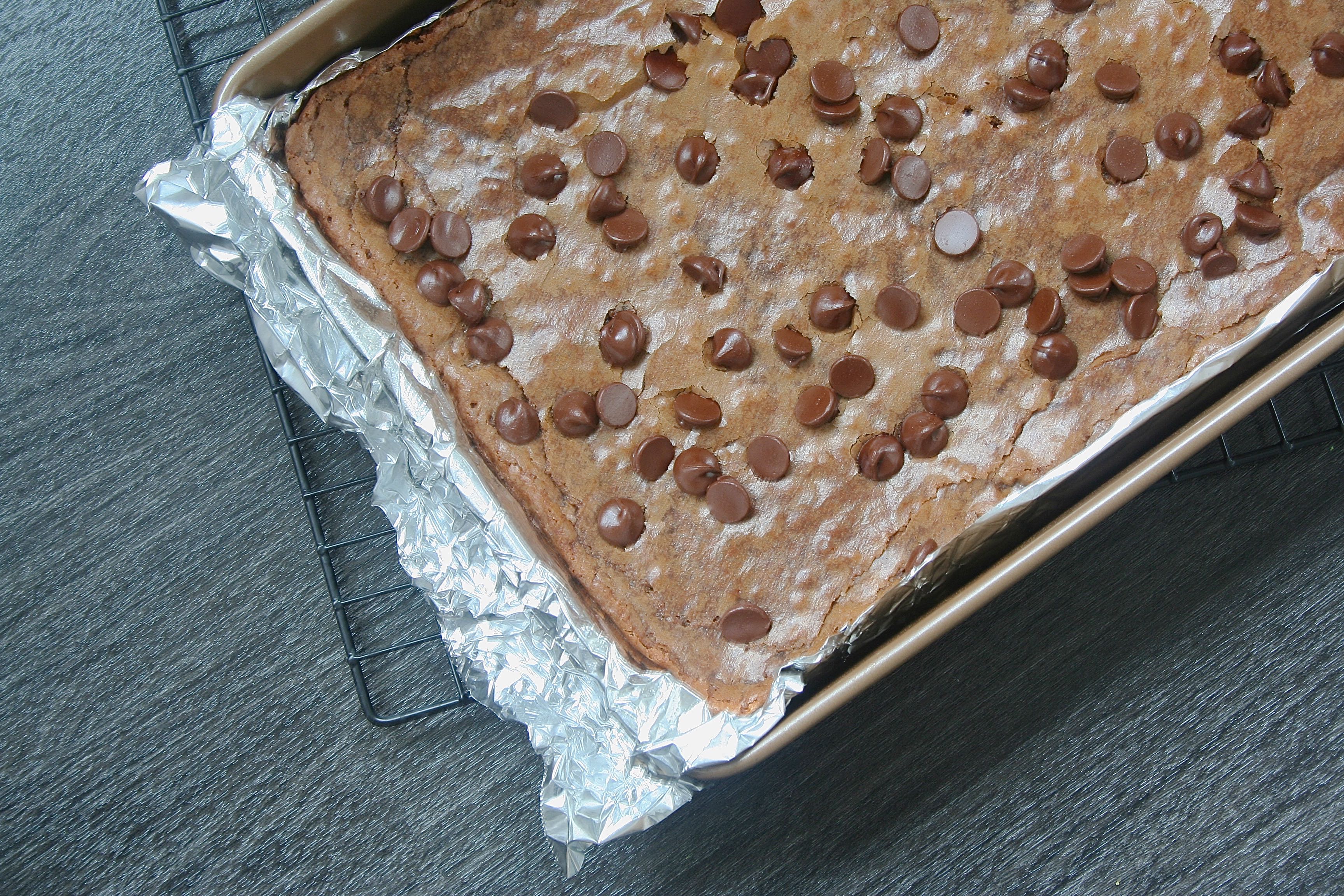 You start with a fudgey semisweet layer of brownie and top it with chocolate chips. Honestly, I'm not sure why. It's a pretty unnecessary step given what's about to happen next – but lets go with it anyways.
Melt together a magical bowl of butter, chocolate almond spread, MORE chocolate chips, and any hopes of not having a sugar crash. Stir in some cereal and marshmallows and pour it all on top of your perfectly good tray of brownies that really would have been absolutely fine and reasonable on its own.
Halloween is not for being reasonable and you'll know that if you've ever sprinted across a college campus in 30 degree weather dressed like an idiot.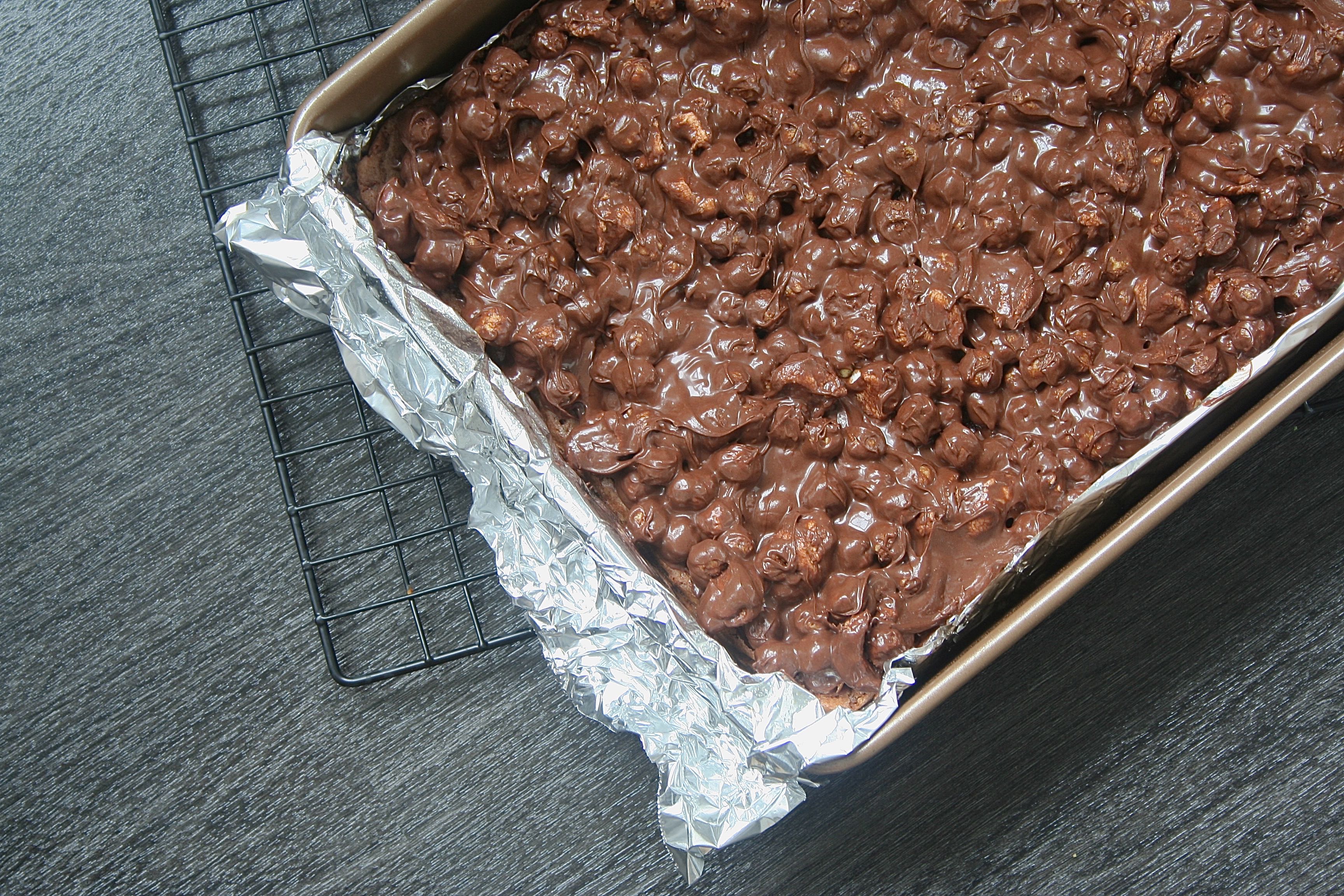 If you're saying you can't relate to that example – you either didn't go to college in the Northeast or you are a liar.
After these puppies set up in the fridge for at least 90 minutes you'll end up with something fantastic and absurd. The brownie is dense and chewy, the cereal stays crisp, and the chocolate spread mixture is basically fudge. I sort of skimped on the marshmallows because it got very sticky cutting them up and I'm a little bit lazy – but the bits that are in there do a lovely job of adding more texture.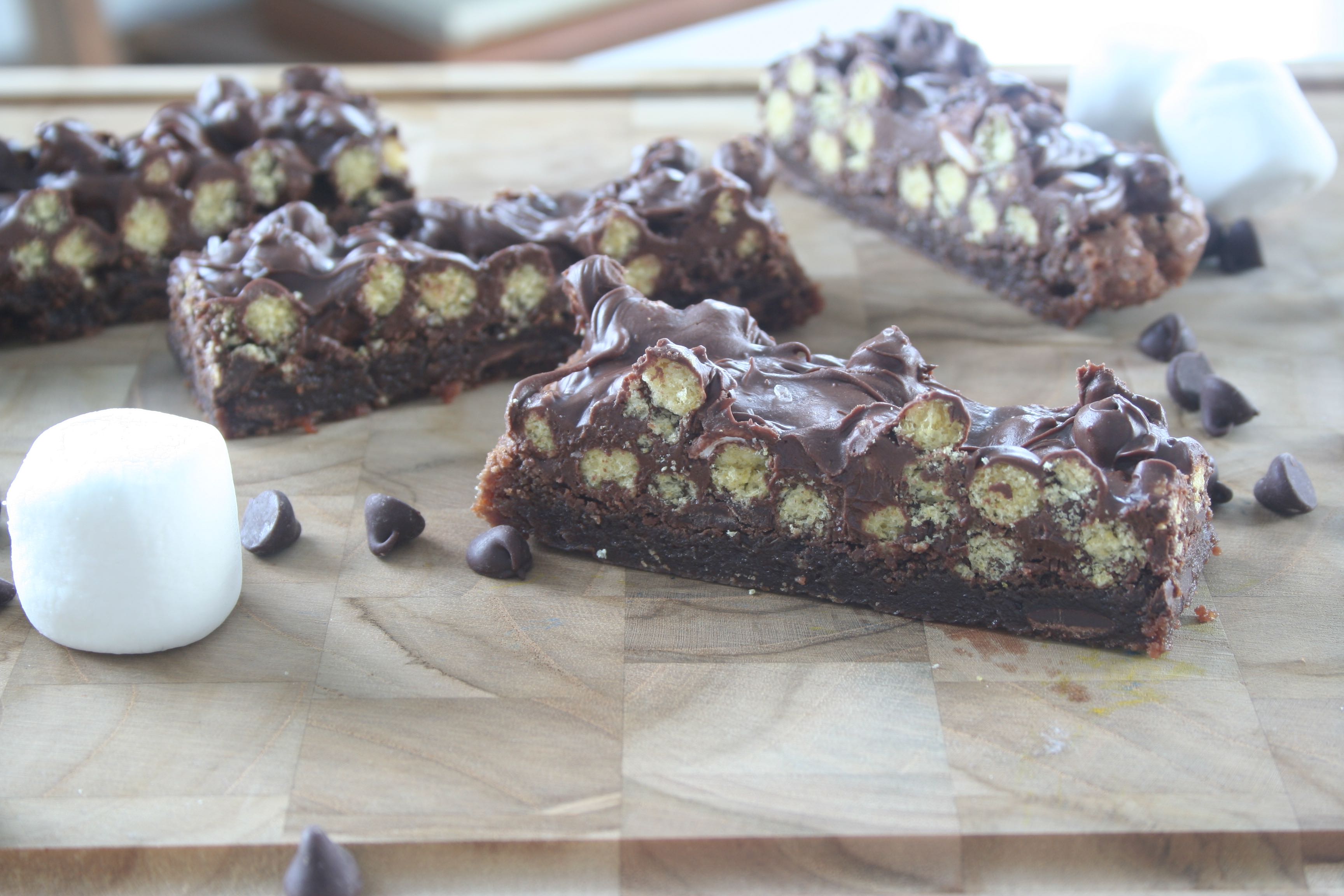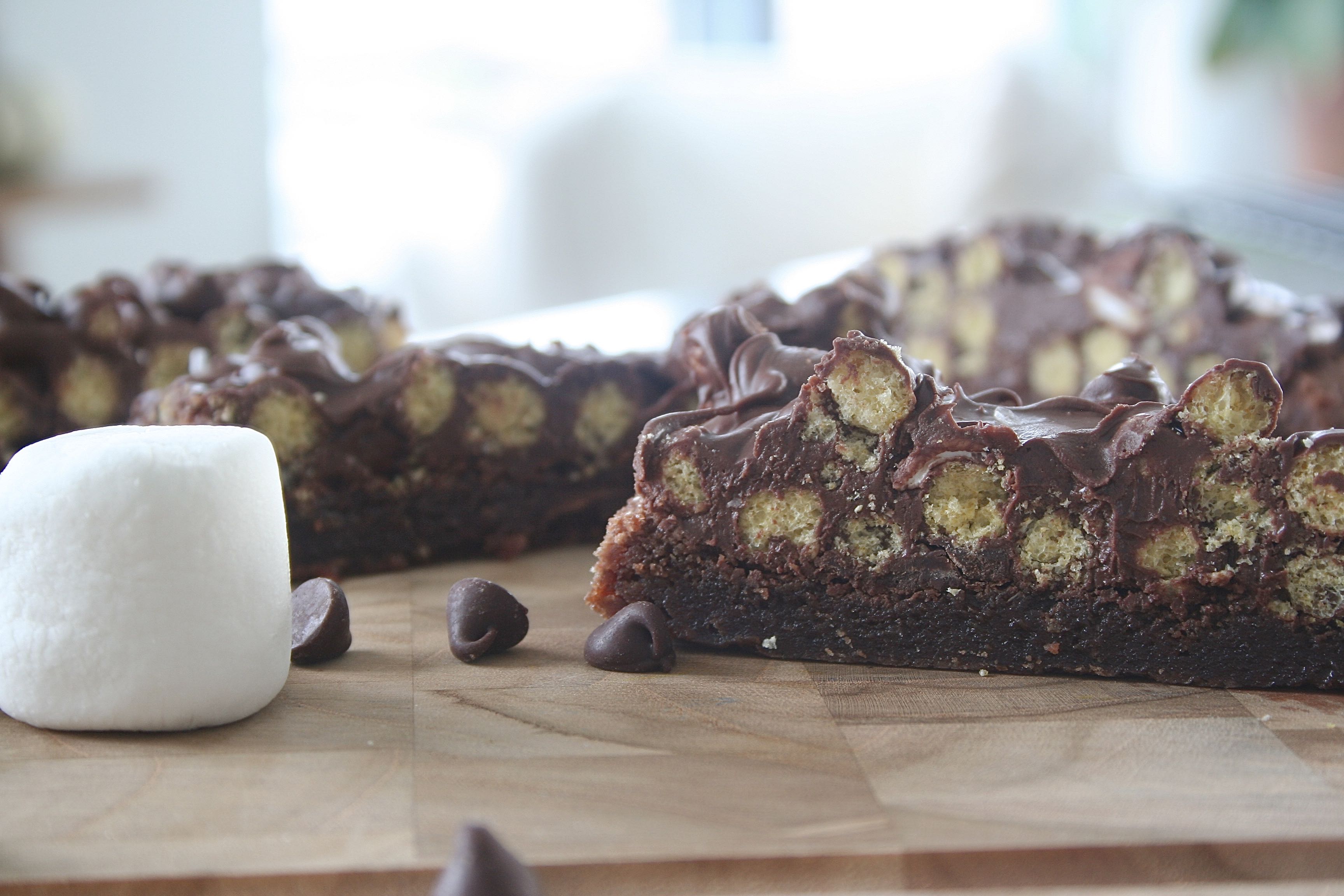 Please note that the size of the bars cut above is absolutely insane. I'm not saying I didn't eat a whole one, I'm just saying you should probably cut them smaller because they are rich like you wouldn't believe.
Cereal and Marshmallow Brownie Bars
(recipe adapted from Bakers Royale and everyone else before her)
Brownie Layer
3/4 cup unsalted butter
1 3/4 cups semisweet chocolate chips (divided)
1 1/2 cups granulated sugar
1/2 cup brown sugar, packed
1 teaspoon coffee concentrate (I used the iced version you can get at trader joes, but this is optional)
1 1/2 teaspoons vanilla extract
3 large eggs
1 cup all purpose flour
Cereal Topping
1 tablespoon butter
1 1/2 cups chocolate almond spread (or nutella)
1 1/2 cups semisweet chocolate chips
2 1/2 cups cereal (I used Nature's Path Gorilla Munch)
1 cup mini marshmallows or chopped up large mallows
Directions
Line a 9×13 inch pan with foil and grease it with baking spray. Preheat your oven to 350 degrees.
In a microwave proof bowl slowly melt 3/4 cups along with the butter, stirring every 15 seconds or so. Once melted, whisk in your white sugar and brown sugar, followed by your vanilla and coffee (if using).
Whisk in the 3 large eggs until combined and then stir in your cup of flour. Mix in 1/2 cup of chocolate chips and pour the batter into your prepared pan. Bake for 25 minutes, sprinkle on that extra unnecessary 1/2 of chocolate chips and pop it back in the oven for 3-4 minutes. Let it cool in the pan on a wire rack.
To make the topping, melt your chocolate chips, butter, and chocolate spread in a microwave safe bowl. Once smooth, stir in your cereal and marshmallows. This is a good place to adapt away and use whatever cereal you like, plus any other mix ins that will make this brownie situation even more insane.
Pour the mixture on top of your brownies and let it set in the fridge for at least 90 minutes before slicing.
Enjoy!