Now that Thanksgiving is behind us, it's ok to start thinking about holiday cookies right?  There's something really special about this time of year when I completely overestimate my abilities and my family watches with anxiety over my potential meltdown if something comes out burnt.
Tradition is a beautiful thing.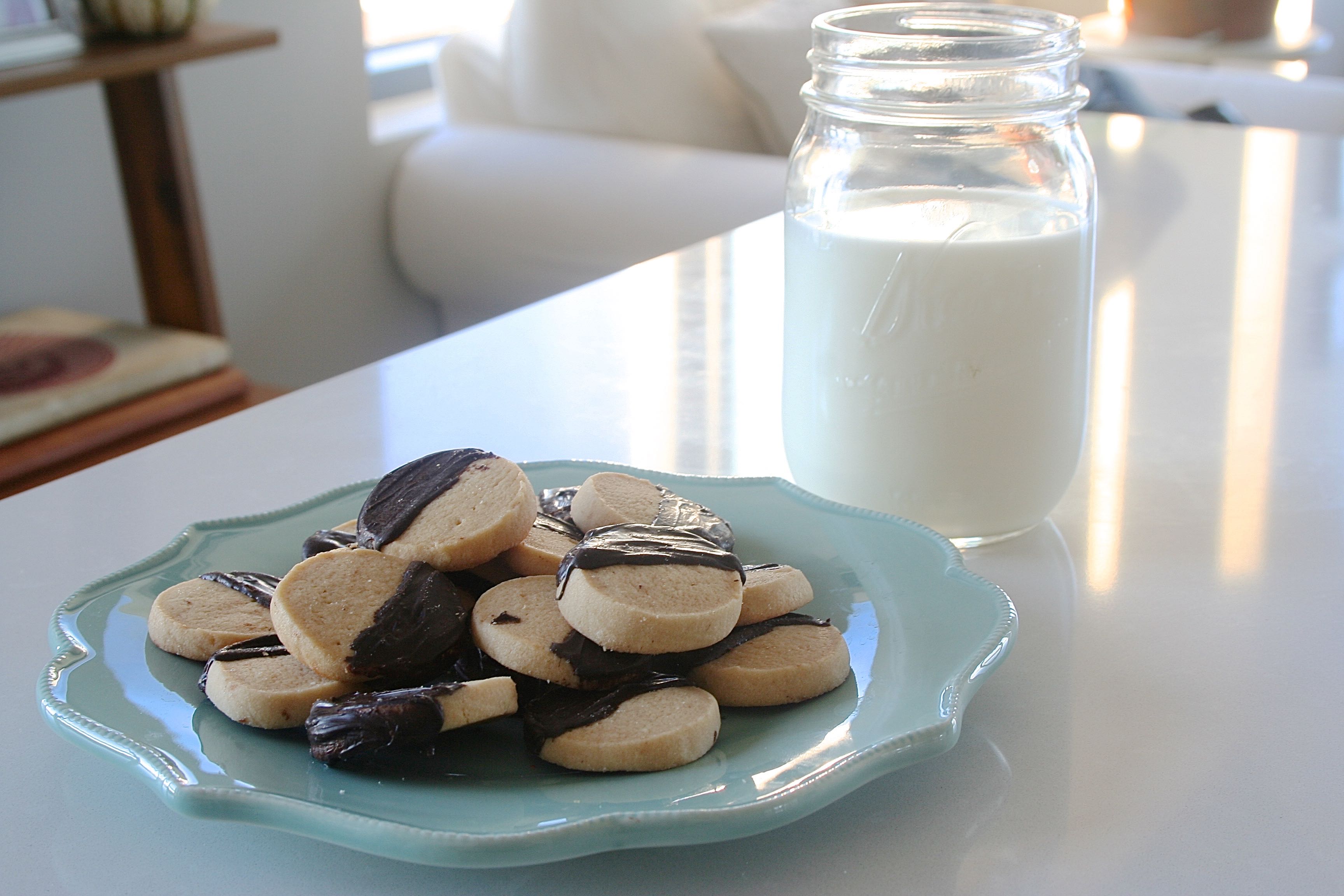 The other week I made sticky toffee pudding, jam bars, ice cream cake, chocolate truffle cookies, and these brown sugar shortbread cookies. In my defense I had three birthdays, two baby showers, and one Wednesday night to consider.
I'm not however, entirely insane, and went with a make ahead option at least twice.
Enter slice and bake cookies.
"Slice and bake" reminds me of the tube of cookie dough you can buy at the grocery store with seasonal images in the center.
These brown sugar shortbread cookies are kind of like that – but more of a cookie you would introduce your parents to. No offense pilsbury slice and bake.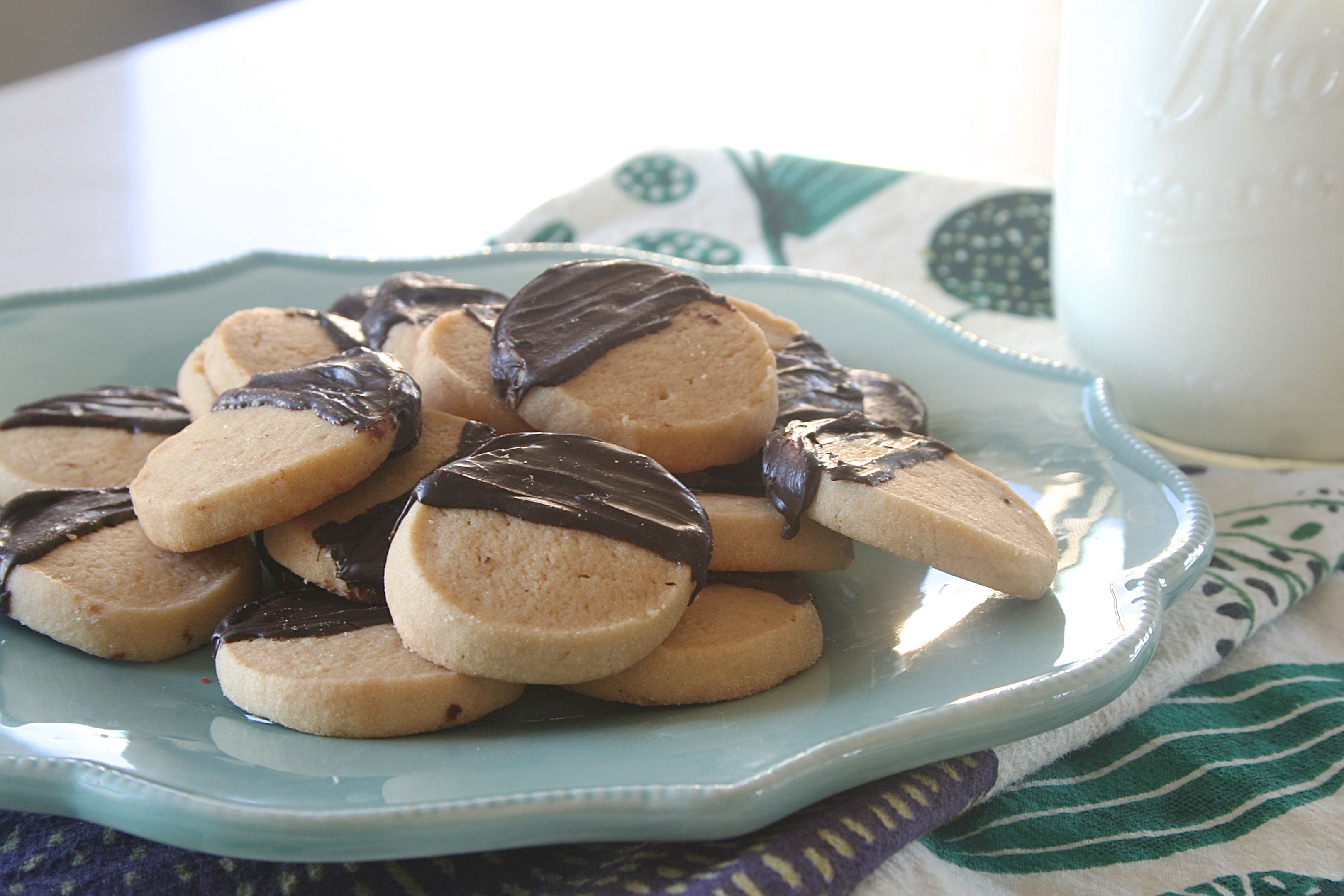 Like so many recipes I am drawn to, these cookies are very customizable and whatever you choose to dip and/or roll them is probably a good idea.  Here, the brown sugar adds a more caramelized sweetness to the cookie and dipping them in dark chocolate makes them rich but not too sweet. Other ideas are milk chocolate and sprinkles or white chocolate and peppermint if you're feeling festive.
I ended up rolling the log of cookie dough pretty skinny, resulting in coin-sized cookies but feel free to go large and in charge if that's what you want.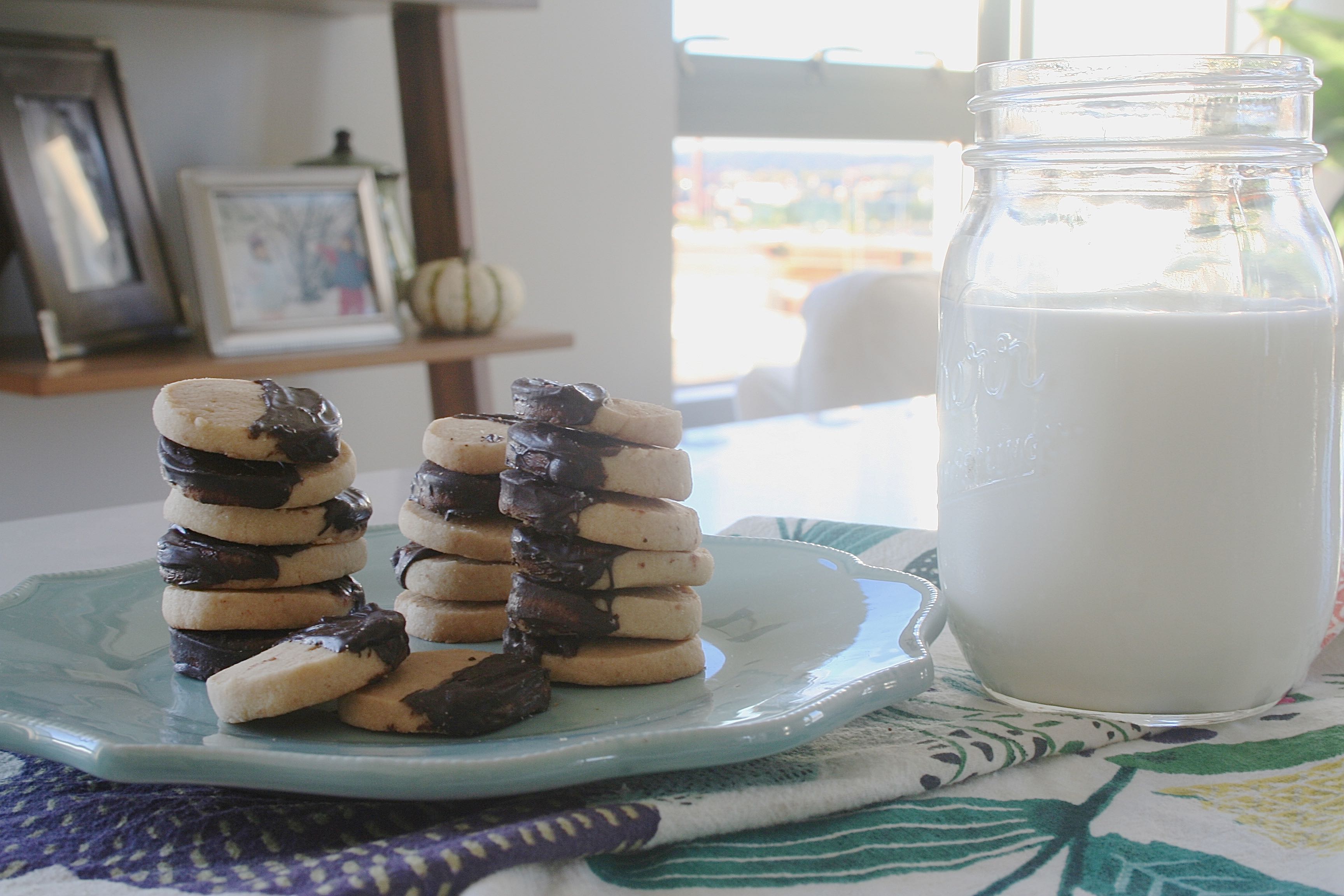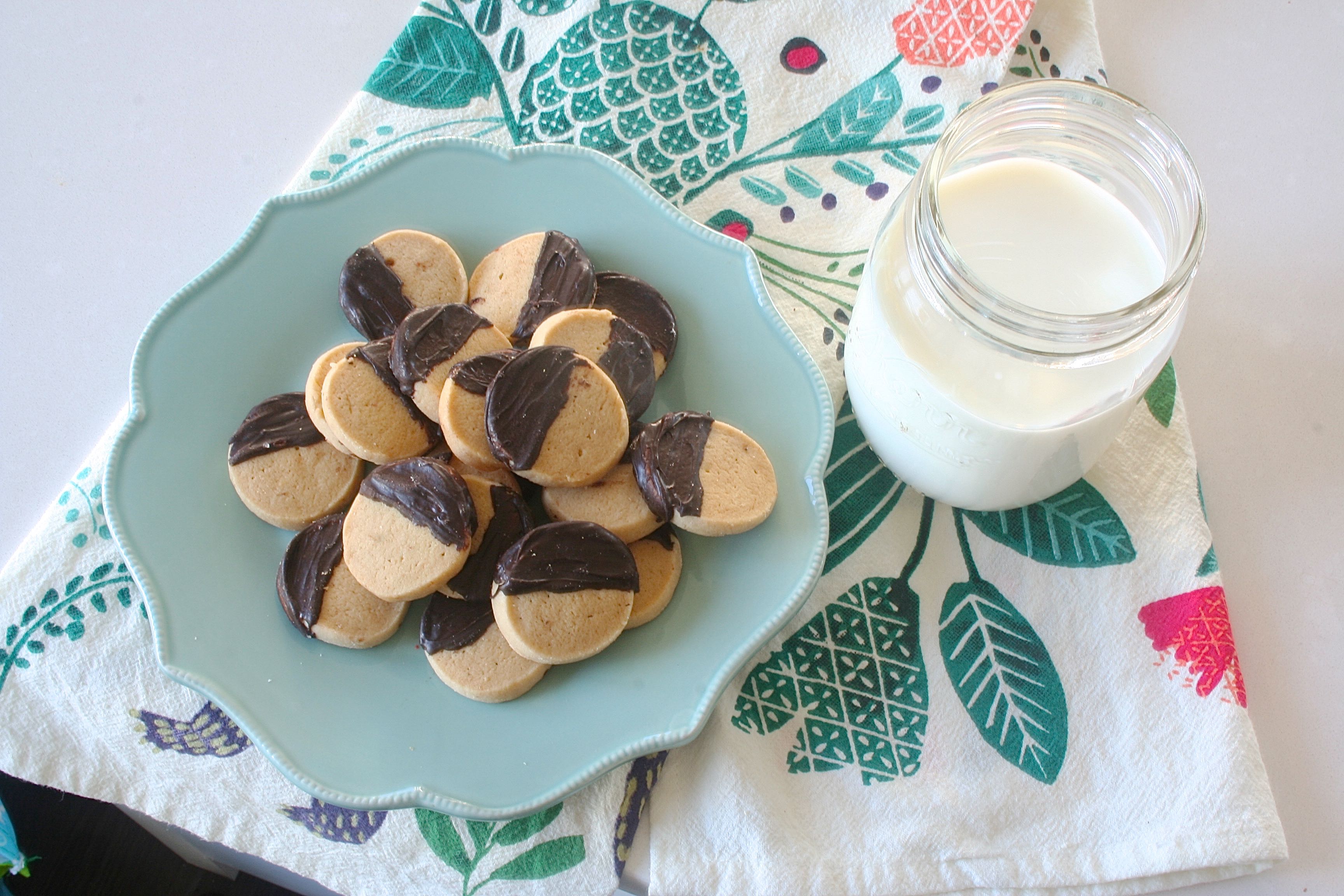 You can make the cookie dough a week ahead in the fridge or a few months ahead stored in the freezer and bake them up when ready.  They keep well in a tupperware container and are easily packed up into sweet and adorable holiday gift baskets if you're the type of person who really has it together.
I am not that person.
Chocolate Dipped Brown Sugar Short Bread Cookies
(recipe ever so slightly adapted from sally's baking addiction)
3/4 cup butter, room temperature
2/3 cup light or brown sugar
1 egg, room temperature
1 teaspoon vanilla extract
2 cups flour
1/4 teaspoon salt
8 oz dark chocolate for dipping
Directions
With a hand or stand mixer, beat the butter for at least one minute until completely smooth.  Next beat in the brown sugar until fluffy. Beat in the egg and vanilla next, scraping down the bowl as needed.
In a separate bowl, stir together the flour and salt. Slowly the dry ingredients into the wet ingredients until full combined.  Now is the time to stir in any nuts, cranberries, chopped chocolate that you may want.
On a floured surface, divide the dough into two and shape into logs.  Make the logs fatter for larger cookies and skinner for more bite size cookies. Tightly wrap in plastic wrap and chill in the refrigerator for at least 4 hours but you can keep the dough in there for up to 5 days.  I also froze a log for later use.
When ready to bake, preheat the oven to 350 degrees and line a baking sheet with parchment paper. Slice the cookies into 1/2 inch rounds and bake for 10-12 minutes or until slightly brown around the edges.  This will depend on your cookie size a bit so watch those suckers.
Transfer to a cooling rack to cool completely before dipping in melted chocolate and whatever else suits your fancy.  These cookies keep very well stored in an air tight container for up to a week.
Enjoy!