It's December and it's dark when I wake up and dark when I come home from work.  My boyfriend and I are in a constant battle of wills over the thermostat and I spend all waking hours buried under my restoration hardware blanket.  For all intents and purposes it's winter and an endless supply of holiday cookies is the only way to survive.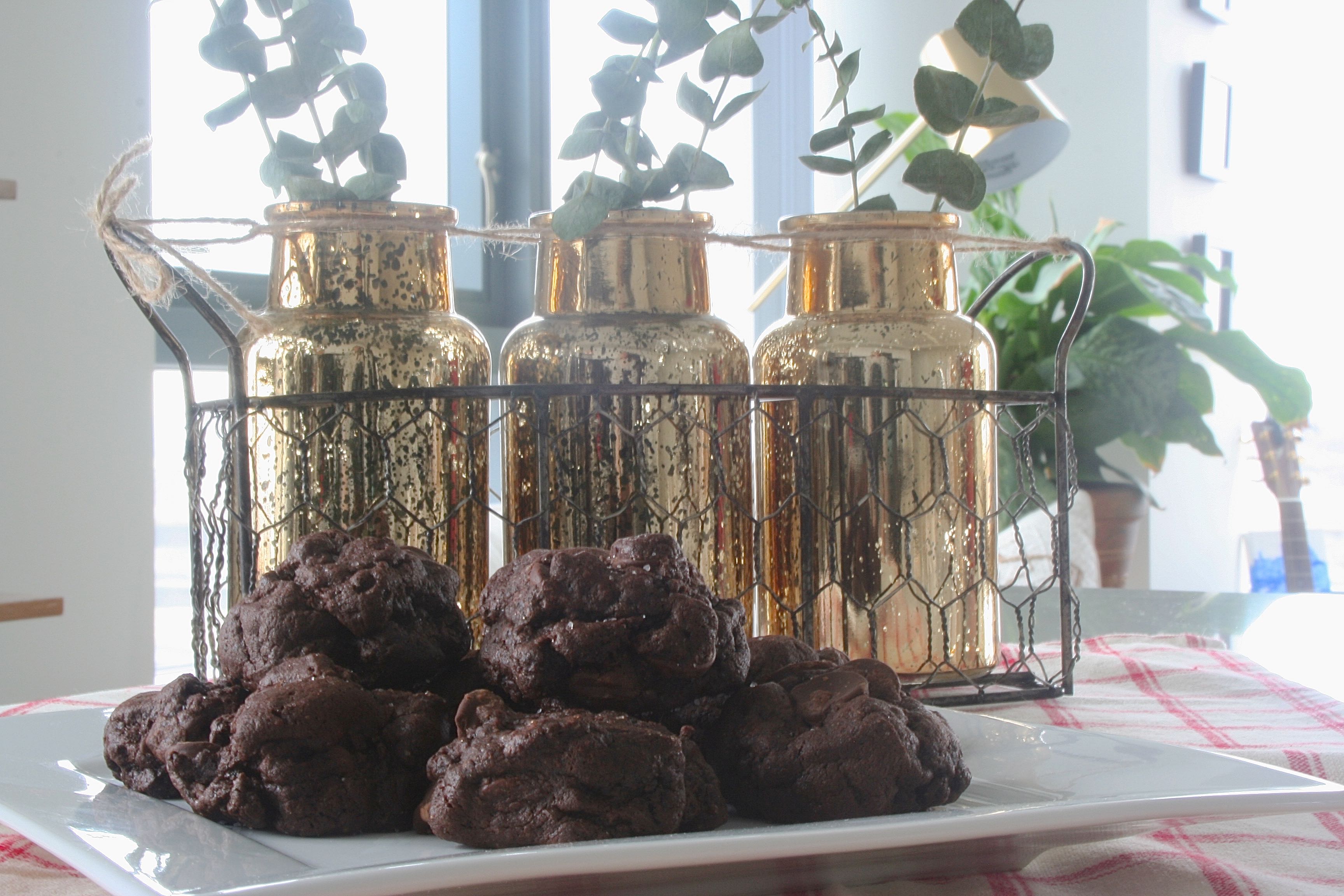 Thankfully, I buy enough butter every week to make sure this endless supply is never in jeopardy.  In a rare attempt to socialize this winter, we recently had some co-workers over for drinks and to see how many people we could fit into our space-challenged apartment.  I made these cookies and squeezed a dozen grapefruits to make a wintery champagne punch.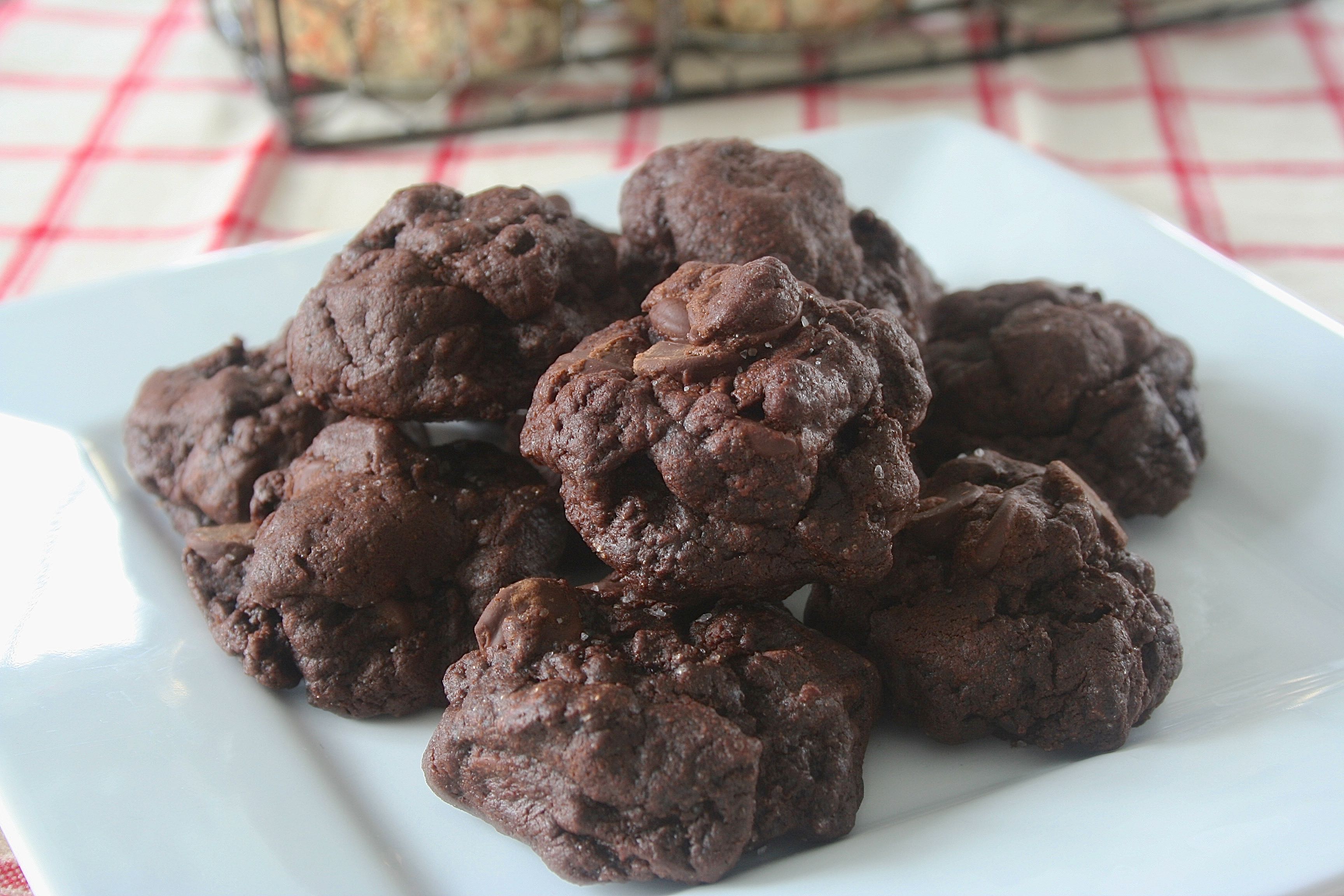 Deb (aka my hero) calls these the "browniest cookies" and she's not wrong.  They have a deep dark chocolate flavor and a texture that's a mix between a brownie and a Russian tea cake.  The addition of chocolate chips keeps the fudgey-ness alive and I sprinkled them with sea salt because I can't seem to stop doing that.
My mom also suggested adding nuts because for her, it's not brownie anything if it doesn't have nuts but that's a whole polarizing debate I'm not getting into right now.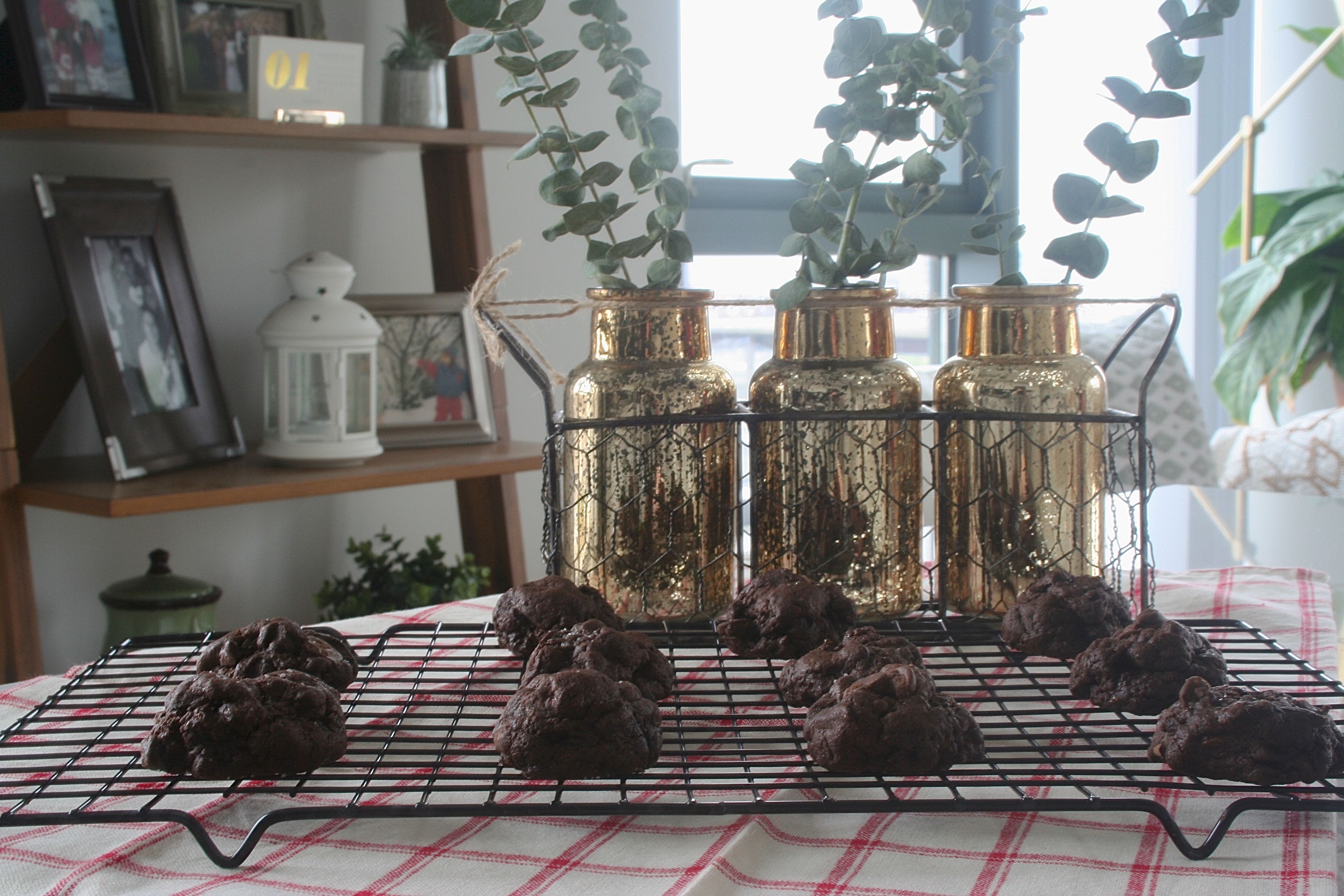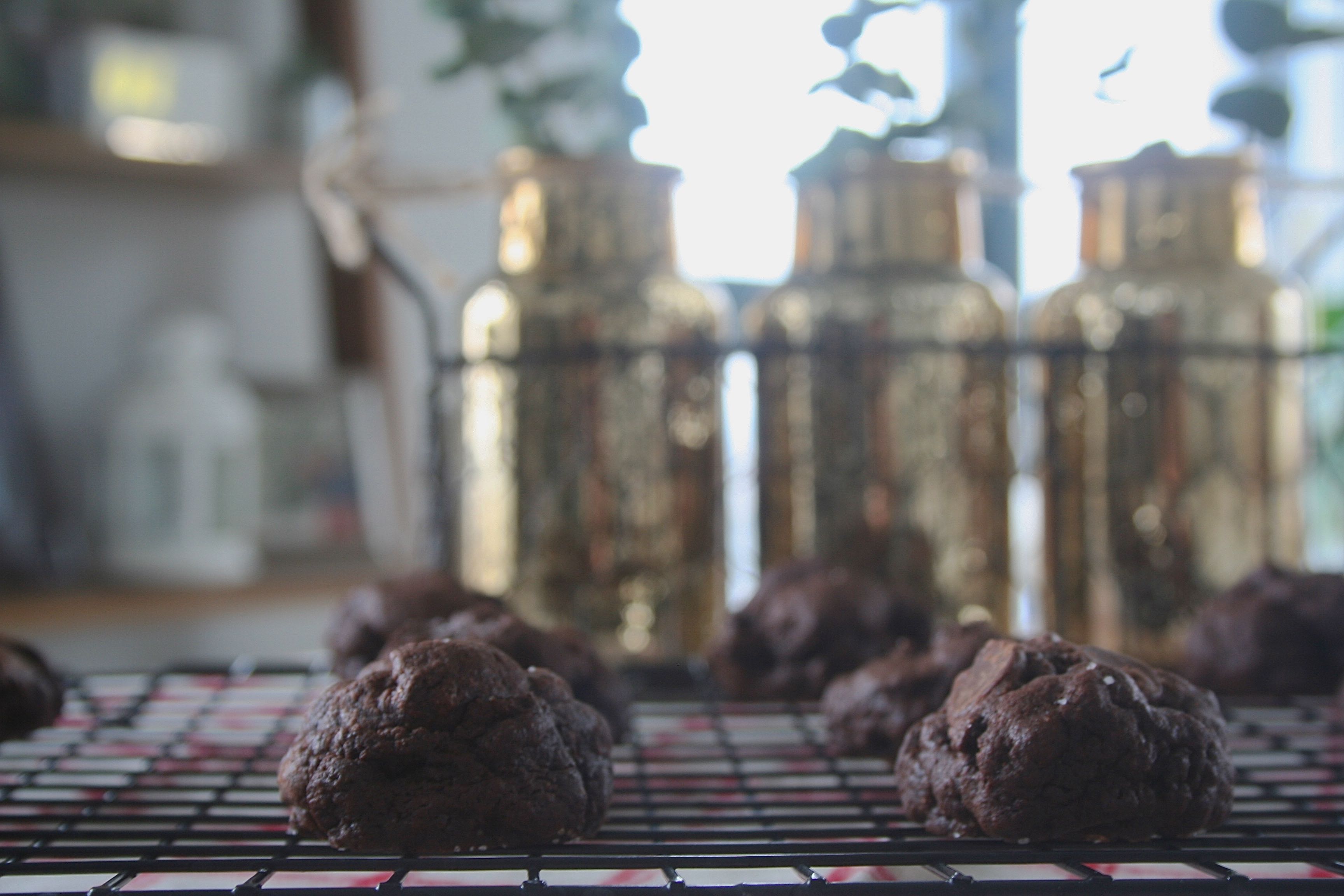 I made my cookies smaller than the original recipe because one of my major fears in life is not having enough cookies for everyone.  This was an ok decision for the party because other people also brought desserts and we didn't need palm sized cookies but in all other scenarios I recommend making them a little larger so the inside stays slightly underbaked (otherwise known as exactly the right amount of baked).
I have a sneaking suspicion that if you made them large enough you may have something that resembles a Levain Bakery cookie but that idea is so exciting and dangerous to me that I don't want to get my hopes up.
Between holiday cookies and Christmas-y dish towels, I may actually make it out of this season alive.
Browniest Cookies
(recipe from Smitten Kitchen)
1/2 cup unsalted butter
4oz unsweetened chocolate, chopped
1 cup brown sugar
2 tablespoons granulated white sugar
1 teaspoon vanilla extract
1/2 teaspoon baking soda
1/2 teaspoon salt (plus optional salt for sprinkling)
1/2 cup unsweetened cocoa powder
1 cup all purpose flour
2/3 cup chocolate chips
Directions
Melt the chopped unsweetened chocolate and butter together either in a double broiler, or carefully in the microwave (stirring at least every 30 seconds).  Whisk in both types of sugar and then the eggs, one at a time.  Stir in your baking soda and salt and then the cocoa powder and flour.  If your cocoa powder has lumped together in the container it's probably a good idea to sift it into the bowl. I'm fairly lazy and just gave it a good stir and everything turned out ok.
Stir in your chocolate chips and/or nuts if you're part of that camp.  Cover the dough in plastic wrap and chill in the fridge for at least 30 minutes but up to 7 days is fine.
When ready to bake, preheat your oven to 350 degrees and line two cookie sheets with parchment paper.  I scooped out tablespoon sides mounds of dough but feel free to go a little larger (in fact, I encourage it).  Sprinkle the cookies with salt before baking.  Bake for 8-9 minutes for smaller cookies and 11-12 for larger cookies.  They won't seem quite done when you take them out but they will firm up as they cool.
Enjoy!