I made this chocolate cake for New Year's Eve, which means I'm about 3 weeks behind on posting it.  Obviously I did not make any resolutions around time management.
However, I am pretty proud of myself for ringing in the new year with my family, pasta, and chocolate cake.  I wore my pajamas the whole night and cuddled my nephew like the obsessive aunt that I am.  It was a relaxed, comfortable night and washing down giant squares of chocolate cake with champagne is my kind of celebration.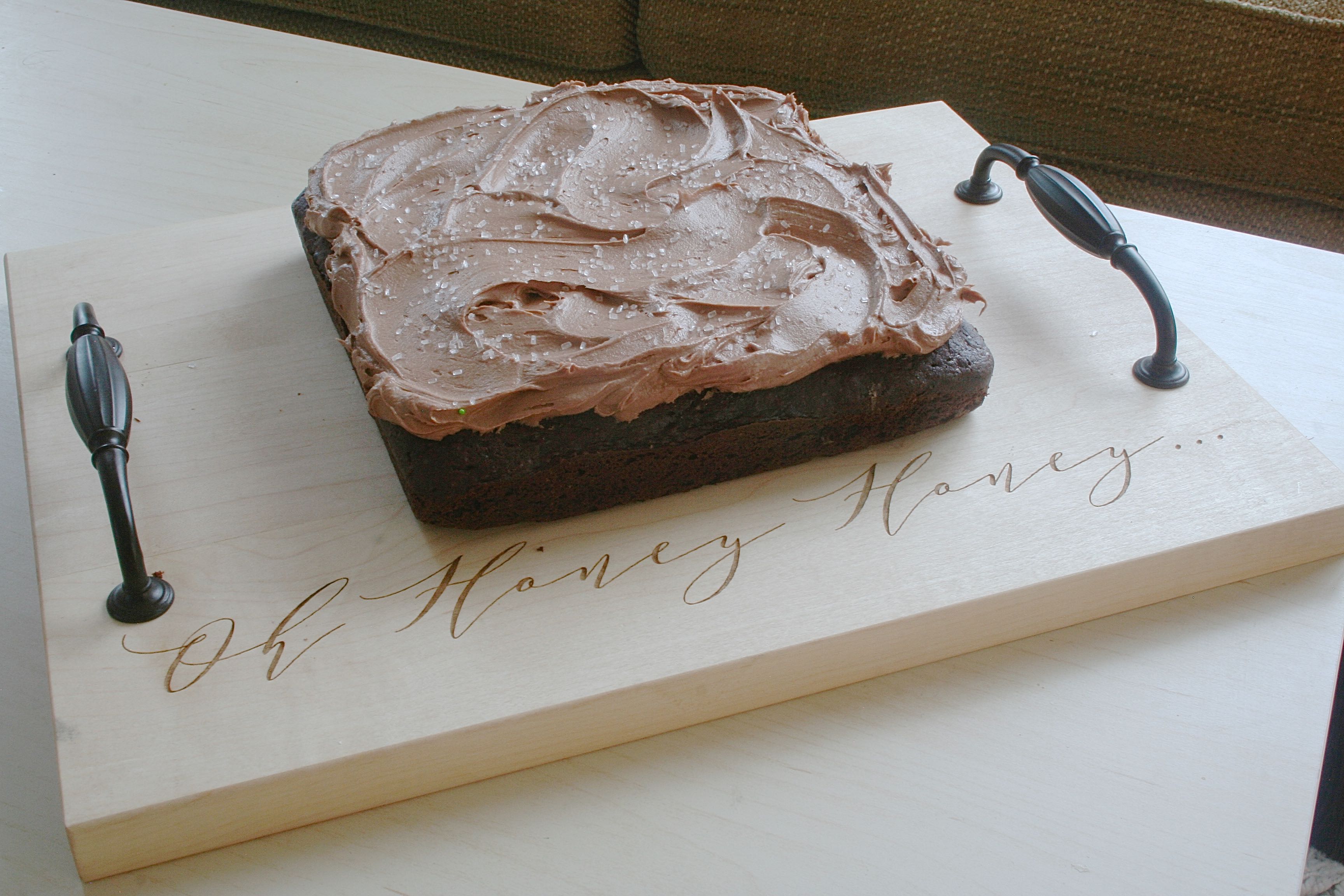 If you wore a glittery dress or snazzy pair of trousers, I salute you.  Your social life likely surpasses my own in all categories.  However, I'd like to think we can find some common ground with this cake.  There's room for this cake in everyone's social calendar.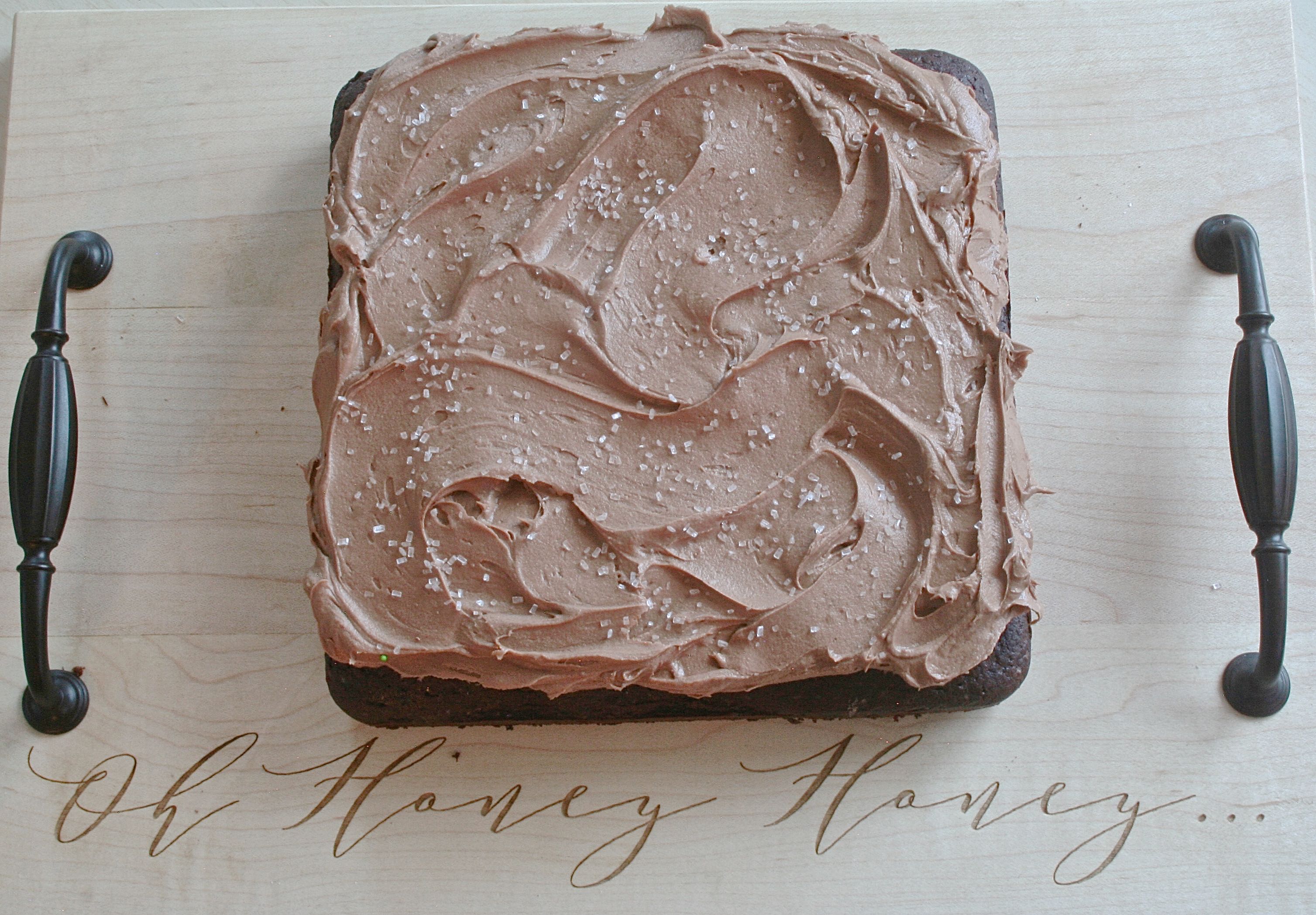 I think I've said this before but chocolate cake is my favorite food.  Not my favorite dessert – my favorite food of all the foods.  I'm also firmly in the "the more fudgey frosting the better" club.  If that club doesn't formally exist, leave a comment below and lets create one please.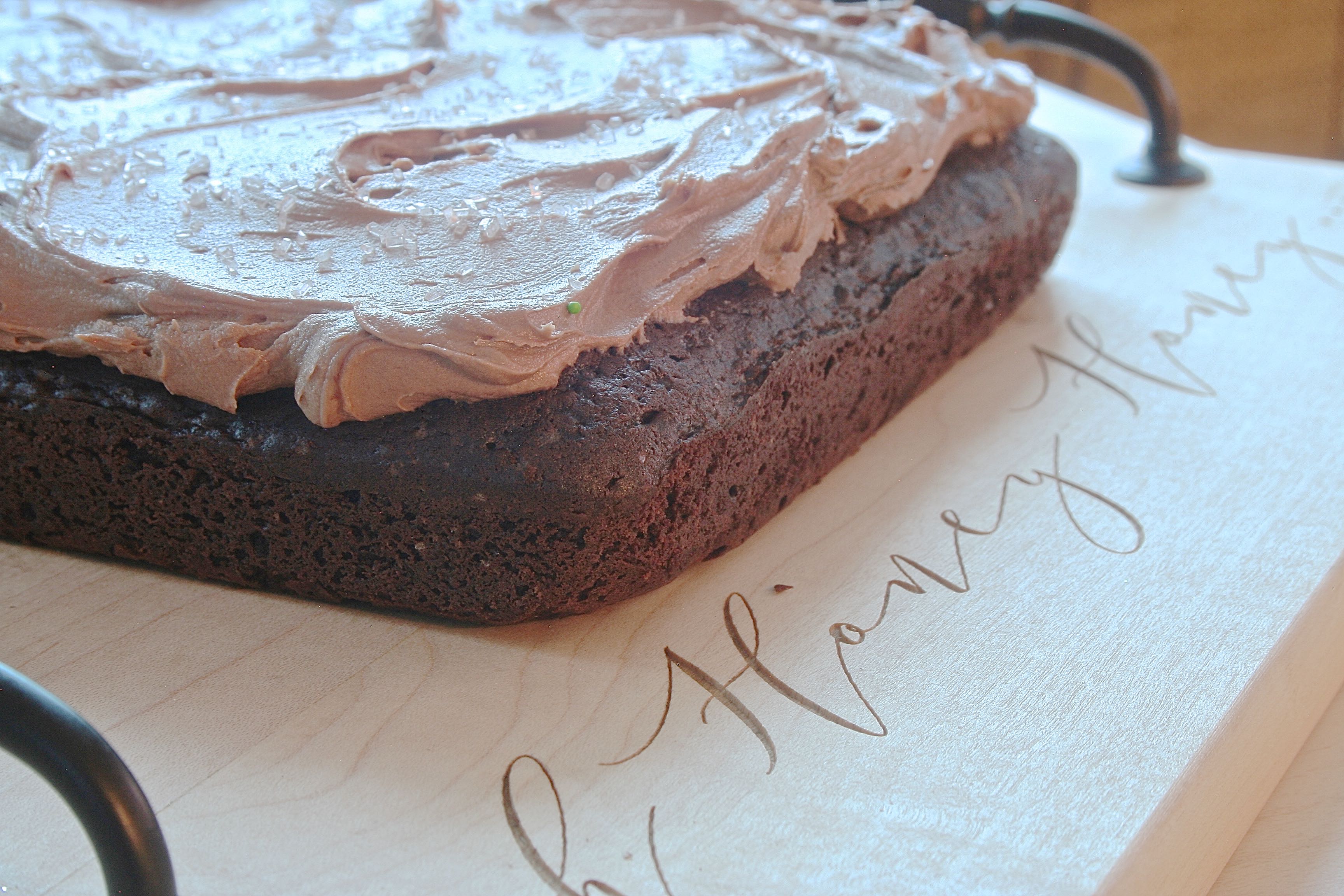 This cake is such a simple classic and swirling the fudge frosting has got to be some sort of therapeutic experience.  The cake to frosting ratio is about 1:1 which is exactly how I like it.
Also – if everyone could refrain from pointing out the one rogue green sprinkle in the corner I'd really appreciate it.  You can't unsee it once you've seen it and if I said I haven't tried to flick it off my computer screen, I'd be lying.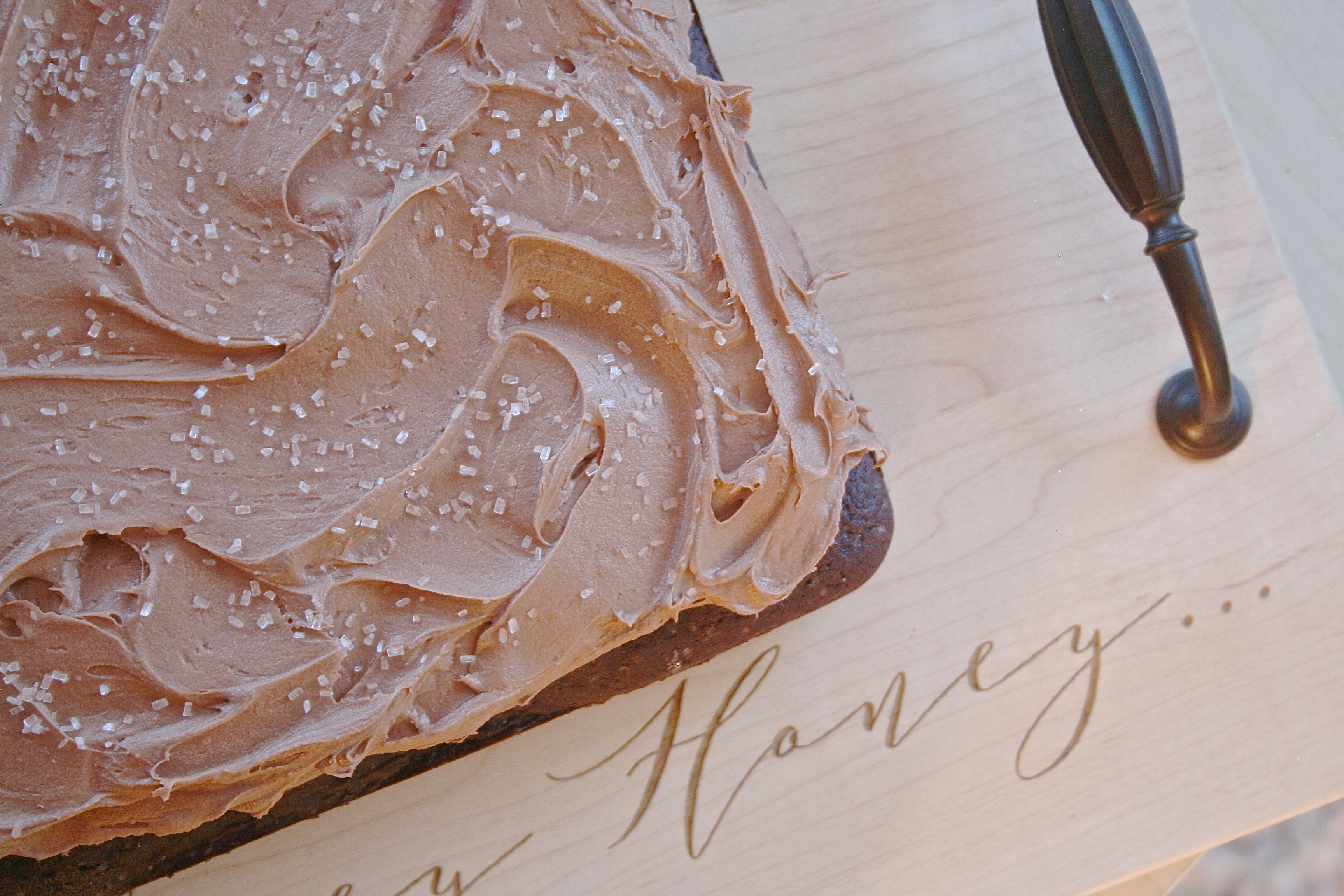 Special shout out to my younger sister for gifting me this gorgeous custom cutting board. I'm basically one step away from my own internationally recognized brand.
Chocolate Cake
(recipe from Smitten Kitchen)
Cake
6 tablespoons unsalted butter, room temperature
3/4 cup dark brown sugar, firmly packed
2 tablespoons granulated white sugar
1 egg
1 egg yolk
3/4 buttermilk (or full fat yogurt thinned with a little milk or water)
1 teaspoon vanilla
1/2 Dutch cocoa powder
1 cup all purpose flour
1/4 teaspoon baking soda
1/2 teaspoon baking powder
1/2 teaspoon salt
Frosting
2 ounces unsweetened chocolate, melted and cooled
1 1/2 cups powdered sugar
1/2 cup unsalted butter, room temperature
pinch of salt
1 tablespoon cream or whole milk
1/2 teaspoon vanilla extract
Directions
Preheat your oven to 350 degrees and line the bottom of an 8 inch square pan with parchment paper.  Grease the pan with cooking spray or butter.  In a large bowl, beat the butter and sugars with an electric mixer or stand mixer until fluffy.  Add the egg, egg yolk, and vanilla and beat until combined.  Next, add the buttermilk and mix again.  Scrape down the bowl before adding your dry ingredients.  Sift in your flour, cocoa, baking soda, baking powder, and salt.  If your cocoa isn't lumpy, don't worry about the sifting so much.  Stir until combined and then pour the batter into your baking pan and smooth it out to the edges.  Bake for around 25 minutes until the top springs back to the touch and a toothpick inserted in the center comes out clean.  Let cool completely before frosting.
To make the frosting, place all your ingredients in your food processor and blend until combined, scraping down the sides of the processor as needed.  Swirl your frosting onto the cake like there's no tomorrow and top with sprinkles (rogue green sprinkle optional).