These cookies are the product of Molly Yeh's new cookbook – Molly on the Range. It was actually a little hard to write this post because I've been stuck in a constant battle between showing my enthusiasm for this cookbook and sounding like a obsessed crazy person.  I've given up that battle and we are just plowing forward with the crazy person vibe. This book is read-it-like-a-novel, start-making-challah-bread-on-the-regular, GLORIOUS.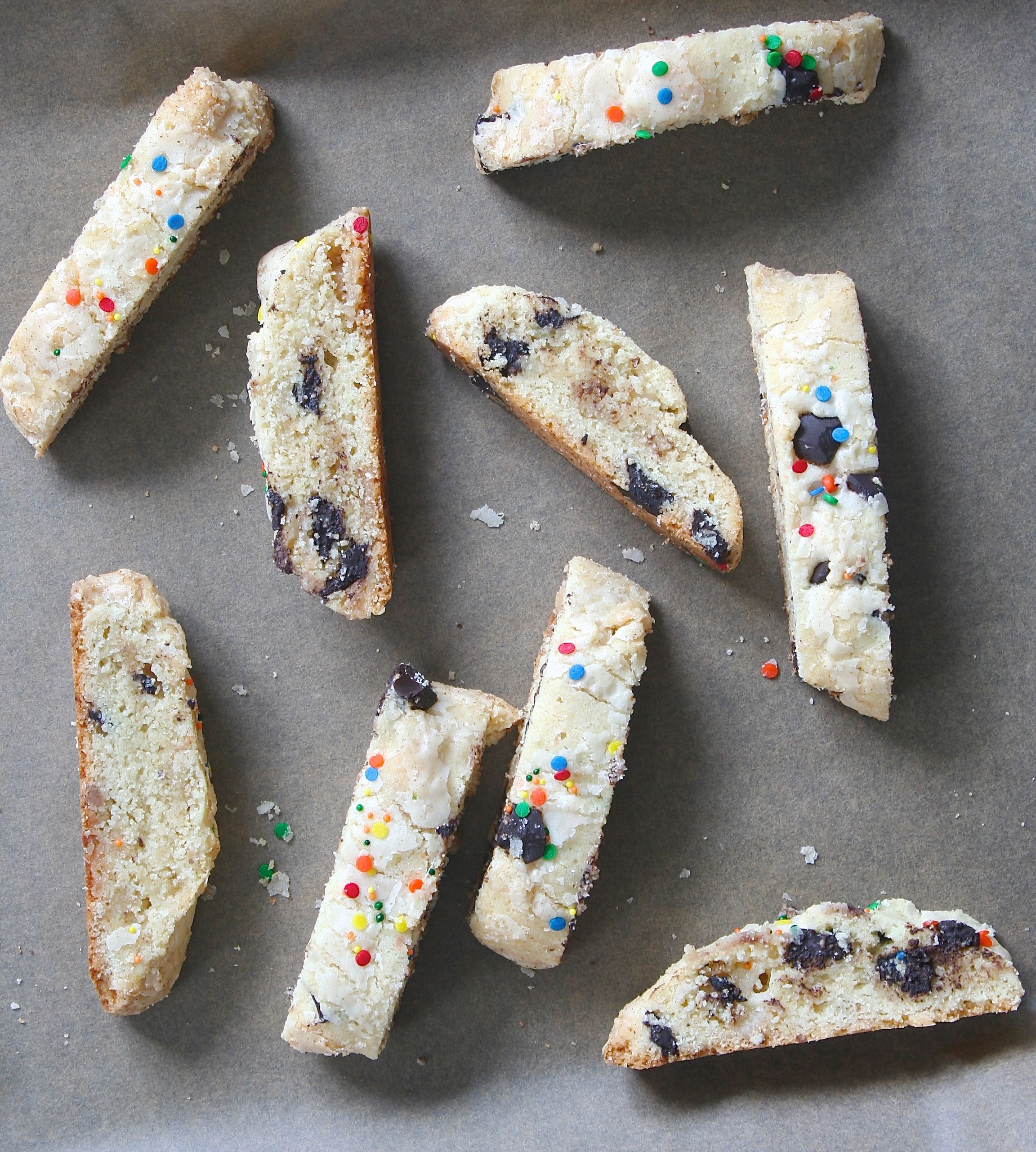 The stories in her cookbook are quirky and relatable in that "OMG I think we would be best friends forever" sort of way.  I like to think I'm self-aware enough to realize how creepy that statement is, while also delusional enough to put it out to the internet and hope it comes true.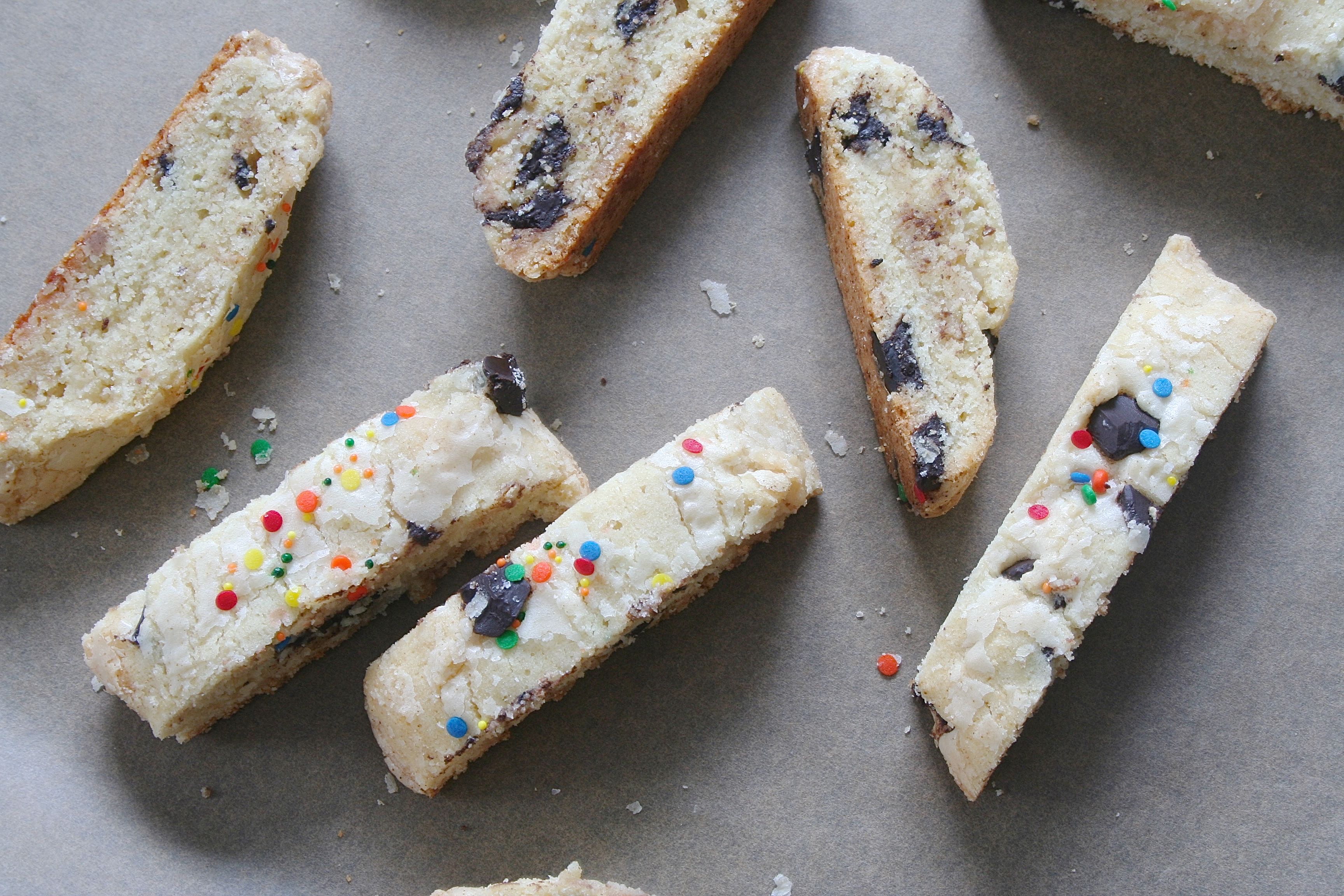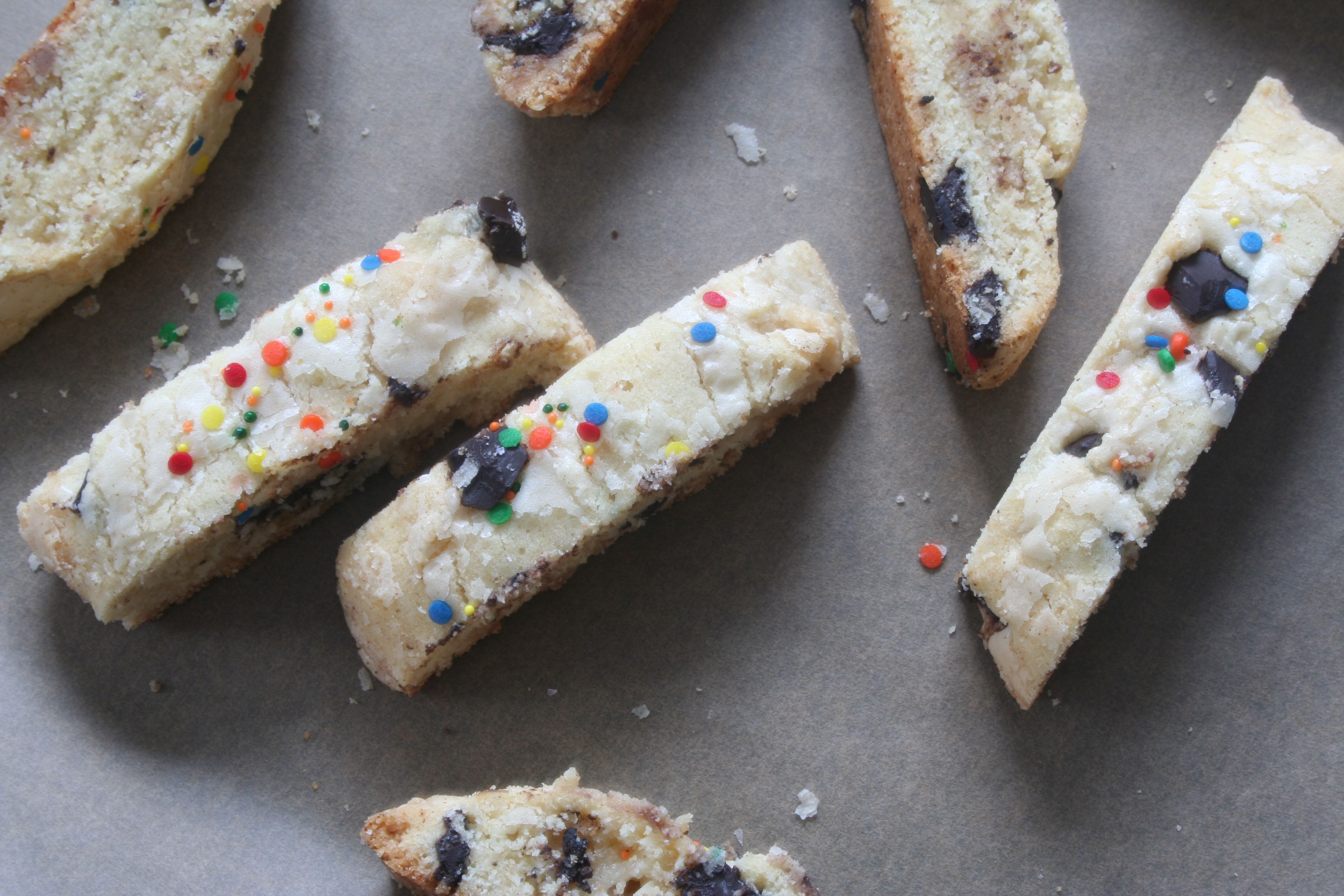 Although that best buds dream is never likely to come true, these cookies are a nice consolation prize.  Mandel bread is similar to biscotti and just as satisfying to say.  I actually prefer mandel bread because the texture has more of a crispy and dense chewy cookie bite, rather than purely crunchy.  Mandel bread and biscotti are two things I'll rarely ever order from a bakery or coffee shop, but can't get enough of them homemade.
This recipe is helped by the addition of marzipan pieces.  They melt down a bit while baking, turning into rich pockets of chewy almond frosting.  I've never baked with marzipan before but since I'm bordering on fan girl status with this book, it's now one of my favorite ingredients.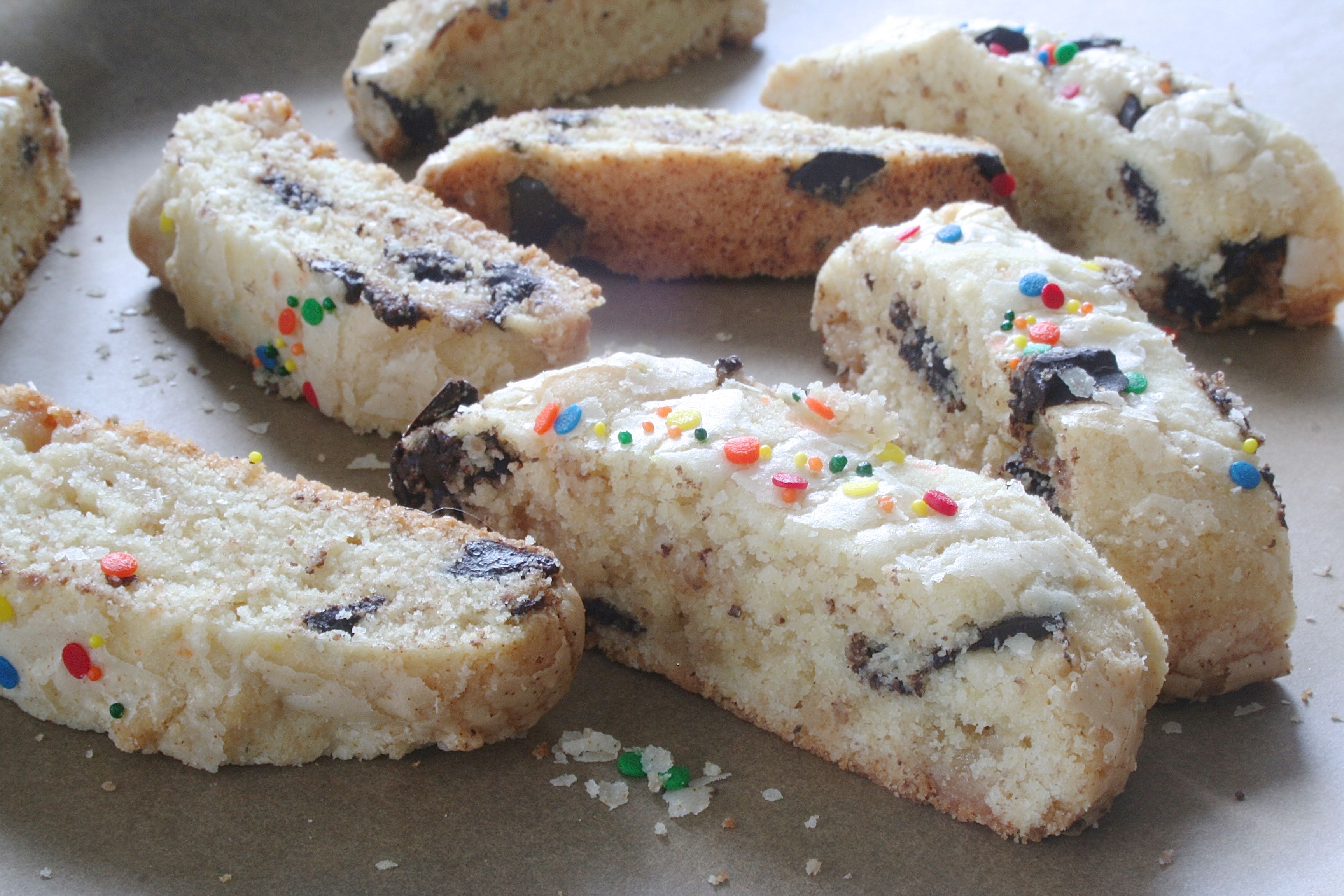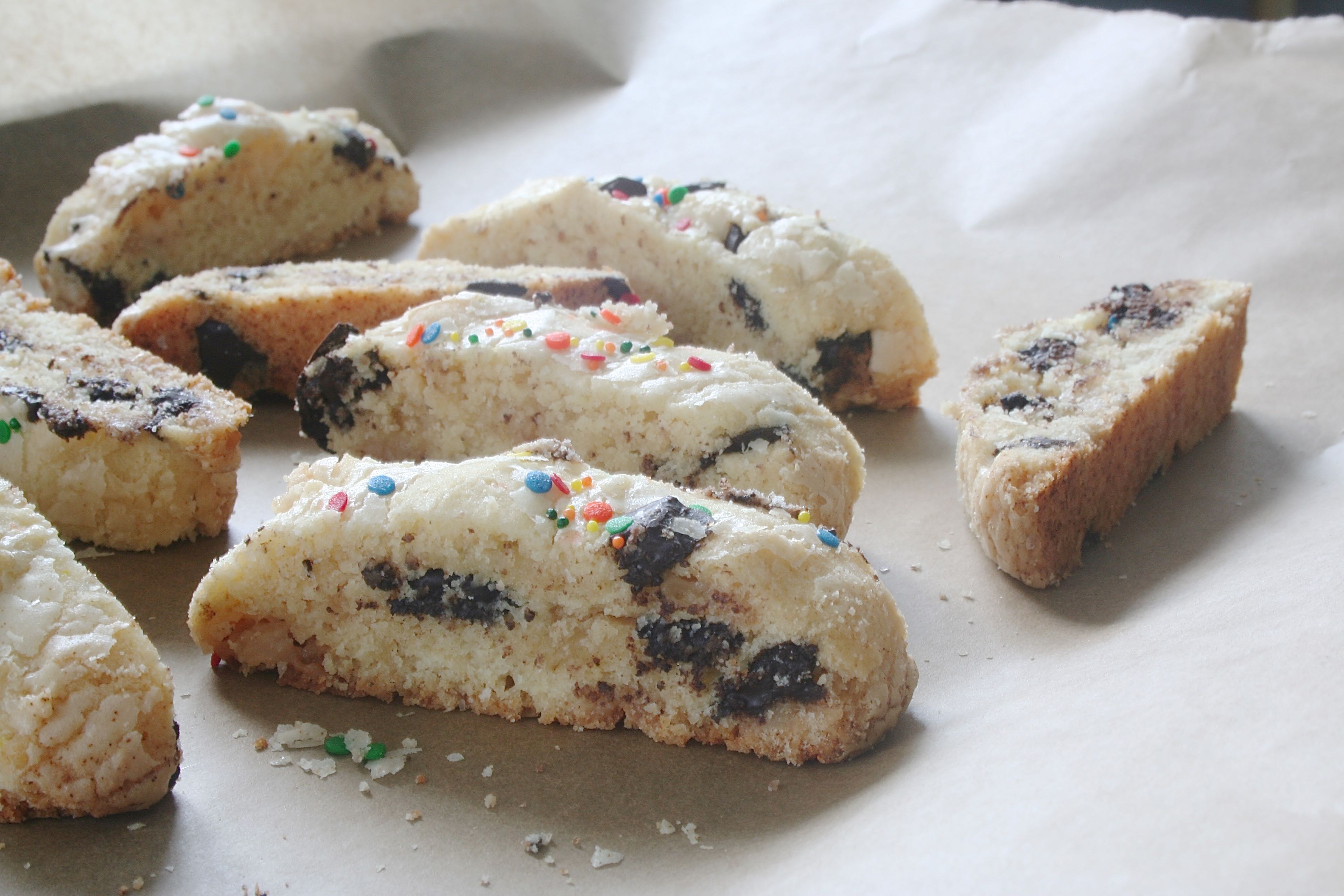 The original recipe calls for cocoa nibs but I never have those on hand so I used dark chocolate chunks, which added a nice balance to the almond marzipan.  Sea salt makes everything better as it always does and the the addition of rainbow sprinkles is not necessary but highly encouraged.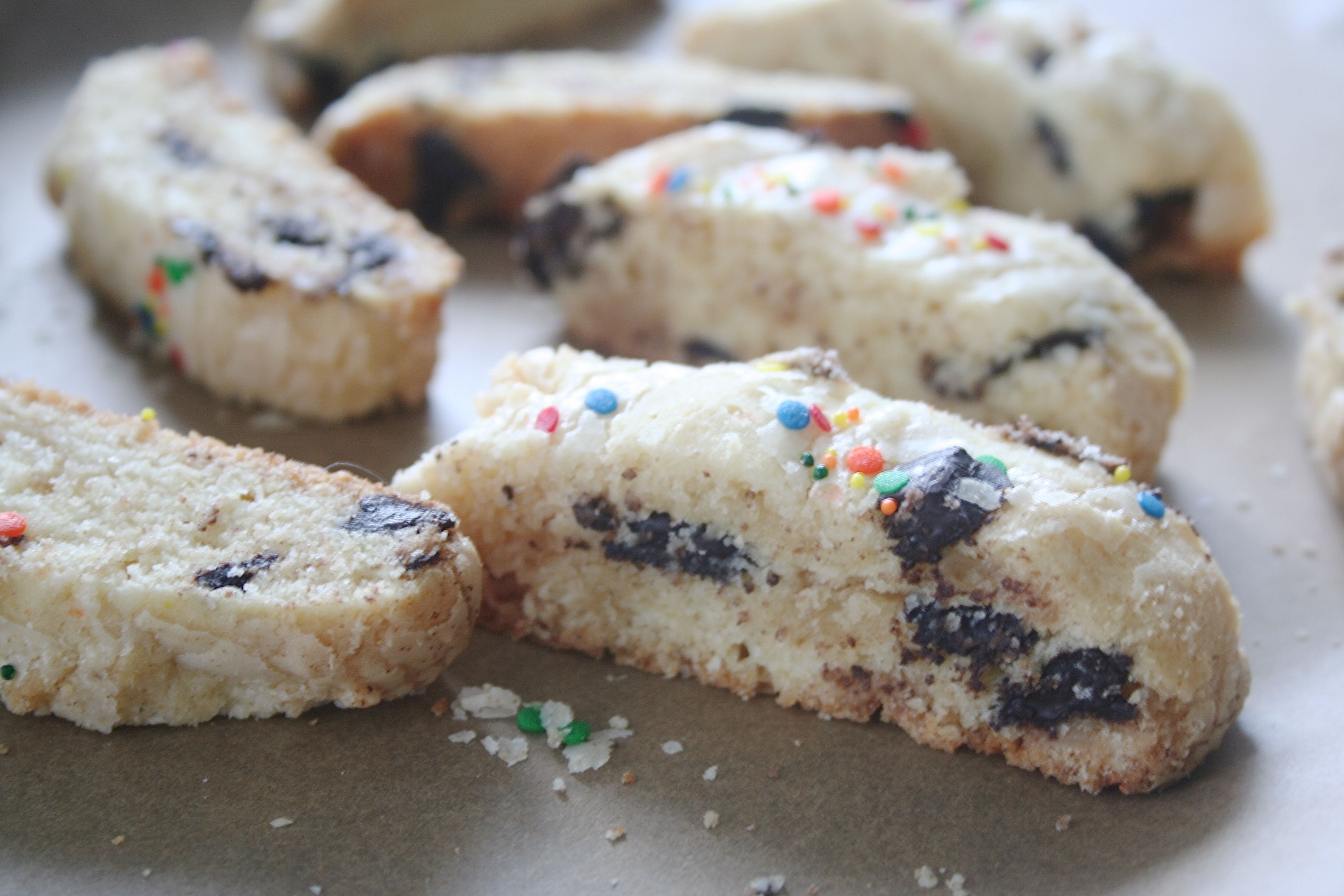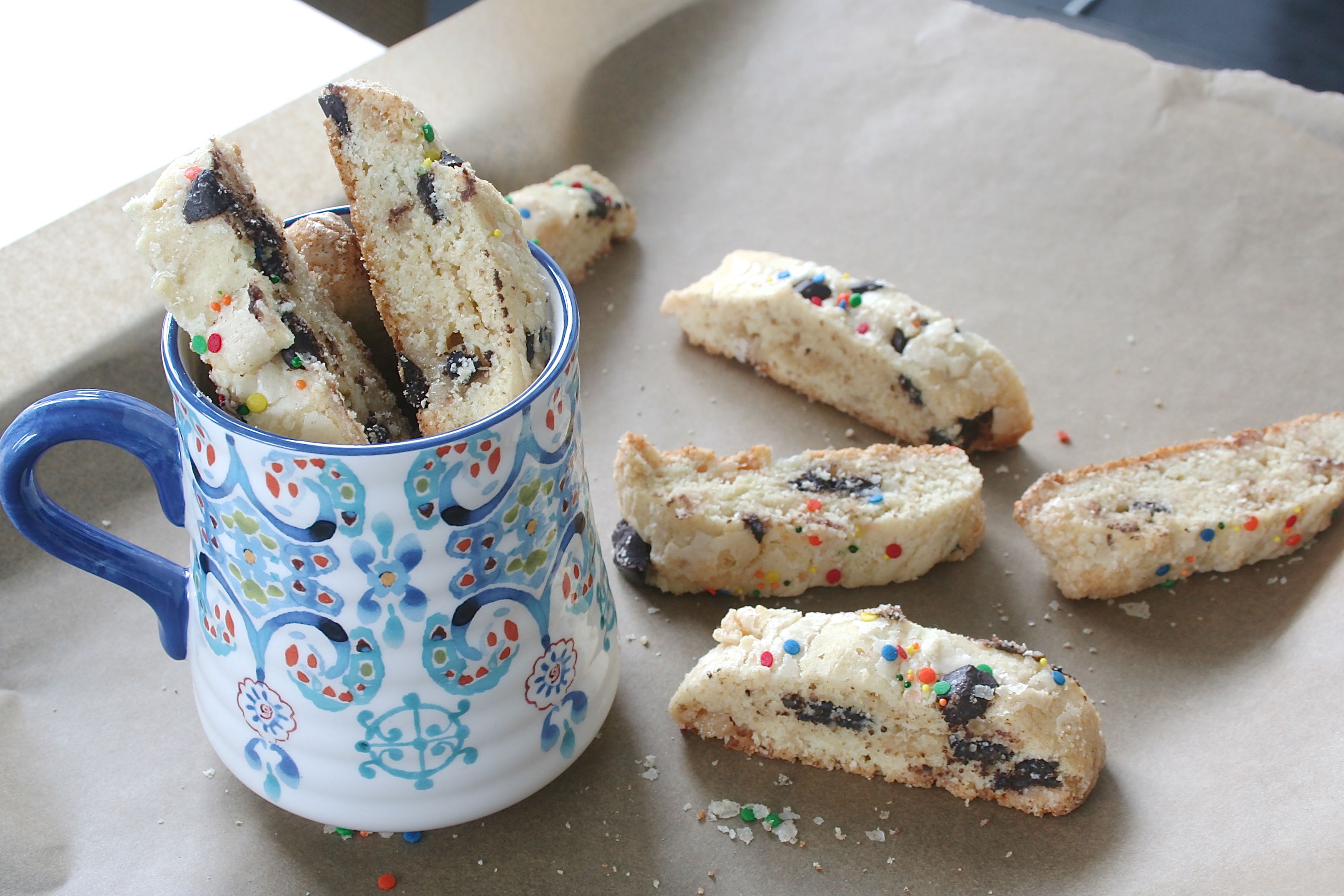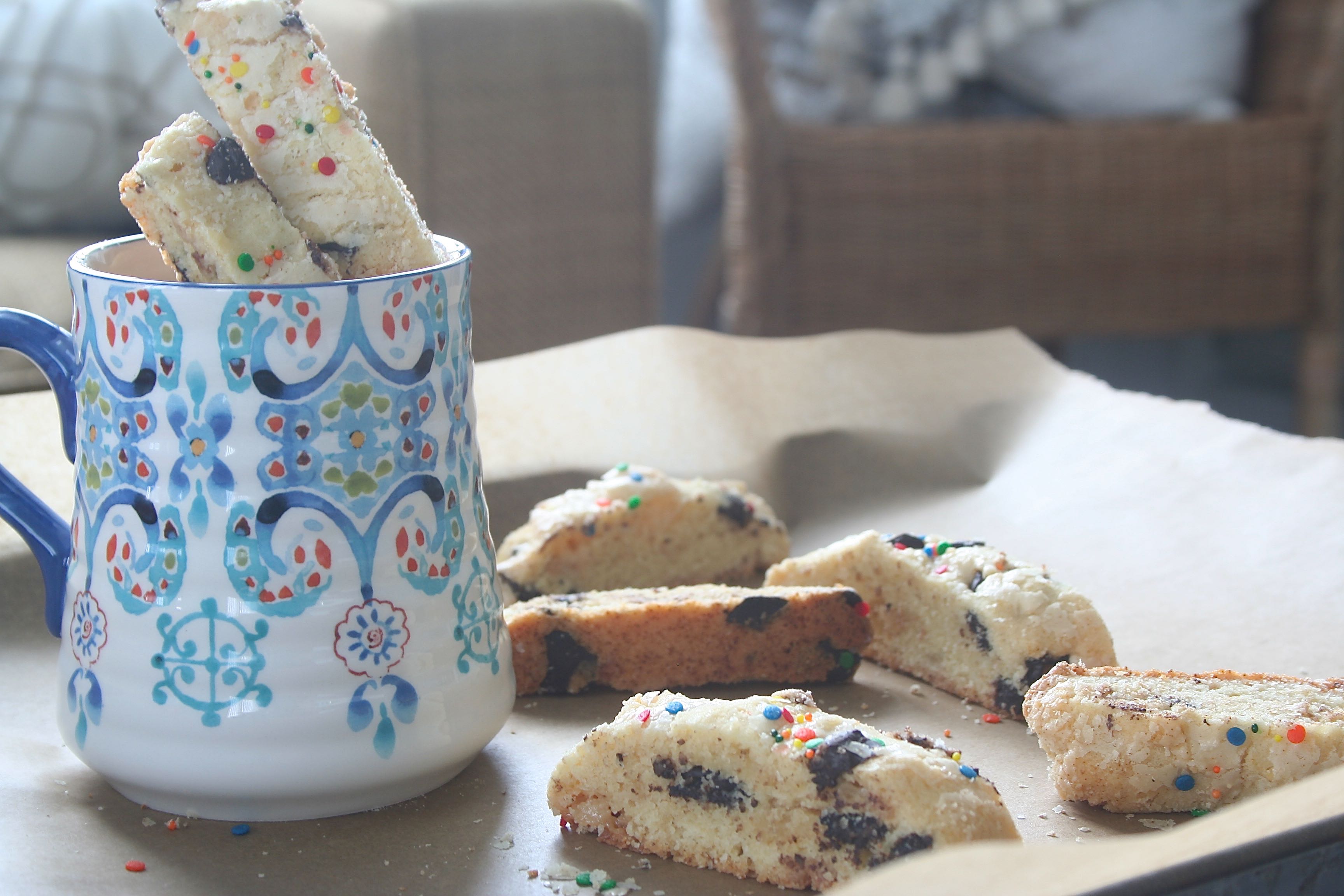 p.s. There is nothing promotional about my endorsement of Molly on the Range.  Maybe 4 people read my blog so no way is someone thinking it's worthwhile to pay me to promote another blog…
Marzipan and Dark Chocolate Mandel Bread
(recipe from Molly on the Range)
7 to 8 oz of marzipan (whatever tube size you can find is fine)
1 tablespoon powdered sugar
3 1/4 cups flour
1 teaspoon baking powder
3/4 teaspoon salt
1 cup sugar
1 cup flavorless oil
3 large eggs
2 teaspoons vanilla extract
1/2 teaspoon almond extract
1/2 cup dark chocolate chunks
flaky sea salt
rainbow sprinkles
Directions
Preheat your oven to 350 degrees and line a baking sheet with parchment paper.  Cut the marzipan into small pieces (think chickpea size). Marzipan is sticky and you may find you cut them all up and then they magically stick together into one mass again when you aren't looking.
In a medium bowl, whisk together the flour, baking powder, and salt.  In a larger bowl, whisk together the sugar and oil until combined and then whisk in the eggs one at a time until combined.  Finish by stirring in the vanilla and almond extract.  Using a wooden spoon, gradually stir in the flour mixture, marzipan, and chocolate.
Divide the dough in half and form two rectangles on the cookie sheet (roughly 14×3 inches) about 3 inches apart.  Sprinkle each dough loaf with sea salt and rainbow sprinkles.
Bake for 25-30 minutes until the bottoms are lightly browned.  Reduce the oven to 250 degrees while the mandel bread cools a bit.  Using a serrated knife, cut the cookie loaves into 1 inch slices.  Turn the slices on their sides and bake for 20 more minutes (longer for crispier cookies, shorter for doughier cookies).  I used two baking pans for this second bake but they don't spread so if you can fit them all on one tray, that works too.
Enjoy these still slightly warm from the oven or pack them up to enjoy with your coffee or tea.  They are best on the first or second day, but they just become all that more dippable as the days go on.  Store in an airtight container and snack on them regularly.
Enjoy!