I don't even know how to introduce this chocolate hazelnut tart.  If you're into nutella and ferror rocher chocolates than you're already sold. If you aren't into either of those things then you sound like my boyfriend's 8 year old nephew.
I walked into his house last weekend and the first words out of his mouth were "Nutella causes cancer".  I didn't even bring this tart when he said it.  This was just a piece of information he wanted to share with me.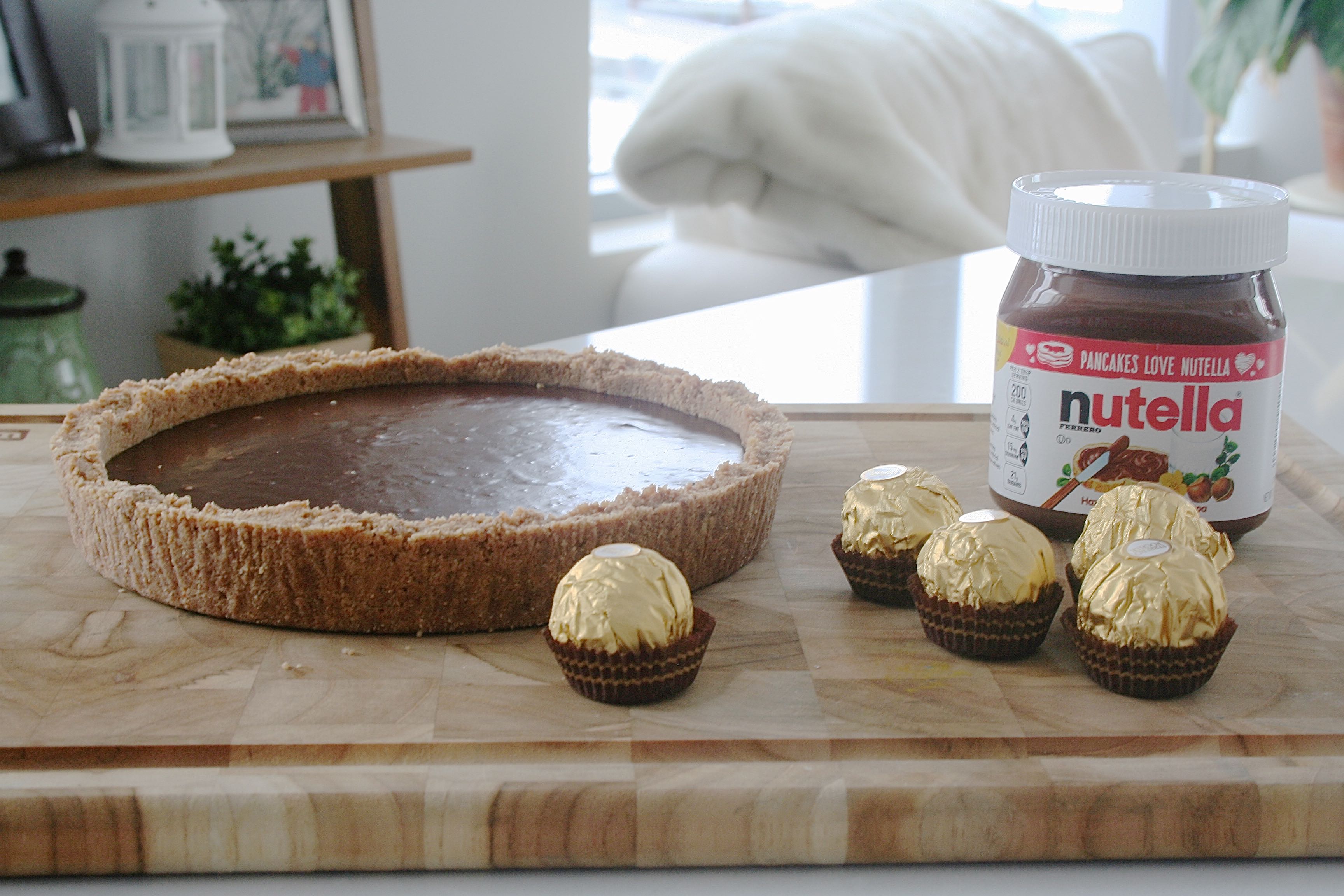 In his defense, I did bring this tart to his family Christmas two months ago and obviously he's been really concerned about the state of my health since then.  So thanks for looking out Nicholas.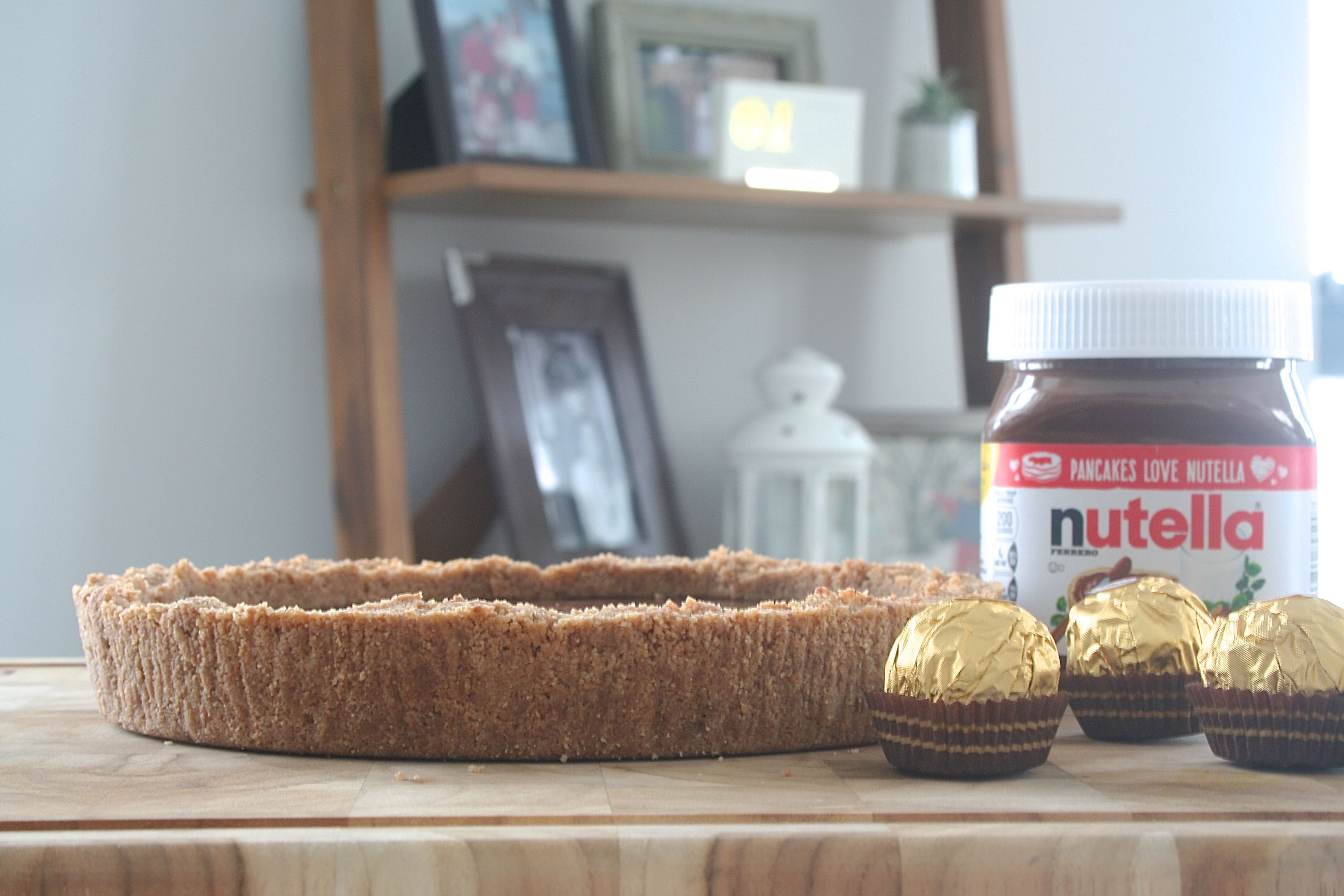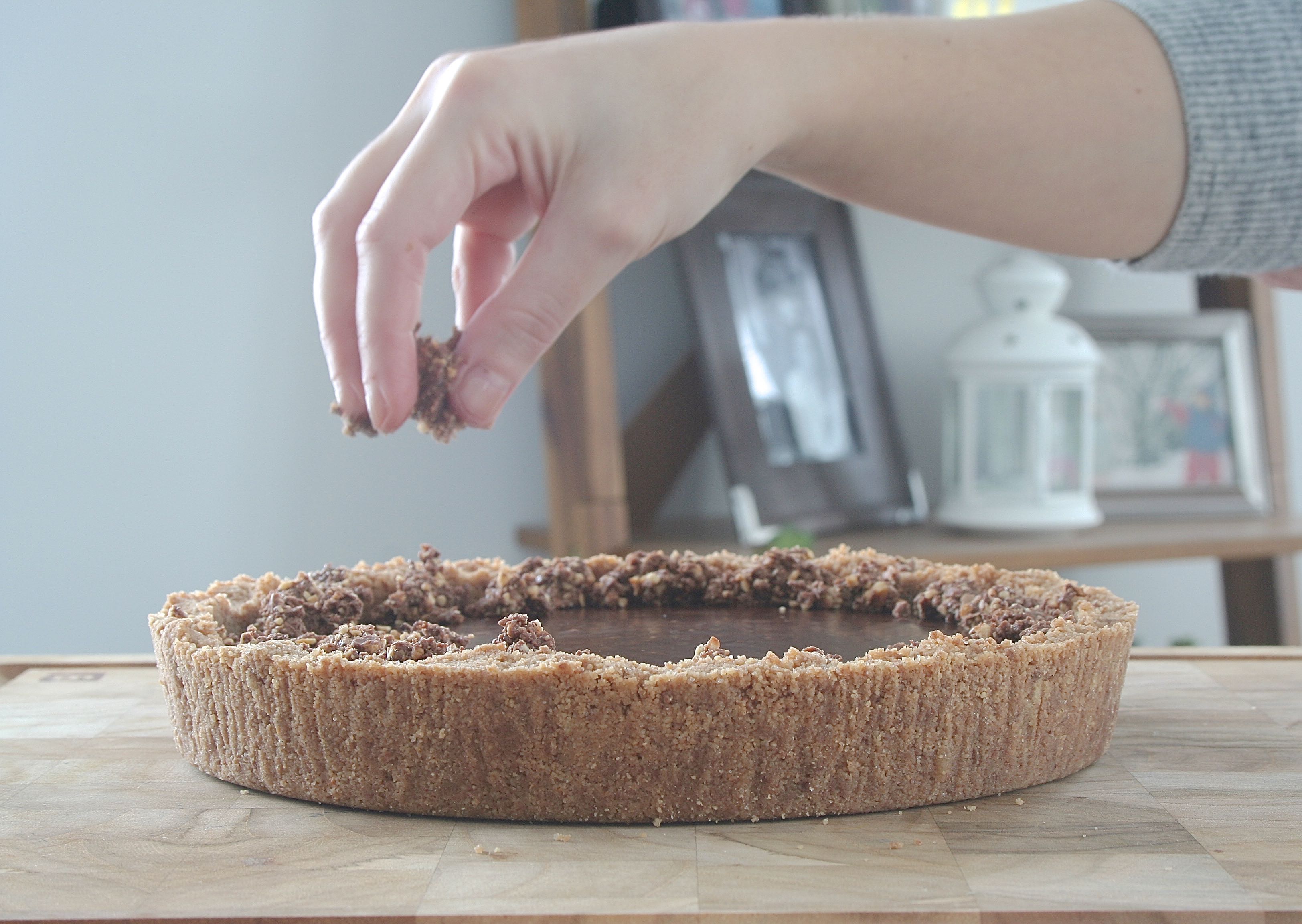 I think in this circumstance though, I'm going to take my chances and throw caution to the wind.  This tart has a shortbread crust with fererro rocher chocolates blended right in, a thick nutella ganache filling, and more crushed up ferrero rocher crumbles sprinkled on top (as evidenced by my hand modeling above).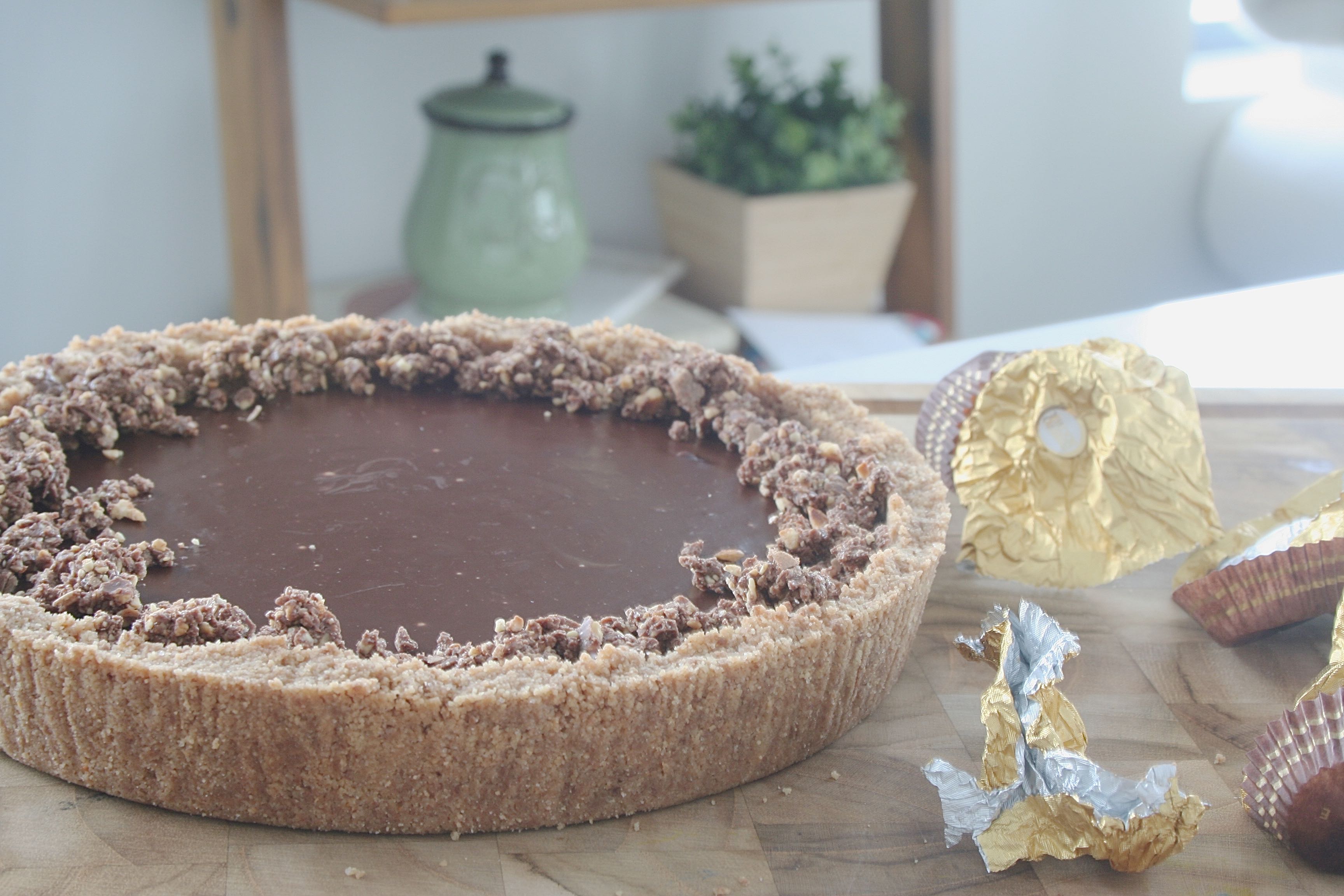 It all comes together in a matter of minutes and then you let it set up in the fridge while the magic happens.  I like to use the disposable foil cake tins because you can pop the whole tart out pretty easily, but a springform pan will also work well.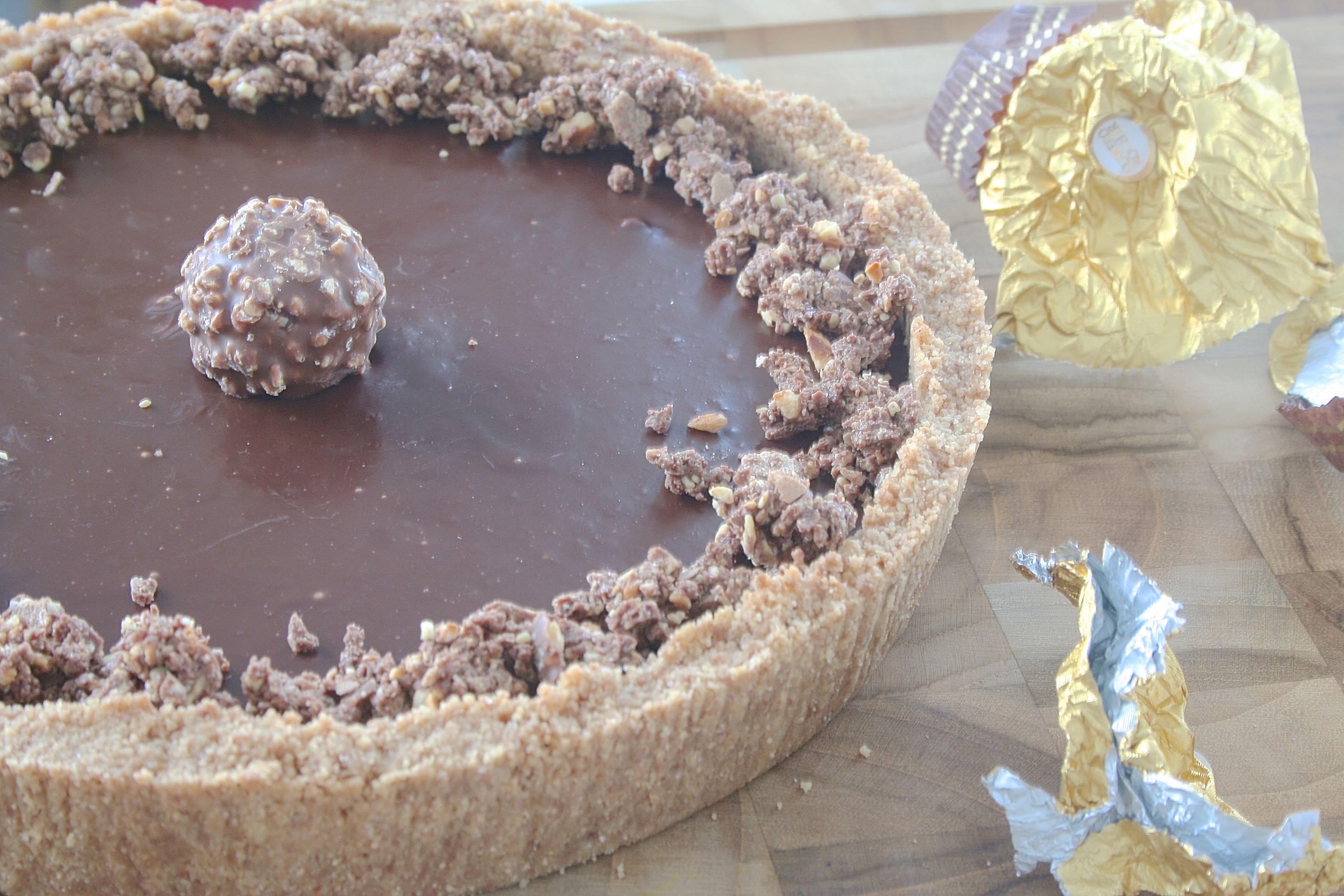 Thinly sliced with some fresh whipped cream, this is a pretty dreamy situation.  Just don't tell Nicholas.
Chocolate Hazelnut Tart
10 ounce box shortbread cookies (I used lorna dunes)
1 1/2 tablespoons of sugar
6 ferrero rocher chocolates
2-3 tablespoons of melted butter
1/4 cup nutella
3/4 cup heavy cream
1 cup semi sweet chocolate chips
4 more ferrero rocher chocolates for decorating
Directions
In your food processor (or aggressively with a rolling pin and plastic baggie) blend the shortbread cookies to a sandy texture.  Next pulse in the ferrero rocher chocolates until combined before stirring in the melted butter and the sugar.  The mixture should hold shape when you press it together in your hand.  Add a little more butter if necessary, depending on how buttery your shortbread cookies are.  Press the crust mixture into your 8 inch foil cake tin or springform pan.  It helps to use a glass or measuring cup with a flat bottom here.
On the stovetop, heat up the heavy cream until little bubbles form around the edge but before it's boiling.  Remove from the heat and stir in your chocolate chips and nutella.  Let this mixture sit for a few minutes as the warm cream helps to melt the chocolate.  Whisk it all together until smooth and pour into your pie crust.
Refrigerate for at least 4 hours but ideally overnight.  Crush up a few remaining ferrero rocher chocolates and sprinkle around the edges of the tart (assuming you haven't eaten the spares by now).
Enjoy!