The past few weeks have been difficult in a million different ways.  I like to think I'm keeping my parents feeling youthful by basically relying on them for anything and everything these days.  By anything and everything I mean borrowing their kitchen to make pink cakes and asking them to solve my life problems.
I think as a result of the past month, cake has become even more important in my life.
And it was pretty high up there to begin with.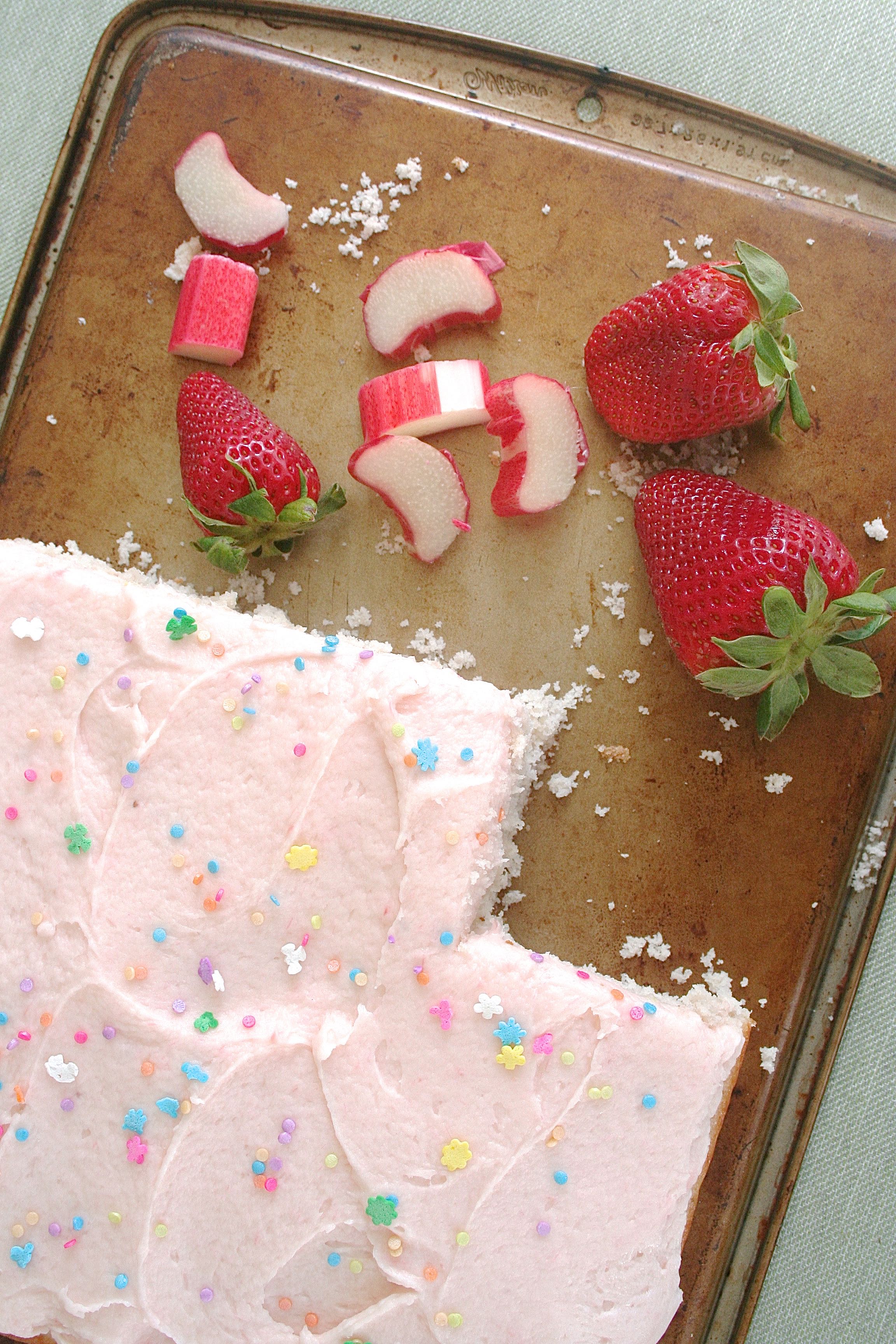 Have you guys heard of millennial pink?  Apparently we are all nuts for it and I am no exception.  There is something so satisfying about clouds of pale pink frosting.  I'm also fairly certain this isn't the first time I've made a reference to frosting as some form of therapy.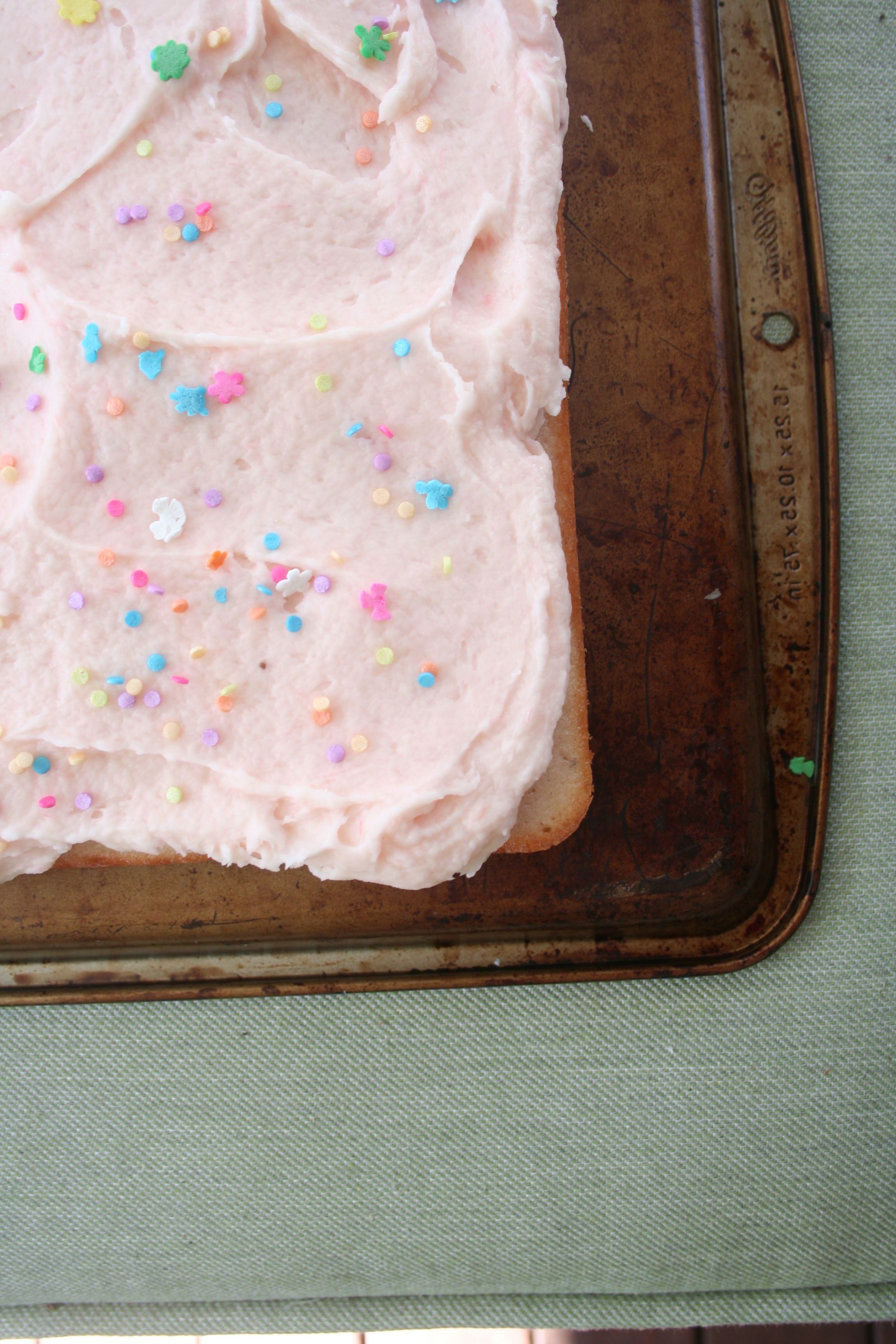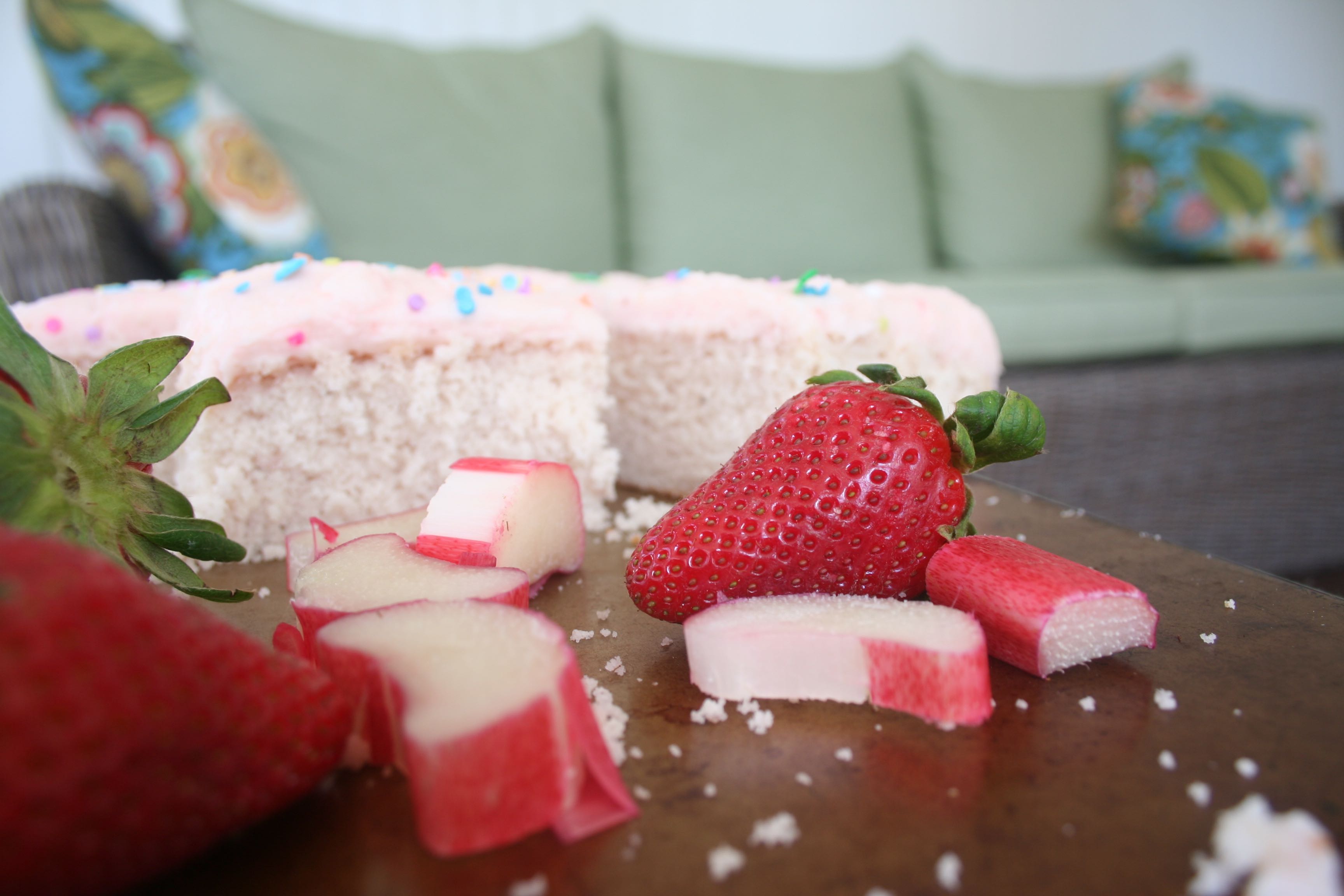 The coloring in this cake comes entirely from the natural pink of strawberries and rhubarb.  Even better, it comes from the gorgeous pink of roasted strawberry and rhubarb.  I had to use serious restraint not to dive head first into the syrupy hot fruit as it came out of the oven.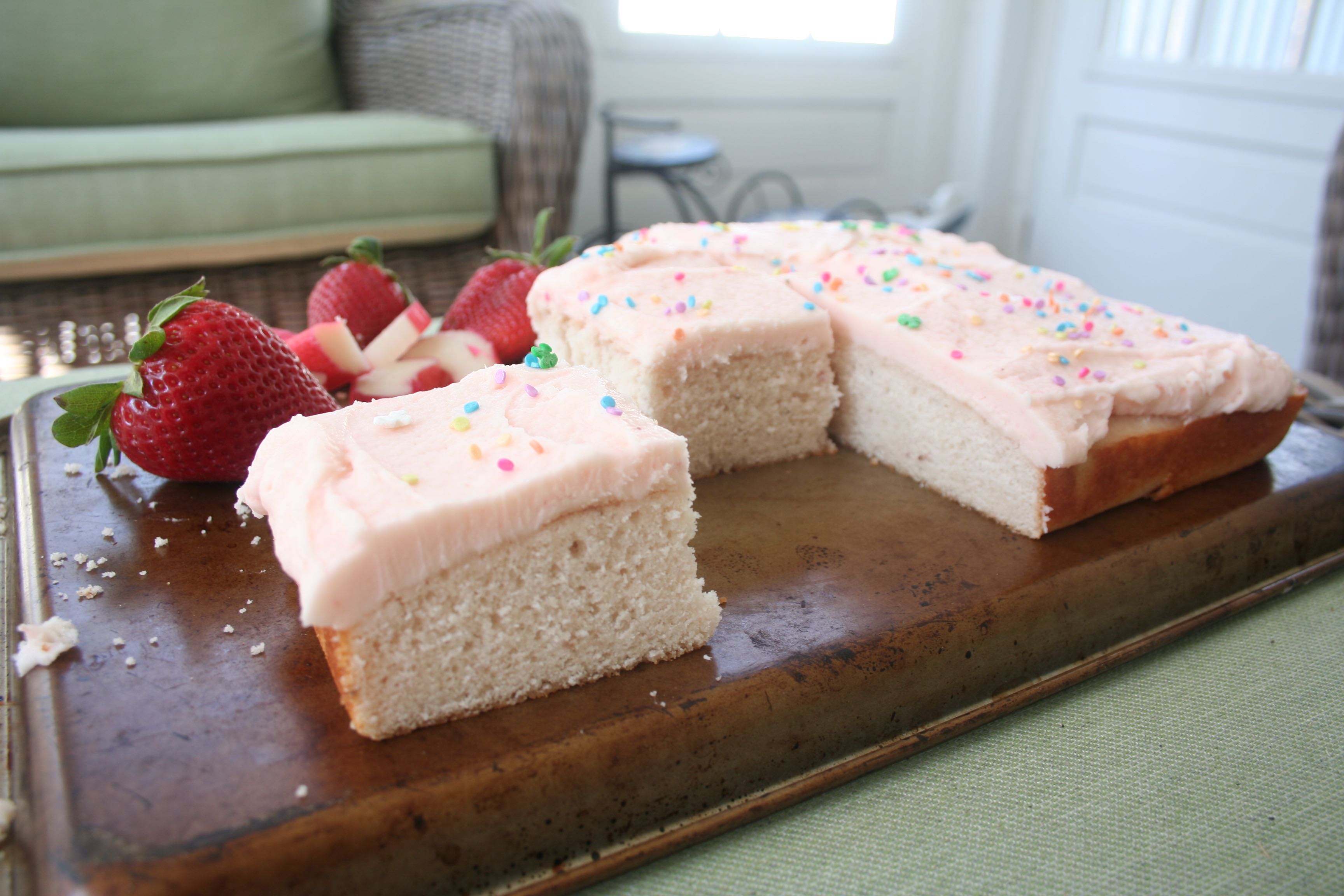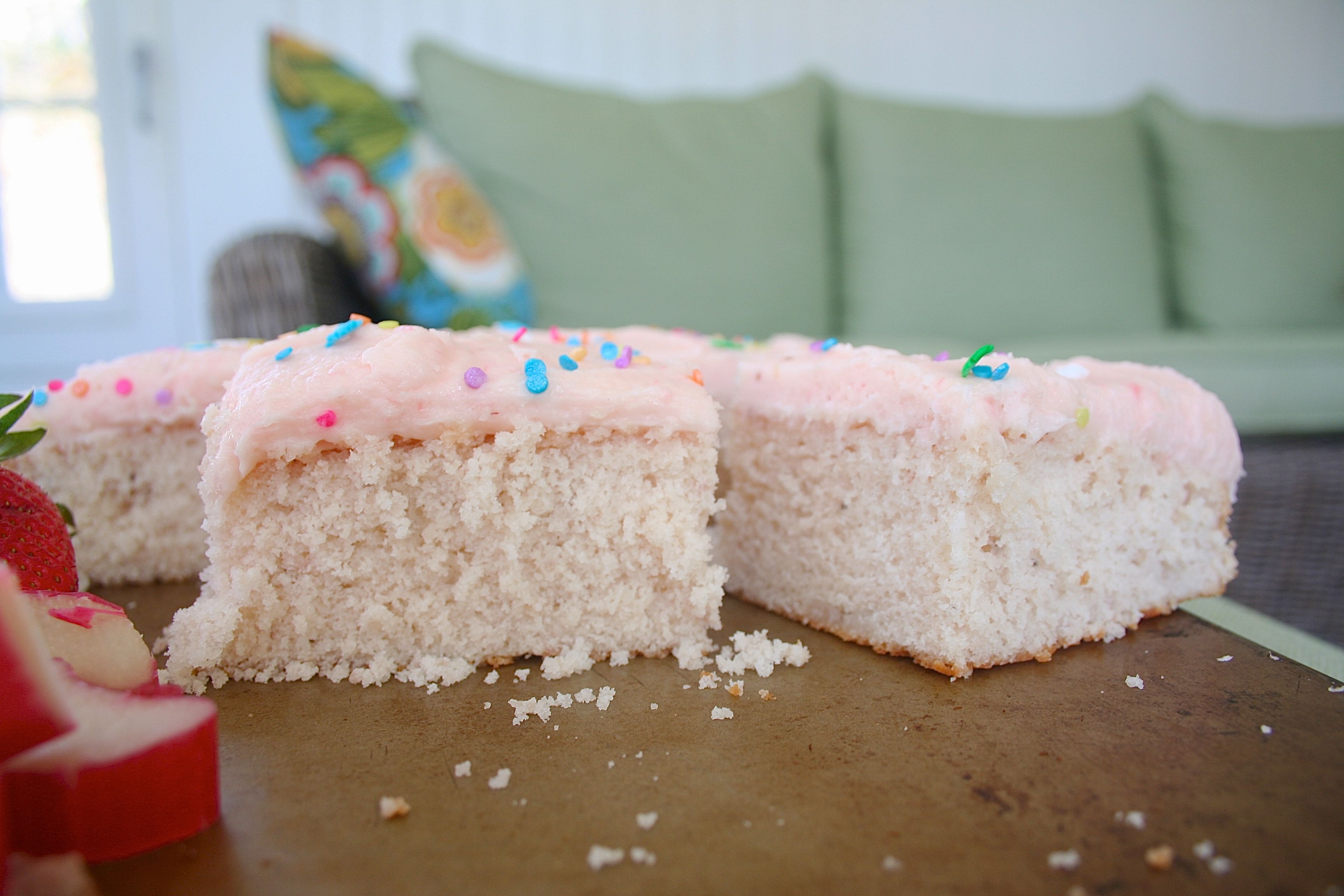 The original recipe calls for some pink food coloring, which was also gorgeous.  I became too enamored with the natural pink coloring to dare mess with it and end up accidentally dying it pepto pink.  I also used a simple butter/sugar frosting instead of a swiss buttercream because even I am not crazy enough to try and deal with getting egg whites to 140 degrees when I'm already in a fragile state.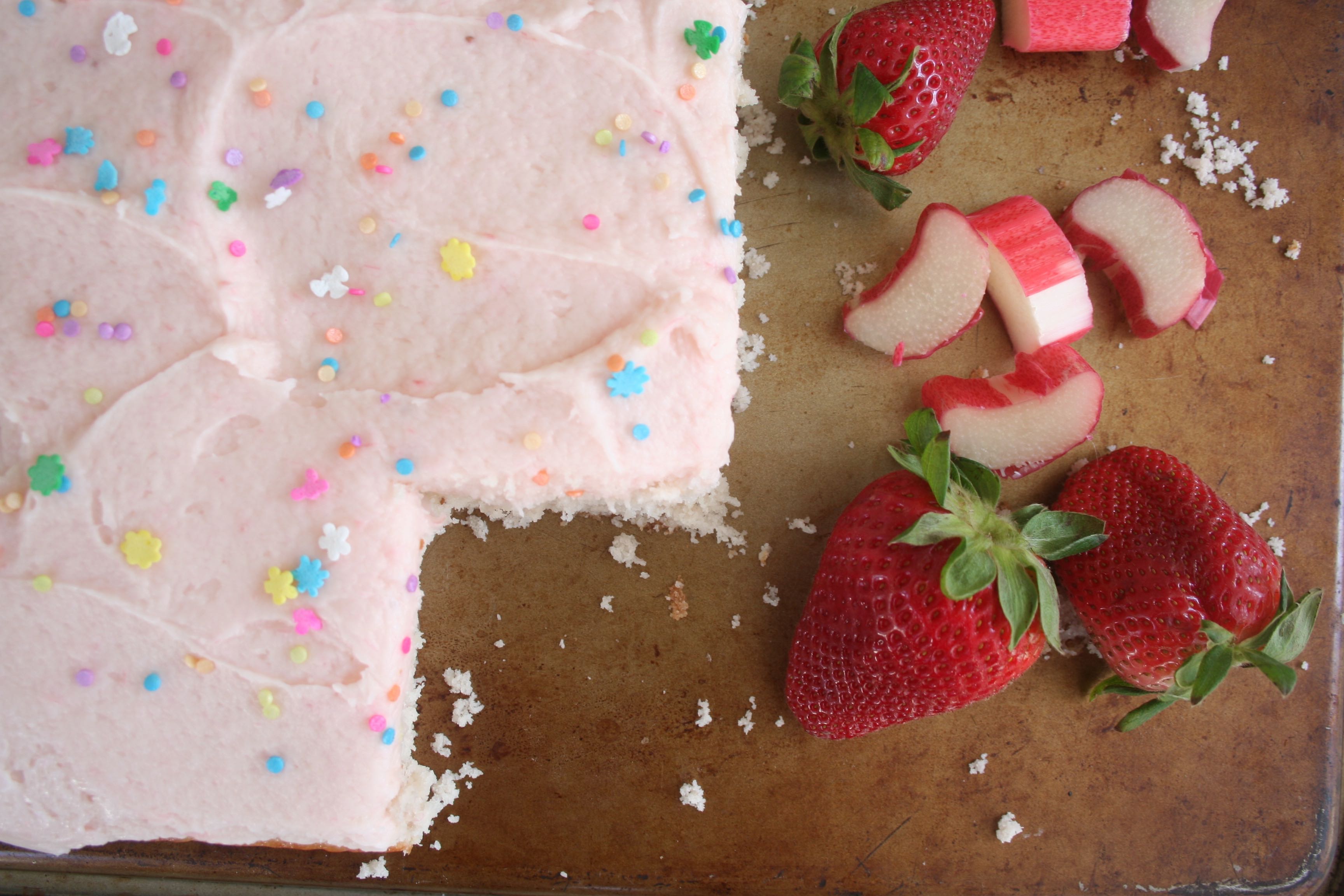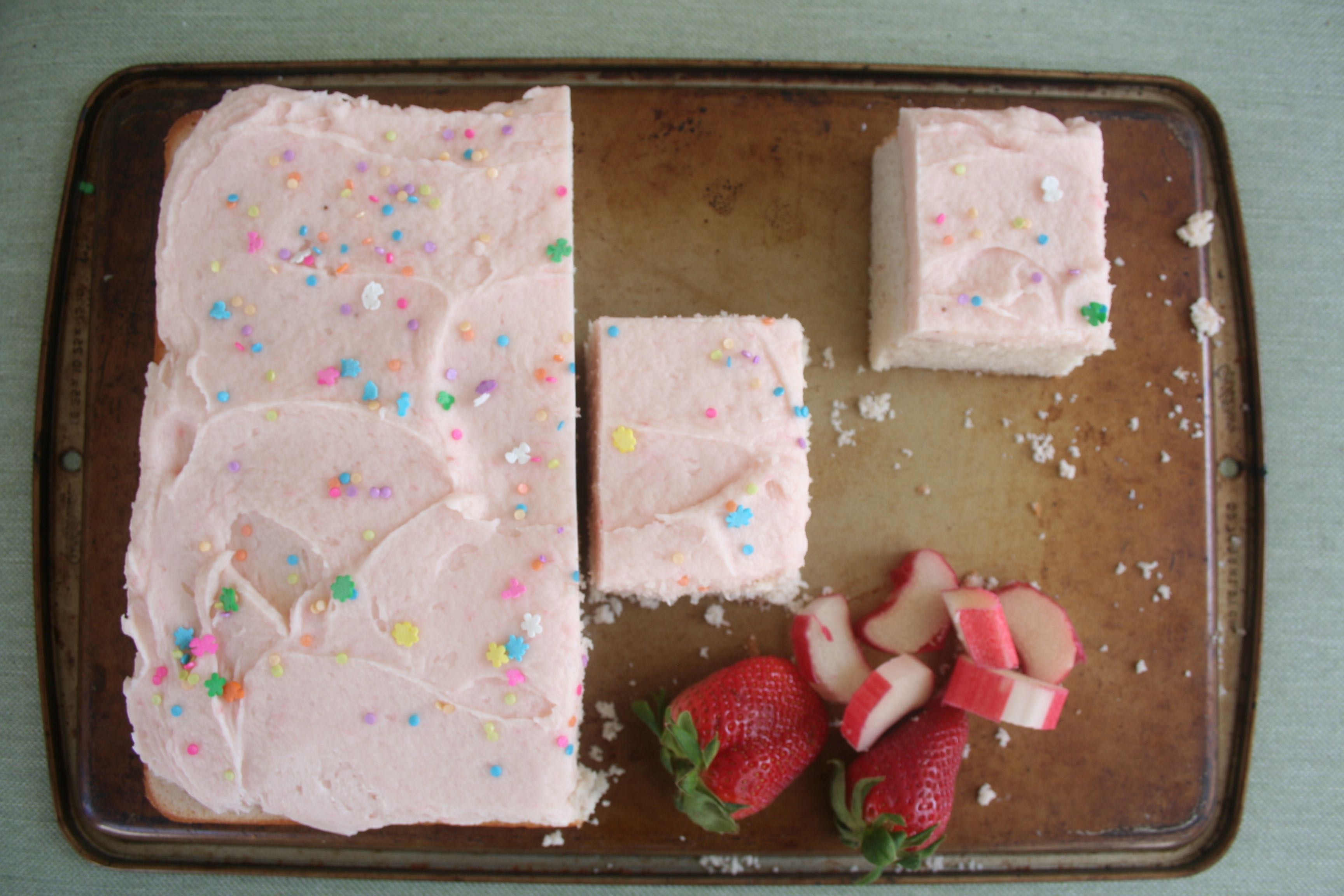 I think now is also a good time to admit that I bought three different types of pastel sprinkles to toss over this sheet cake.  I made it for easter sunday and at the time, the idea of using non-pastel sprinkles was soul crushing.
Like I said – it's been a rough few weeks.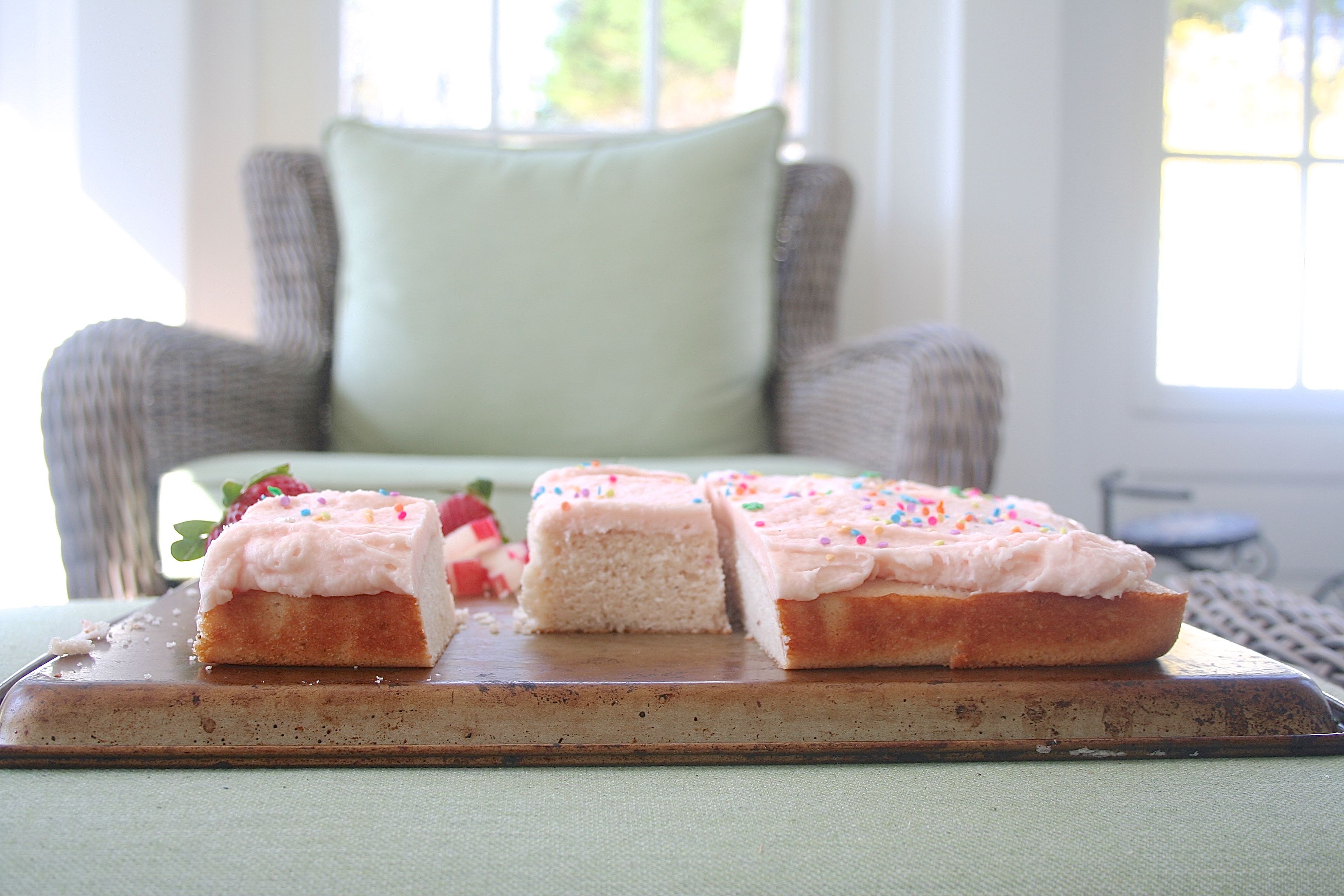 Ok to be fair – I lose my mind over finding the perfect sprinkles in the best of times.  Please make this cake.  It's gorgeous, sweet, pink, and dreamy and mine is all gone so I need someone to invite me over for a slice.
Roasted Strawberry Rhubarb Sheet Cake
(recipe adapted from a cozy kitchen)
roasted fruit
2 cups sliced strawberries
2 tablespoons white sugar
1 cup diced rhubarb
cake
2 3/4 cups cake flour
2 1/2 teaspoons baking powder
1 teaspoon salt
1 cup unsalted butter
1 3/4 cups white sugar
3/4 cup milk
6 large egg whites
2 teaspoons vanilla extract
frosting
1 cup unsalted butter
1 lb powdered sugar
1/4 cup rhubarb compote
directions
Preheat the oven to 350 degrees and line a sheet pan with parchment paper.  Lay the strawberries on one side and the rhubarb on the other and sprinkle each pile of fruit with a tablespoon of sugar.  Toss them with the sugar gently (keeping the fruit separate) and then roast in the oven for 10 minutes.  Once slightly cooled, blend the strawberries in a blender or food processor until smooth.  Transfer the strawberry mixture to a small bowl and then do the same and blend the roasted rhubarb.  Don't worry about cleaning out the blender in-between fruits.
To make the cake, in a medium bowl combine the cake flour, baking powder, and salt.  In a stand mixer, beat the butter and sugar until light and fluffy.  In a separate bowl or pyrex, whisk together the milk, egg whites, vanilla, and 1/2 cup of the strawberry puree.  Turn the  mixer onto low speed and alternate adding in the dry flour mixture and the wet mixture until combined (about three additions each).  Pour the batter into a greased 9×13 inch pan and bake in the oven for 25 minutes or until the top springs back to the touch.  Cool on a wire rack while you make the frosting.
To make the frosting, cream the two sticks of softened butter until smooth.  Slowly add in the powdered sugar and the rhubarb puree until fluffy and combined.  Swirl that gorgeous pink cloud all over the cake and toss some overpriced sprinkles on top.
Enjoy!