This bourbon s'mores cake has been a long time coming. My love for s'mores is serious and unreasonable.  One of the first things that worried me about my current apartment kitchen was the electric stove.  Was I supposed to make s'mores in the microwave like a peasant?  What was the apartment's policy on a moderate open flame for roasting marshmallows?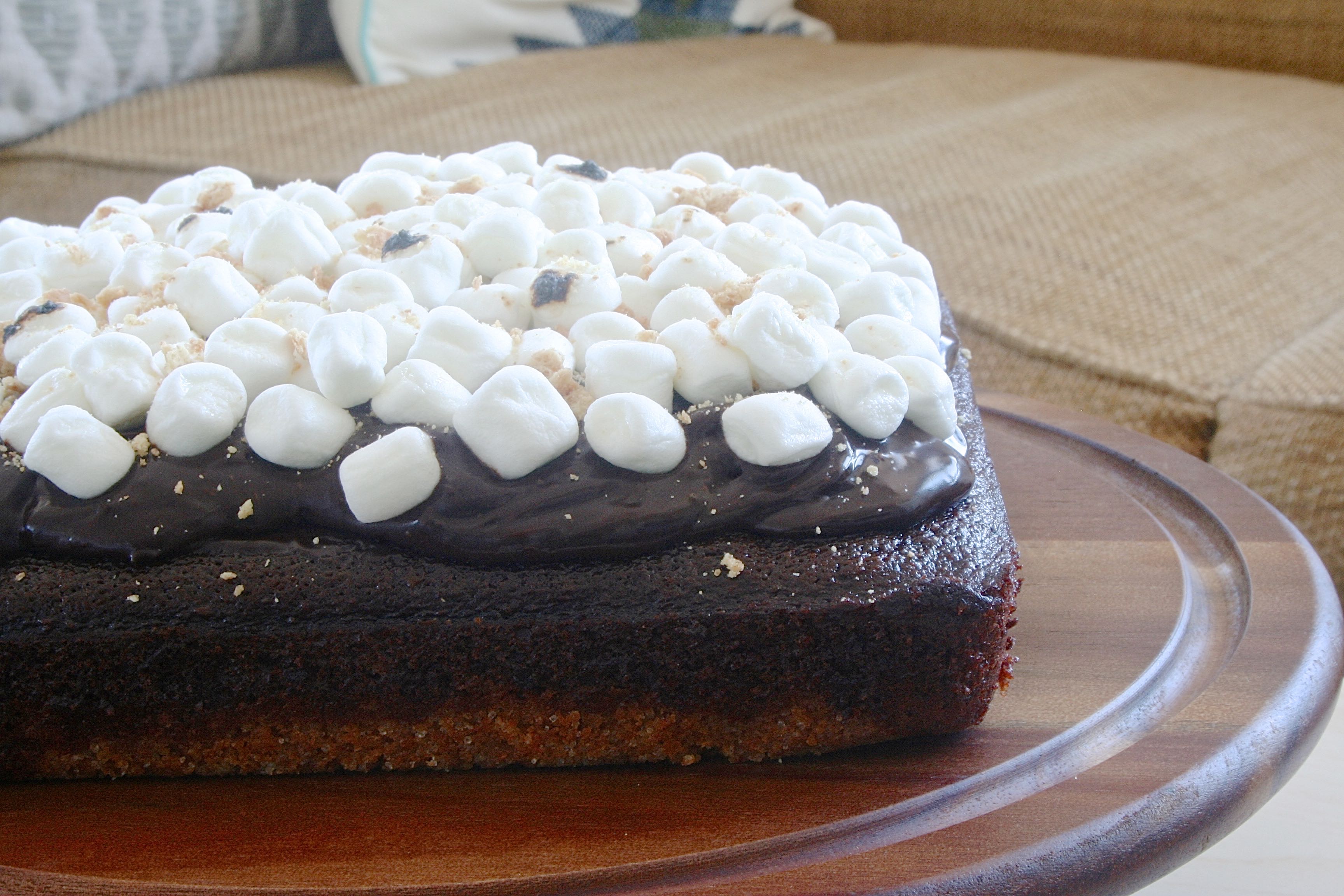 My s'mores intake is also not limited by season.  I am no stranger to a mid-February s'more, though I can acknowledge that the more socially acceptable season is summer.  I originally made this cake for memorial day, which thanks to freezing rain, I actually spent under a blanket (re)watching the entire season of Victoria on the BBC.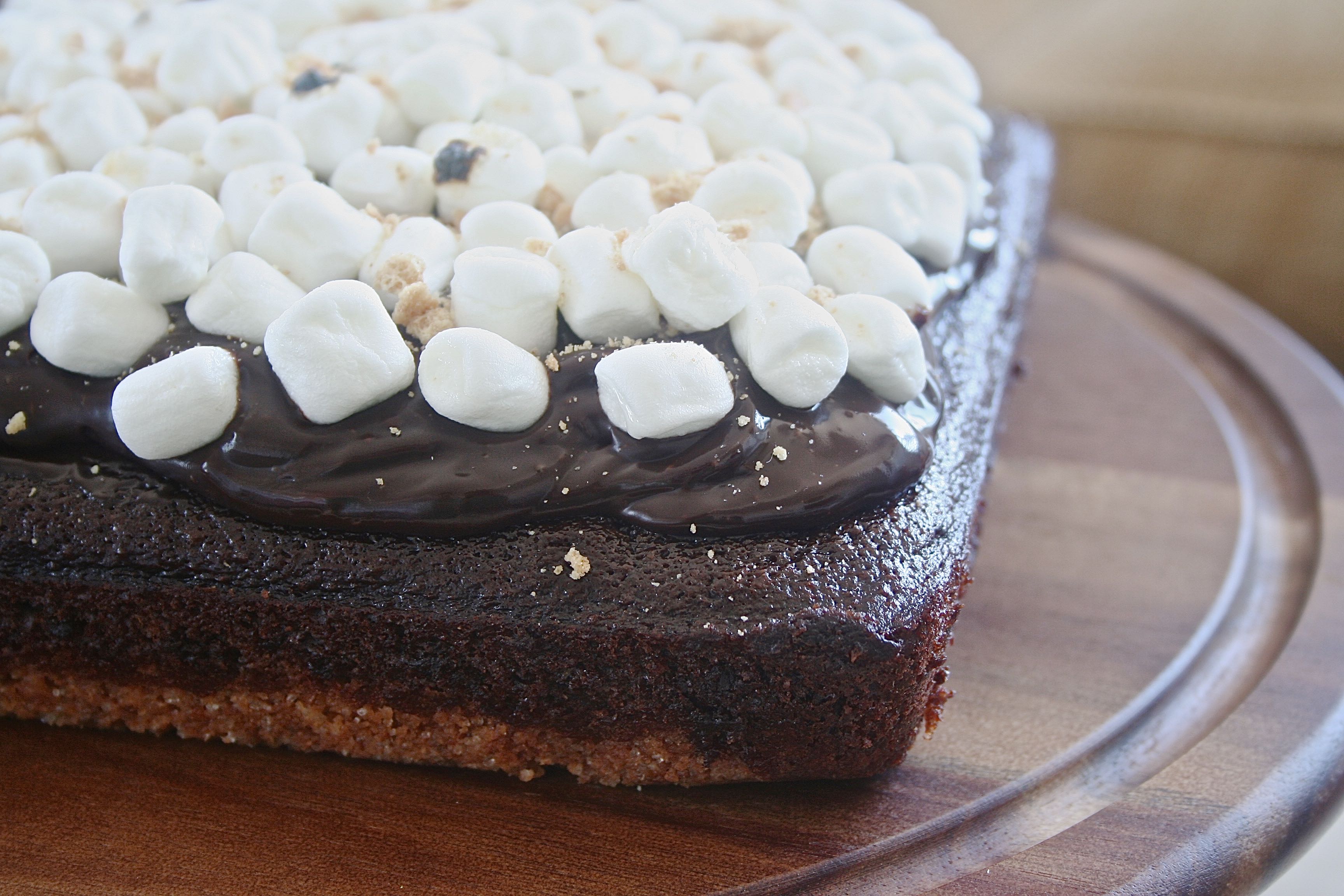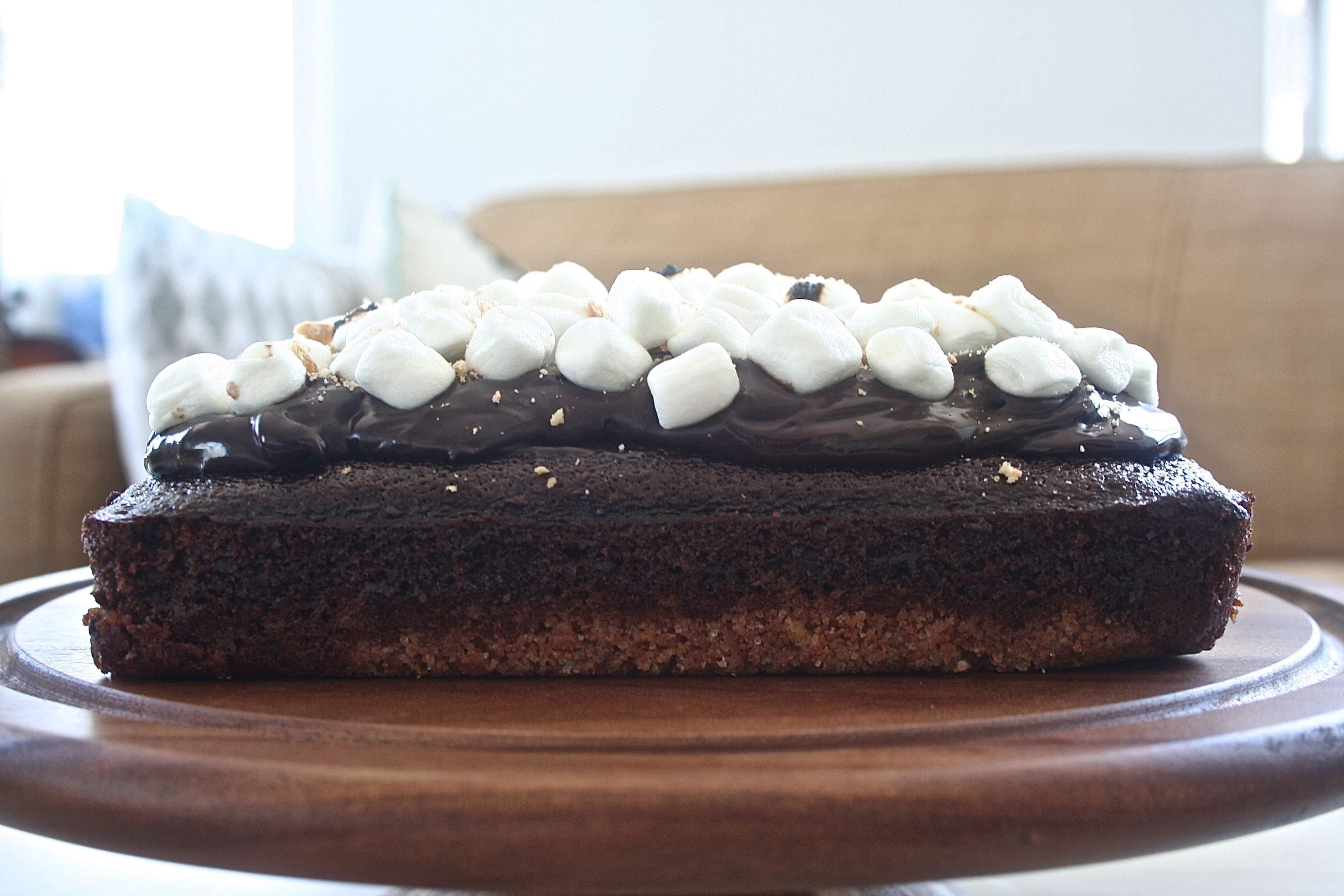 Despite the unseasonal weather, this cake was everything I wanted and more.  I knew I wanted it to be over the top rich and covered in a cloud of marshmallows because restraint in desserts isn't really my thing.  I've also been very attached to the idea of whiskey, chocolate, and marshmallows after obsessing over this whiskey lucky charm cake situation.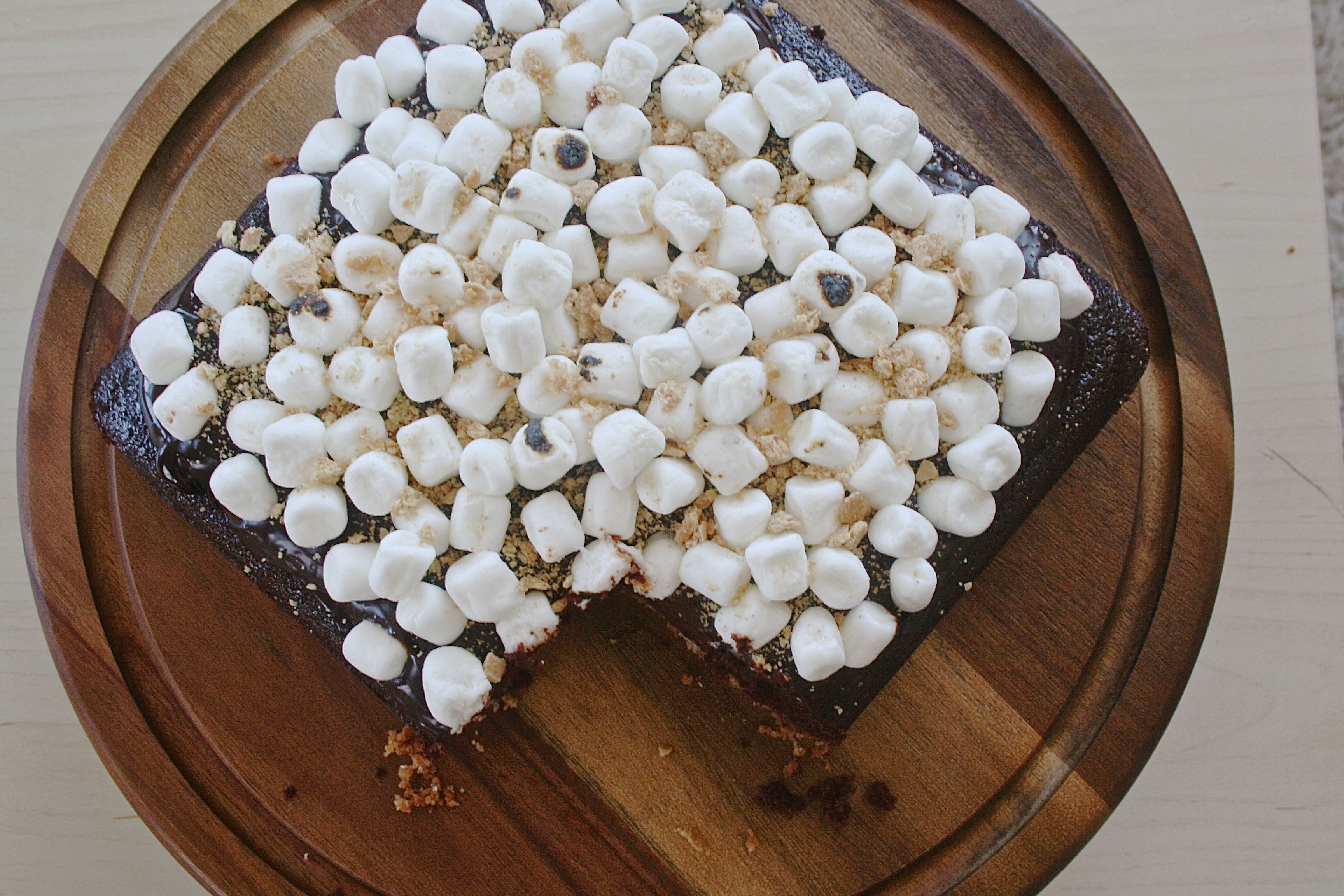 Trying to toast the marshmallows was a complete failure.  Using a candle lighter was underwhelming at best and using the broiler caused the fudge frosting to melt.  I see an impulse purchase kitchen torch in my future.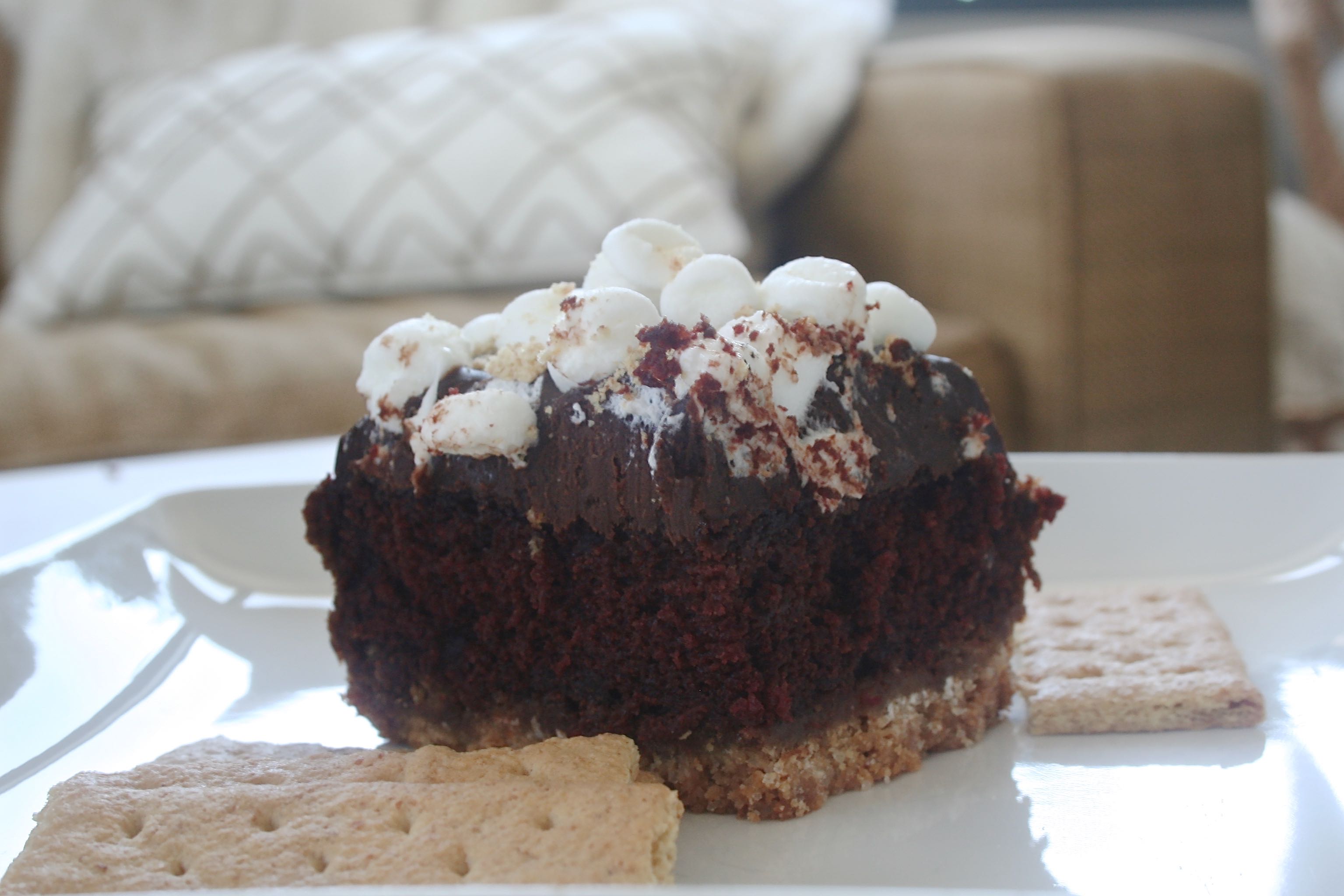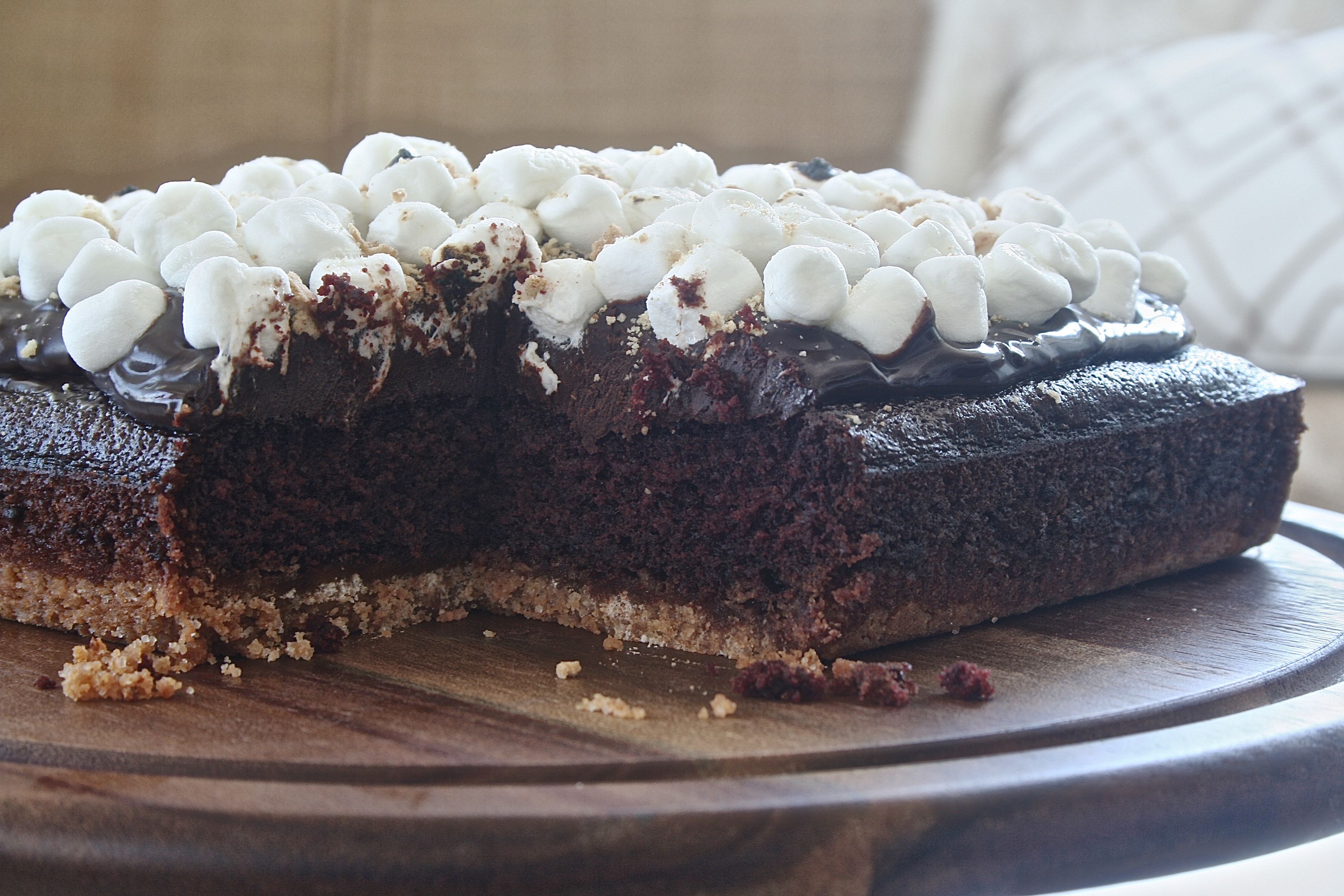 Despite the untoasted marshmallows, every layer of this cake is my new favorite thing.  The contrast of graham cracker crust and soft chocolate cake is something I wish I tried earlier in life.  The fudge frosting is the frosting of my dreams and causes this cake to weigh about 35lbs.  The chewy marshmallows make this a very satisfying bite and contrasts the dark chocolate well.  Finally, the bourbon gives the cake depth, keeps it from being overly sweet, and makes me feel cool.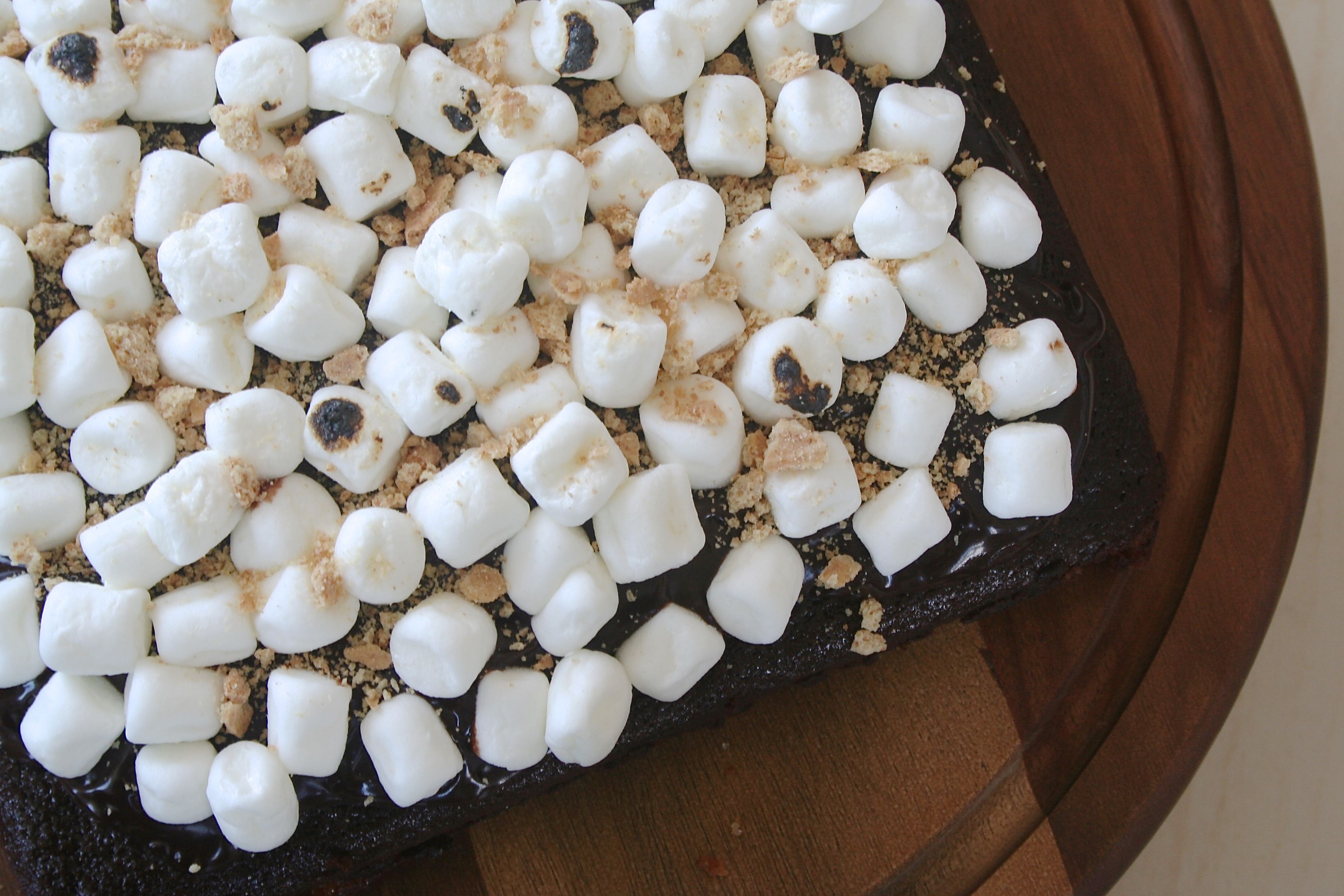 I also sprinkled more graham cracker crumbs on top because I was already past the point of no return.
Bourbon S'mores Cake
(recipe adapted from life, love, and sugar and frosting from how sweet eats)
graham cracker crust
1 1/4 cup graham cracker crumbs (about one sleeve of graham crackers)
5 tablespoons butter, melted
5 tablespoons sugar
 1 cup flour
1 cup sugar
6 tablespoons cocoa powder
1 teaspoon baking soda
1/2 teaspoon salt
1 egg
1/2 cup buttermilk
1/2 cup vegetable oil
3/4 teaspoon vanilla
1/2 cup boiling water
1/4 cup bourbon
10 ounces of dark chocolate chips
1 cup of heavy cream
1/4 cup baileys irish cream (optional)
mini marshmallows for topping (not optional)
Heat your oven to 325 and line an 8×8 inch square pan with parchment paper. Combine all crust ingredients in a bowl and then press into the prepared pan.  Bake in the oven for 7-10 minutes and then set aside as you prepare the cake batter.
In a large bowl, whisk together all of the dried ingredients. Next, whisk in the egg, buttermilk, and vegetable oil.  Stir in the vanilla and the boiling water and don't worry if the batter looks very suspicious here. Finally, stir in the bourbon.  Pour into your prepared pan and bake in the oven for 35-40 minutes until the center is set.  Check for doneness around 35 minutes but don't be surprised if it takes a bit longer.  As the cake bakes, prepare your frosting.
Simmer the heavy cream on the stove (don't boil) and pour over the chocolate chips in a heat proof bowl.  Let this mixture sit for a minute undisturbed and then whisk together until smooth, along with the baileys.  The frosting will be silky in texture to start and needs to sit at room temperature for almost an hour until it's the perfect thick fudge consistency.  I popped it in the fridge for a bit as well since I was in a rush.
Spread a generous layer of frosting onto the cooled cake, press an unreasonable amount of marshmallows into the top, and sprinkle on crushed graham crackers for good measure.
This cake keeps well in the fridge and stays moist for up to 5 days.
Search for kitchen torches online and enjoy!