I have become obsessed with fruit frostings, icings, and glazes and there's no stopping me.  If I'm being totally honest, I'm close to the point where I don't even bother baking something to go with them.  How do people feel about this becoming a frosting only blog?
I'm pretty comfortable being at that place in my life.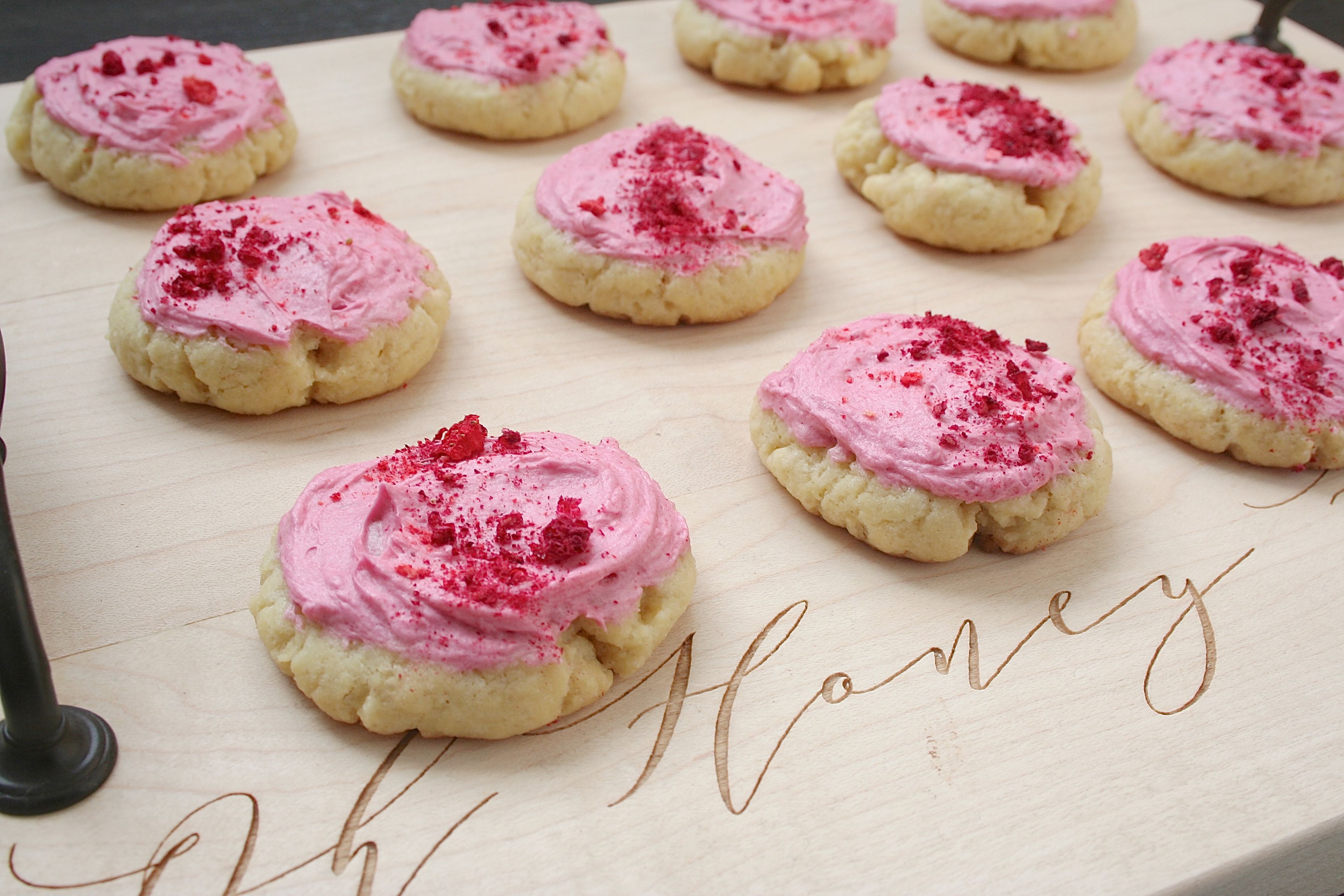 Until then, these soft sugar cookies are a really good vehicle for this bright berry buttercream.  They remind me of those lofthouse cookies you can buy at the grocery store, except they are better in every way imaginable (and I am actually pretty into the lofthouse version).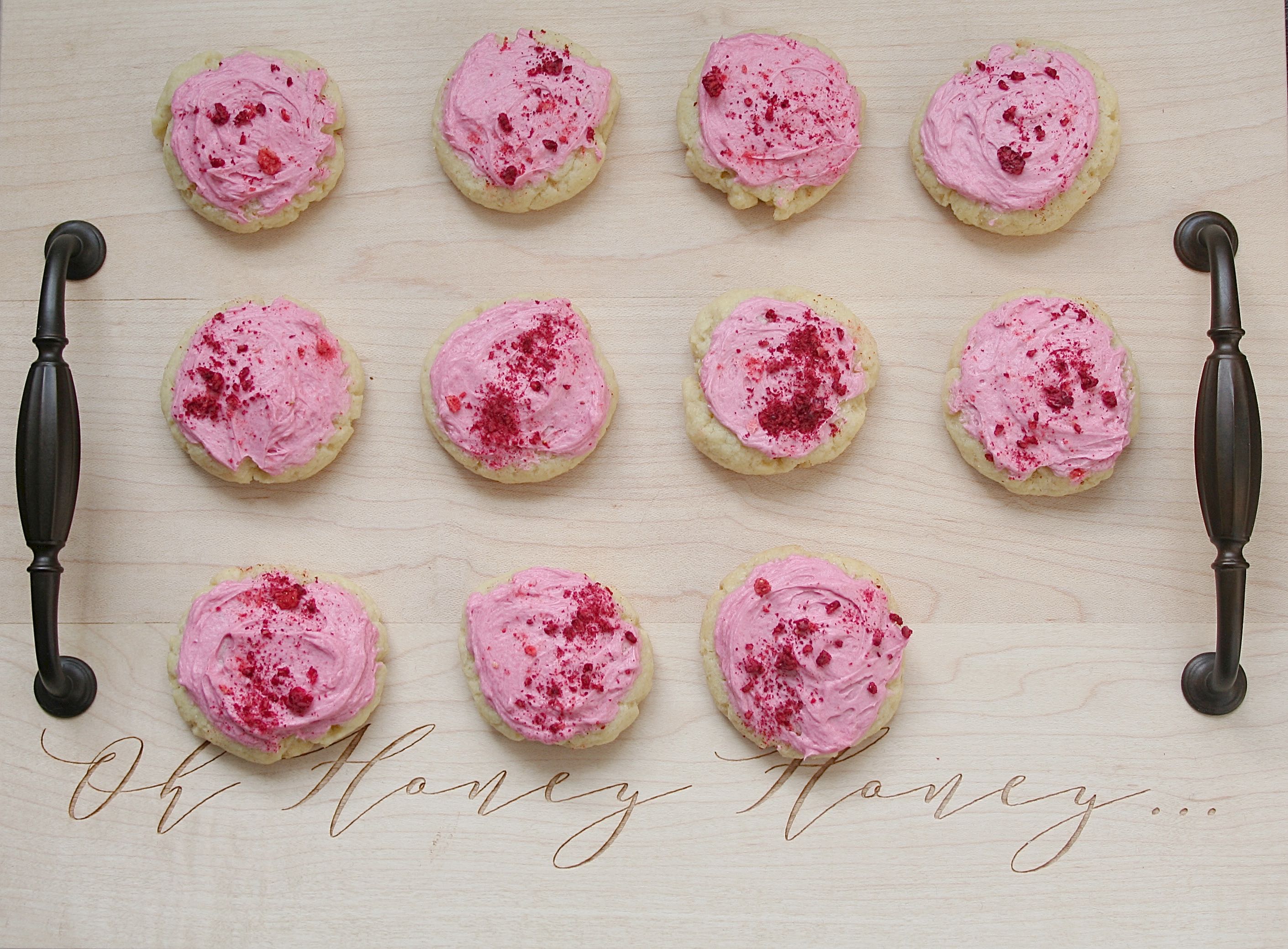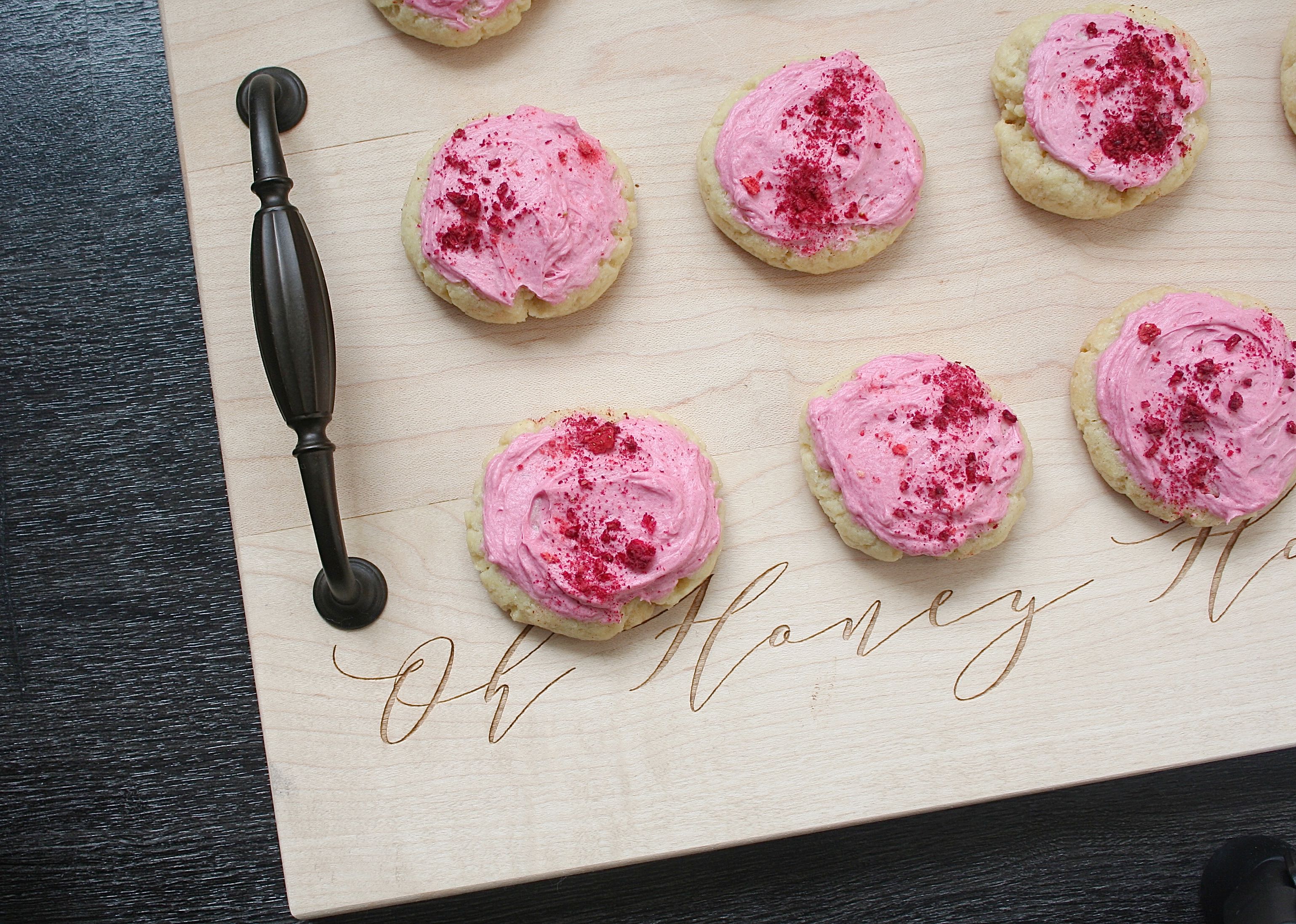 The cookie base is the same as these rainbow sugar cookies but instead of rolling them in sprinkles, they bake up plain before getting dressed up with the real star of the show.  The cookies themselves have a bit of cream cheese in them, which gives them that sink your teeth into it texture.  They end up sort of puffy but also chewy and if that makes no sense, just trust me it's magical.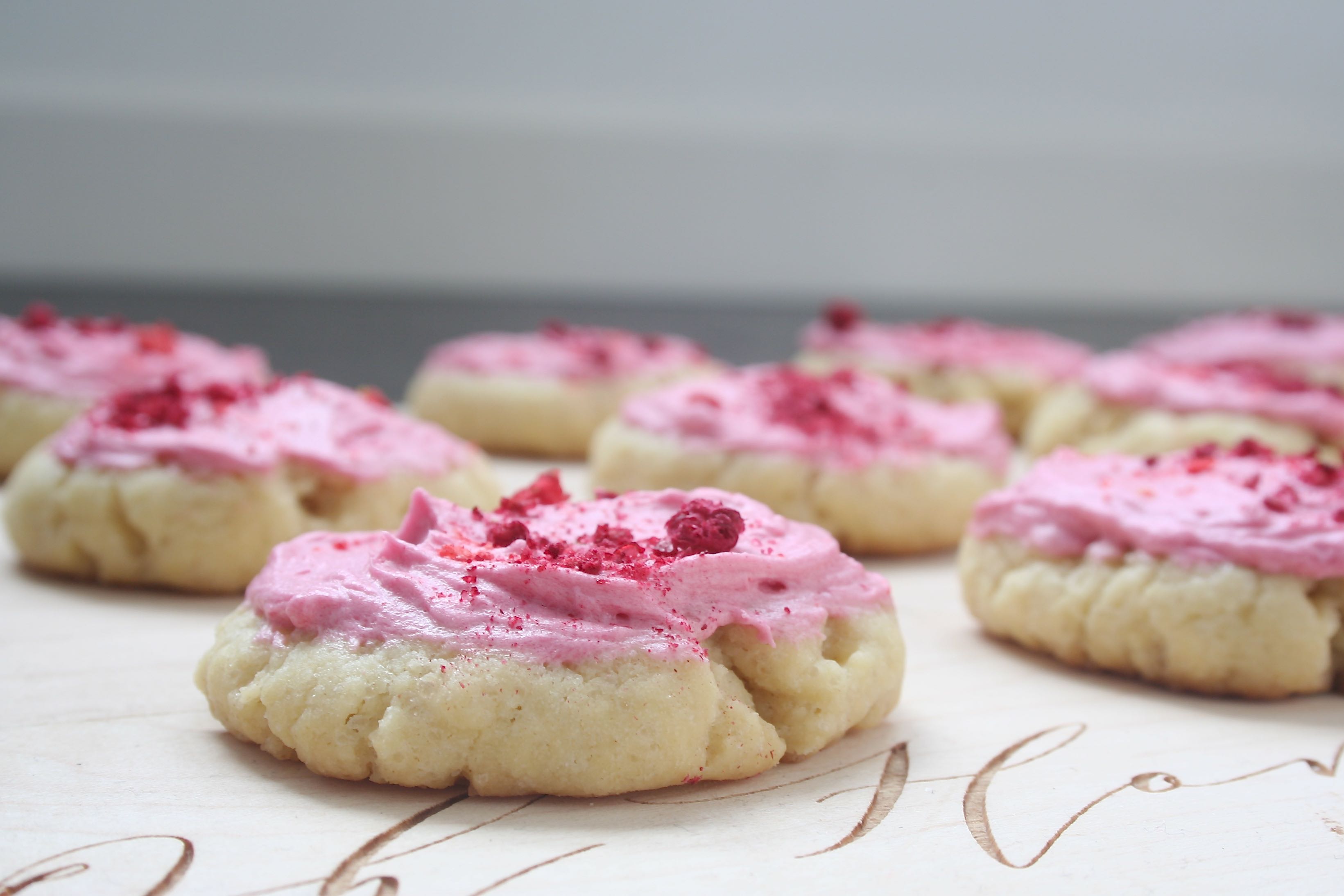 Each cookie then gets a cloud of tart pink blackberry frosting and a sprinkle of crushed dehydrated strawberries and raspberries.  The contrast between the dried berries and the swooped buttercream is pretty amazing and I'm all of a sudden in a really sad mood because I made these cookies two months ago and now I miss them terribly.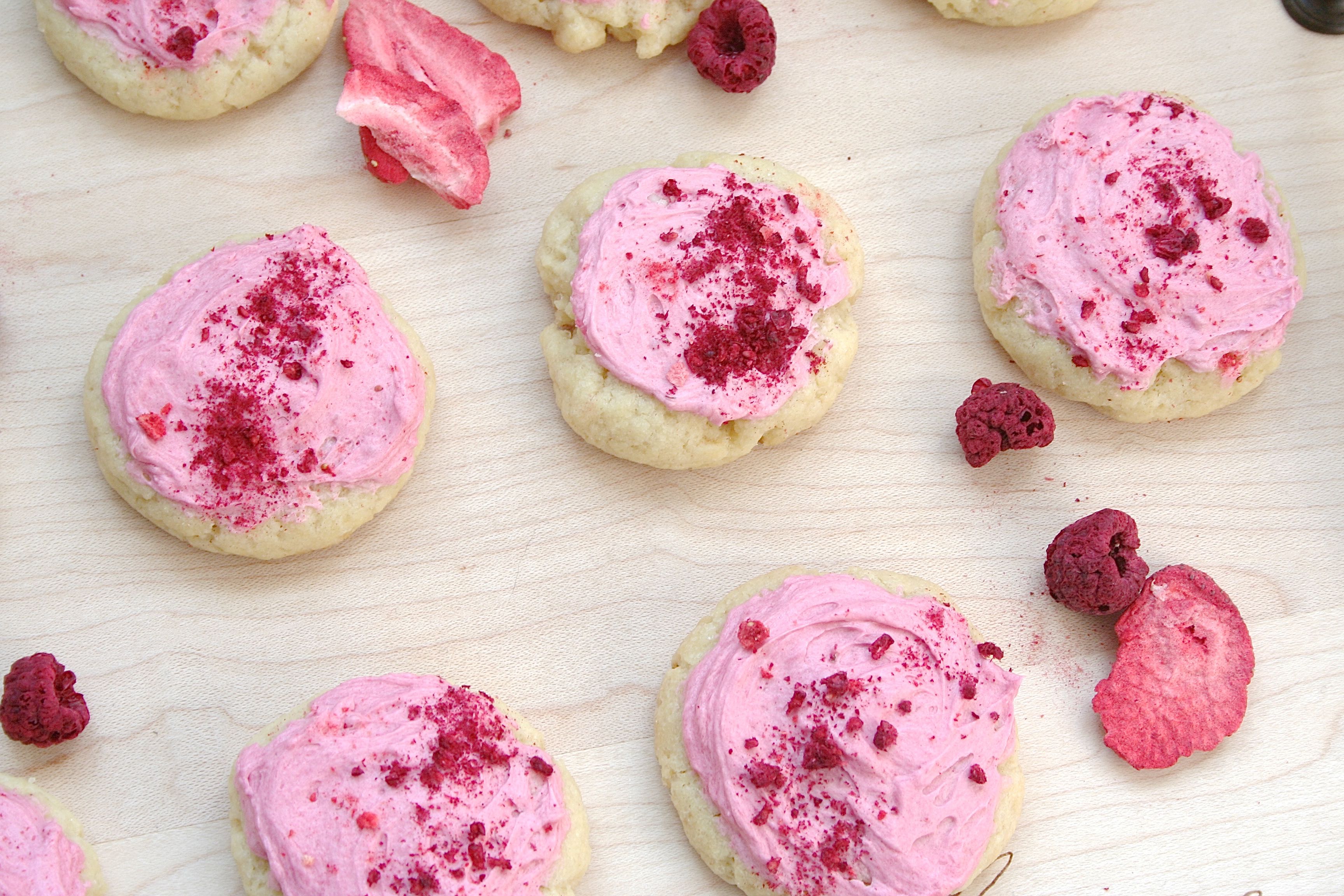 Please get on this fruity frosting train with me.  Choose your own adventure with the fruit, add butter and sugar, live happily ever after.
soft sugar cookies with berry buttercream
(cookies adapted from smitten kitchen and frosting from a cozy kitchen)
cookies
3 cups of flour
1 teaspoon baking powder
1/4 teaspoon baking soda
3/4 teaspoon salt
2 sticks unsalted butter
1/4 cup cream cheese (or 1/4 of an 8 oz block)
1 1/4 cups granulated sugar
1 egg
2 teaspoons vanilla extract
berry buttercream
1/2 pint blackberries
pinch of salt
1 teaspoon lemon juice
1 teaspoon sugar
12 tablespoons butter
1 1/4 cup powdered sugar
crushed dehydrated berries
directions
Preheat the oven to 375 degrees and line two baking sheets with parchment paper.
In your food processor, pulse the flour, baking soda, baking powder, and salt together until combined.  Add the sugar along with the butter and cream cheese, cut up into large chunks and blend until combined.  Next, add the egg and vanilla almond extract and blend together until the dough starts to ball together.
Scoop out balls of dough about 1.5 tablespoons worth each. Flatten out the cookies to about 1/2 inch in height by pressing down on them with the bottom of a glass.  Bake 9-10 minutes in the oven.  The cookies will still looked undercooked when you pull them out but they will continue to bake on the cookie sheet before you transfer them to a cooling rack to finish the job.
When the cookies are baking, simmer the berries, salt, granulated sugar, and lemon juice over medium heat.  Stir and mash this together for around 5 minutes and then strain the juice through a sieve. To make the frosting, beat the powdered sugar, butter, and a few tablespoons of the cooled blackberry juice.
Swoop and swirl onto the cooled cookies and sprinkle them with the crushed berries.
Enjoy!