Last night I rudely cancelled on my friend for plans because it was supposed to thunderstorm badly and I didn't think anyone should be driving because I am a worrier.  Let the record show that not a single raindrop fell all evening and now I look like a bad friend who makes bad excuses.
But let's just say it did rain because that segues nicely into tea drinking and tea drinking segues nicely into eating tea cakes and I am out of other ideas.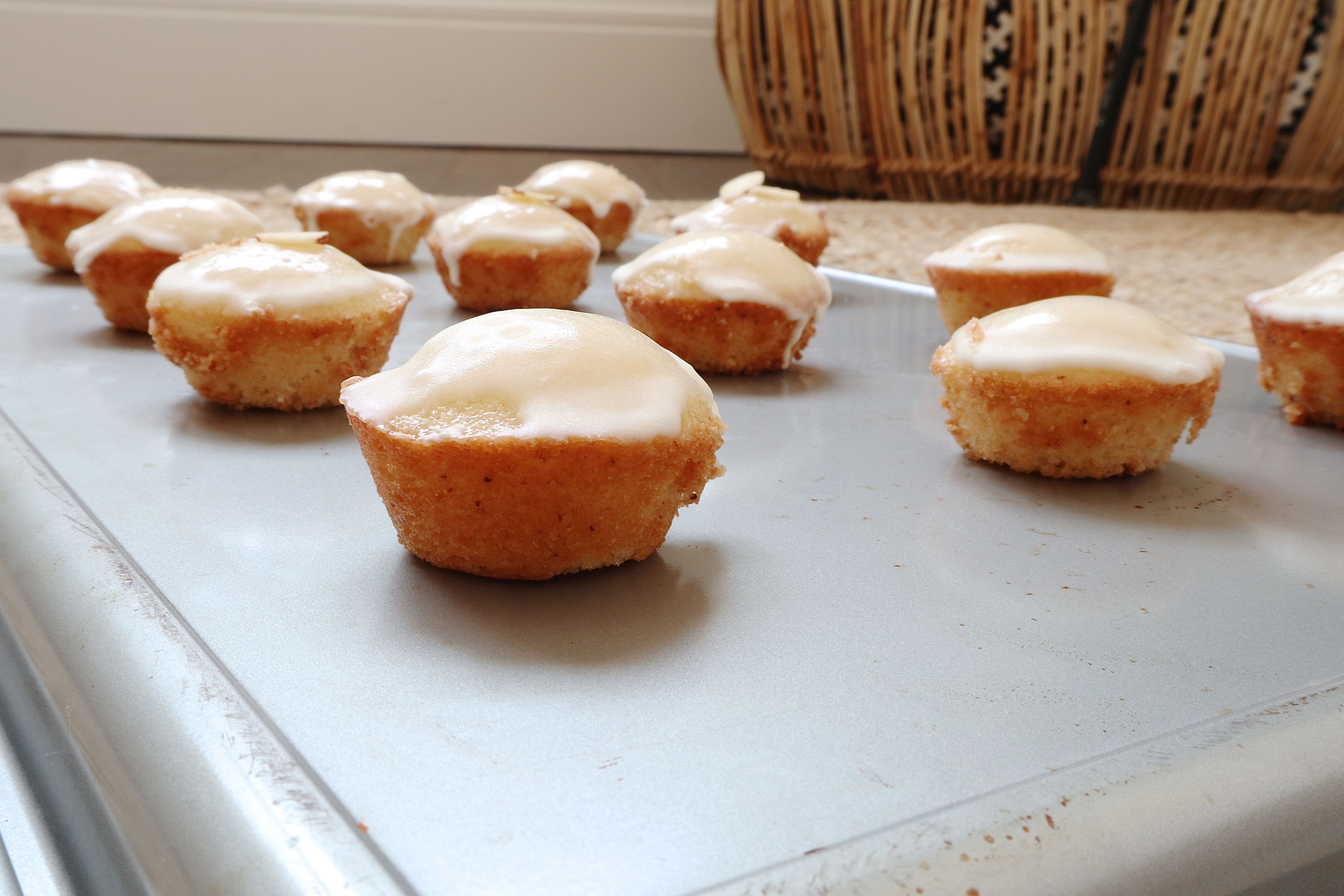 If I'm being honest, most of the time when I make a mug of tea I hold it for warmth and then forget to drink it until it's cold.  I have never forgotten to eat cake though so at least one half of this ritual is preserved.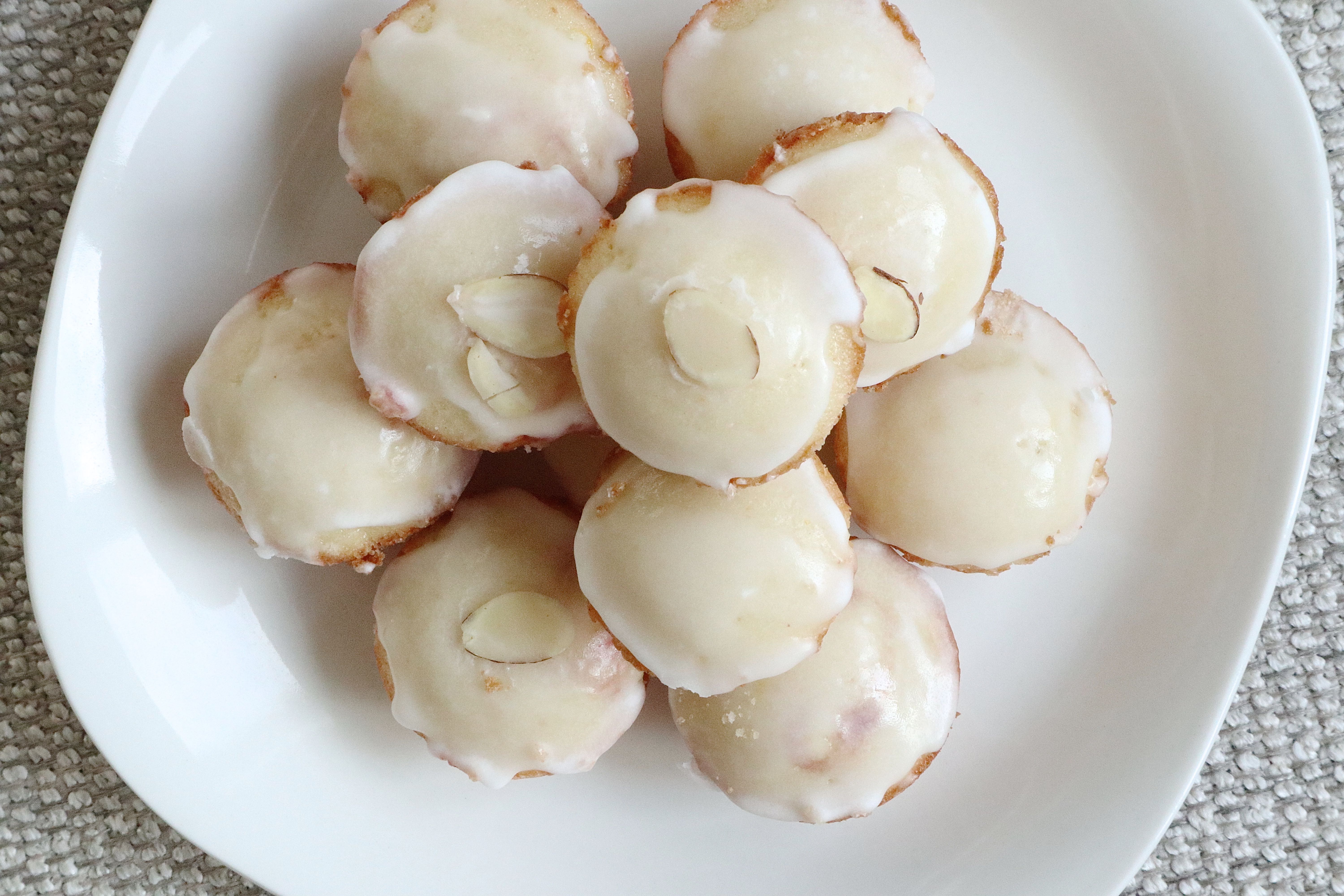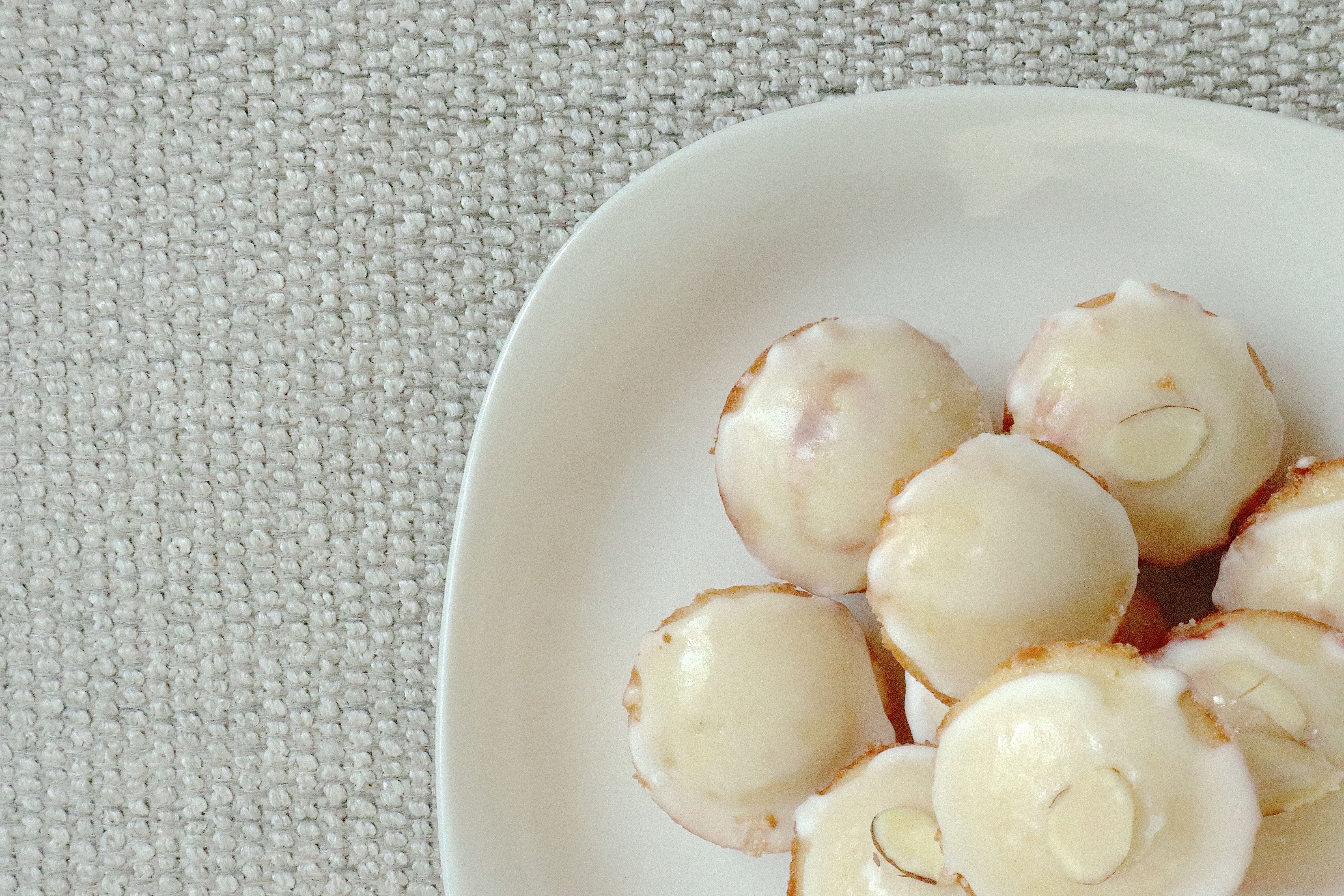 Rain or shine these are some lovely little cakes.  I adapted the recipe from this almond cookie cake, which is such an underrated gem of a cake.
We are kind of upgrading here though.  Instead of the margarine in the original recipe, we are slowly browning butter, adding a little extra flour for structure, and filling them with pockets of jam.  Lastly, I added a thin glaze of a very lemony icing, which compliments the rich almond cake in the sweetest, tartest, way.
(very aware tartest isn't a word)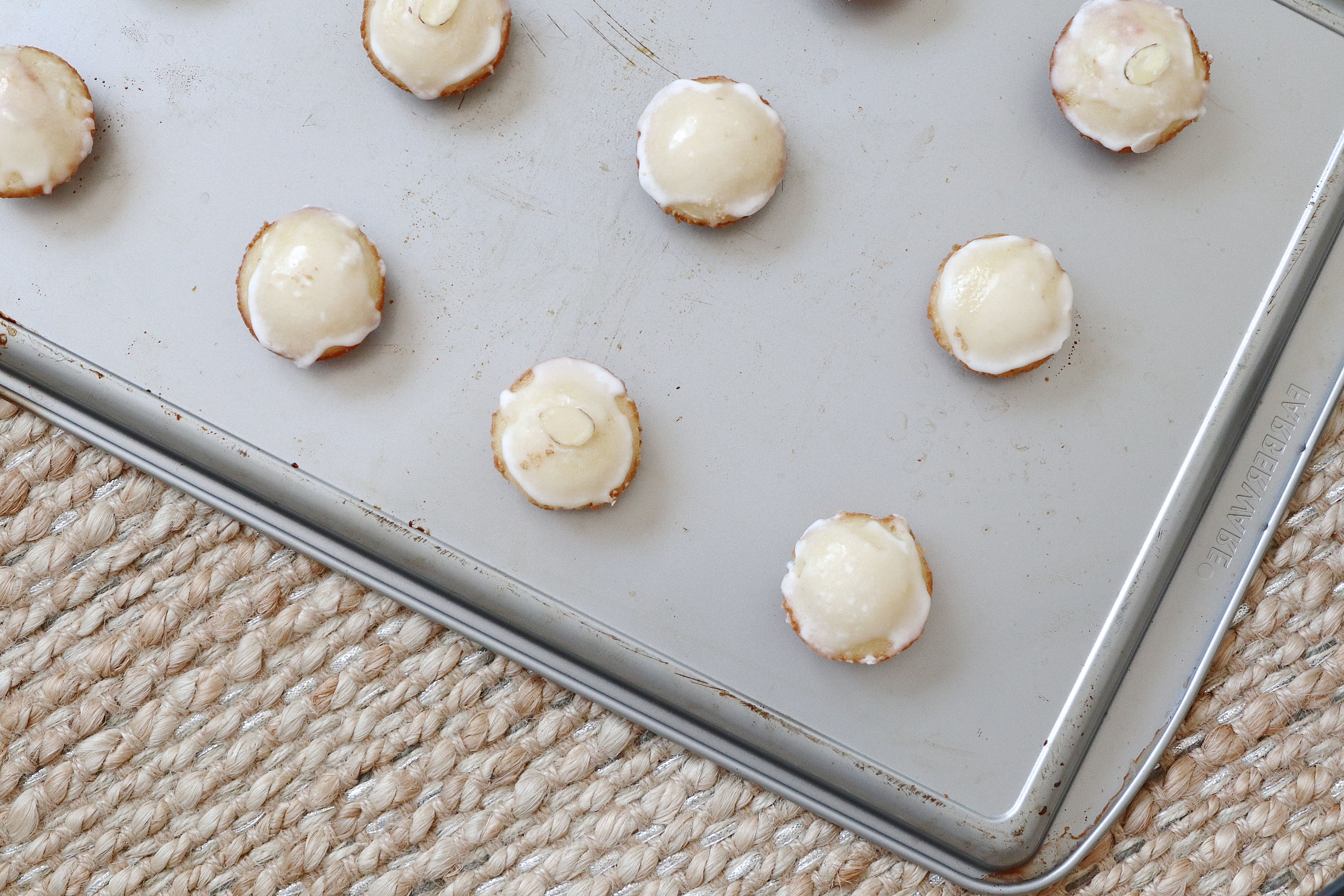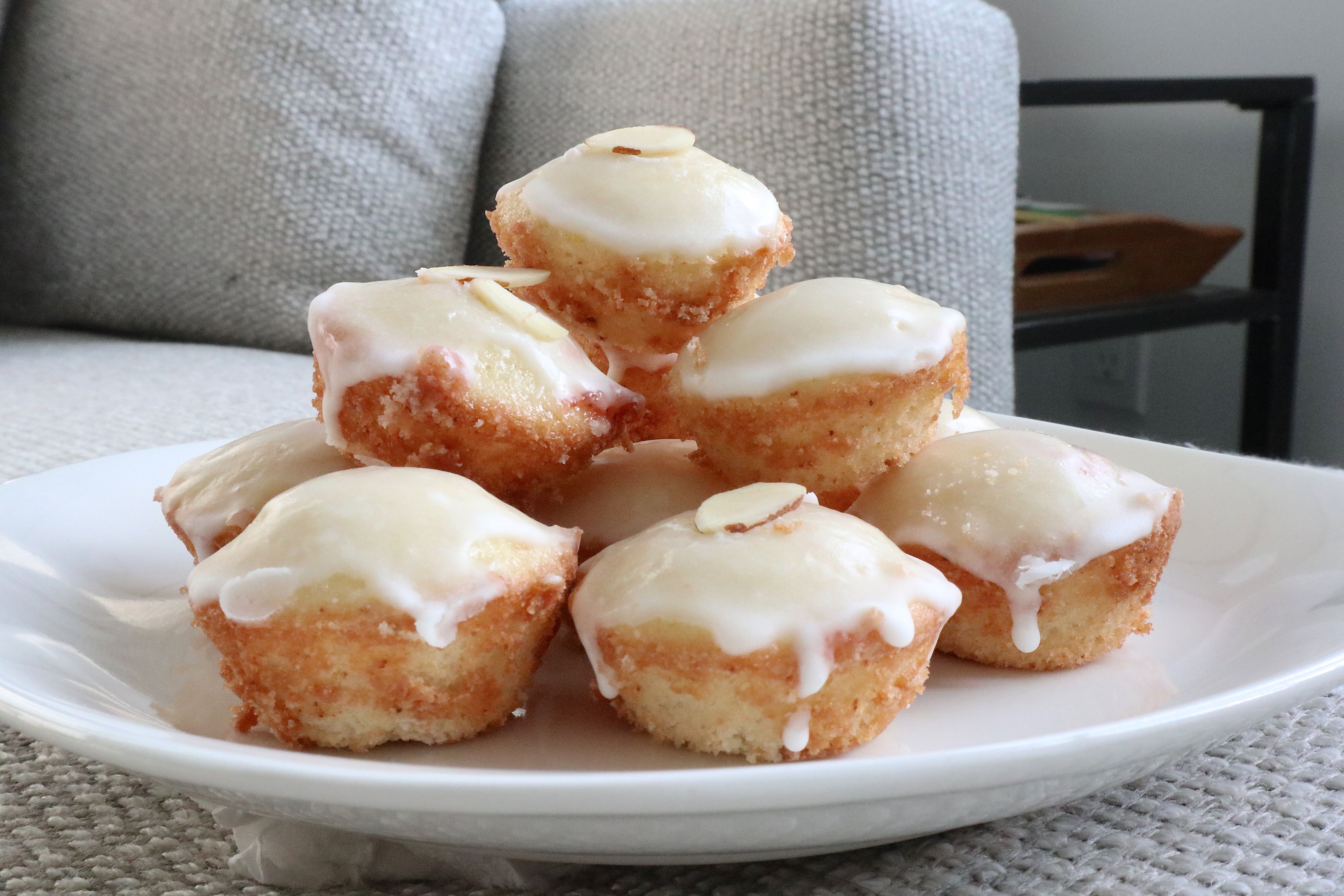 I was so smitten by these cakes that I kept trying to take a photo of one in the palm of my hand like some charming alice in wonderland bit but all it did was make me very self conscious about my hands and I will never try that again.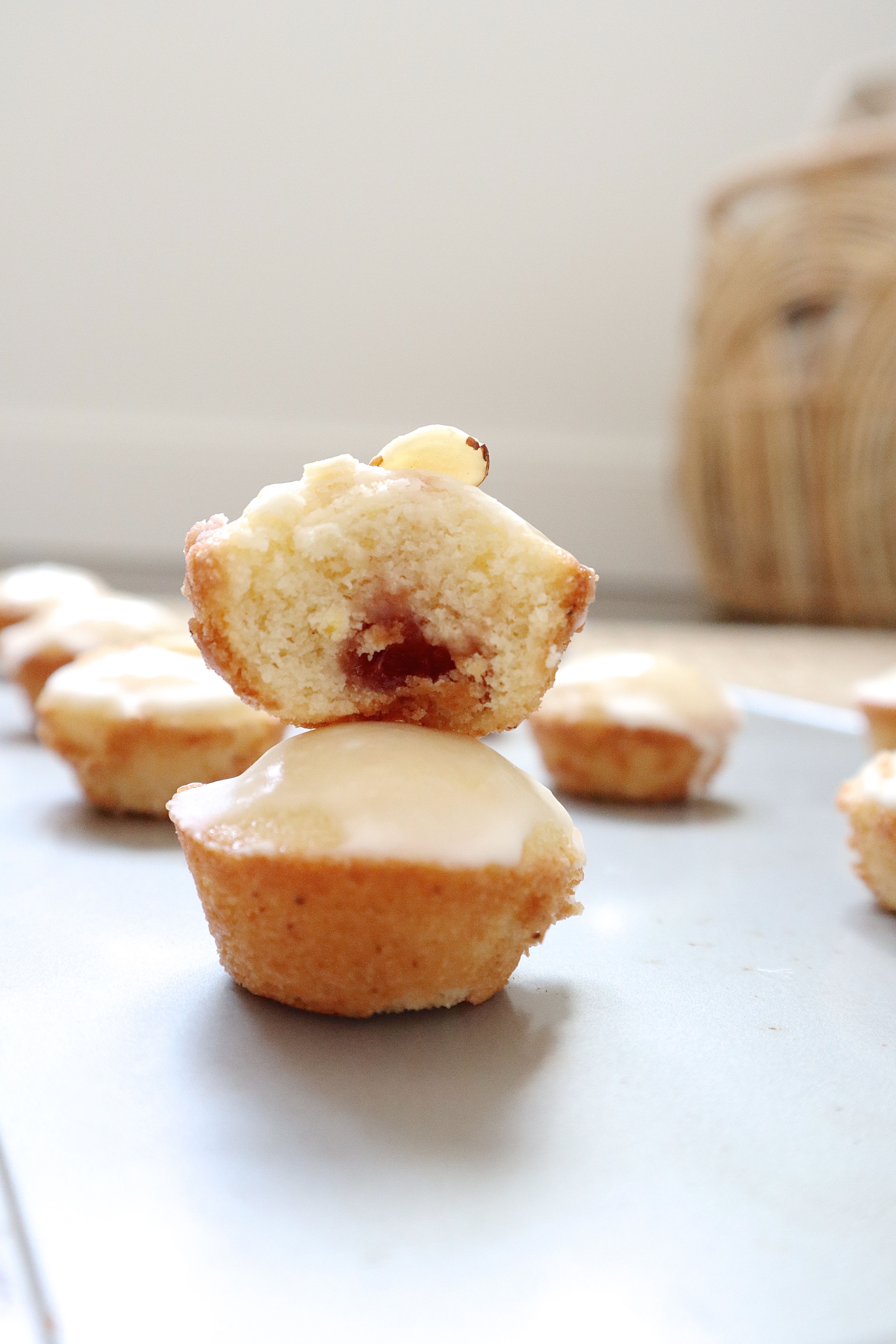 I will keep on stacking mini cakes though because it has become one of my favorite useless past times.  Also a good party trick if your friend ever hangs out with you again after that nonsense you pulled with the rain.
brown butter almond tea cakes
1 1/4 cups of sugar
1 egg
1 1/2 teaspoons of pure almond extract
2/3 cup of milk
1 1/2 cups of flour
1/2 teaspoon of baking powder
10 tablespoons of butter, melted and browned
strawberry preserves
lemon icing
3/4 cup powdered sugar
juice of 1 lemon
1 tablespoon softened butter
directions
Preheat your oven to 350 degrees and grease your mini muffin tins.  In a saucepan over medium heat, melt your butter and swirl continuously as it gets frothy and starts to smells fragrant and nutty.  You'll see tiny brown flecks appear in the butter and you want to scrape up all those delicious pieces and give it another minute or two before taking it off the heat.  If you think you maybe overshot it, transfer immediately to a bowl so it doesn't continue to brown.
In a small bowl, stir together your flour and baking powder.  In a larger bowl, whisk together your sugar, egg, almond extract, and milk.  Stir in the dry ingredients followed by the browned butter.
Spoon the batter into your prepared tins and dollop in some strawberry preserves if you fancy it.  I did about half and half. Bake for around 12 minutes, though I found this varied depending on the pan I used so keep an eye on them and don't be worried if it takes a little more or a little less.
Let your mini cakes cool as you prepare the icing.  Of note, in a few of the cakes, the jam sort of fell out the bottom when I removed the cake from the pan.  I just spooned it right back into place and let them cool upside down and once they were cooled, the jam stayed in.
For the icing, whisk together your sugar, lemon juice, and butter until smooth.  Feel free to adjust the proportions if you want a thicker or thinner icing.
Spoon the lemon icing over your cooled tea cakes and garnish with sliced almonds if it suits you.
Enjoy : )