Everyone I know is getting so amped up about fall and I'm over here not so secretly loving that it's still 80 degrees and I haven't even needed to look at a sweater yet.  I love warm weather and I love long days and fall means the end of both of those things.  I can however, get on board with transitioning to fall baking and this apple carrot cake with cream cheese frosting means it's all apples and pumpkin and and being basic from here on out.
My cousin and I went apple picking the other weekend and if you follow my instagam stories you'll note that yes, we were in fact the only two grown adults there without children.  To make it even better (maybe worse) we didn't just casually decided to do this either.  We planned it out, woke up early on a Saturday, and drove an hour away to pay $28 to pick fruit that costs way less at the grocery store.
We go hard for seasonal traditions and I'm not sorry about it.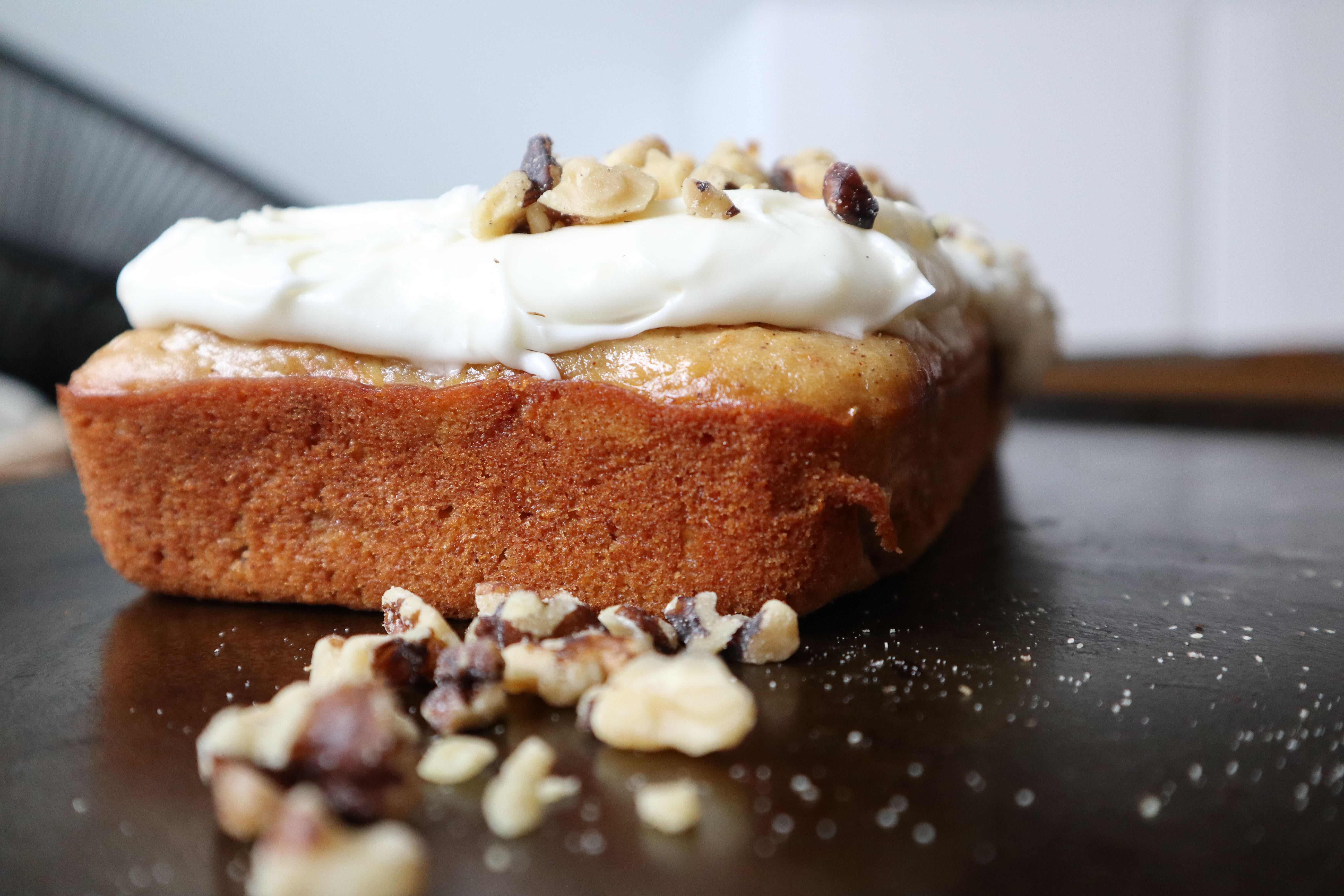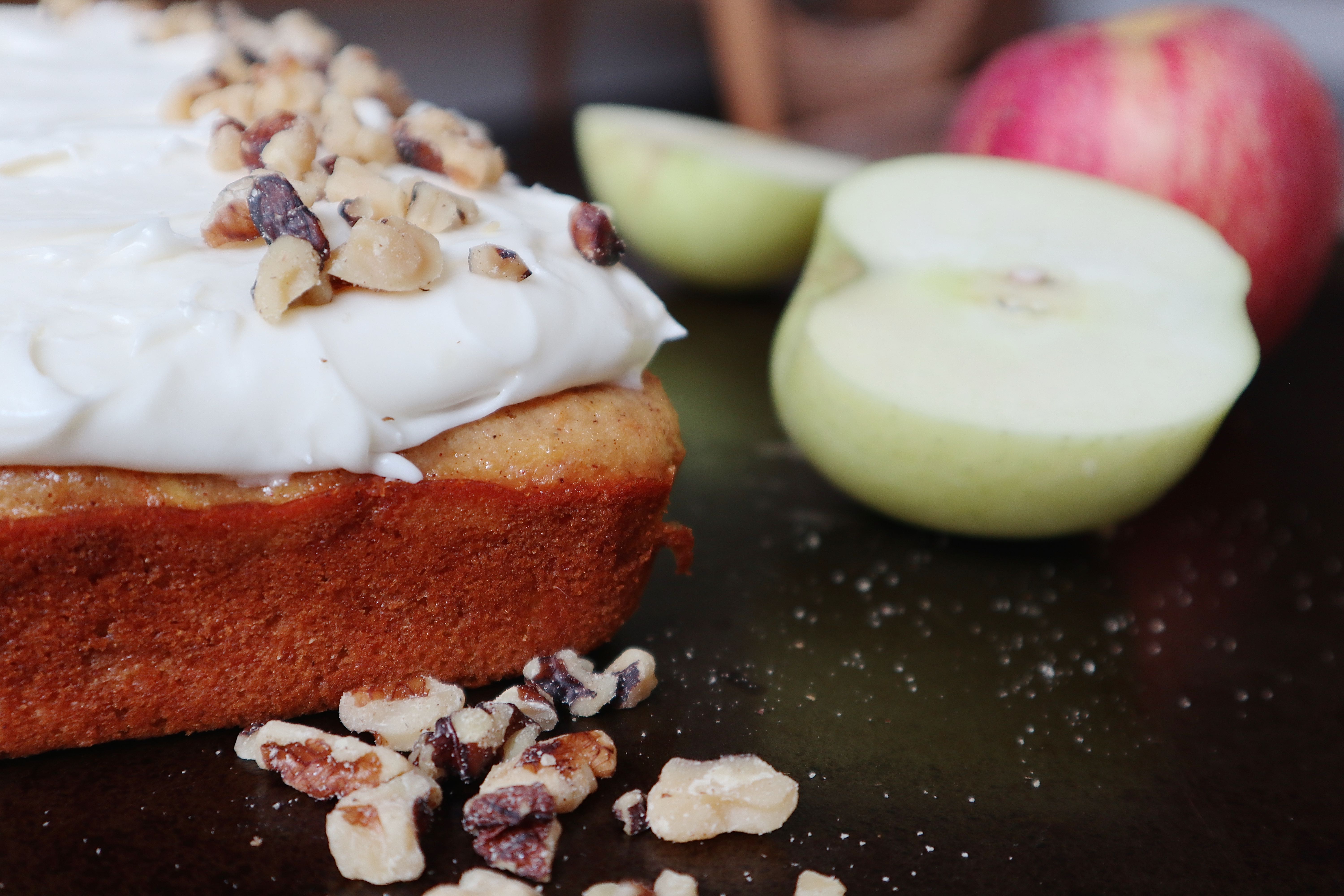 We ended up with way more apples than two gals could ever need (no McIntosh because those are garbage apples) and now I'm working my way through them.  This may not be a big deal to most people but I actually improvised this whole recipe from scratch and for a person who loves to follow directions and has a low tolerance for baking failures – this is a big deal for me.
I'm pretty sure this cake coming out well is akin to watching my first child graduate from college. I don't have kids but I'm 99% sure it's the same thing.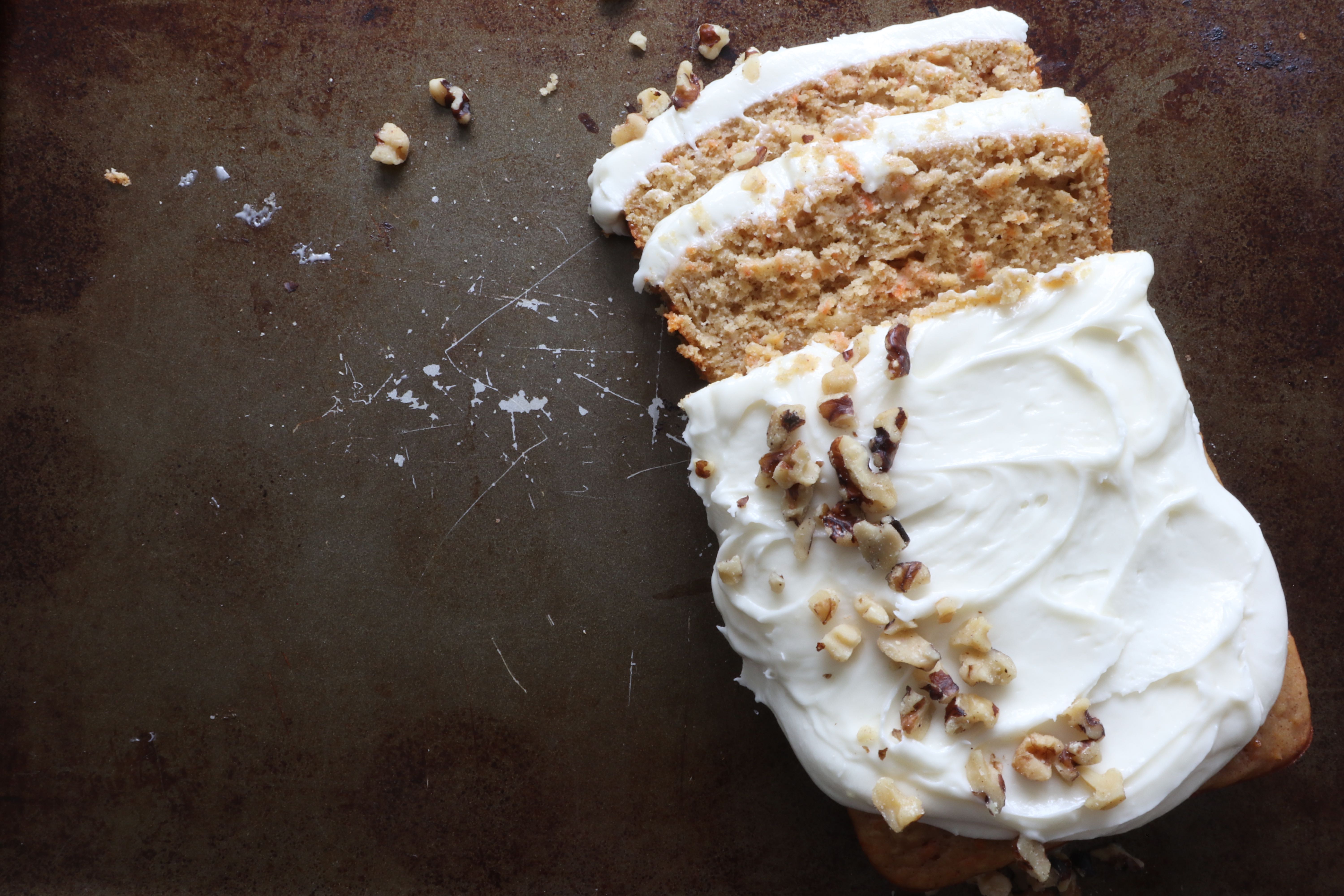 The cake itself is chock full of grated apples and carrots, which was a combination I couldn't shake from wanting to try.  It's basically carrot cake but with more apples, meaning there's more moisture and sweetness so I used less added sugar.  I am not someone who cares about how much sugar is in something but I do love that the apples are a key player in the sweetness and flavor of this cake.  Along with a spoonful of fancy honey, olive oil, and greek yogurt – this cake is as trendy as it is tasty.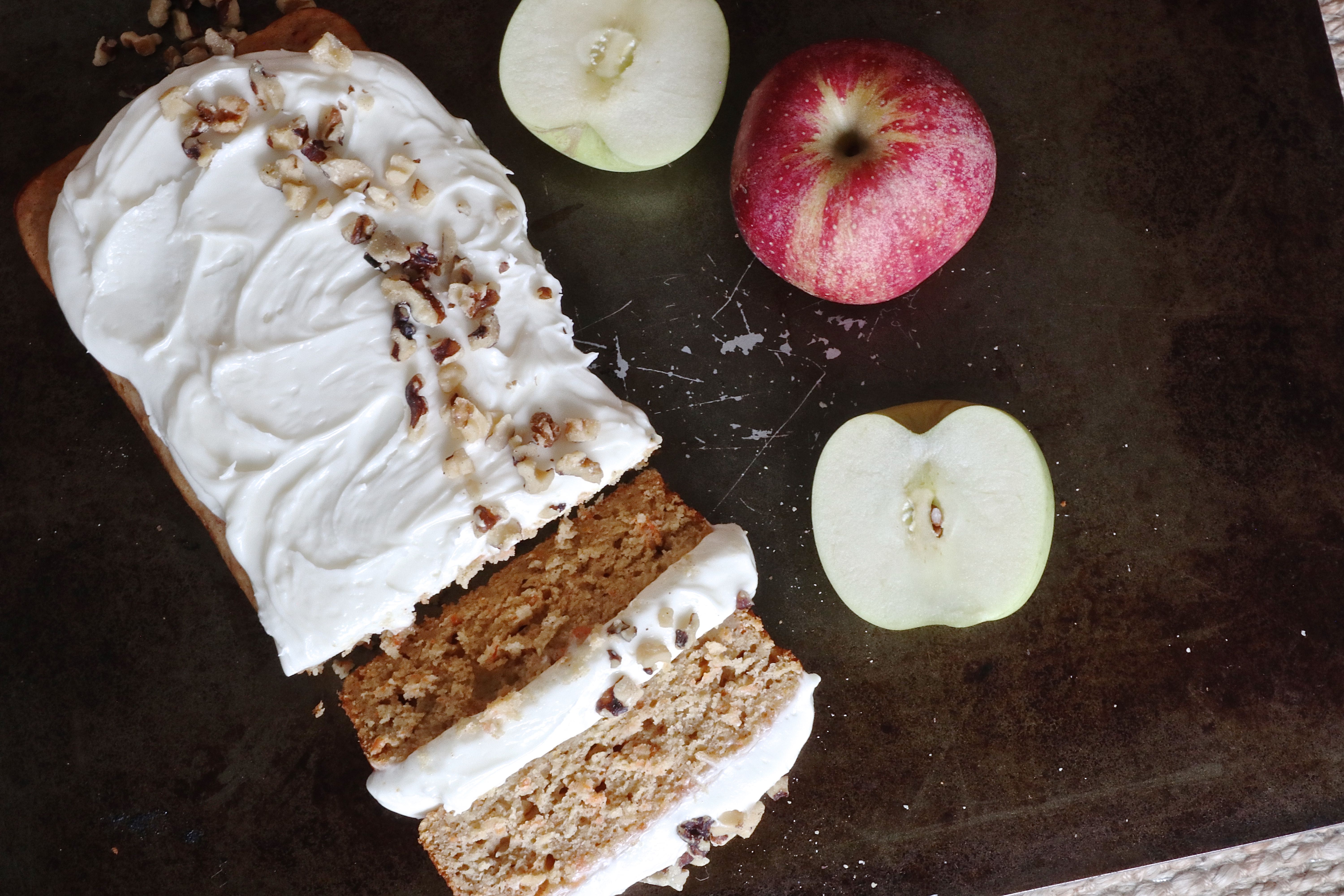 Without the cream cheese frosting, this cake could truly pass for a solid breakfast but I don't want to live in a world where we don't use cream cheese frosting whenever we can.
apple carrot cake with cream cheese frosting
apple carrot cake
2 medium apples grated
1/2 cup grated carrot
2 eggs
1/2 cup oil
1/2 cup packed light brown sugar
1/2 cup greek yogurt
1 teaspoon vanilla
1 heaping tablespoon of honey (I used raw cinnamon honey)
1 1/2 cups flour
1 teaspoon baking powder
1 teaspoon cinnamon
pinch of salt
cream cheese frosting
4 oz cream cheese, softened
2 tablespoons butter, softened
2 1/2 cups powdered sugar
walnuts (optional)
directions
Preheat your oven to 350 degrees and line a 9×5 inch loaf pan with parchment paper so a few inches hang over each long end.  Don't worry about lining the short ends, this cake slides out easily.
Grate your apples and carrots until you have about 1 1/2 cups of grated goodness in total.  You'll want to wring out some of the moisture, which will also squeeze it all together and make it seem like less than you need but just eyeball it.
In a large mixing bowl, whisk together your eggs and sugar until nicely combined and then whisk in your olive oil.  Stir in your grated carrots and apples and then whisk in your yogurt and vanilla.  To the wet mixture, add your flour, baking powder, cinnamon, and salt.  Finally, stir in your spoonful of good quality honey. I'm not sure why this goes at this end but it's what I did when making the recipe so I am sticking with it.
Pour the batter into your prepared baking pan and bake for 35 minutes in the oven, checking for doneness around 30 minutes.
Let the cake rest in the pan for 5 minutes and then turn out onto a cooling rack to cool fully.  As your cake cools, prepare your frosting by beating together the cream cheese, butter, and powdered sugar in either your stand mixer or with a hand mixer.  You will likely have extra frosting but I have never found this to be a problem.
Swoop and swirl your frosting generously onto the cooled cake and top with walnuts if that's your sort of thing.  I did it mostly for the look but then ended up loving the texture contrast as well.
Enjoy!