It may technically be pumpkin season but the multiplying bowl of apples on my counter thinks otherwise. It's also still a solid 75 degrees out so let's just relax on sticking with food seasons anyways.  These layered apple scones with brown butter buttermilk icing have an unnecessarily long name (which I chose) but they're so good I really wanted to list all the good in the name.
It's basically the recipe title version of having to explain a joke.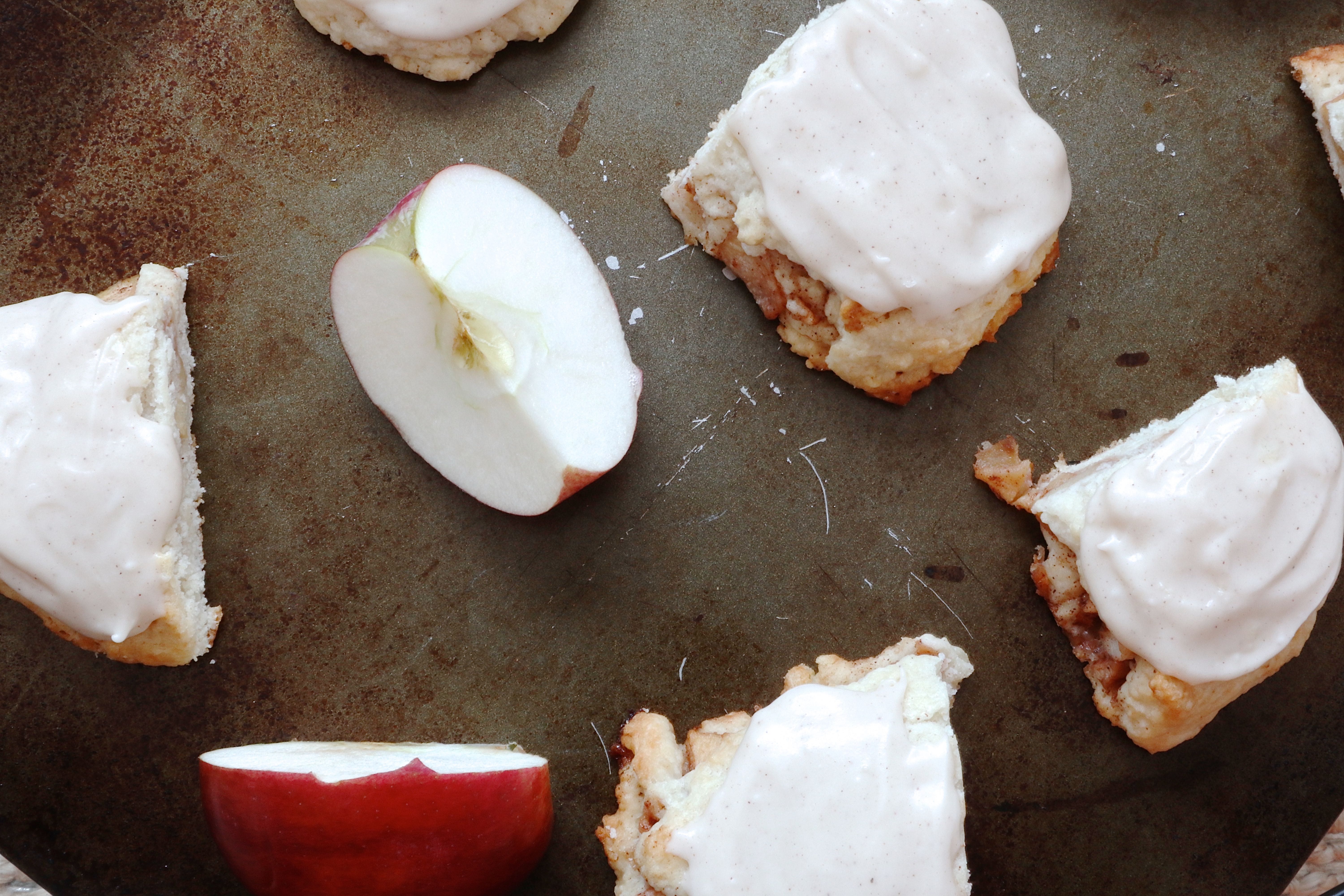 These scones were inspired by scone sandwiches and apple pie biscuits but I didn't have enough flour for either of those recipes so I adapted my previous buttermilk scone recipe from here.  The process was daunting as is every 'choose your own adventure' that I take with baking but the result was so, so good.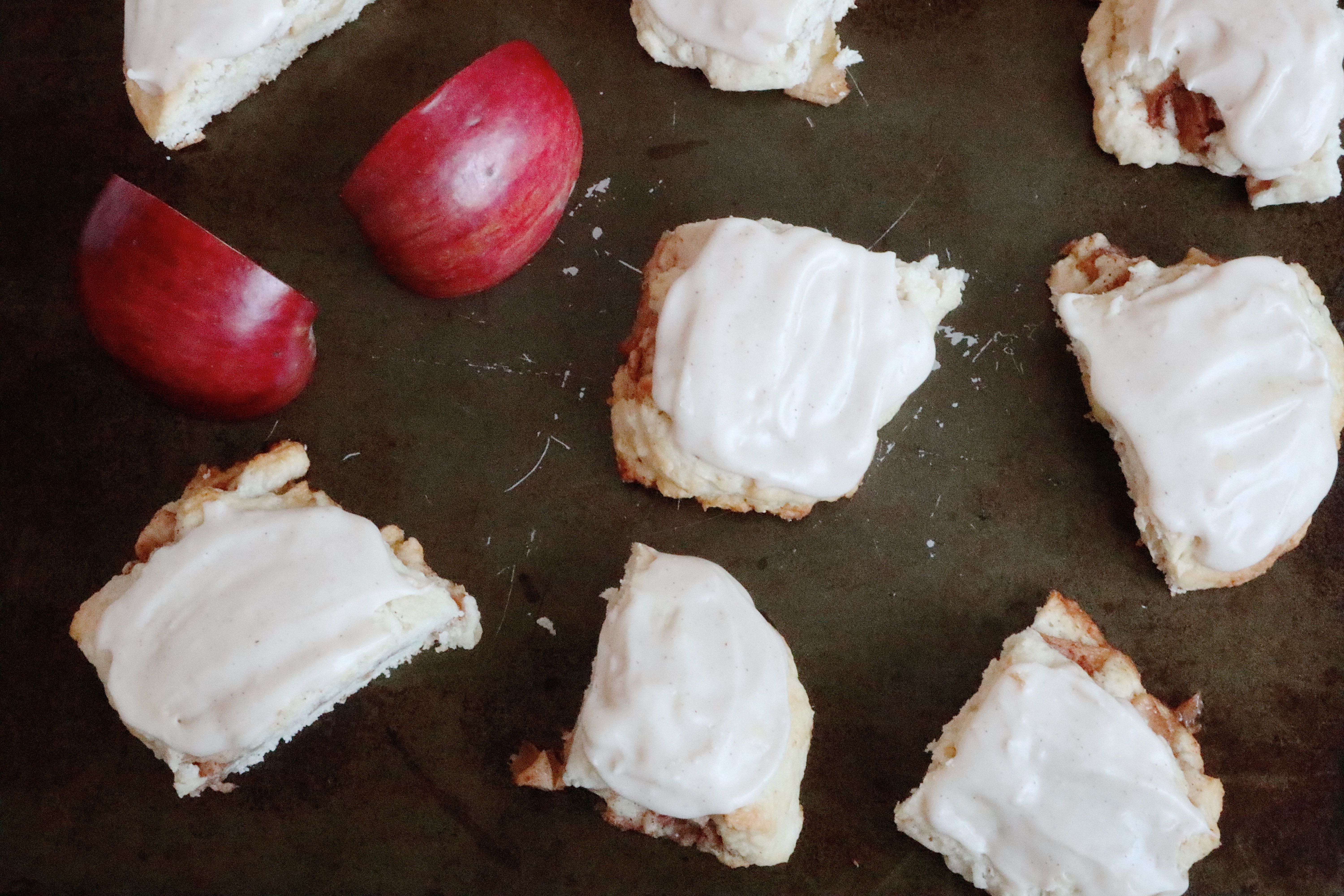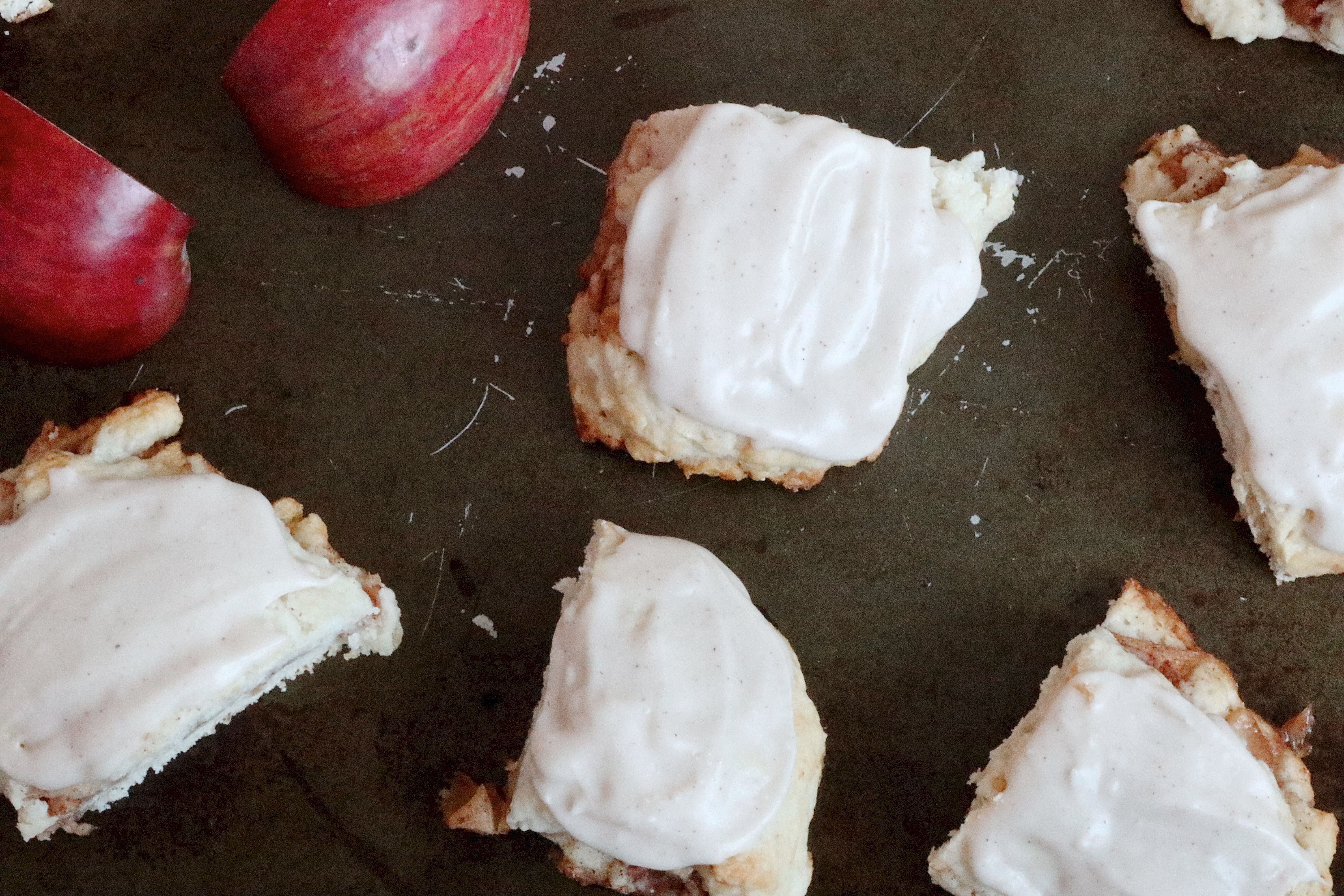 Fresh apples are sautéed in butter, sugar, and cinnamon and then layered in between gently kneaded buttermilk dough. Everything gets tucked in to the best of your ability and then as you slice the scones before baking it all falls out and you just accept whatever shape you end up with.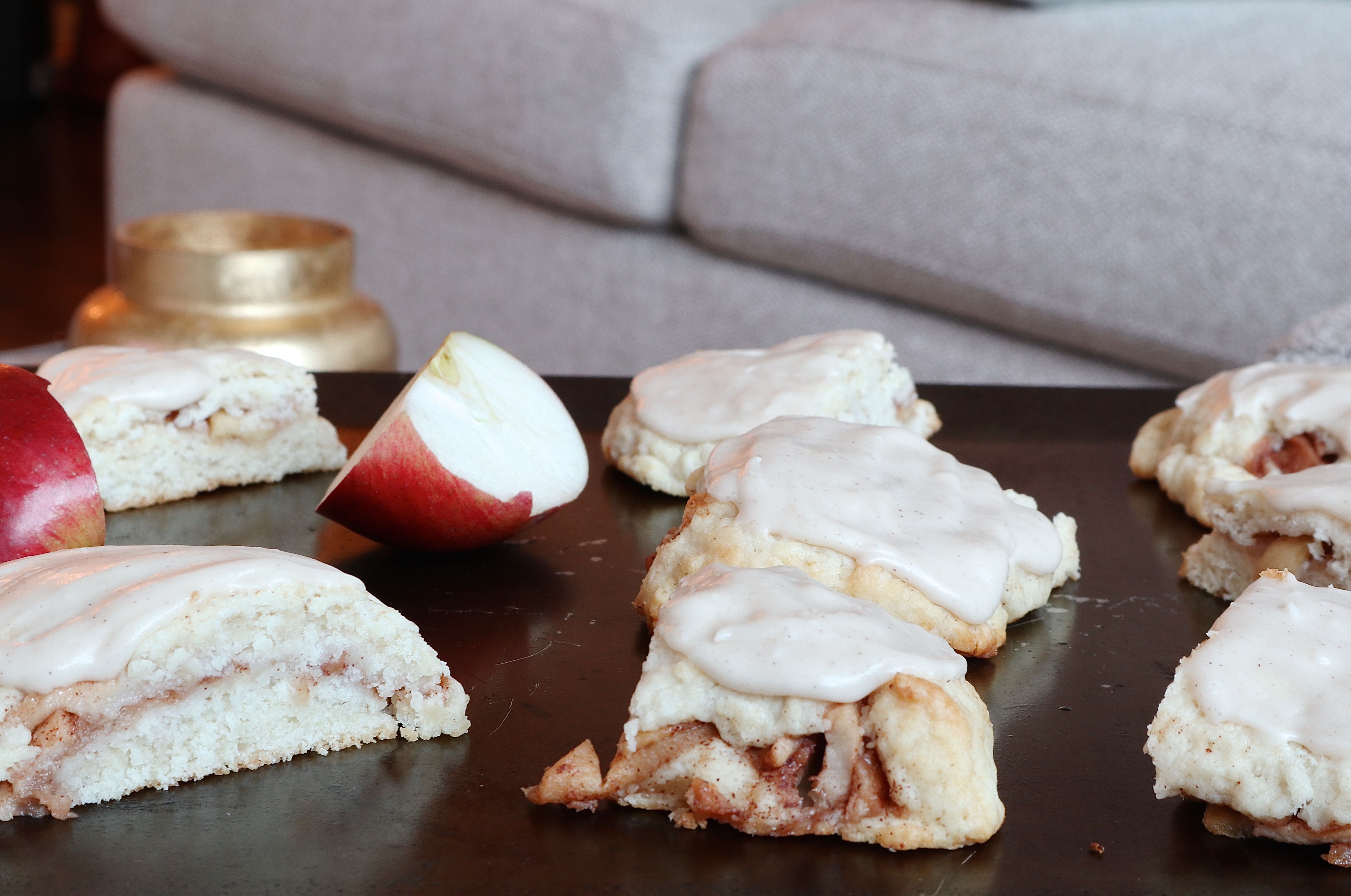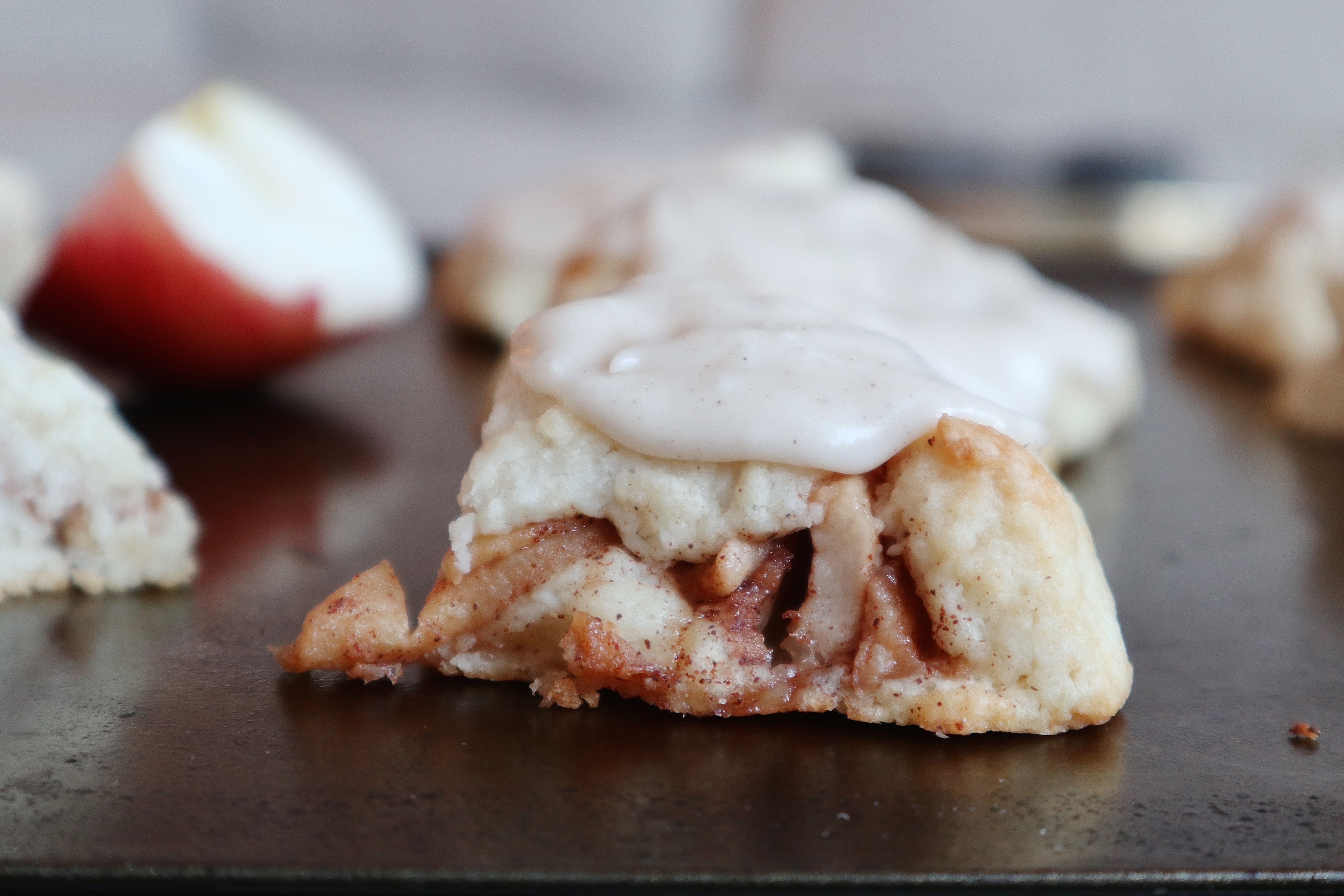 These scones are gorgeous monsters when they come out of the oven and please, please eat one still warm and crisp on the bottom.  All scones are best the day of but I really think these held their own into the next day. You'll lose the crisp bottom but they stay tender, filled with apples and covered in brown butter buttermilk icing which could probably make rocks palatable.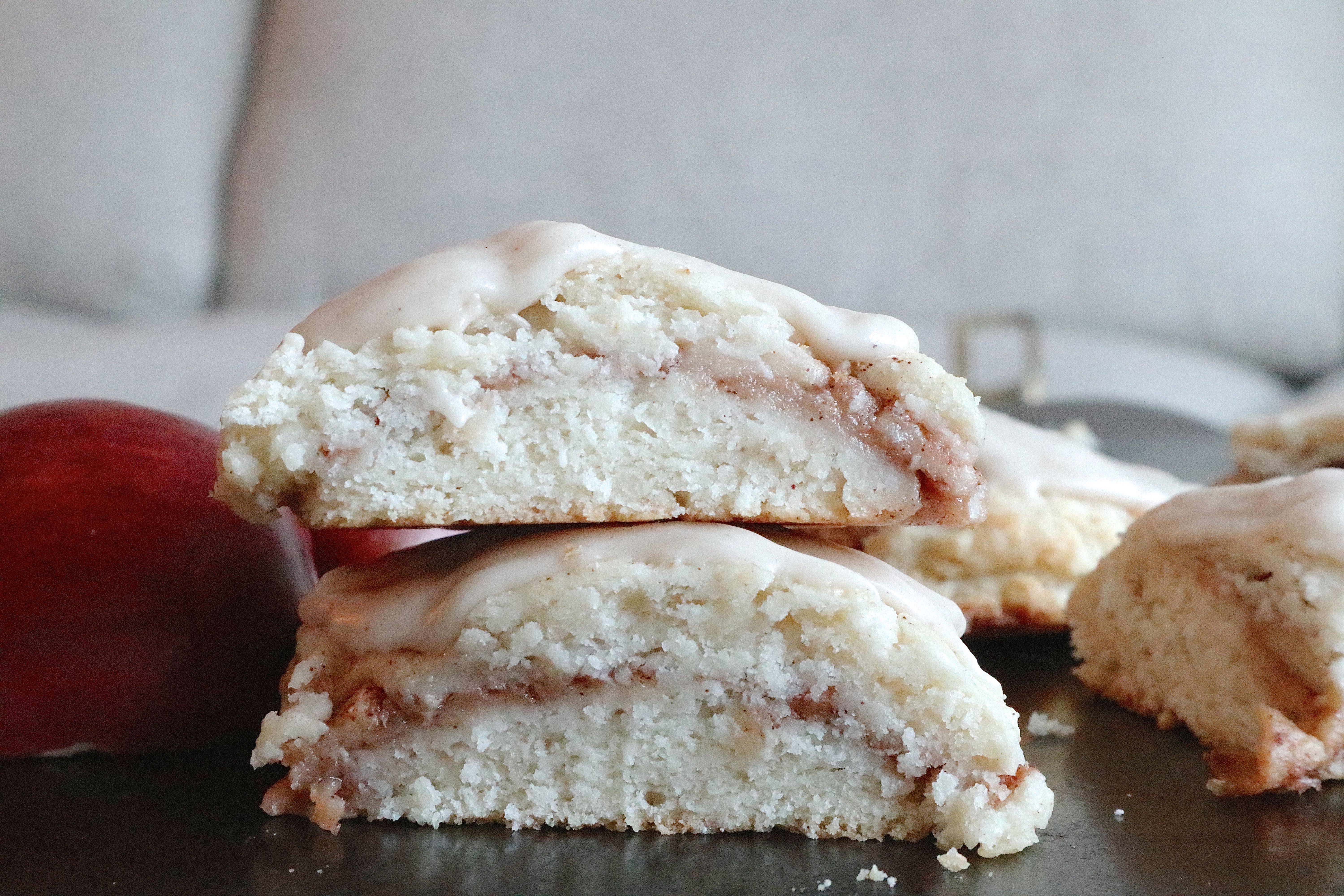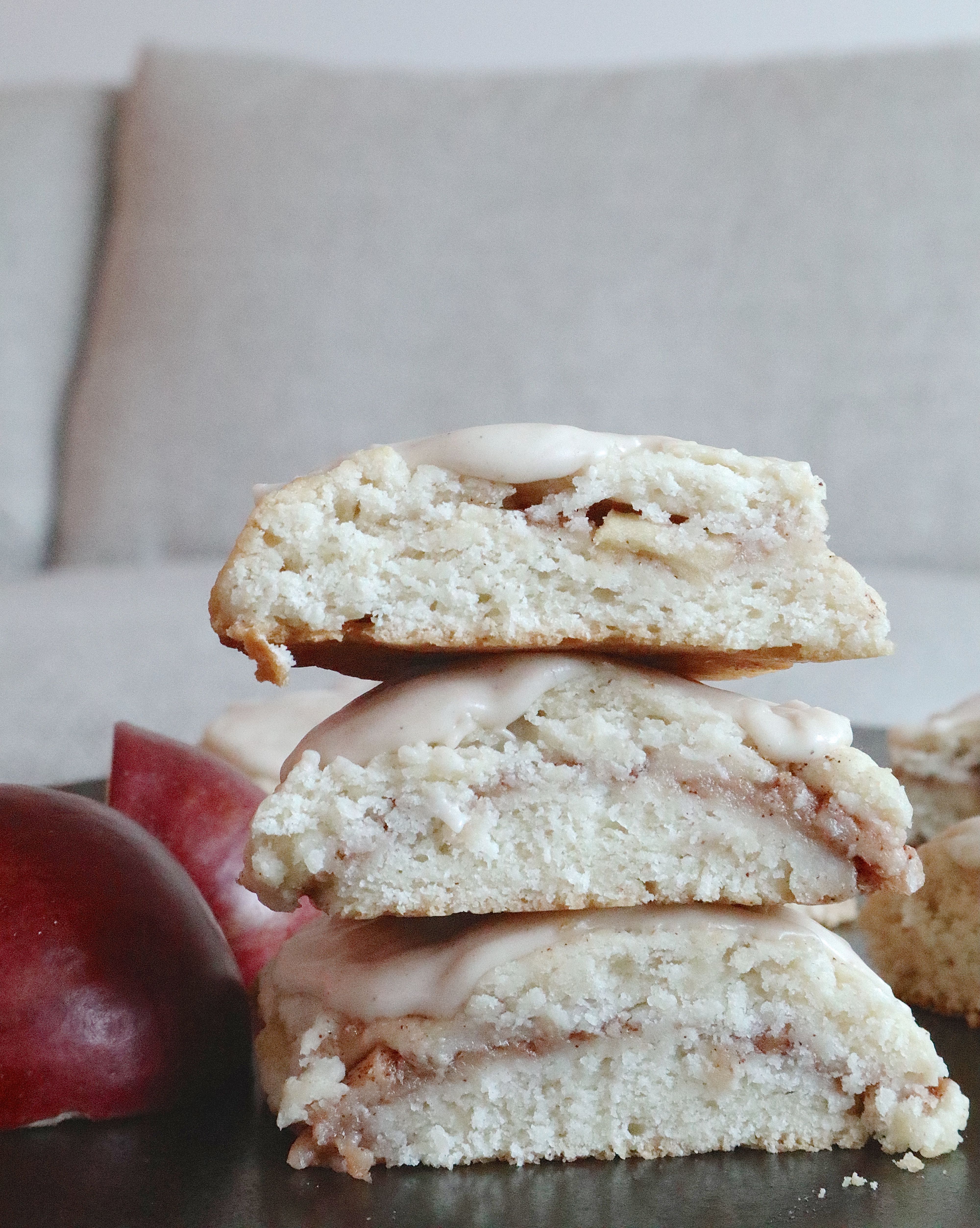 See those ribbons of filling?  These scones are the coziest even if we are all still sleeping with the air conditioning on in October.
layered apple scones with brown butter buttermilk icing
apple filling
2-3 apples, peeled and thinly sliced
1 teaspoon cinnamon
1 tablespoon sugar
2 tablespoons butter
buttermilk scones
2 1/4 cups all purpose flour
1/4 cup sugar
1 tsp baking powder
1/4 tsp baking soda
1/4 tsp salt
6 oz (12 tablespoons) butter, cubed and chilled
2/3 cup buttermilk
brown butter buttermilk glaze
2 tablespoons butter, browned
1 cup powdered sugar
2 tablespoons buttermilk
a few dashes of cinnamon
directions
Preheat your oven to 400 degrees and line a baking sheet with parchment paper.
Peel and thinly slice your apples and then sauté them in the butter for a few minutes before adding the cinnamon and sugar.  Let the apples soften but not turn to mush as they will soften more when you bake them.  Set the apples aside to cool while you prepare your scone dough.
Whisk together all of your dry ingredients in a large mixing bowl.  Next, work in the cold butter cubes until you end up with pea-sized crumbles.  You can do this with a stand mixer but I didn't want to deal with cleaning that so I worked the dough together with my hands.  This worked find but you'll want to move quickly in order to keep the butter cold.  Pour in your buttermilk and mix it together until just incorporated (again, I just used my hands, it's rustic).
The dough will be shaggy and sort of wet but turn it out onto a well floured surface and give it a few more kneads until it comes together.  Press out your dough until it's a rectangle about a 1/2 inch high, with the long side of the rectangle facing you.  I think it was about 12 inches long? Full disclosure, I never measure and I am bad at estimating inches but just keep in mind that you're going to fold this over the apples so you don't want it too thick or too thin to do that.  This is also where a well floured surface is really important.
Spread your cooled apples over the top half of the dough, leaving an inch border of dough.  You may have some apples leftover for snacking.  You're welcome.
Carefully fold the bottom half of the dough over the apples so you end up with a giant apple calzone-like situation.  This process is tricky and messy and some of the dough will stick to the counter but just breathe and pat it back into place.  Try and press the edges together so the apple is tucked in.
Slice the dough into six equal parts and carefully transfer to your baking sheet.  Again, it's a little sticky and slippery (at the same time?) but it all works out in the end.
Bake at 400 for 10 minutes then reduce the temperature to 350 for another 10-12 minutes.  They will be scone monsters in the best way possible but I ended up cutting each scone in half once they cooled in order to make them a more reasonable size.  Transfer to a cooling rack while you prepare your icing.
Put your powdered sugar in a medium sized bowl.  Brown the butter over medium heat in a saucepan until it starts foaming and you see little brown bits start to form. This will happen pretty quickly because you aren't dealing with a ton of butter here. Pour the browned butter into your powdered sugar and give it a quick stir.  It will clump together at first but then add your two tablespoons of buttermilk and whisk together until smooth.  Give the icing a few shakes of cinnamon and spoon it over your cooled scones.  This is a pretty thick icing and I'm pretty ok with that.  It packs a ton of flavor so feel free to drizzle it on with a piping or plastic bag if you want to have a little less decadence.
That's not really something I've ever chosen.
Once the scones are fully cooled, store them in an airtight container and they will keep fresh for 2-3 days.  Also pop some extras in the freezer to heat up on treat yourself types of mornings.
Enjoy!