It's a week past thanksgiving and I'm just getting to posting the pumpkin cake I made the week before thanksgiving.  I can't stick to proper posting schedules and I won't limit my cake intake by season.
If you think about it, I'm really actually fashionably early for next years pumpkin season.  You're welcome.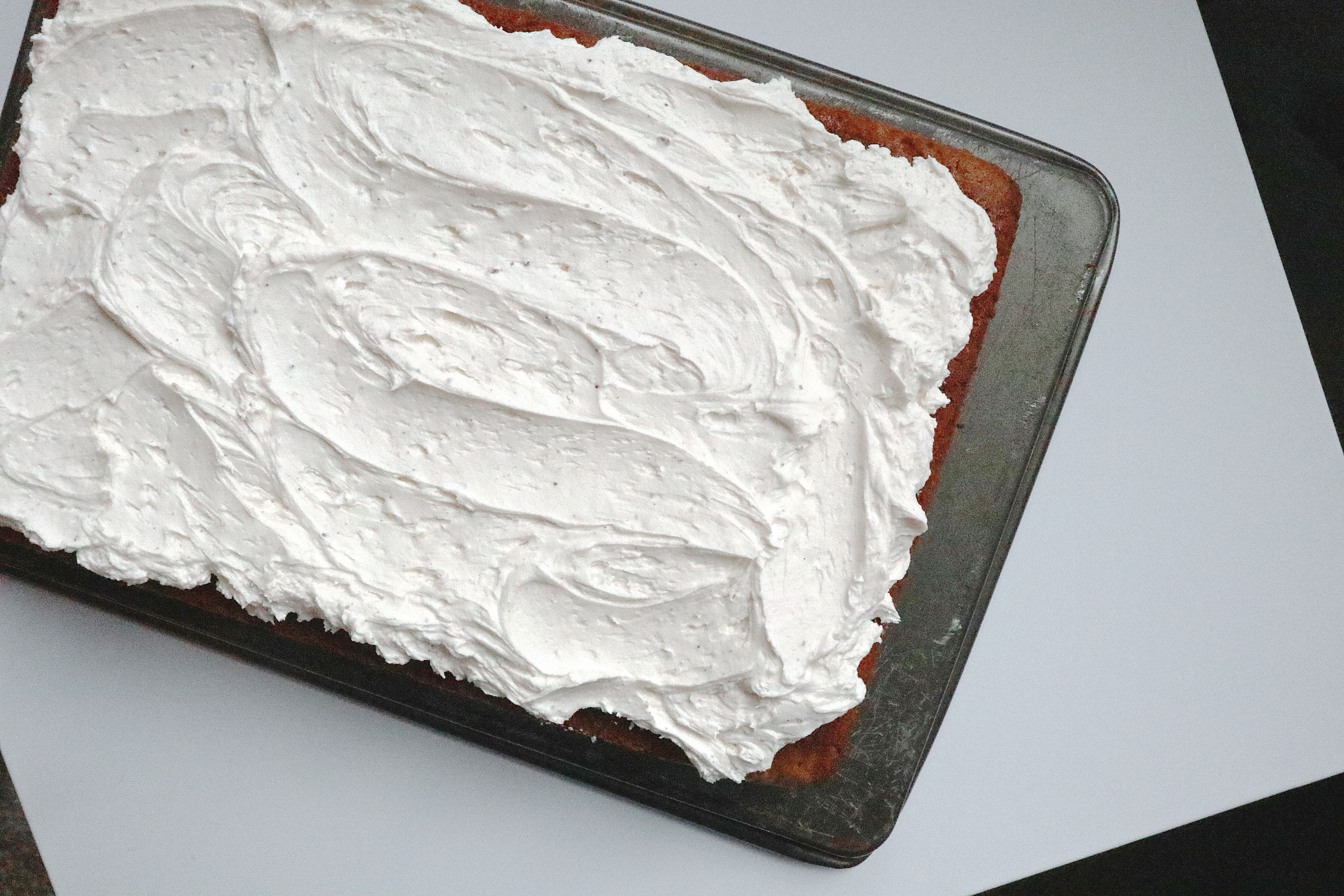 This cake really is too good to ignore outside of November.  I made it twice in one week and I don't think I made it enough.  Pillowy pumpkin sheet cake and a generous blanket of brown butter frosting.  I don't think it gets any better.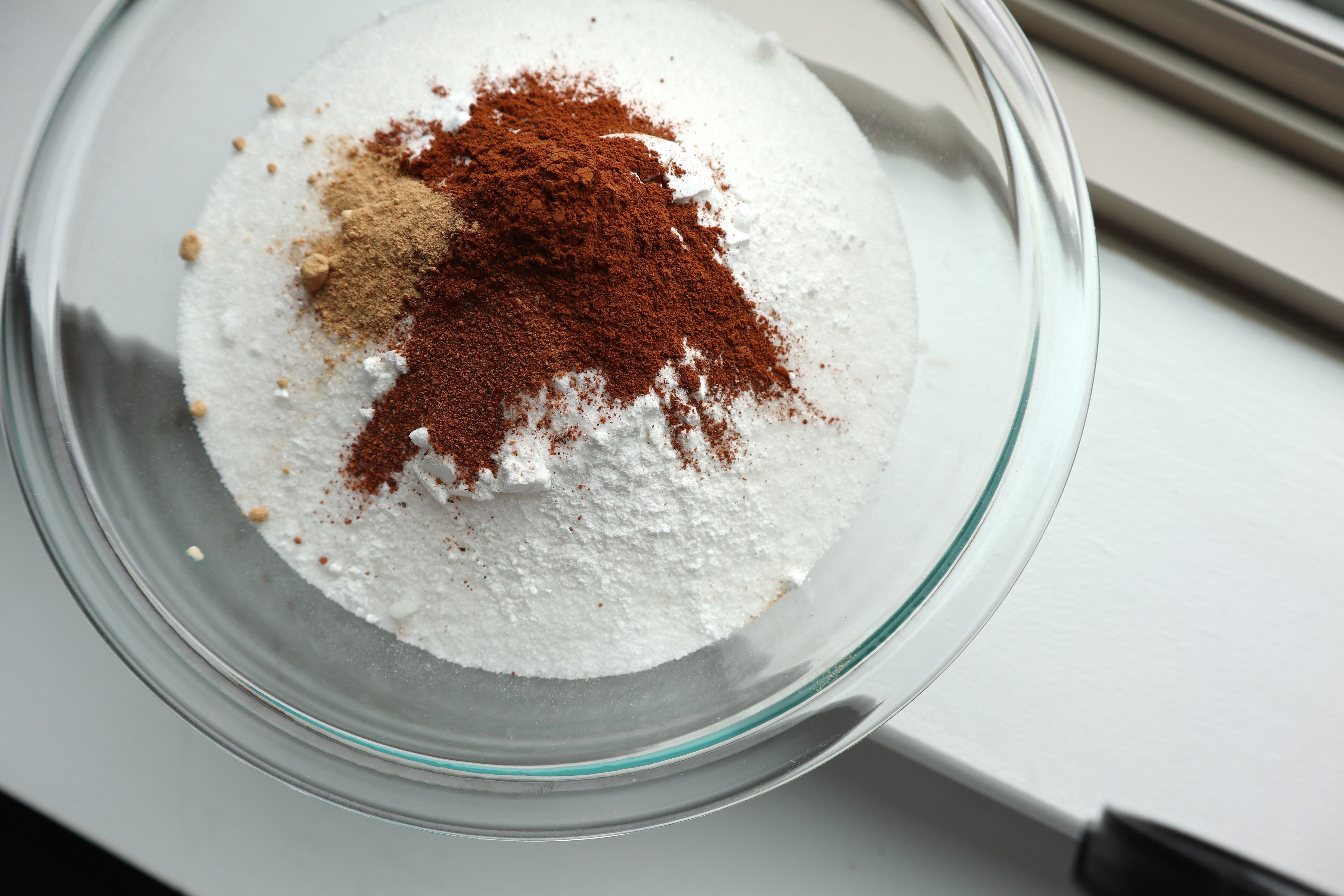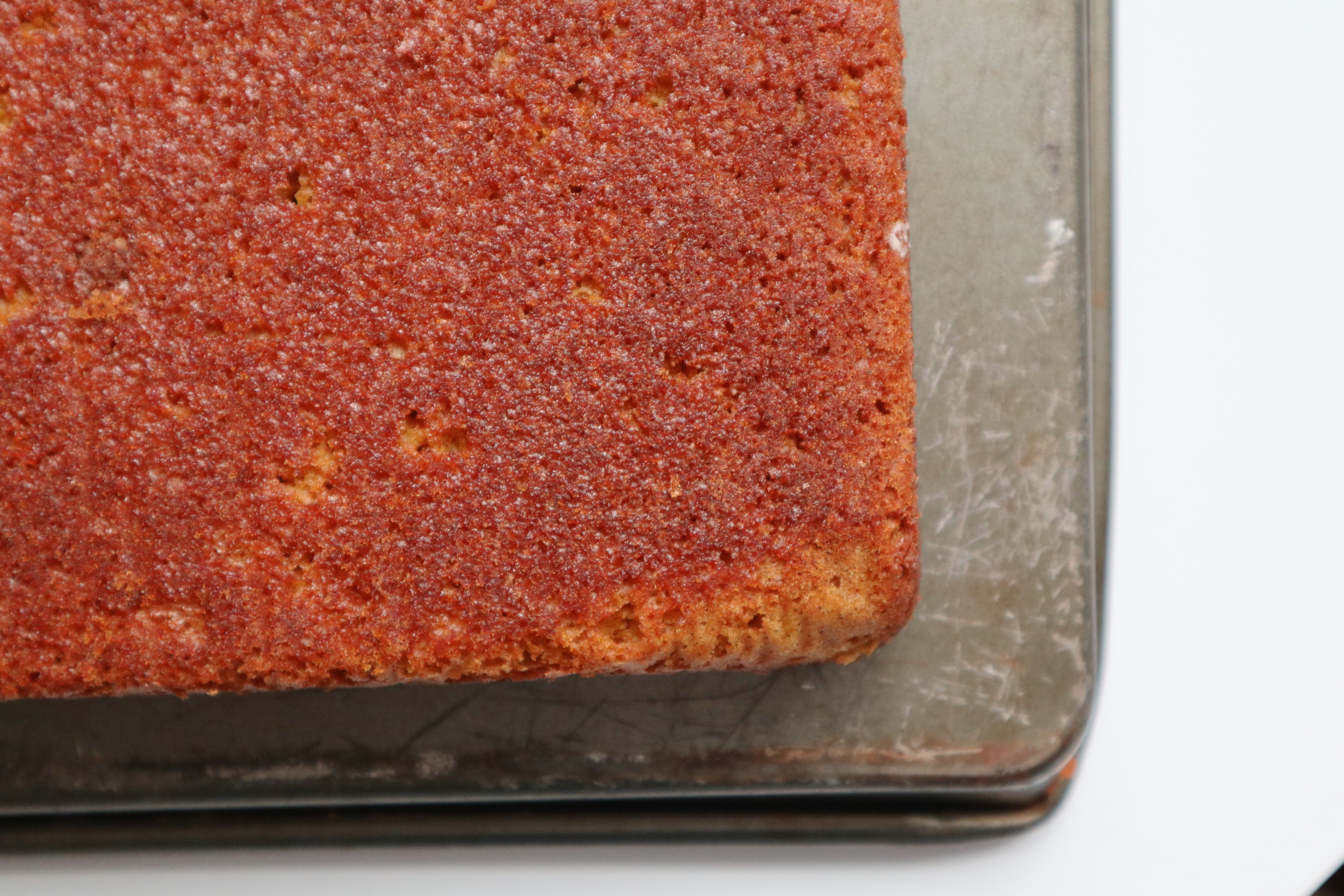 The recipe is from my ultimate crush Adrianna from a cozy kitchen.  Not to blow up her spot but sometimes when I tag in her things she RESPONDS and it makes my day.  If she ever reads this I'm 99% sure she will be weirded out and stop responding.  Or maybe we will be best friends.
It's high risk, high reward.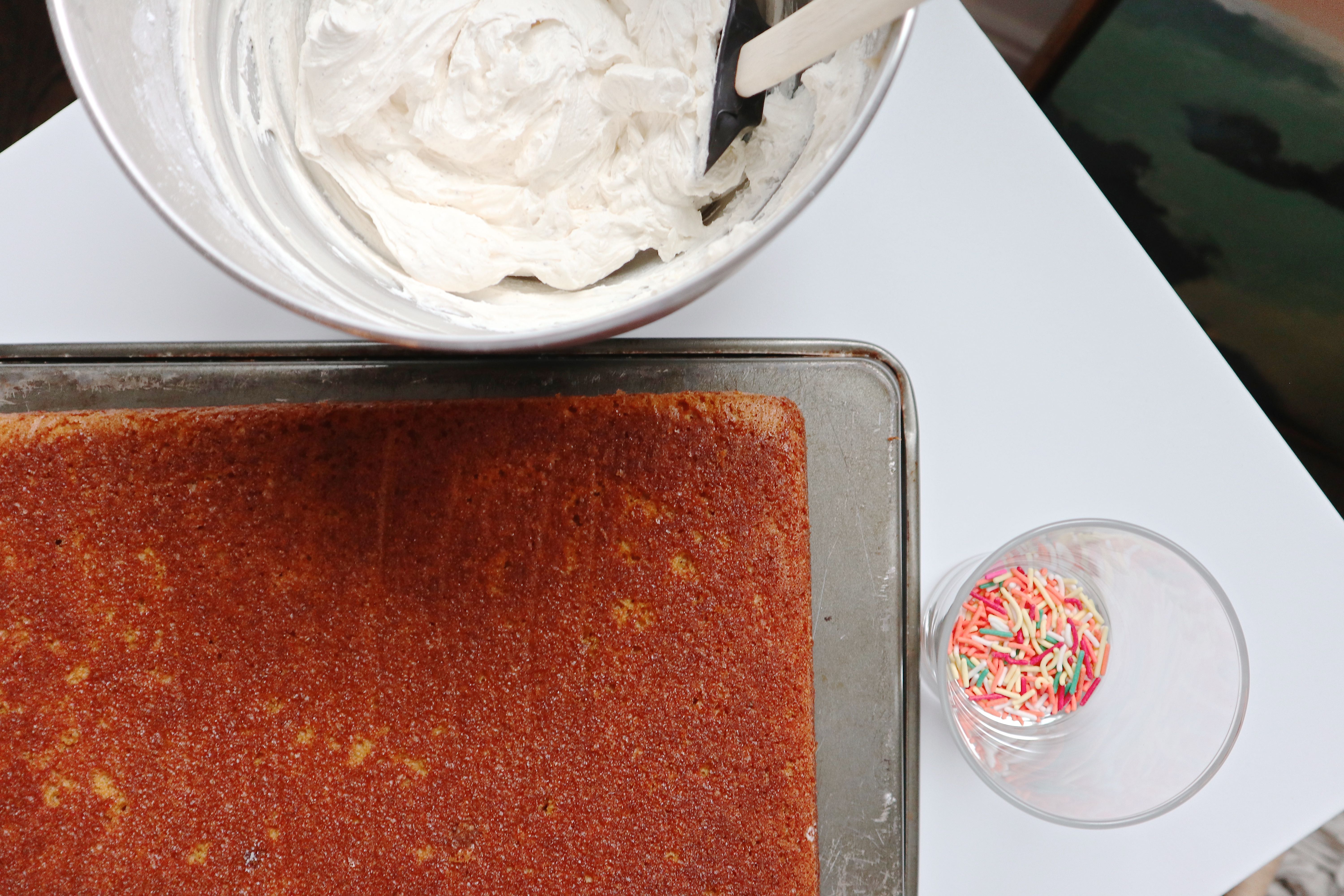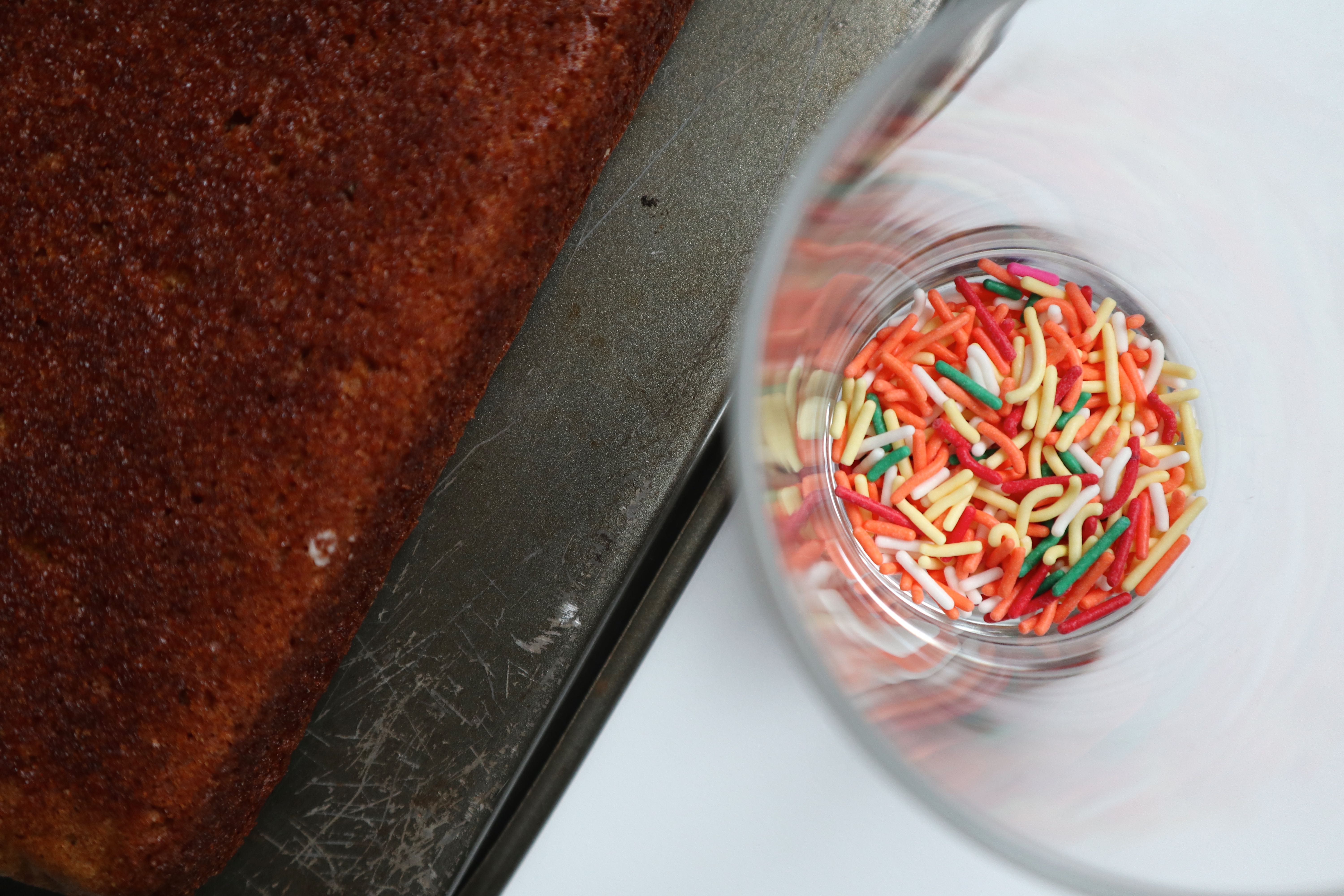 I picked out all the fall colors from a regular sprinkle mix when I was baking this cake.  It took me about 65 minutes to get this small handful meaning that I am one step below the level of crazy that means I need help, but one giant step away from normal human behavior.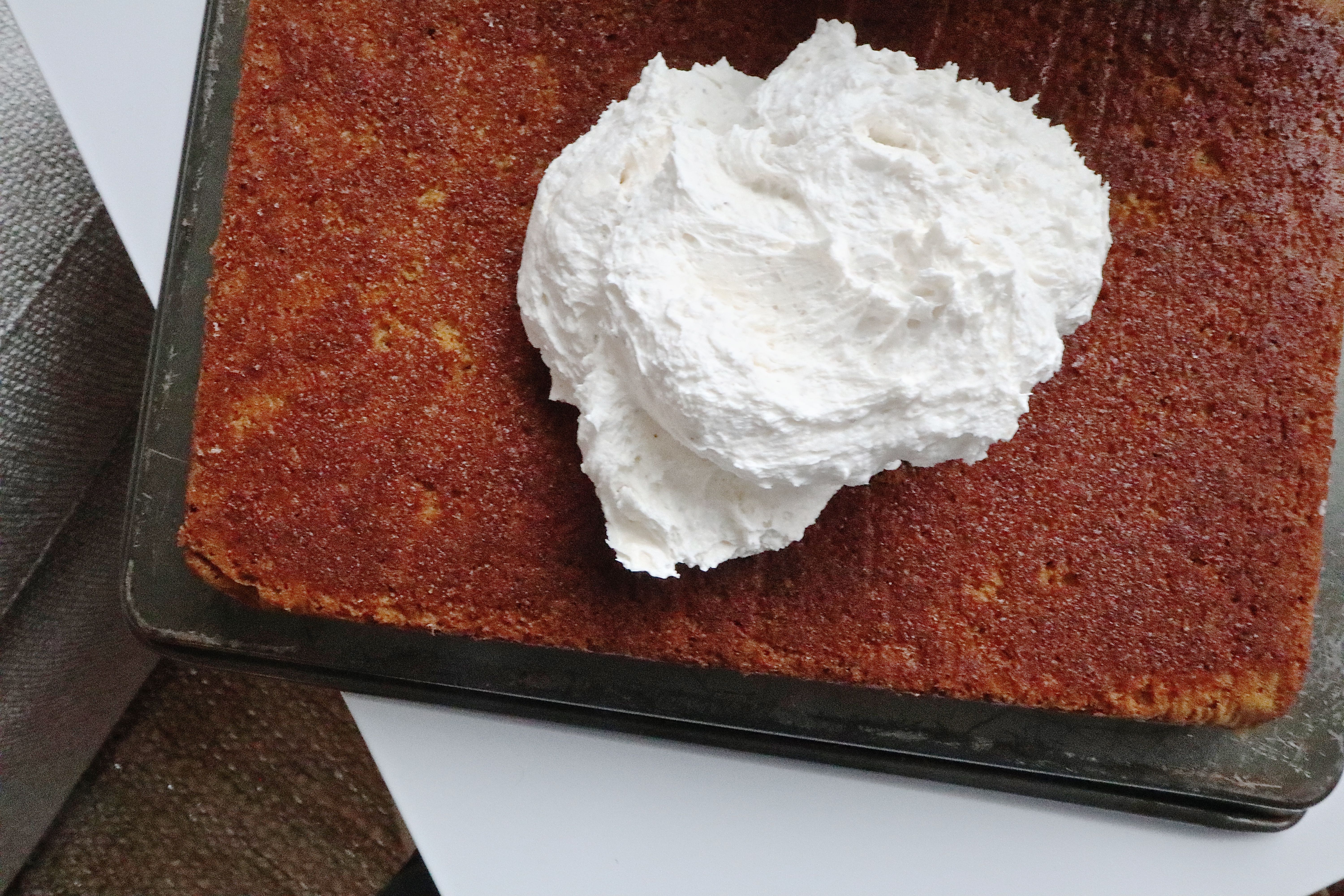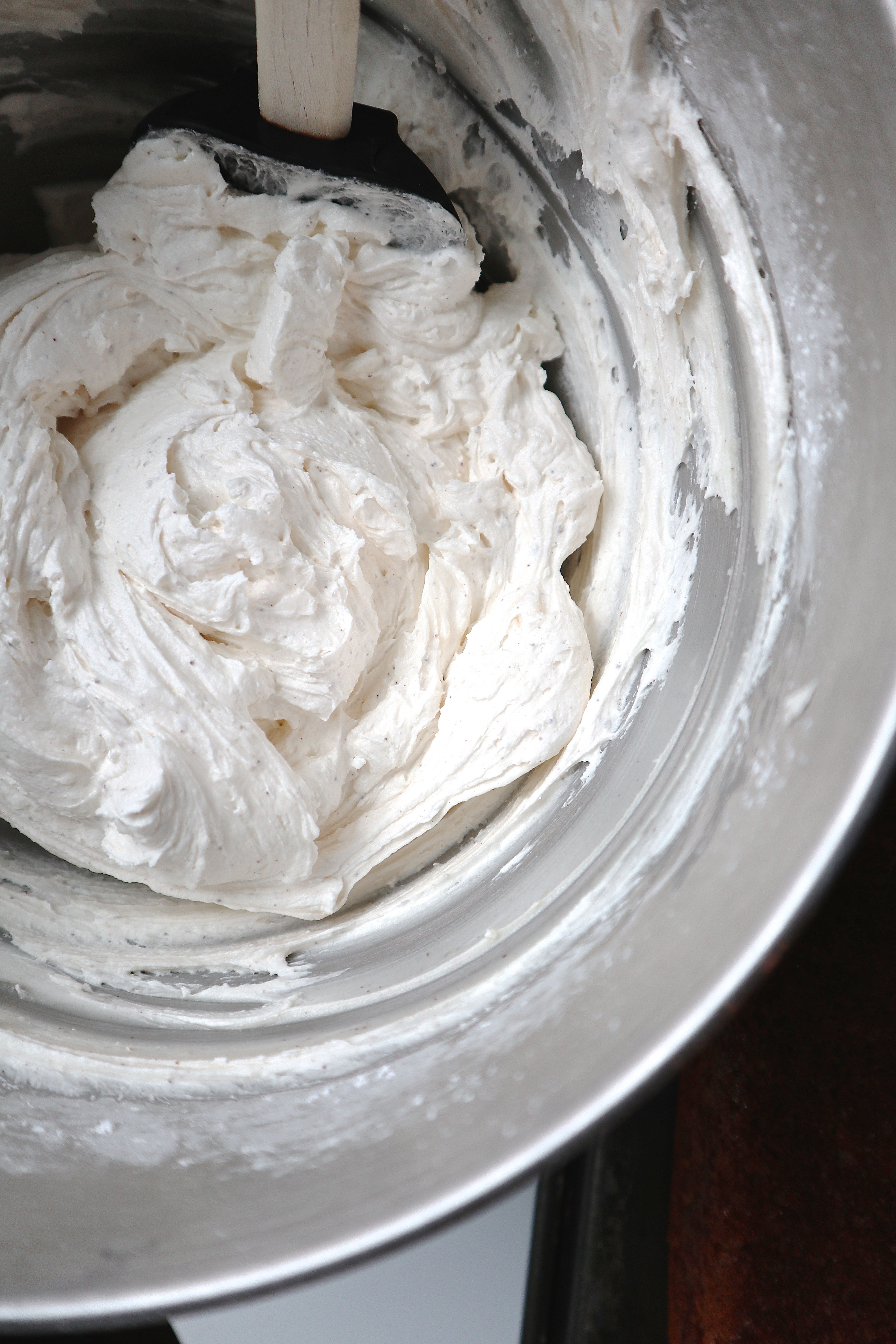 In other news, I moved into my condo finally and I am seriously considering decorating it with abstract photos of giant bowls of frosting.  There's definitely an etsy shop idea in there somewhere.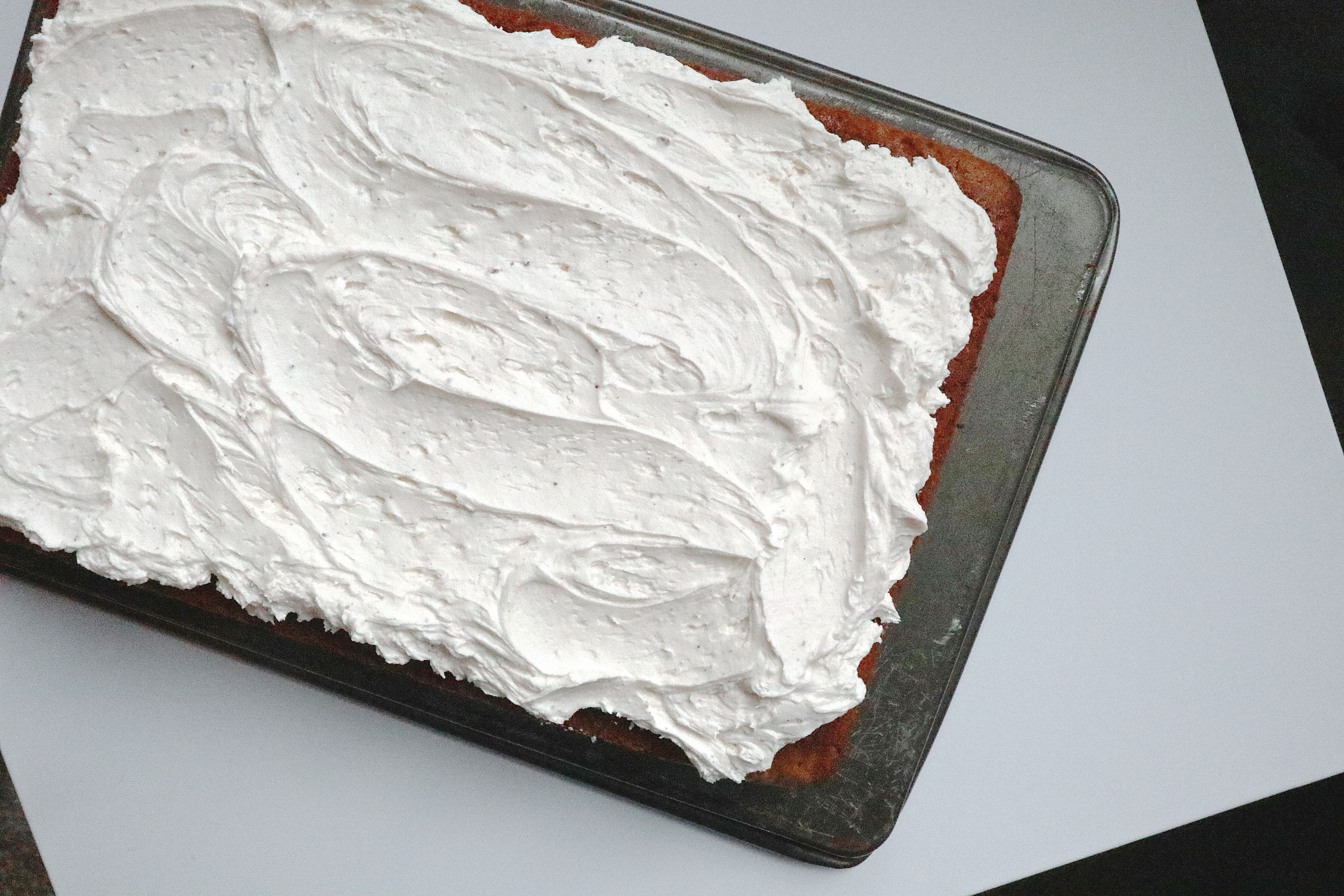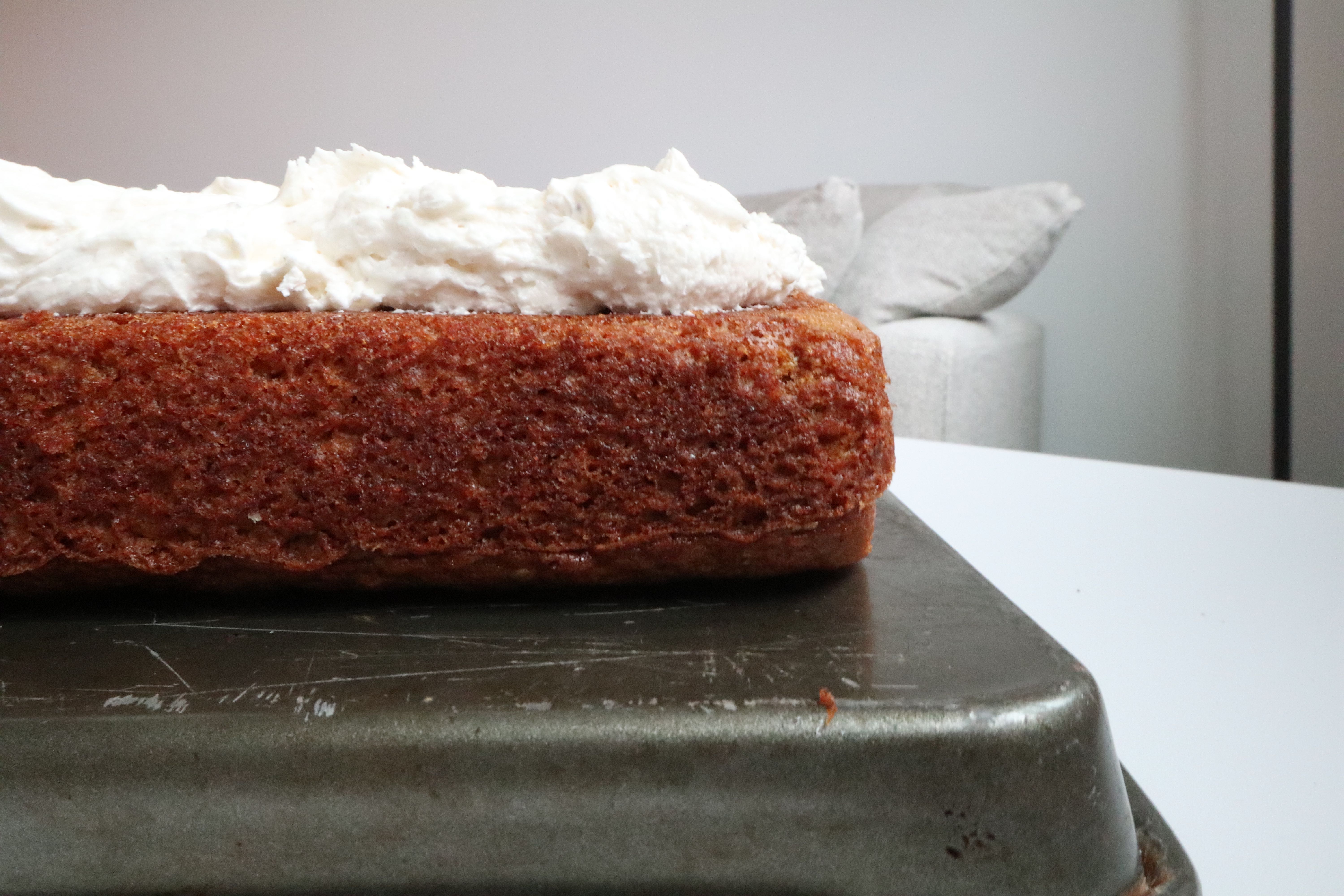 After all that sprinkle effort I fell in love with this cake in it's naked form.  I did an instagram poll about whether to use them or keep it bare and the result was split completely down the middle so polls are useless.  I did a trial run on this corner so I could feel justified in all the color sorting.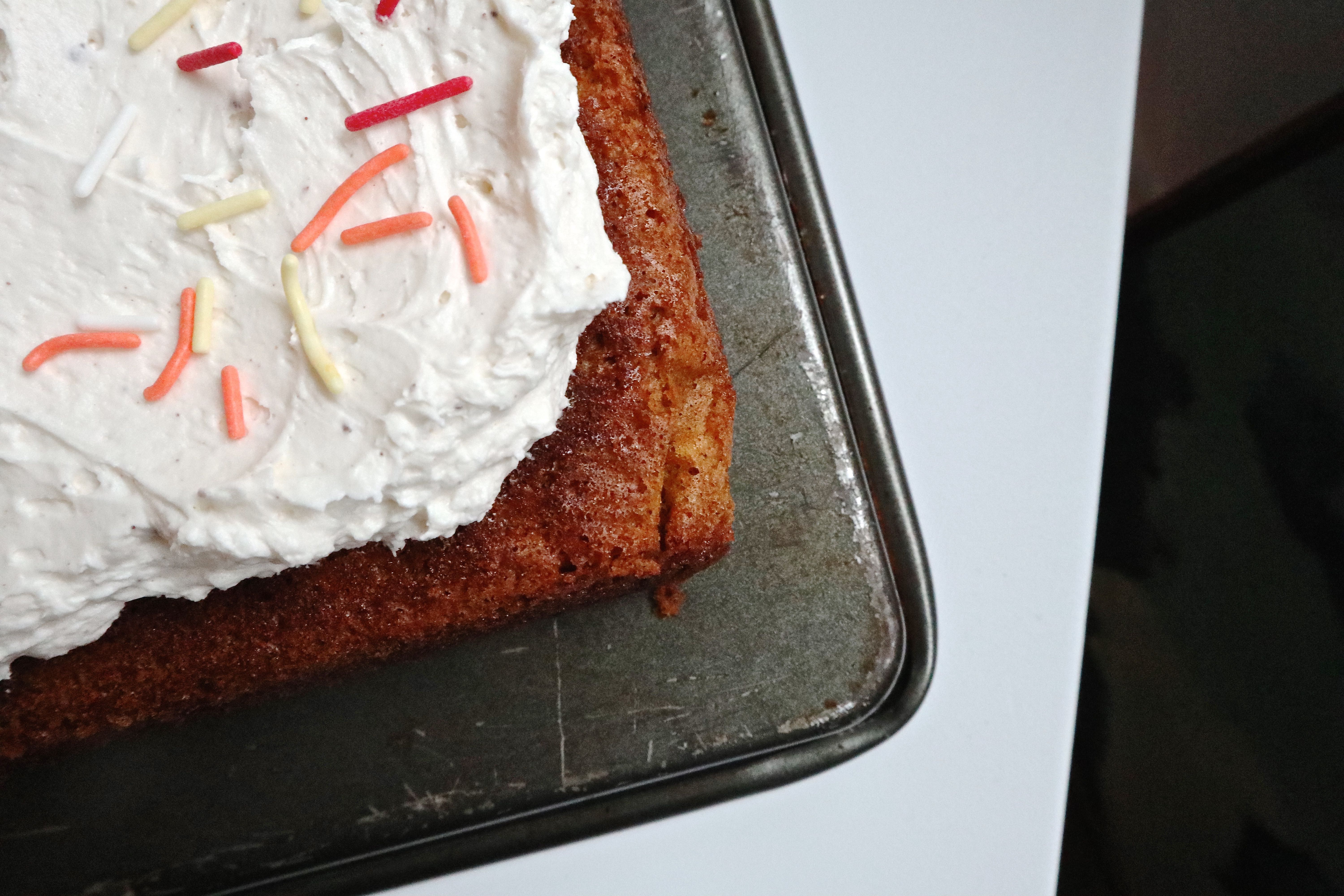 Like I said – one giant leap away from normal human judgement.
pumpkin cake with brown butter frosting
(recipe from my girl at a cozy kitchen) 
2 cups  flour
1 3/4 cups sugar
2 1/2 teaspoons baking powder
2 teaspoons pumpkin pie spice
1 teaspoon baking soda
1/2 teaspoon salt
3 eggs
3/4 cup vegetable oil
1 (15-ounce) can of pure pumpkin puree
1 teaspoon vanilla extract
brown butter frosting
3 sticks unsalted butter (1 1/2 cups), softened
4 cups powdered sugar
1/2 teaspoon vanilla
1/4 teaspoon salt
2 tablespoons heavy cream
directions
Preheat your oven to 350 degrees and line a 9×13 inch pan with parchment paper. I also baked this in two 9 inch round pans to layer together and that was lovely as well.
In a medium sized bowl, whisk together your flour, sugar, baking powder, baking soda, pumpkin pie spice, and salt.  In your stand mixer, mix together the eggs, pumpkin, vanilla, and oil.
Stir your dry ingredients into your wet ingredients until just combined.  Pour your batter in your prepared pan and bake for 25-30 minutes.  Let cool in the pan for 10 minutes until turning over onto a cooling rack to cool completely.
As your cake cools, prepare your frosting.  Melt and brown one stick of butter in a pan over medium heat, swirling regularly, until you start to see little brown specks form.  Remove from heat and transfer to a freezer safe bowl.  Place this butter in the fridge or freezer so it can return to room temperature butter texture.  I prepared this butter the night before and it worked well just leaving it in the fridge overnight.  The brown bits will settle on the bottom but just give it a good stir when it's soft.
In a stand mixer, beat together your softened butter, browned butter, powdered sugar, vanilla, salt, and cream.  Whisk for 2-3 minutes as the heavy cream will help fluff up the frosting.  Spread over your cooled sheet cake.
Decorate with sprinkles or without.  Half of your audience will be pleased.
Enjoy!