Boston had the first snow of the season last weekend and I'm writing in to report that I survived.  By survived I mean I stayed in all day with 3 different candles lit and then walked the block and a half to my cousins to eat gnocchi and watch Riverdale.
I am the Bear Grylls of 4-6 inches of snow.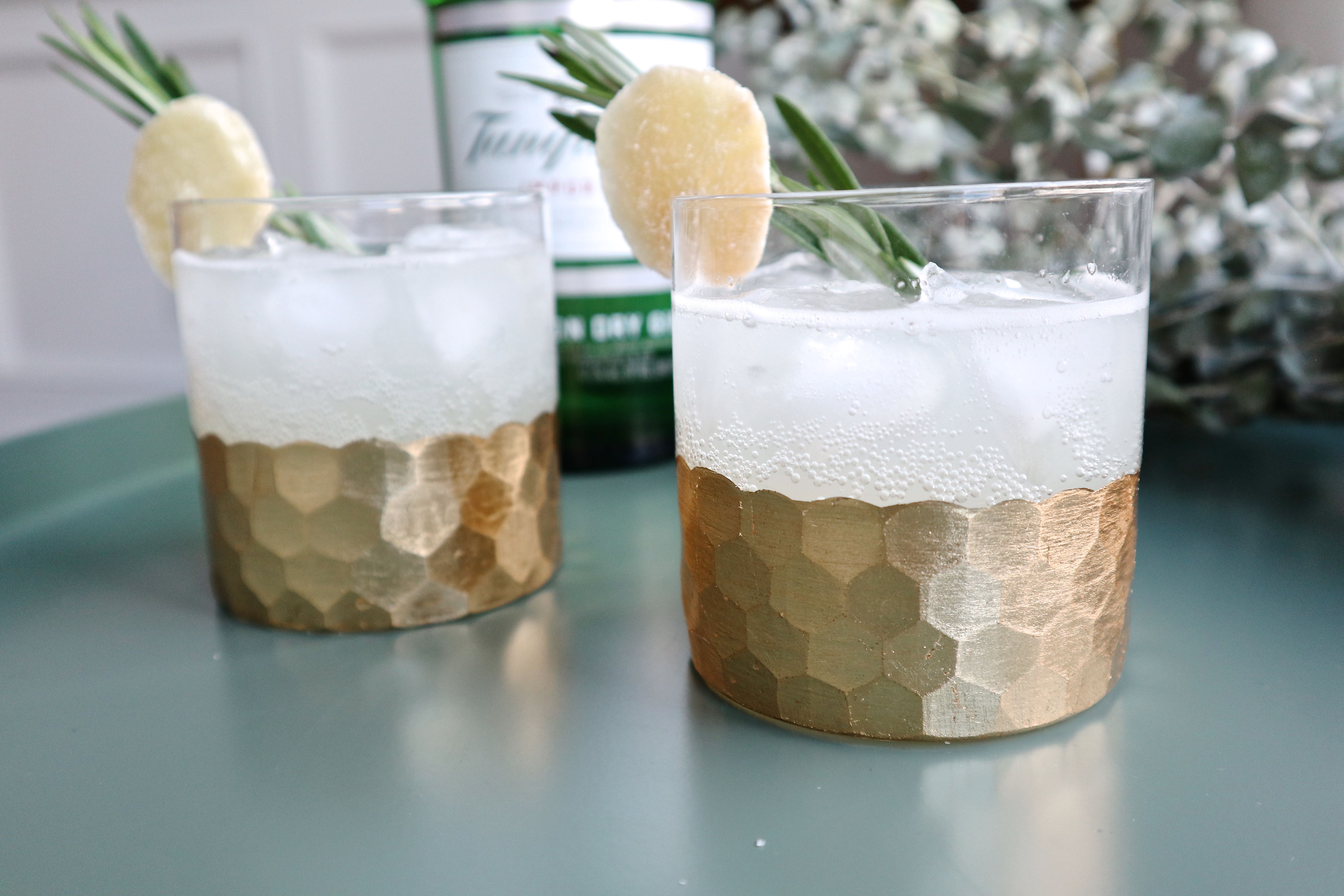 It's no secret that I don't love winter but I do love food themes and getting festive so I was excited to create a wintery cocktail.  Mulled wine doesn't appeal to me because I live in constant fear of staining my teeth and my white couch.  It's also hard to come across many other traditional winter drinks that don't feel heavy and dark.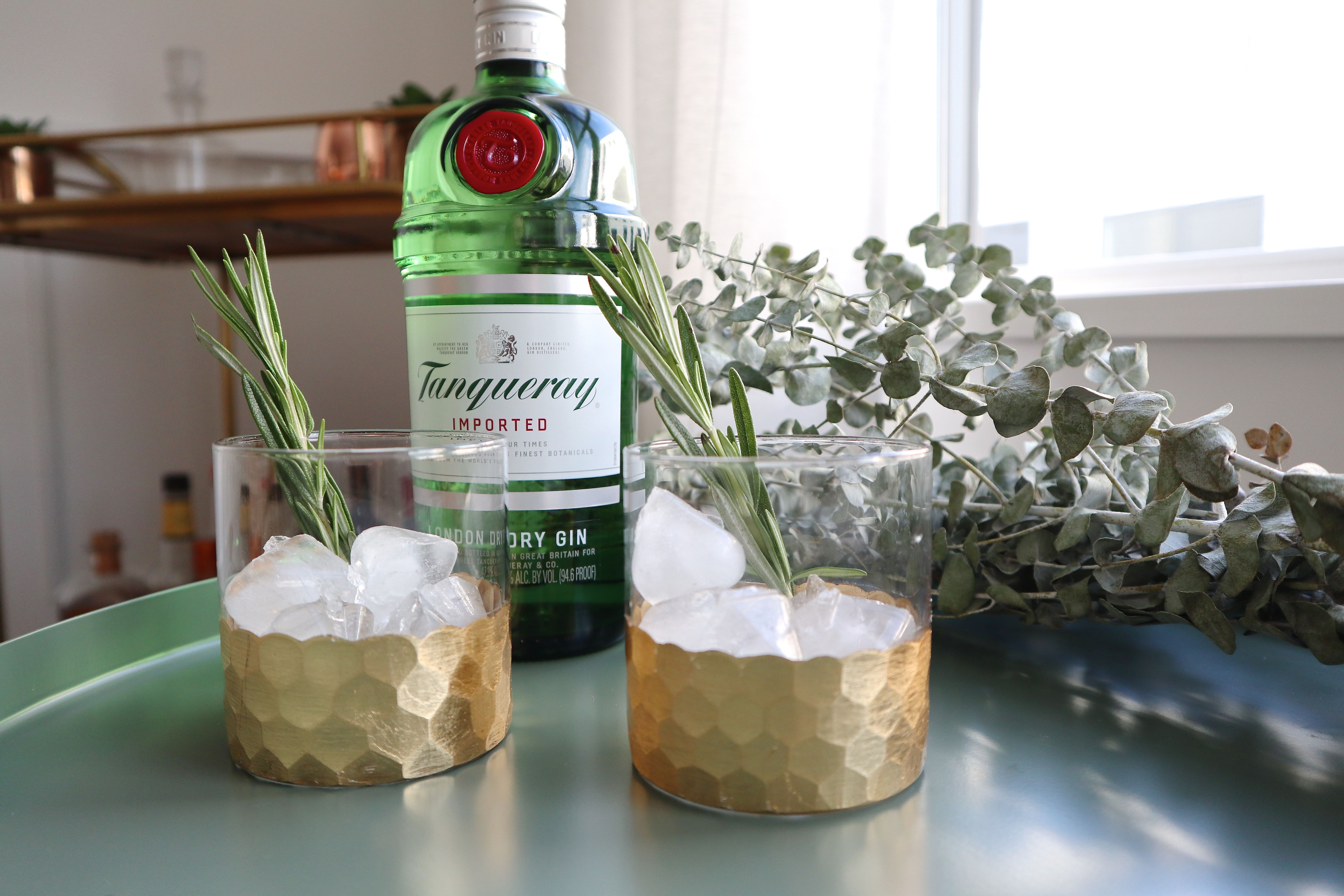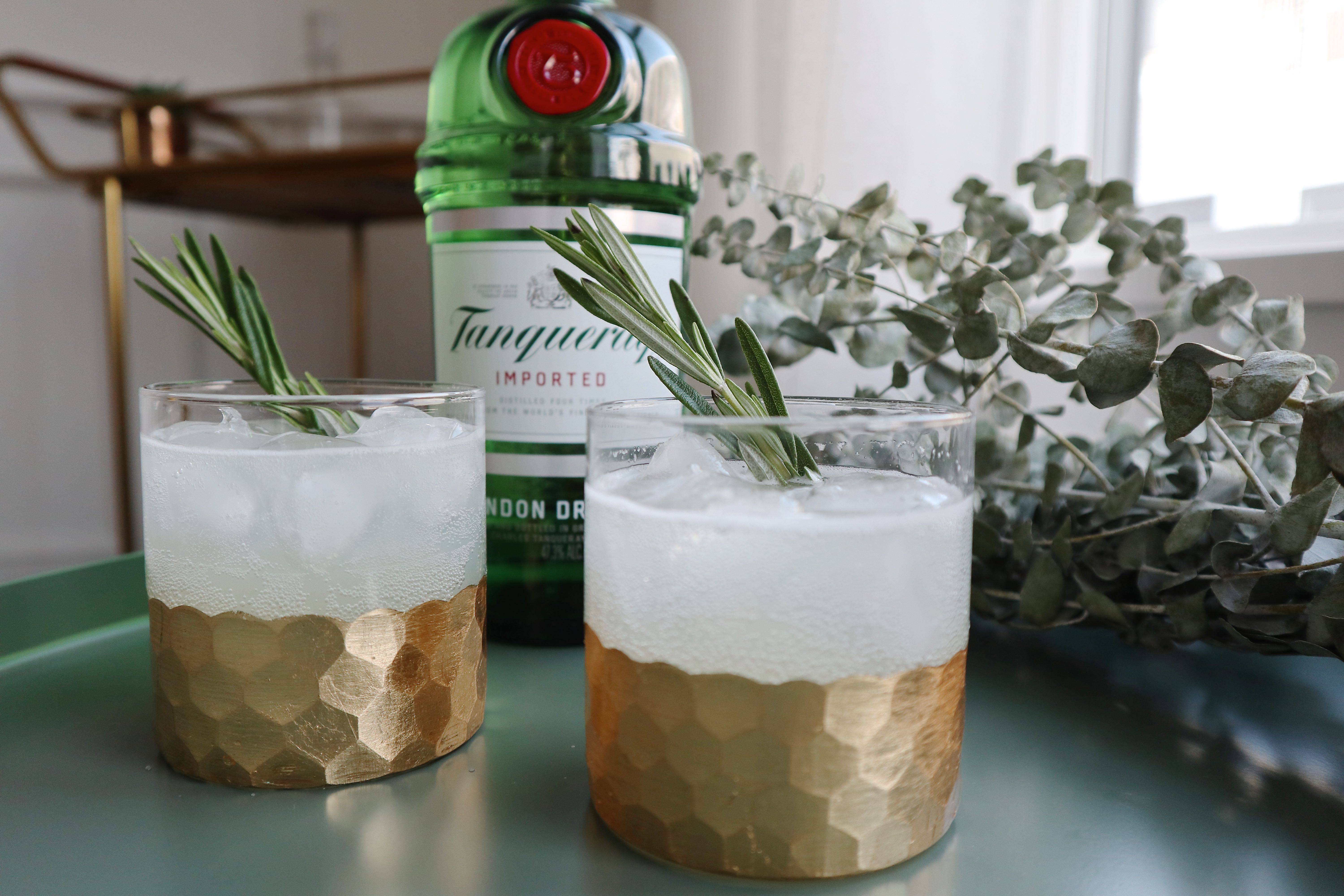 These lemon rosemary ginger tonics are the opposite of that.  Good gin, spicy ginger, bright lemon, and herby rosemary is exactly what I want to sip on while binge watching the great british bake off.  I also feel like it's important that I point out I mostly included the tanqueray bottle in this because it fit the green theme.  Tanqueray, nor any other company, has ever expressed an interest in promoting their product on this blog that gets an average traffic of 11 visitors per week.
Obviously I don't think they see the opportunity they're missing.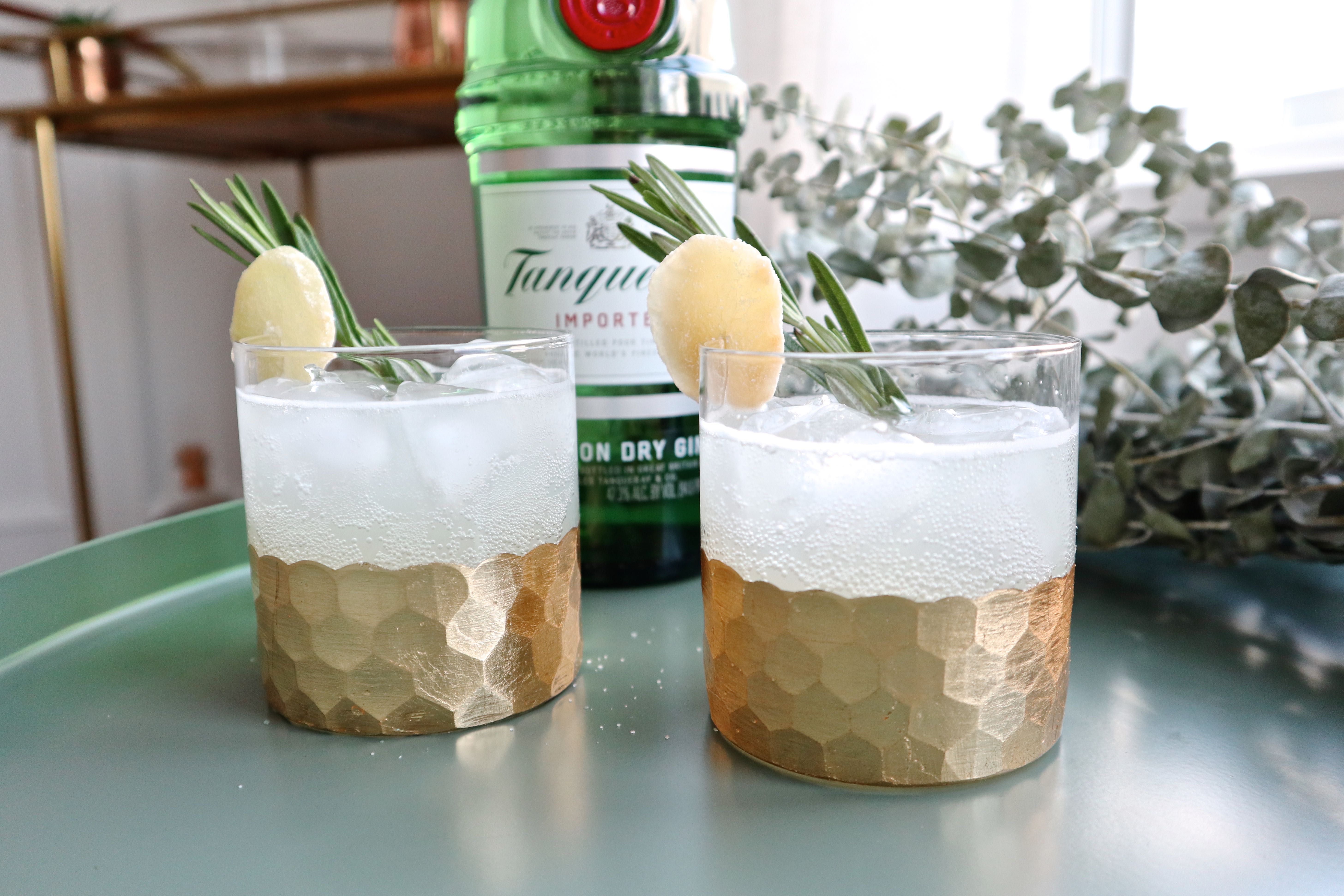 Now that holiday party season is in full swing, it's good to have a festive cocktail in your back pocket.  This clearly also translates easily into a lovely non-alcoholic beverage if you omit the gin.  Choose your own adventure and cozy up because it's going to be 100 days until we see sunshine and warmth again.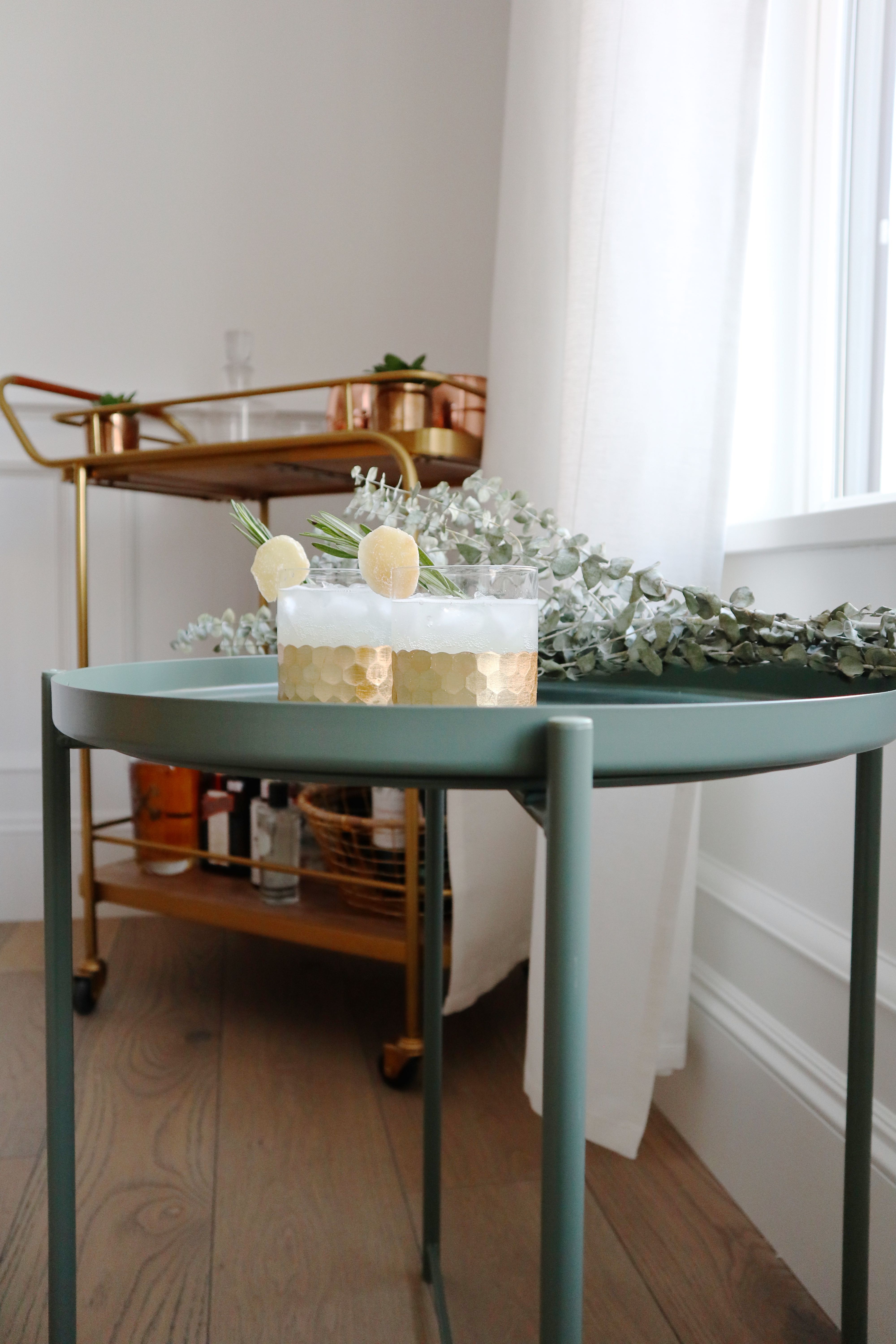 It's also now occurring to me that I didn't even end up using tonic water in these so when I thought I was being clever with the "ginger tonic" title, I was really being the opposite.
lemon rosemary ginger tonic
(these are amounts for 2 cocktails but the recipe is easily halved or quadrupled depending on your needs)
2 oz gin
1 can lemon sanpellegrino sparkling fruit beverage
2 tablespoons ginger rosemary syrup
candied ginger and rosemary sprigs for garnish
ginger rosemary syrup
1 cup sugar
1 cup water
4 sprigs rosemary
1/4 cup candied ginger (or 1 inch fresh ginger knob, peeled)
directions
To make the ginger rosemary syrup, stir together the water and sugar over medium heat until dissolved.  Bring to a boil and add in the rosemary and ginger, simmering for one minute until taking it off the heat.  Let the rosemary and ginger steep in the syrup for 25-30 minutes.  Strain the mixture through a mesh sieve or in reality, just pick out the rosemary and ginger pieces with a slotted spoon.  Syrup will keep well in a covered glass jar in the fridge for up to a month.
To assemble the drinks, fill two tumblers halfway with ice, pour 1/2 to 1 tablespoon of chilled syrup in the glass (depending on how strong of a rosemary ginger flavor you want), followed by 1 oz of gin.  Pour half the can of sanpellegrino into each glass and stir together to combine.  You could also mix all of these things in a cocktail shaker but don't go crazy because the san pellegrino is effervescent.
Garnish with a sprig of rosemary and slice of candied ginger.
Enjoy : )