I know a lot of people tend to eat differently during January – cutting backs on starches, sugar, alcohol, etc.  No judgement on others food choices but that has never been and will never be the way I roll.  I'm all about adding things in January.  Like hell yeah I will try a golden milk latte even though I hate milk.  It looks cozy af and the internet says it's cool.  I've also been really into (unseasonable) margaritas lately and european butter spread liberally like my life depends on it.
(above roll/bread pun fully intended and yeah I laughed when I wrote it)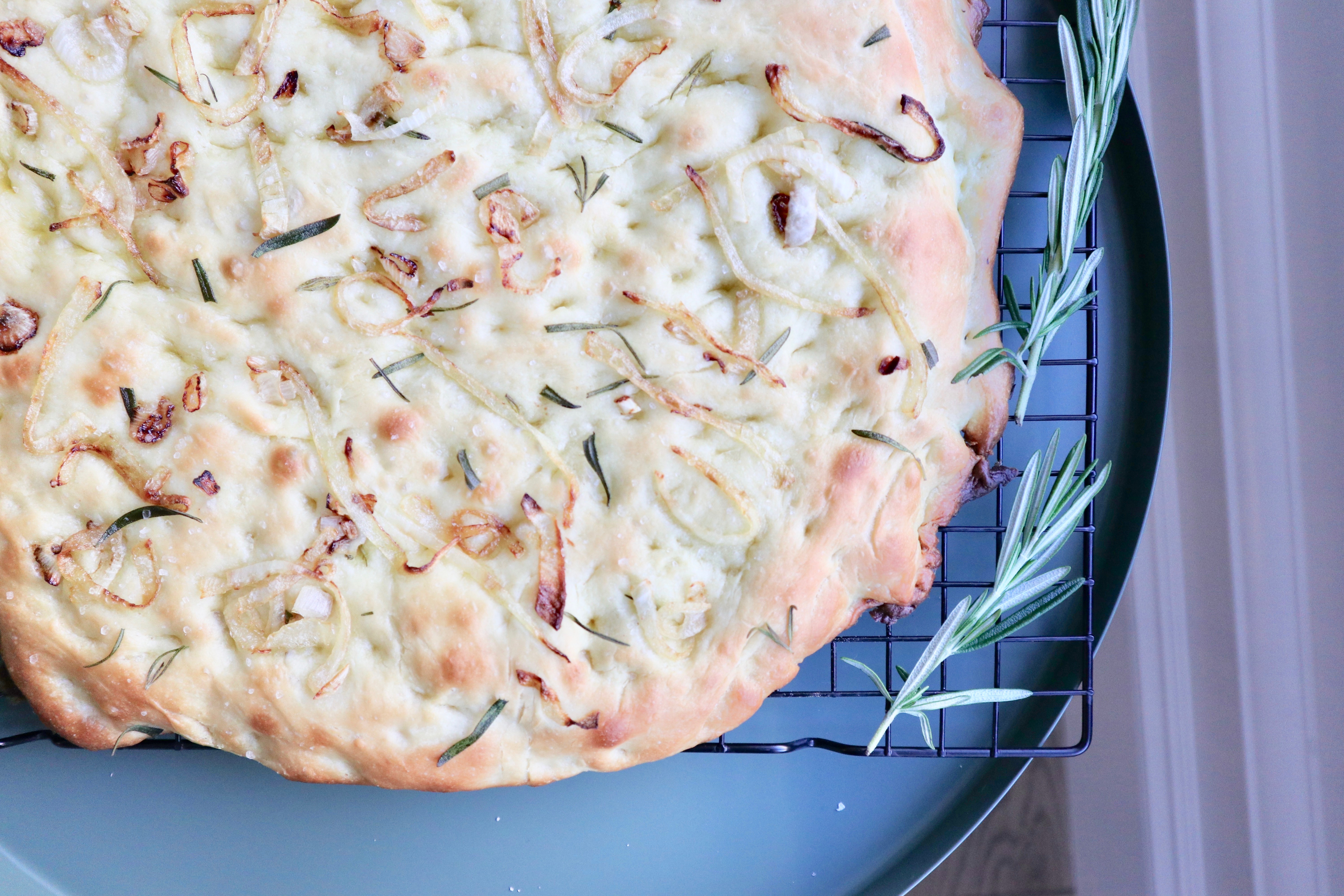 I'm not a winter sport gal and snow is only pretty for the first three hours so I've had to find other ways to embrace the chill.  I need things that keep me excited in winter and 9 times out of 10 this involves a project or a carb.  With that in mind, homemade bread and I have really hit our stride together recently.  I'd go say far to say that this homemade focaccia may be solely responsible for keeping seasonal affective sadness at bay.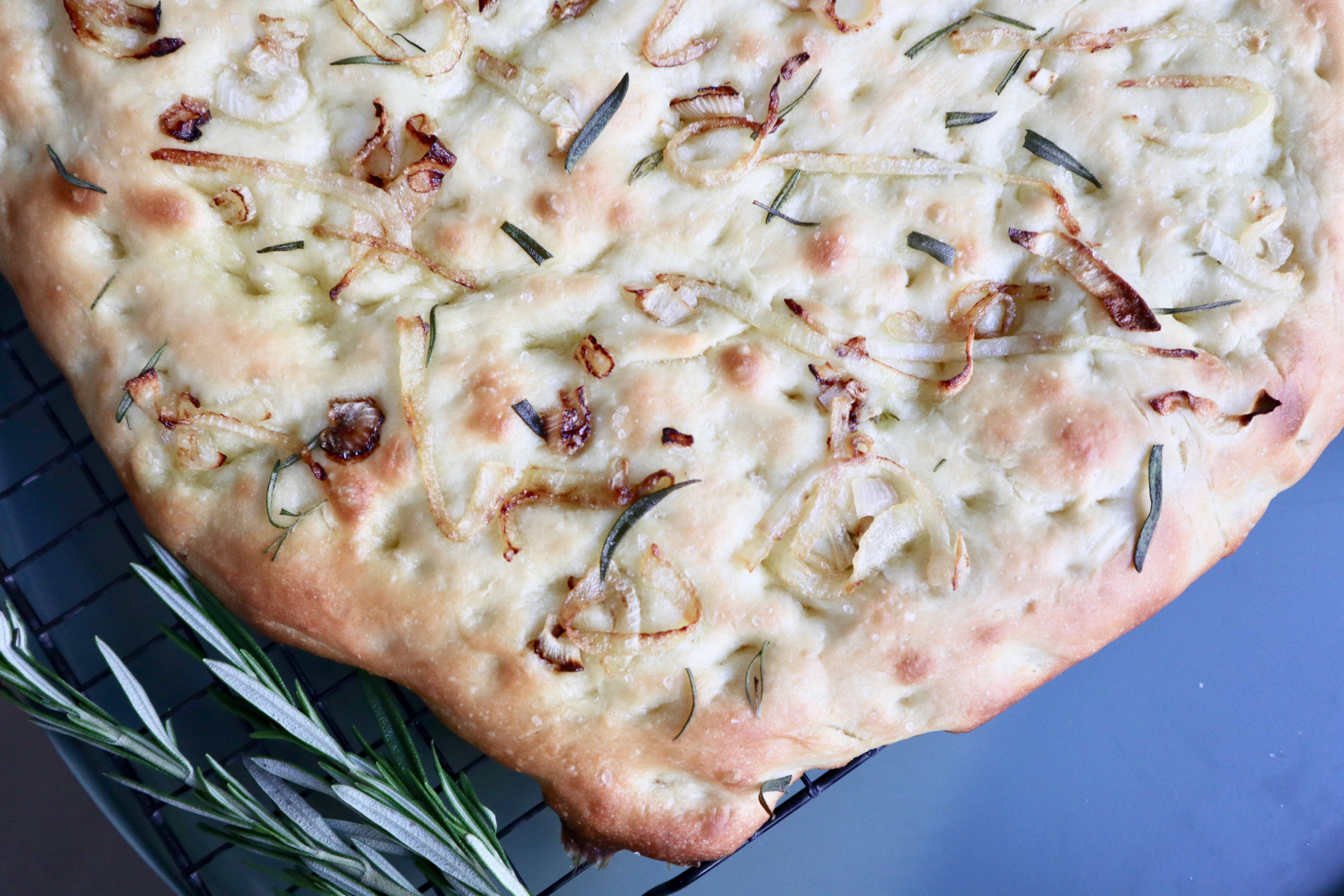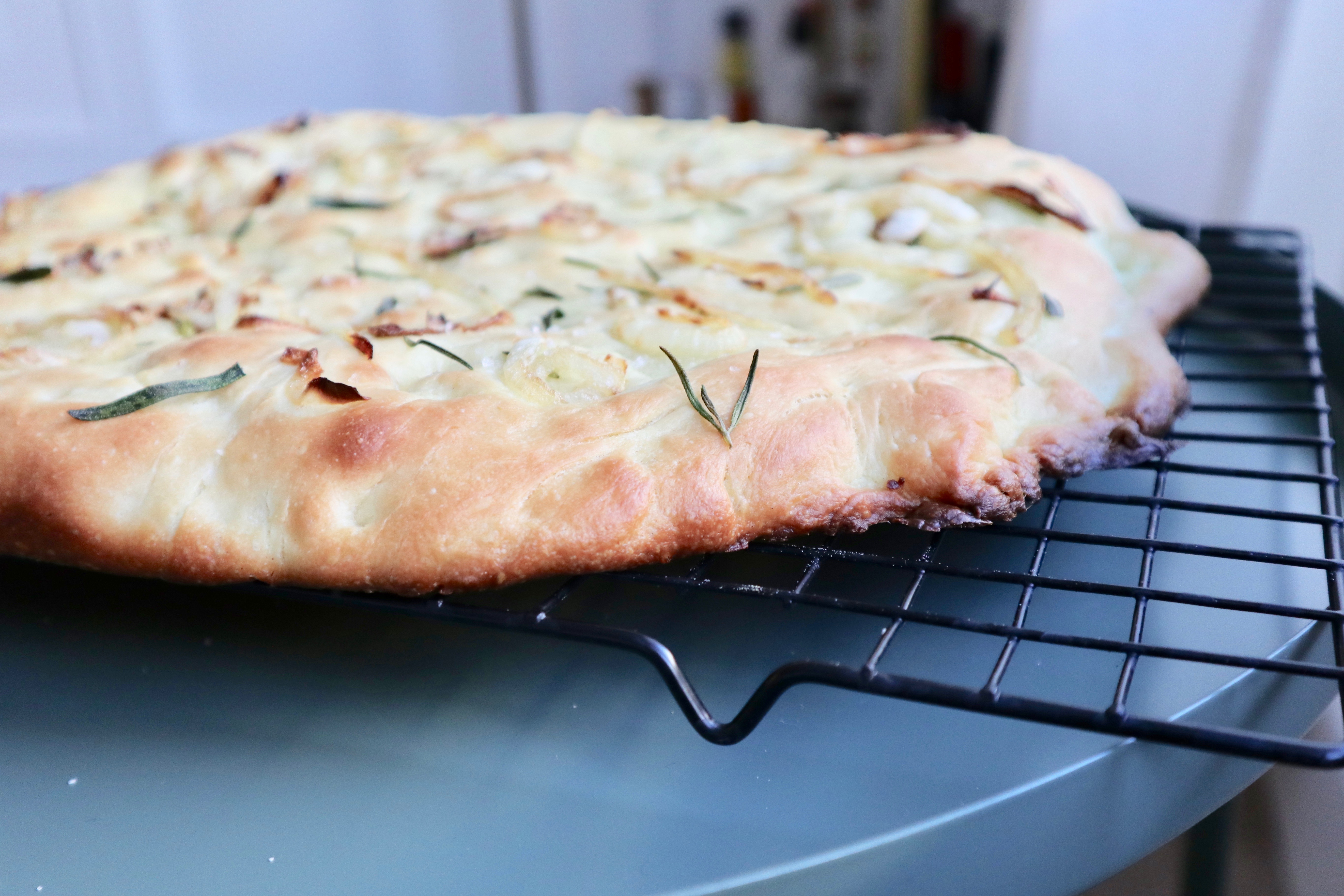 Furthermore – it's a great antidote for the sunday scaries.  Having a giant sheet pan of focaccia to tear at throughout multiple football games (also the latest episode of KUWTK) is the epitome of comfort food.  I also just spelled epitome so wrong it took me a WHILE to explain to the internet what word I was actually searching for.  I'm not going to share how I spelled it though because I'm not looking to display my shame on the internet for infinity.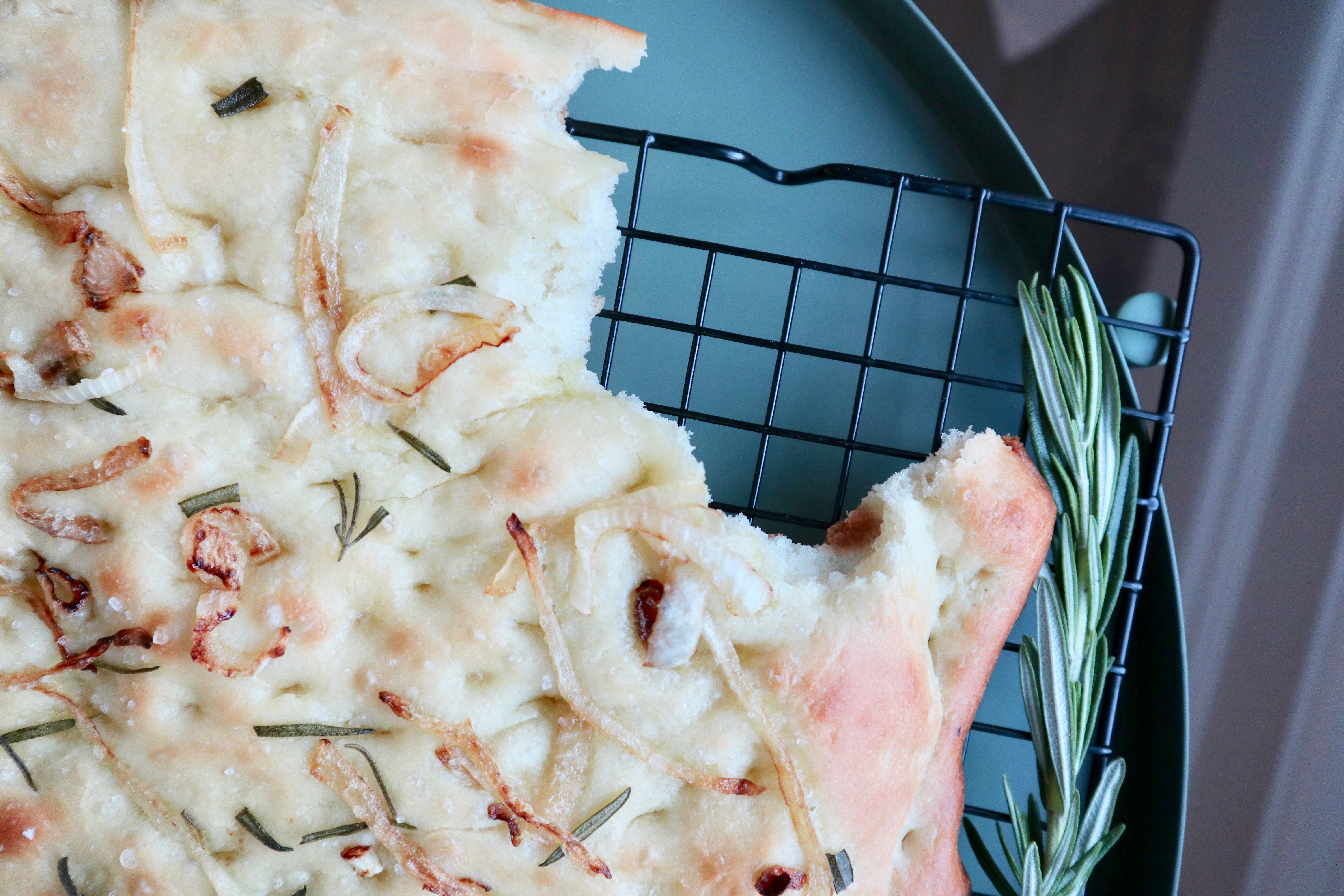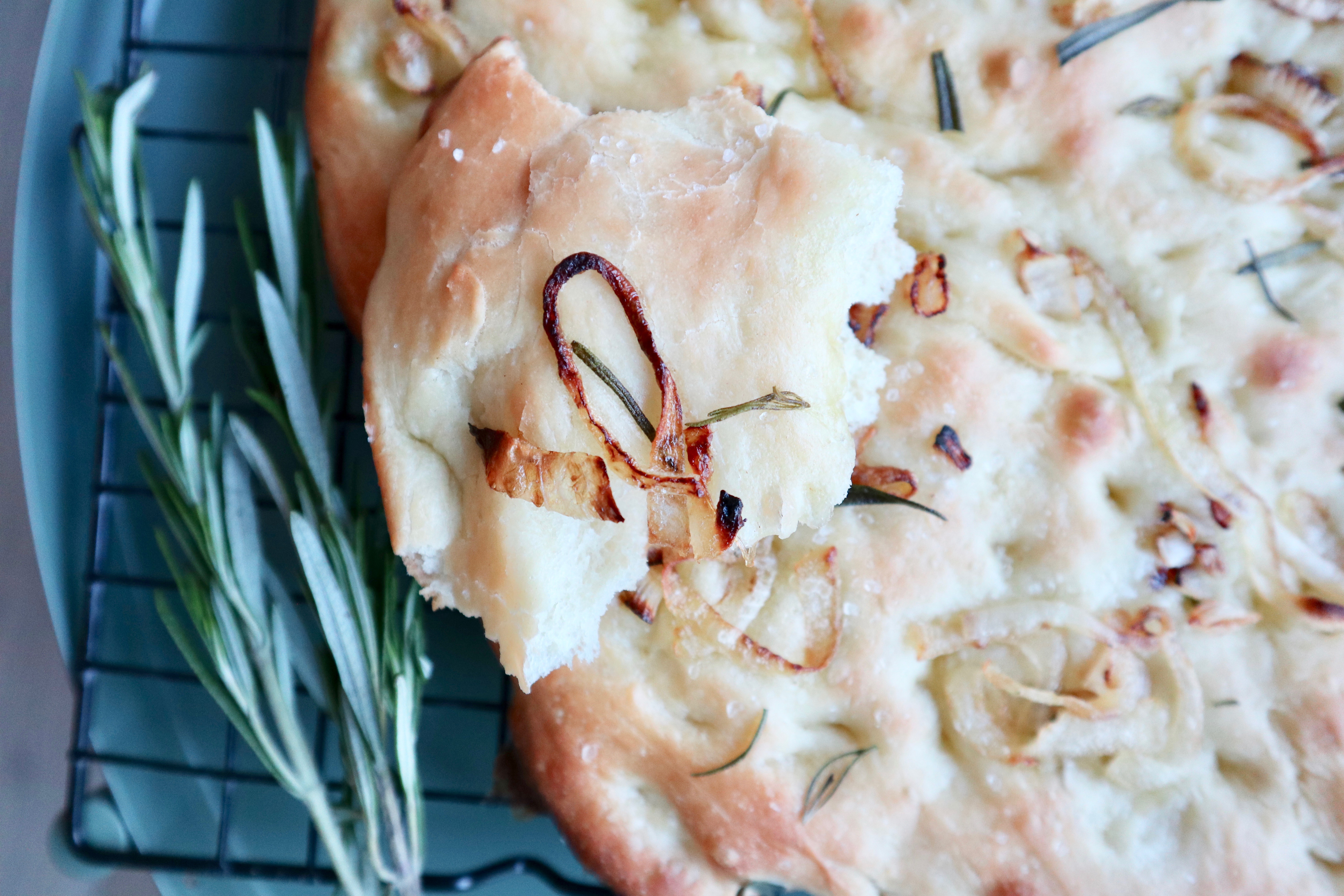 Please make this bread.  I topped mine with sea salt, rosemary that gets nearly fried in the oven, and sweet onions to balance out the savory.  The edges of the bread get crispy thanks to a generous coat of olive oil 3 different times in the process and it is SO SATISFYING to punch down the dough with your fingers like you're playing a floury piano.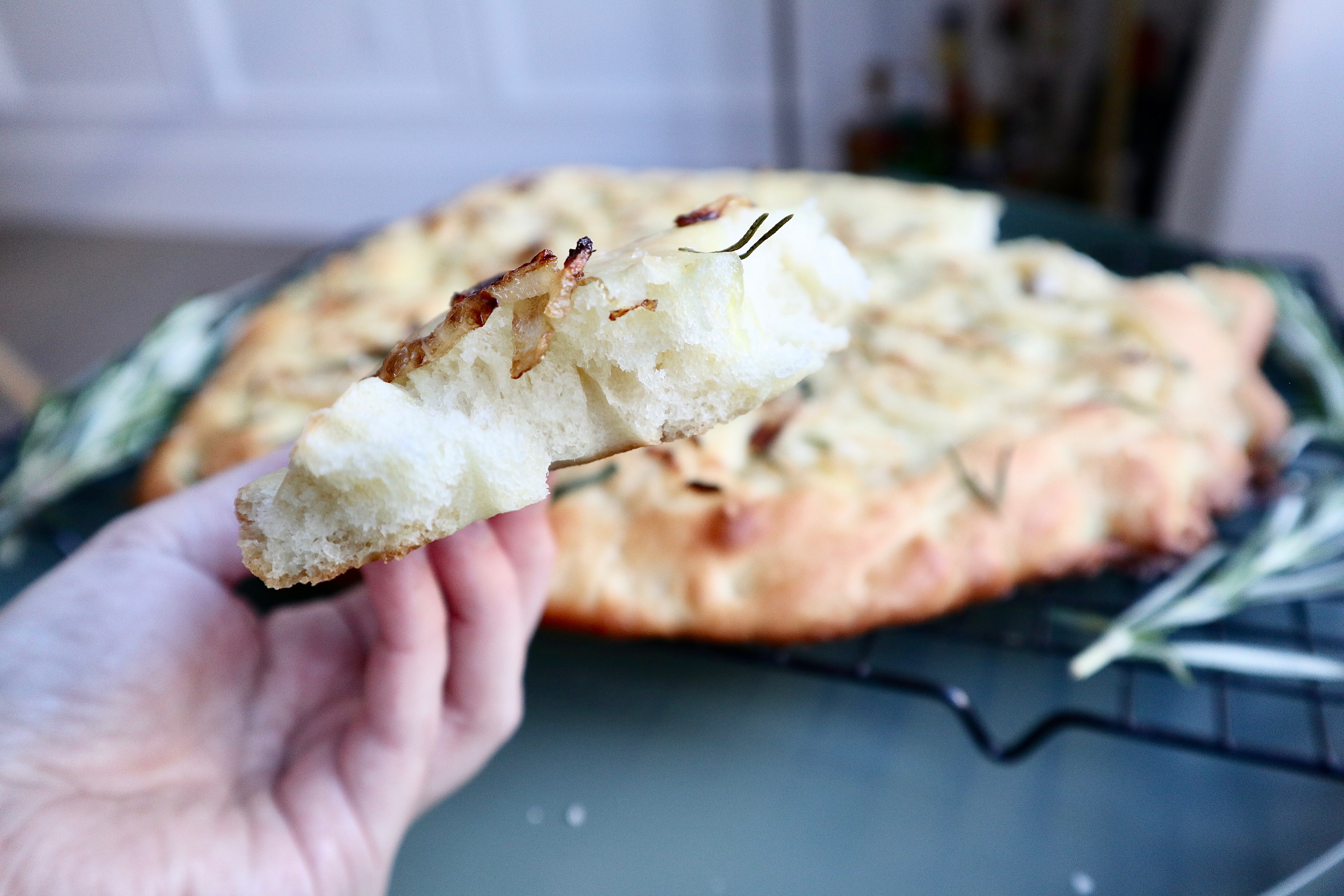 How do we feel about my weird hand making an appearance in this photo?  I'm feeling bad about it but I also wonder if I ask enough questions people will eventually start to engage and comment on this blog.
rosemary caramelized onion focaccia
(recipe adapted from gimme some oven)
1 1/3 cup warm water (make sure it's truly warm)
2 teaspoons sugar
.25 oz active dry yeast (or one packet)
3 1/2 cups flour
1/4 cup olive oil, plus more for drizzling
2 teaspoons sea salt
2 sprigs rosemary
1 sweet onion, thinly sliced
sea salt for sprinkling
directions
In the bowl of your stand mixer, pour in warm water, sugar, and yeast.  Stir to combine and let this sit for about 5 minutes so the yeast can activate.  Meanwhile, measure out your flour and add in your 2 teaspoons of salt to the flour.
Turn the mixer on low and gradually add in your flour/salt, followed by the olive oil.  Mix on medium low for about 5 minutes until the dough appears smooth and starts to pull away from the bowl.  If it seems really sticky add another tablespoon of flour.
Add the dough to a greased bowl and cover with a damp towel to let rise for 45-60 minutes or until it has doubled in size.  When your dough is almost done with the first rise, caramelize your onions by sautéing them in 1-2 teaspoons of olive oil until they get some color and soften substantially (about 10 minutes).  Remove your rosemary needles from the stems and set aside.
Coat a sheet pan in olive oil and stretch out your dough to cover most of it.  It doesn't have to be a perfect shape (or any shape) but the dough is pretty easy to work with so with some coaxing you can get a lovely large blob out of it.  Cover with a damp towel again to rise for 20 minutes while your oven preheats to 400 degrees.
After 20 minutes, use your fingers to stamp divets into the dough, piano playing style.  Don't be shy here.  The nooks and crannies are the best part of focaccia and it helps add texture differences.  Give the top of the dough another glug of olive oil and use your fingers to help spread it across the whole surface.  Some of it will pool in the divots – this is lovely – let this happen.
Sprinkle your caramelized onions, rosemary, and sea salt over the top of the dough and bake for 20 minutes until the edges look crispy and the loaf is golden brown.  This is best served warm on the day of. but it's quite nice toasted up on the second day too.
Enjoy!