It's February and I'm trying to eat as much cake as possible.  This is not far off from my goals the other 11 months of the year but it's also the month of my birthday so cake feels even more on theme than it normally does.
Full disclosure, I made this winter citrus cake for christmas so I'm roughly 45 days late in posting it.  However, if you take into account it's now blood orange season and most people have finally re-embraced carbs and joy – we are RIGHT. ON. TIME.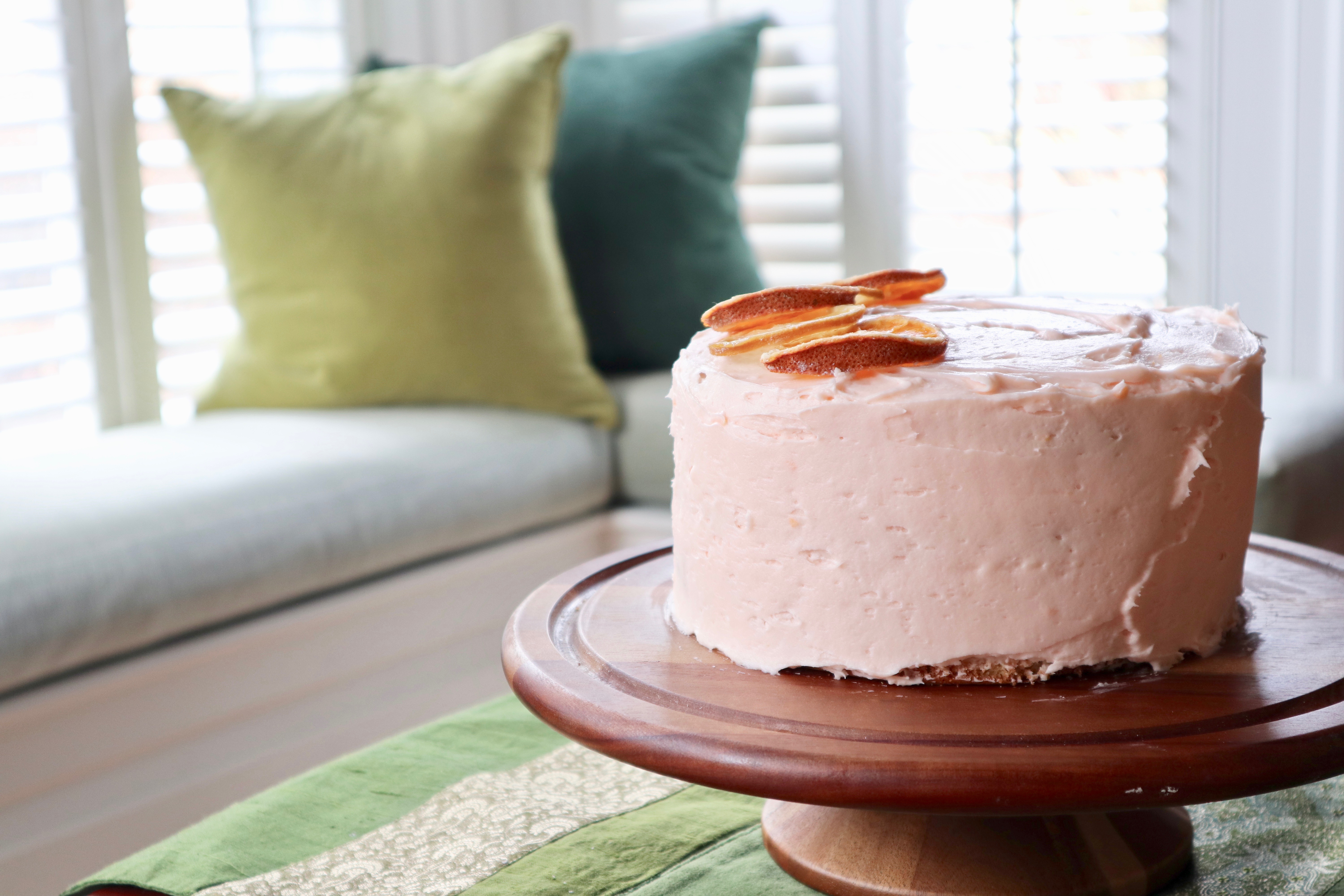 I love, love, love this cake.  Three layers of vanilla almond cake covered with bright, citrusy, cream cheese frosting.  I originally had blood oranges in mind only to find out they are not in season in December so you can't find them anywhere.  I'm all for grocery stores actually stocking fruits in season and sustainable shopping, but this was a real kick in the pants.
Luckily, a combination of mandarins and lemon got me the tart and sweet combination I had been (literally) dreaming about.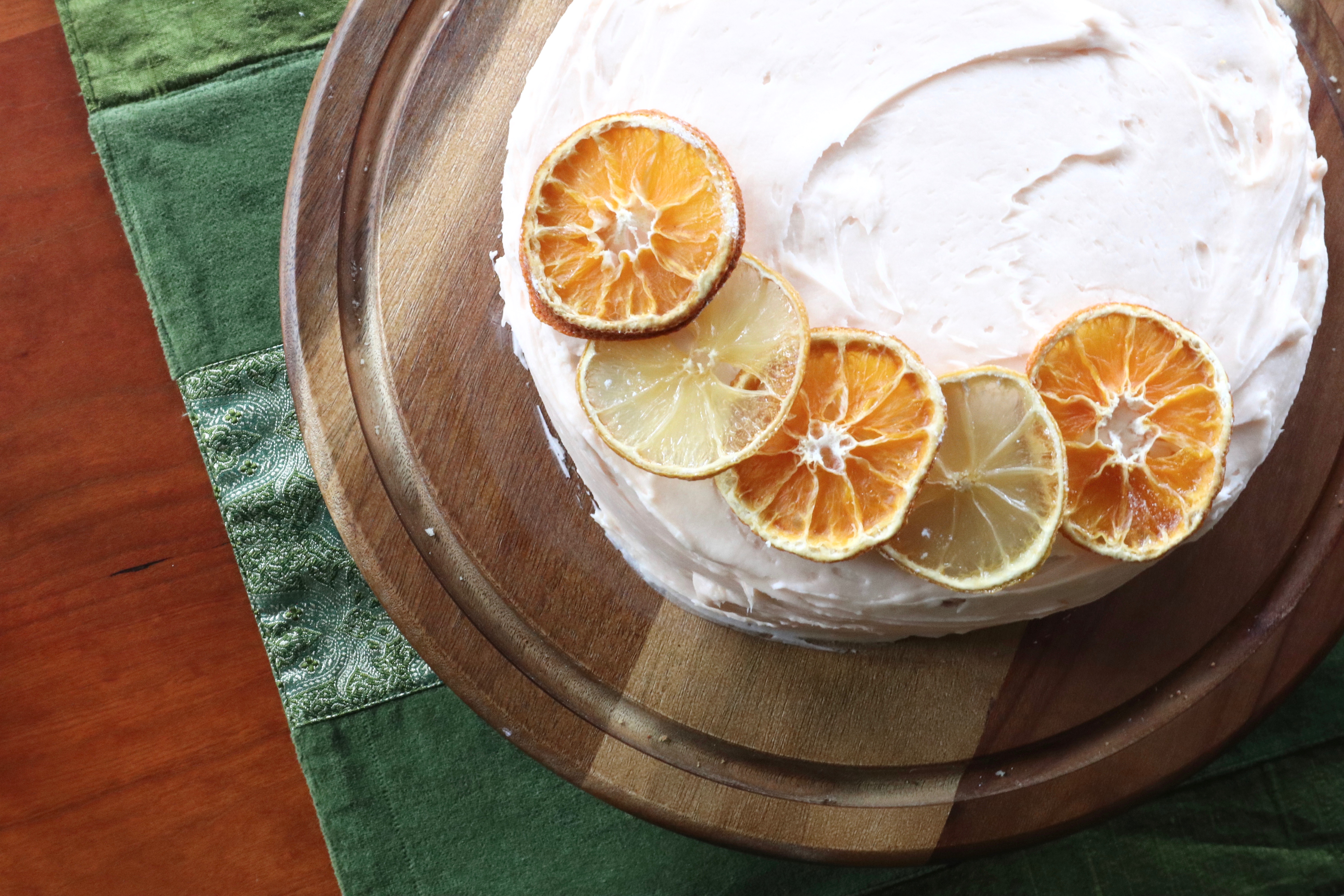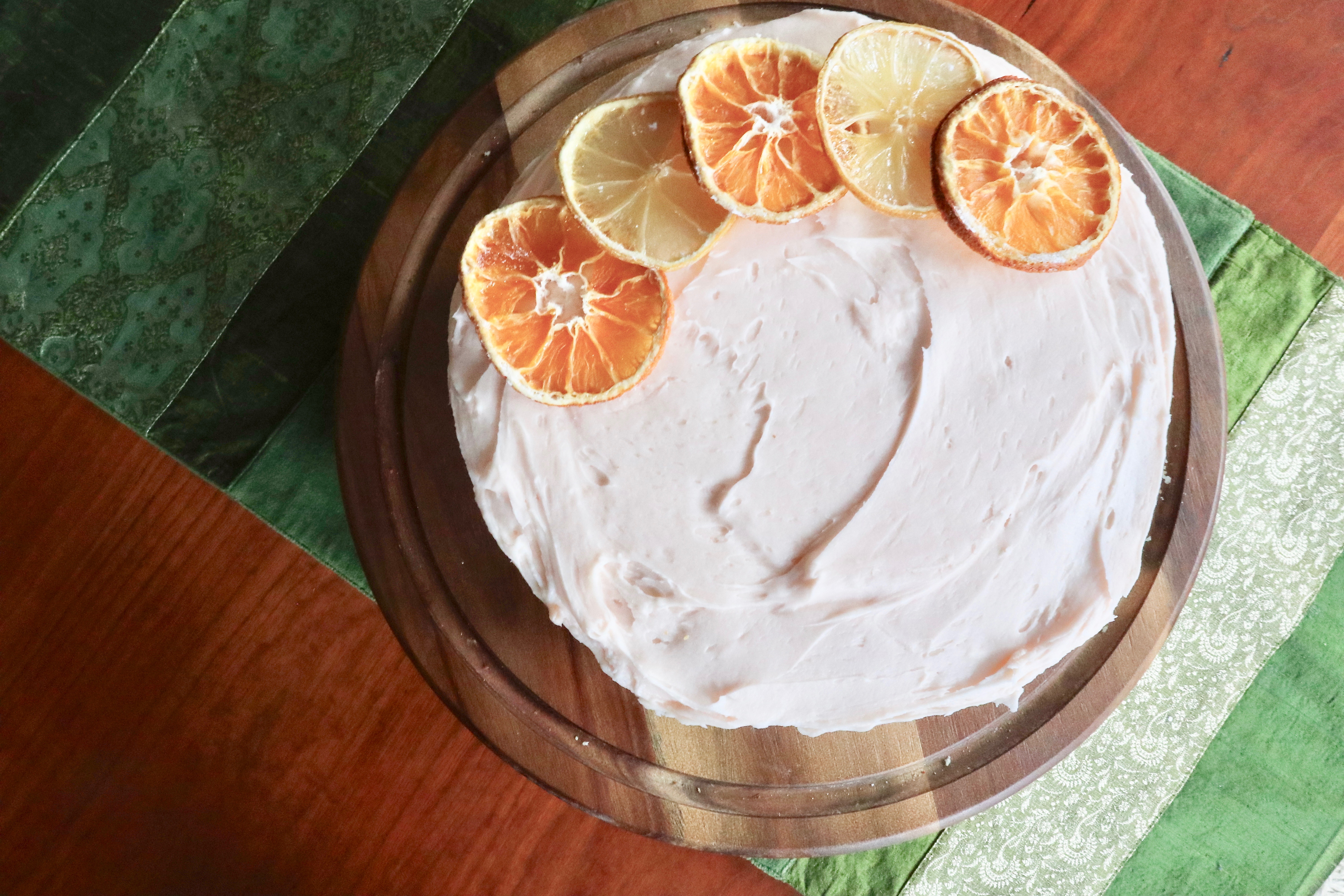 I also dehydrated the lemon and mandarin slices for decoration because I'd seen this look GORGEOUS on pinterest.  I'm still on the fence on how it actually turned out.  It took like 5 hours in the oven so my brain tells me it was worth it but my heart tells me they look nothing like the stained glass fruit I had in mind.
Also my eyes.  My eyes tell me that too.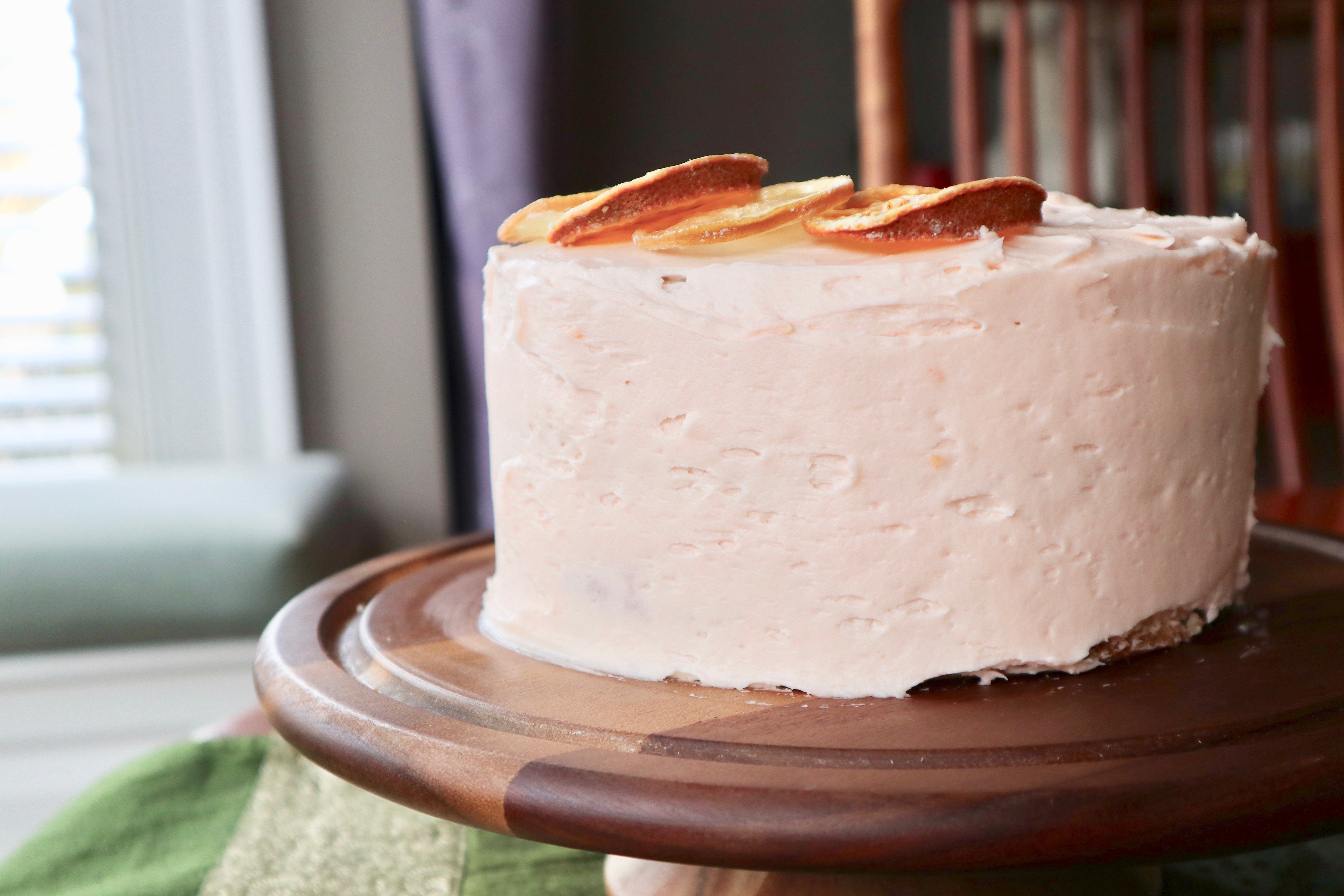 Regardless, I am still smitten with this cake.  It's every millennial's favorite shade of pale pink, so maybe my procrastination was leading me to the month of February after all.  This particular cake was helped along with the addition of some rosey food coloring because I'm stubborn and couldn't get the shade out of my head, but if you do use blood orange juice, it will happen naturally and flawlessly.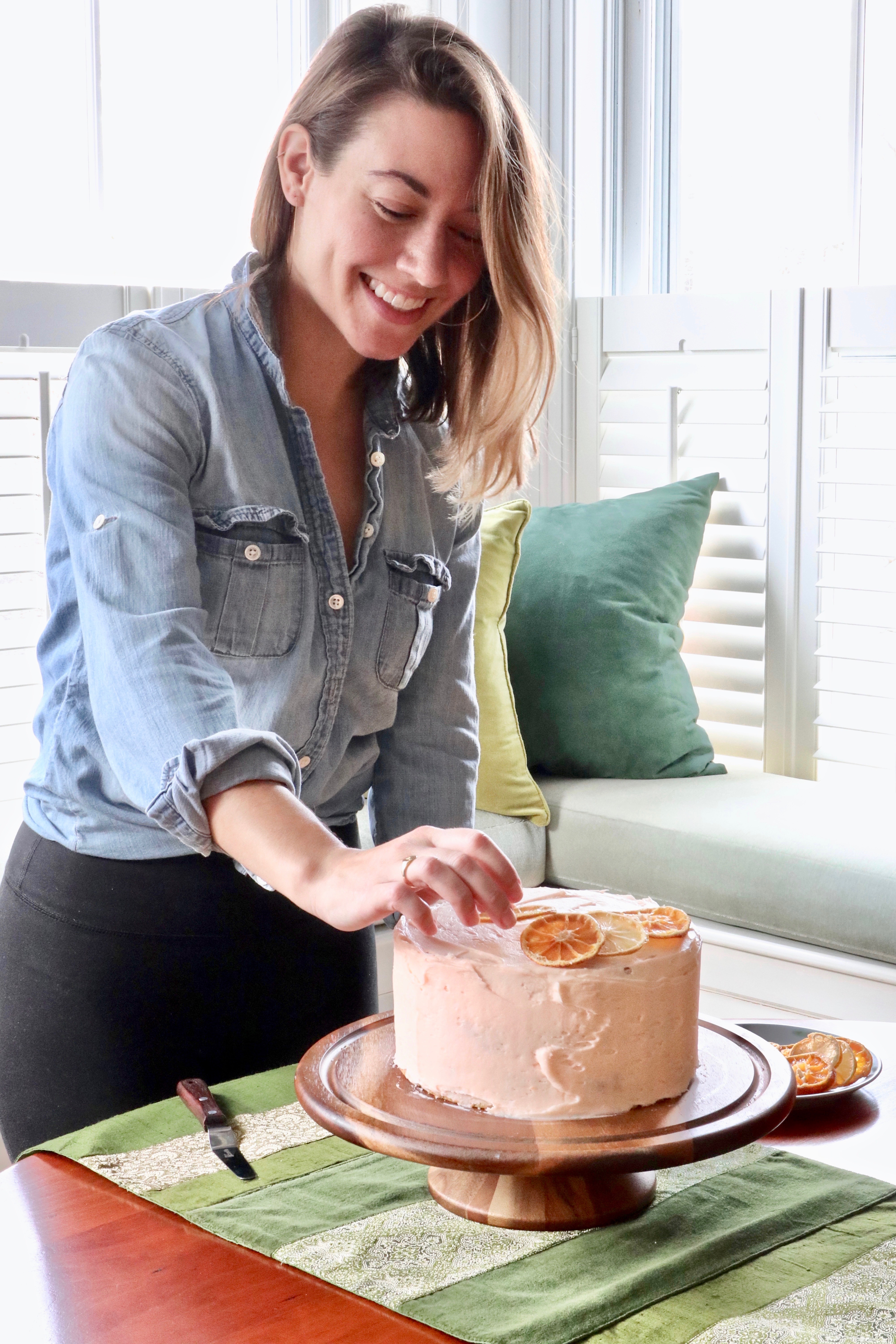 Finally, I didn't take 99 staged selfies with my tripod to not share it on the internet at least twice.
winter citrus cake
(cake recipe adapted from smitten kitchen, frosting recipe from my brain)
vanilla almond cake
4 cups plus 2 tablespoons cake flour
2 teaspoons baking powder
1 1/2 teaspoons baking soda
1 teaspoon salt
1 cup unsalted butter, softened
1 cups sugar
1 teaspoon vanilla
1 teaspoon almond
4 large eggs, room temperature
2 cups buttermilk, shaken
citrus cream cheese frosting (halve this if you're only making a 2 layer cake)
1 cup unsalted butter, room temperature
8 oz cream cheese, room temperature
2 boxes of powdered sugar
1/3 cup juice (I used one mandarin and half a lemon)
2-3 drops of rose colored, gel food dye
pink of salt
directions
Preheat oven the 350 degrees.  Butter three, 8-inch cake pans (or two, 9-inch cake pans) and line with parchment paper.  I didn't have 3 pans either so I baked two and then did the third separately.
Stir together your flour, baking powder, baking soda, and salt in a medium bowl.  In your stand mixer or a large mixing bowl, beat together your butter and sugar until light and fully.  Next beat in the vanilla and almond extract.  Mix in the eggs one at a time, scraping down the bowl between each mixing.  With the mixer on low, beat in the buttermilk until just combined.  Finally, add in the flour mixture in three batches, stirring until just incorporated.
Divide your batter evenly between your cake pans and tap them on the counter a few times to get rid of any bubbles.  Bake until golden about 30-35 minutes.  Cool in the pan for about 10 minutes before inverting onto a rack for the rest of the cooling.
To make your frosting, beat together your butter and cream cheese until smooth.  Slowly add in your powdered sugar until about half is incorporated.  Now add in your fruit juice and pinch of salt.  Keep adding your powdered sugar with the mixer on medium-low and taste as you go to see if it needs more citrus flavor.  If you're aiming for some pink, add in 2-3 drops of gel food coloring or just let the natural colors shine.
Frost generously and enjoy : )