Continuing the tradition of chocolate on chocolate on chocolate, here are some cookies. There's no other way to start this post than to say these may be one of the best things I've ever tasted. Truly, they are magic – salted dark chocolate magic.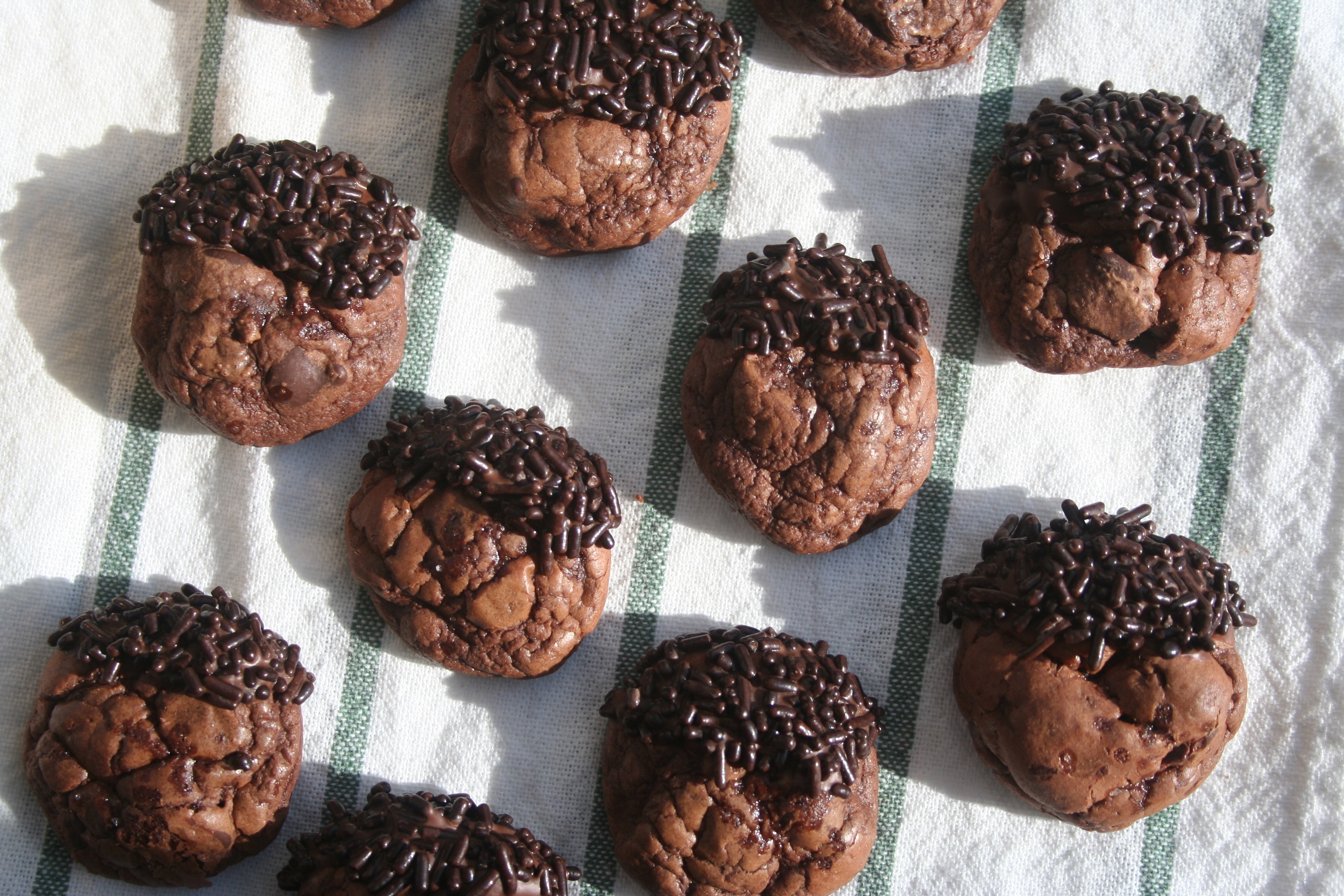 I anticipated them being good because how could something with 5 types of chocolate not be good? But I never could have imagined HOW good. I didn't get a chance to taste them before I brought them to the party and if I had, I probably would have showed up with an empty dish and a sugar high. I shoved a cookie in my boyfriends mouth as I was finishing up the baking process, but he can't always be trusted and knows well enough to tell me everything I make is delicious and amazing and that I look pretty covered in flour and sprinkles.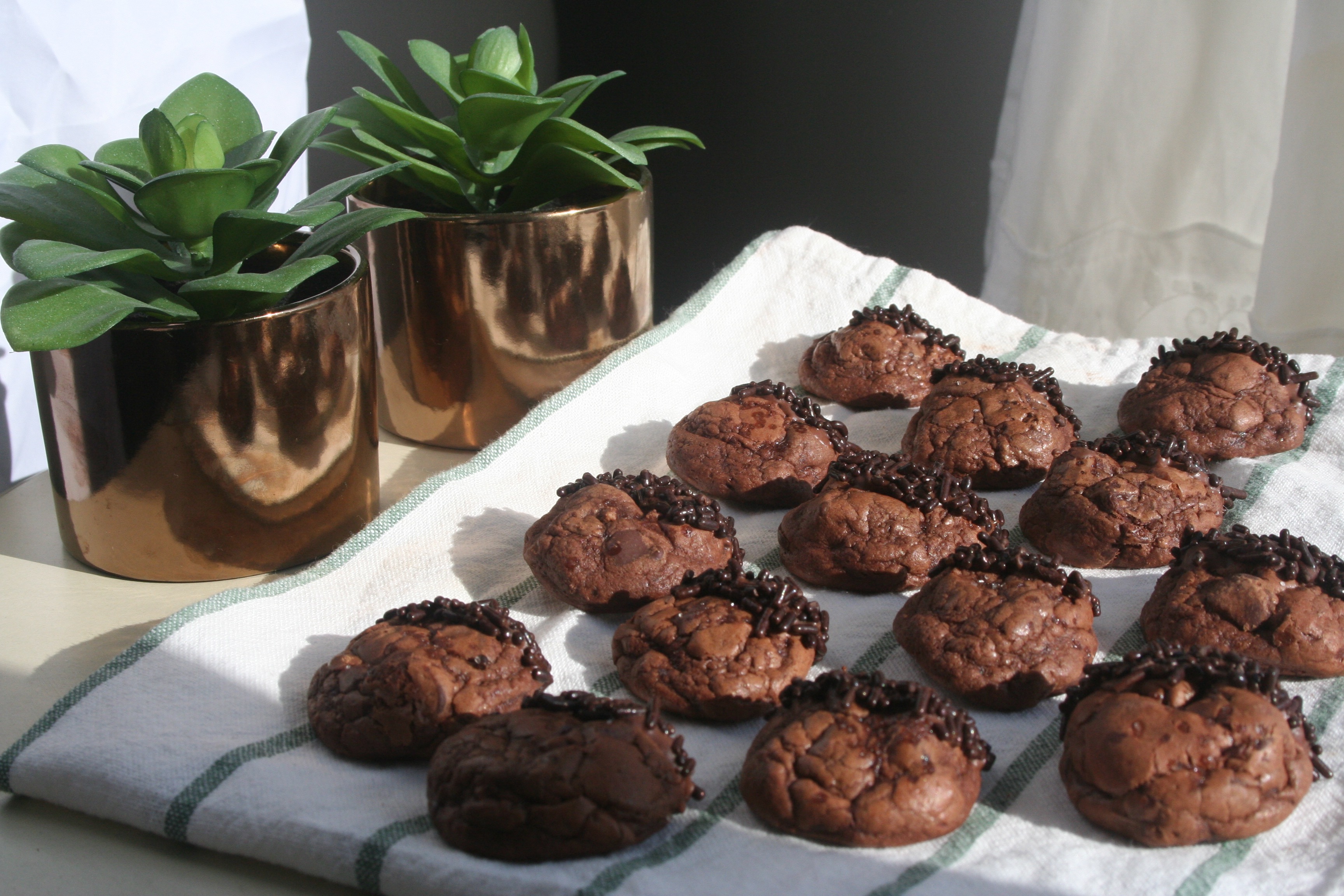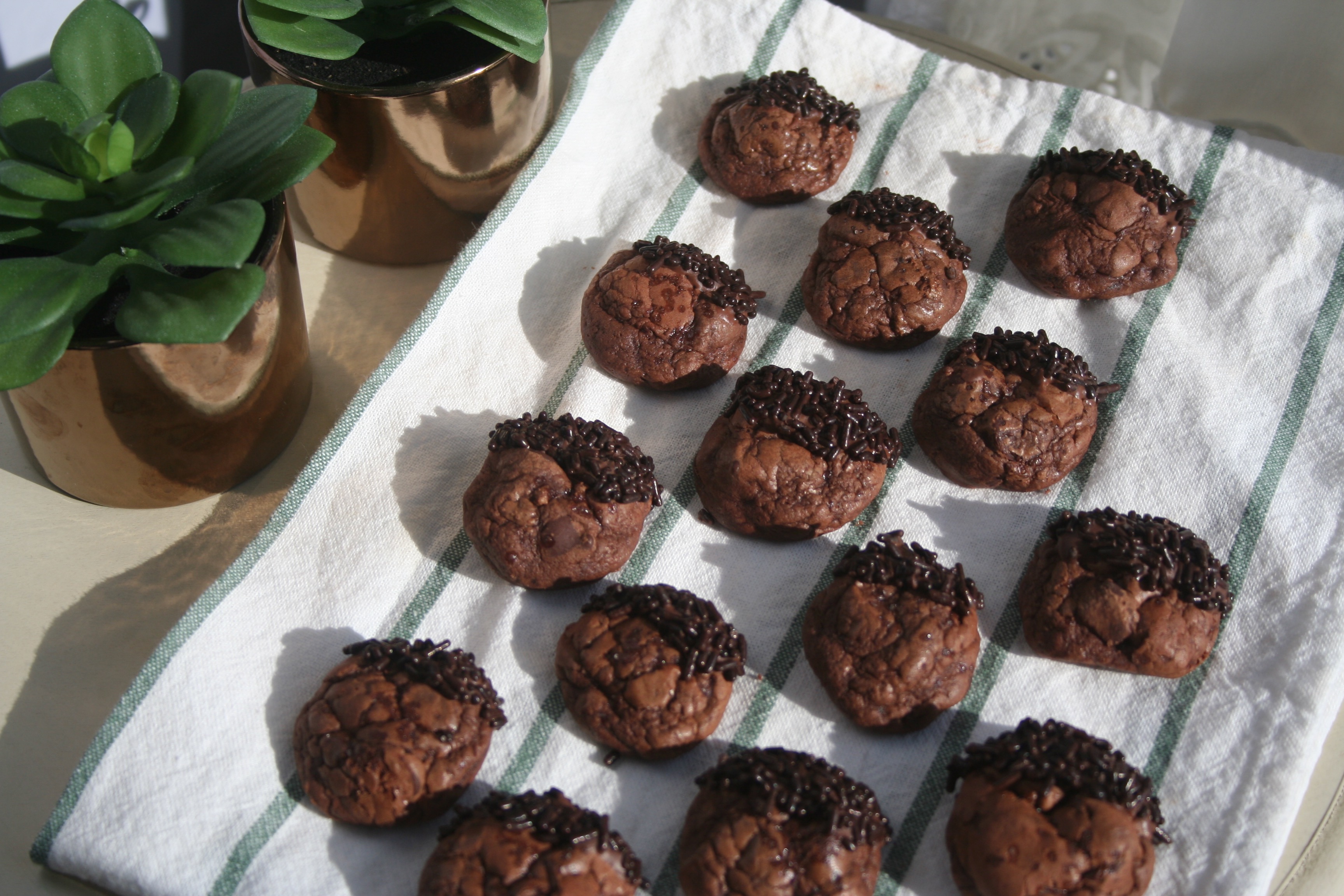 So please believe me when I say that a) I do not look cute with flour handprints on my sweatshirt and b) these cookies are heaven. They have a hybrid fudge/truffle texture that you can really sink your teeth into. To top that, they are studded with chocolate chips, dipped in semisweet chocolate, and rolled in chocolate sprinkles. Coarse sea salt is sprinkled on the top before and after baking so you get an amazing balance to all that richness.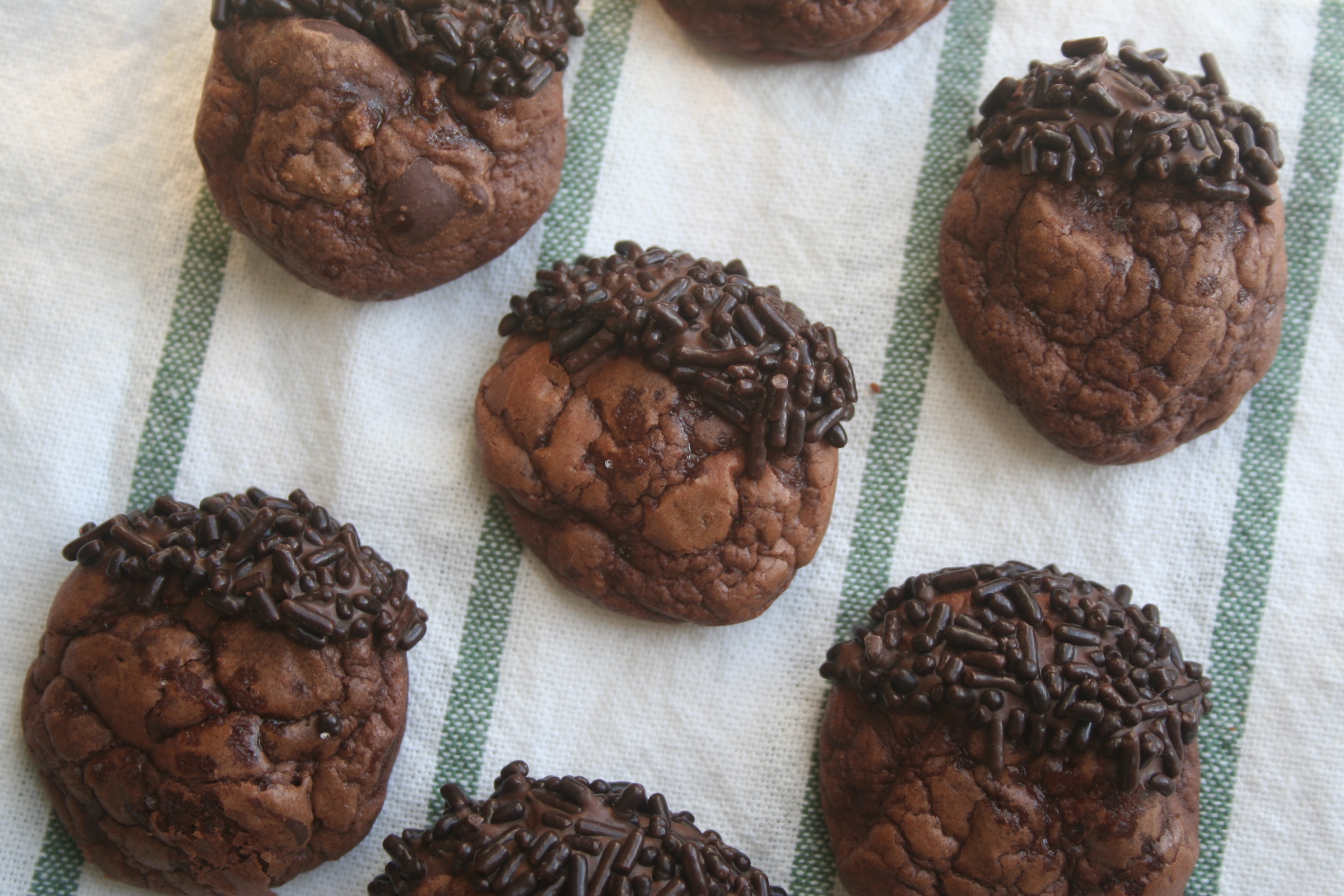 I saved the last two cookies to bring to my sister (the perks of the being the only person to read this blog for the first 6 months) and I had to hide them in the cabinet so I wouldn't eat them in a moment of weakness.  I have also debated eating them, making a whole other batch, and eating all but two of those…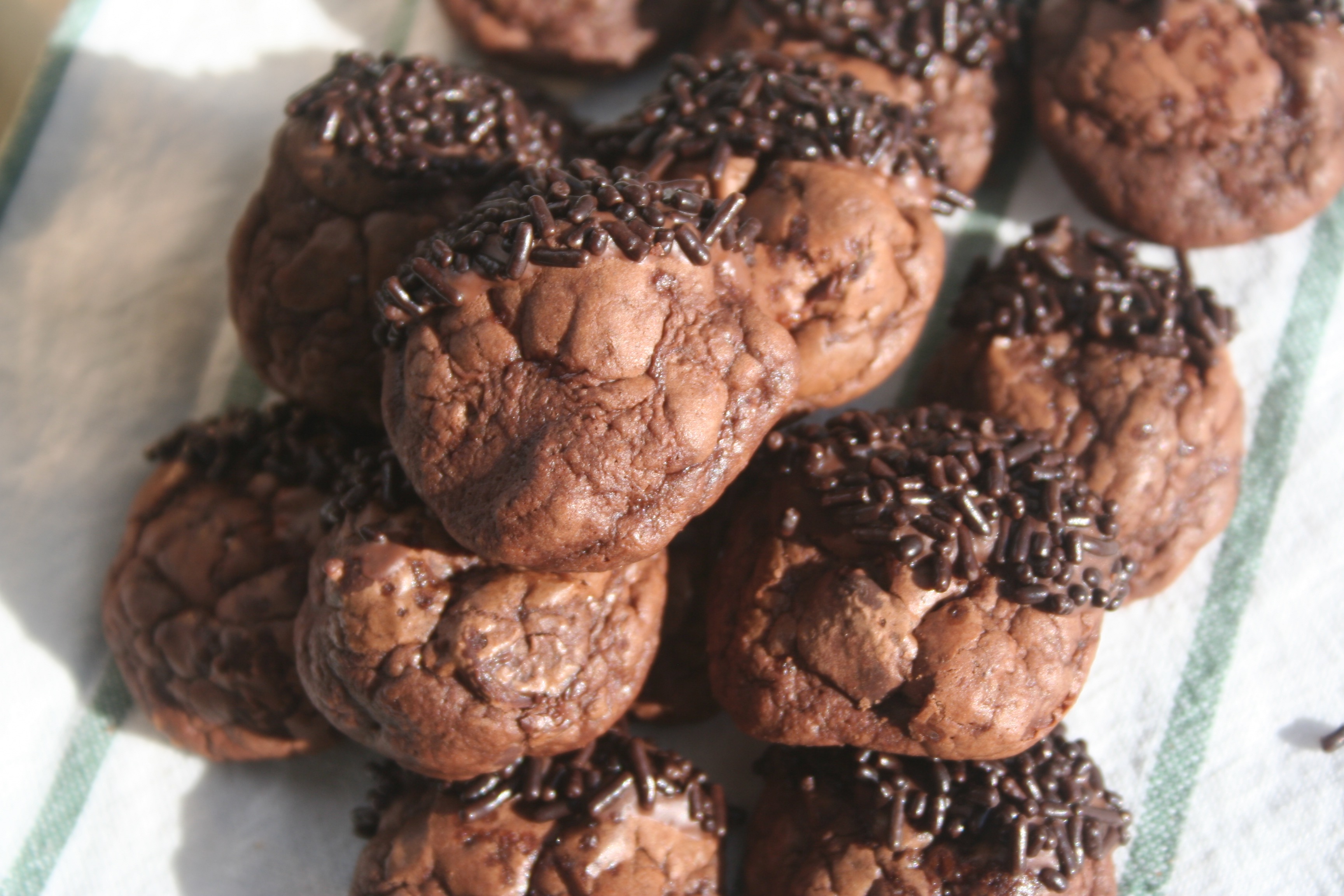 Note to self: chocolate cookies sometimes photograph looking like bugs.
Salted Chocolate Truffle Cookies
(recipe from How Sweet It Is)
6 tablespoons of unsalted butter
4oz bittersweet chocolate (I used 60%)
2 cups dark chocolate chips, divided
3 large eggs
3/4 cup white sugar
2 teaspoons vanilla
1/2 cup plus two tablespoons flour
2 tablespoons cocoa powder (dark or dutch is preferable)
1/4 teaspoons salt
1/4 teaspoon baking powder
coarse sea salt for sprinkling
melting chocolate for dipping
chocolate sprinkles
Directions
In a large bowl, melt together the butter, 1 cup chocolate chips, and the 4 ounces of chocolate (chopped up).  Set aside and let cool.
In a small bowl combine the flour, cocoa powder, salt, and baking powder.
With an electric mixer, beat together the eggs and sugar until fluffy.  Add in the vanilla and melted chocolate mixture and beat for another 1-2 minutes.  Next stir in dry ingredients with a large spoon until combined and finally, fold in the remaining cup of chocolate chips.  Cover the mixing bowl with plastic wrap and leave to chill in the fridge for at least 4 hours but overnight is best.
When you are ready to bake them, preheat the oven to 350 degrees and line 2 cookie sheets with parchment paper.  Roll the cookie dough into 1 inch balls, placing them about 2 inches apart.  My dough was pretty cold so they didn't spread as much but they can spread more if the dough warms up.  Sprinkle some sea salt onto each cookie dough ball.  Bake them for 8-10 minutes, sprinkle on a little more salt when warm, and then let cool completely.
Dip each cookie into melted chocolate and then into the sprinkles of your choice.
Enjoy!