I did it.  I stuffed a cookie into another cookie and there's no turning back.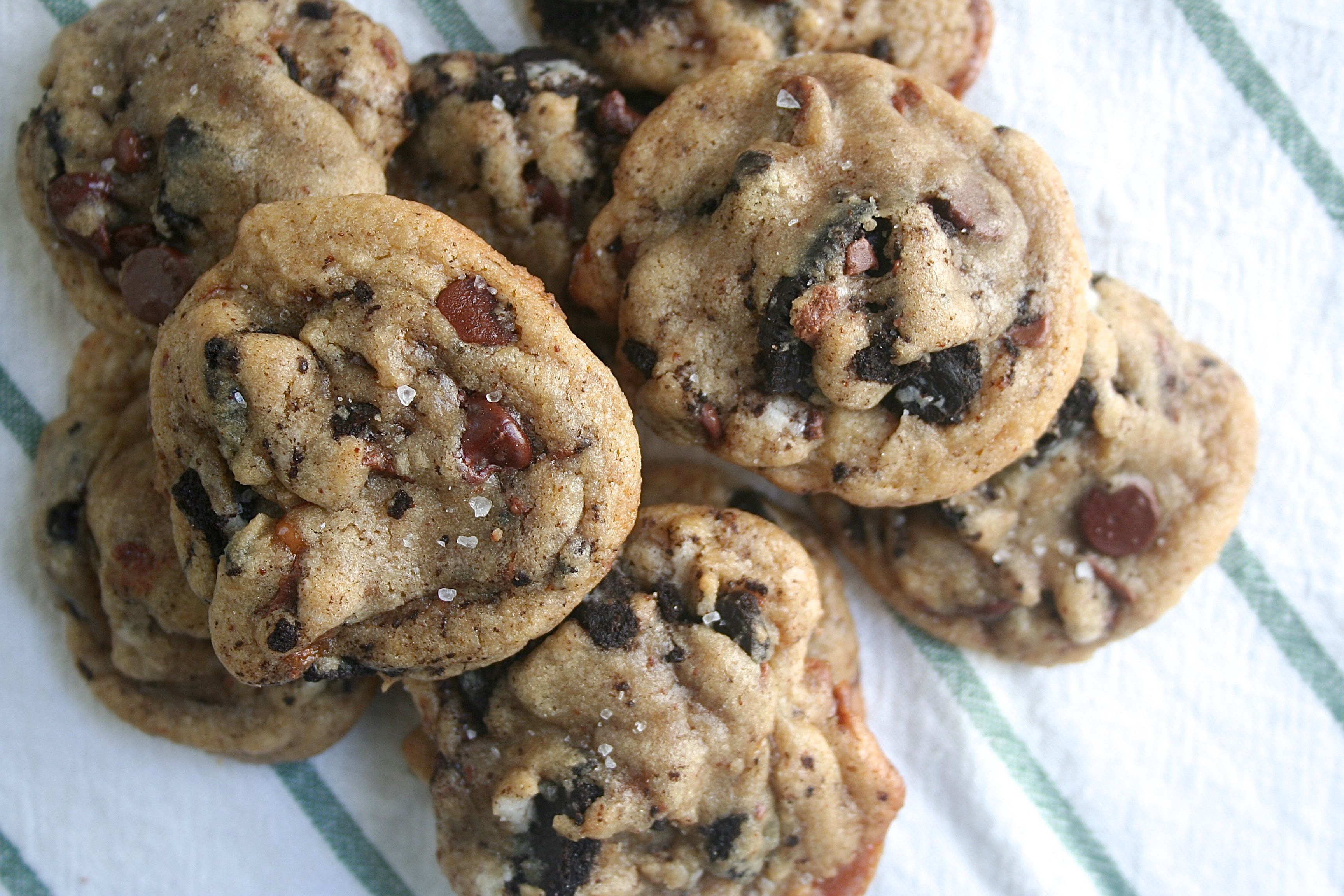 You should also know that I will use pretty much any excuse to buy oreos and stuff them into anything.  Oreo truffles, oreo rice krispy treats, oreo blondies – I have no boundaries.
These cookies were inspired by these milk chocolate cookies and cream cookies.  Unfortunately, that recipe called for "instant milk powder" and despite extensive searches on google and amazon, I could not for the life of me tell the difference between milk powder and instant baby formula.  Despite my obsession with my pregnant sister and becoming an aunt – baby formula cookies seemed like a step too far.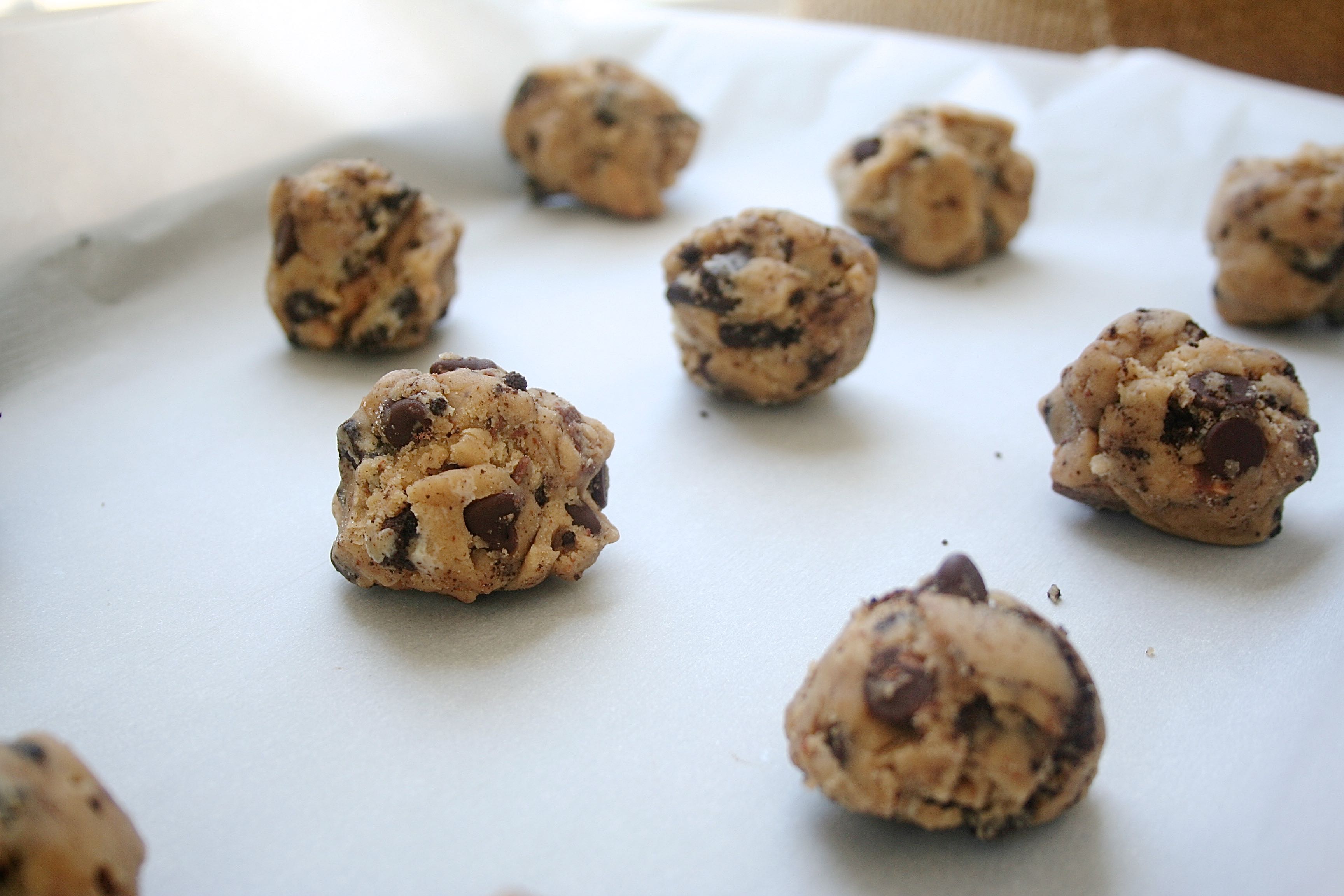 So I went a different route and turned to my new best friend – browned butter.  I didn't learn to properly brown butter until this year.  Beforehand I think I was nervous to let it go too long and was basically just melting butter in a pan and calling it a day.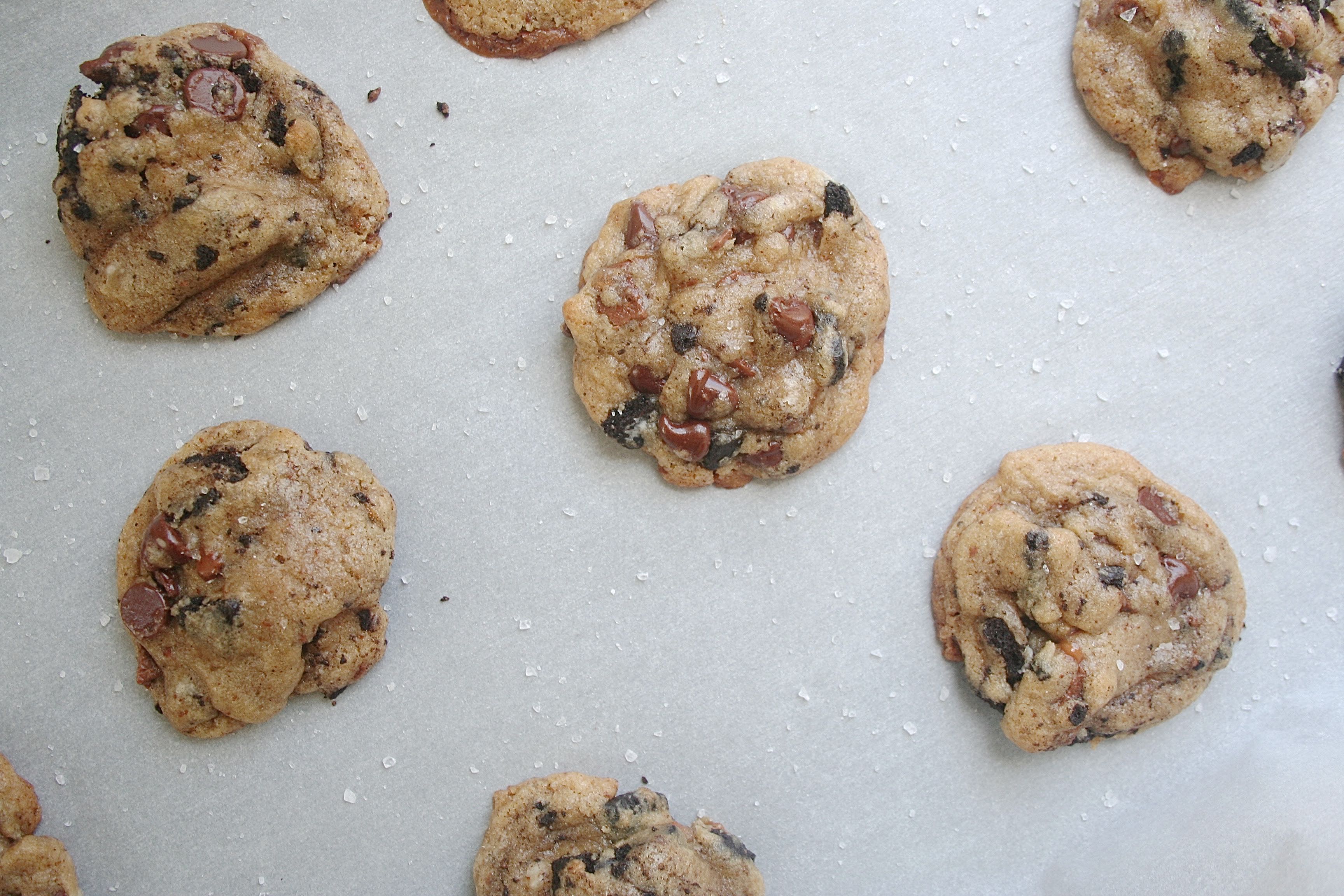 Properly browned butter is pure magic.  First the butter foams and then begins to smell like vanilla and salted caramel.  Stir constantly and once you start to see little brown flecks show up in the butter it's about time to take it off the heat.  The butter will continue to brown a little once off the burner.  Scientifically, browned butter makes everything better and in this recipe, it makes the batter itself smell like toffee.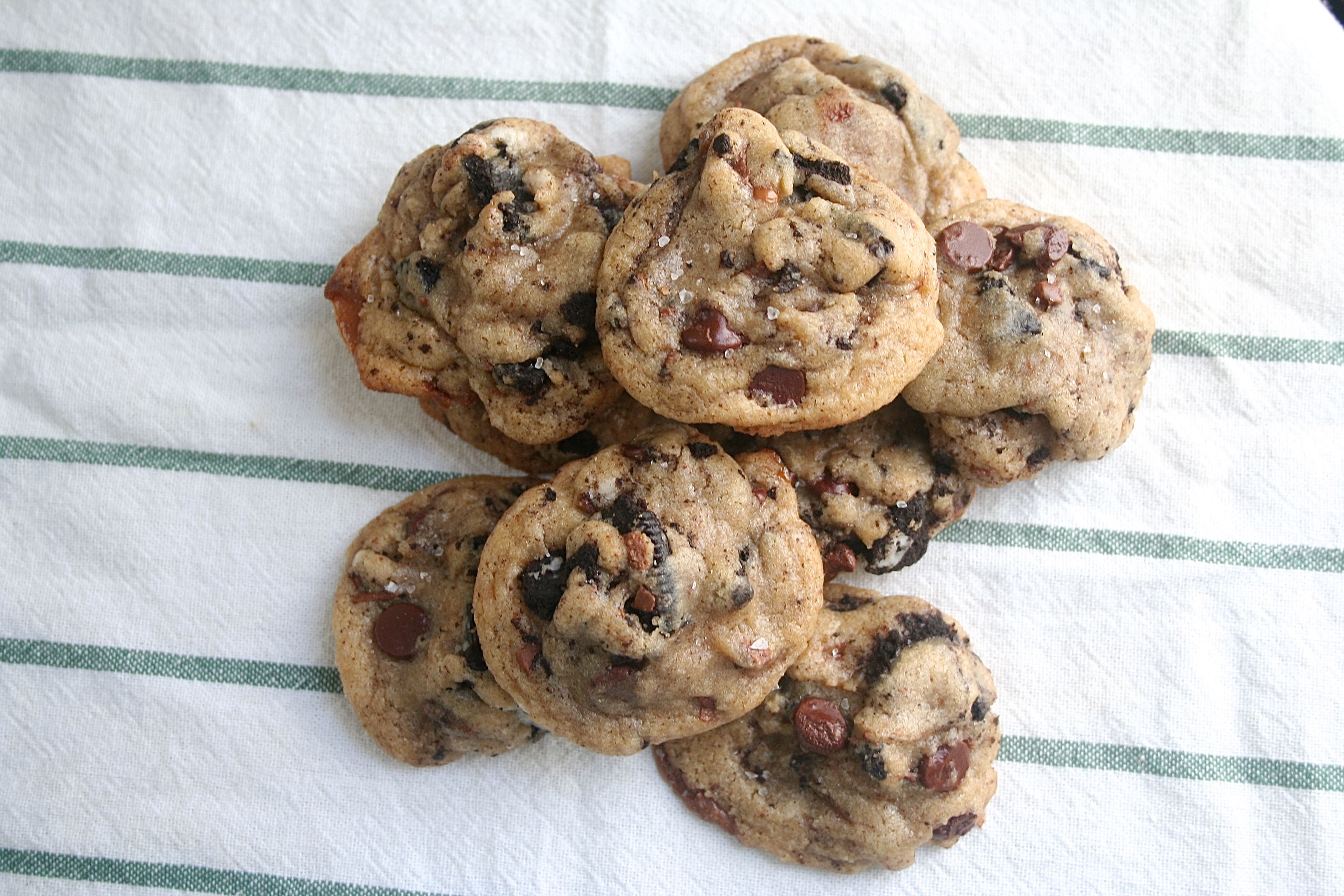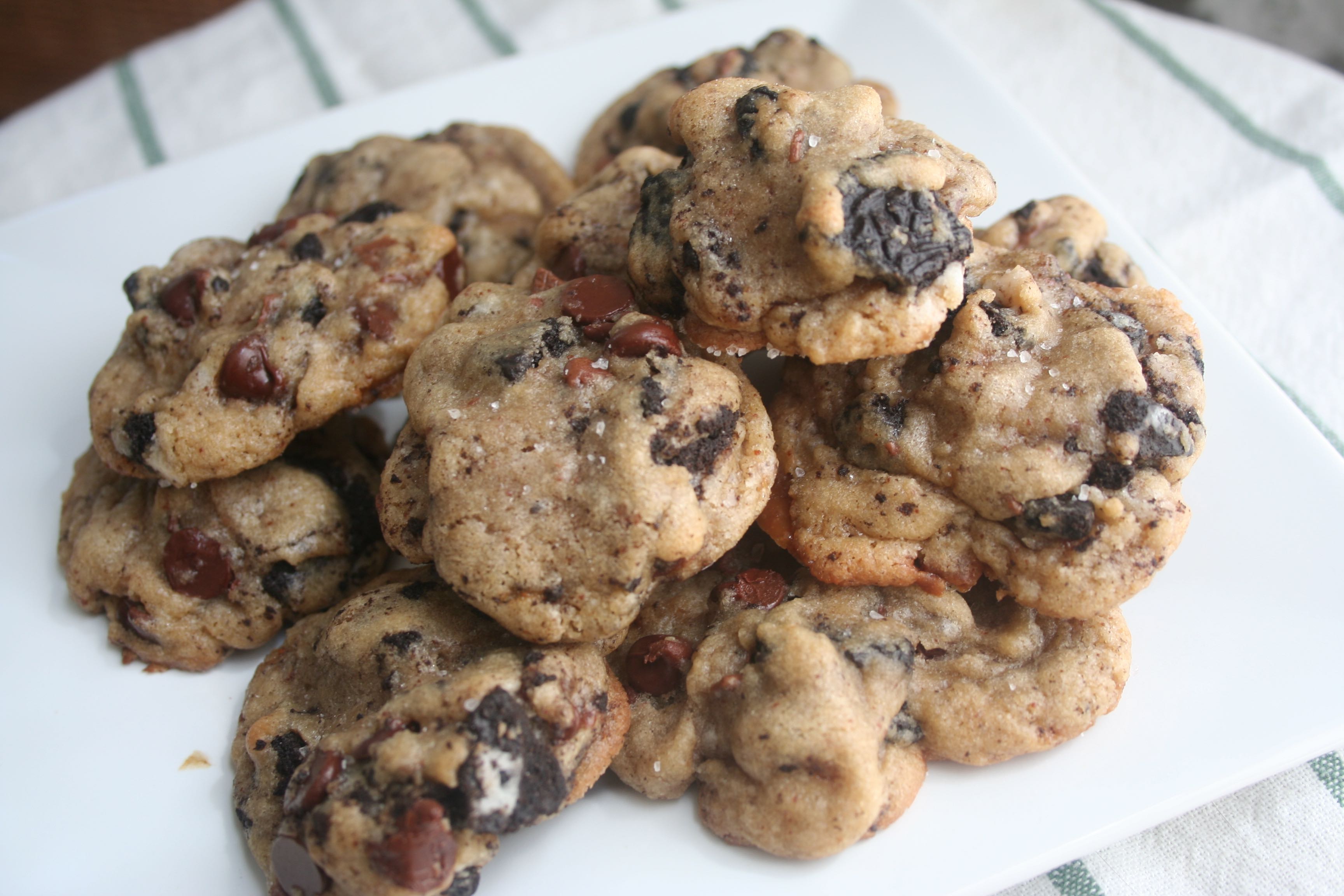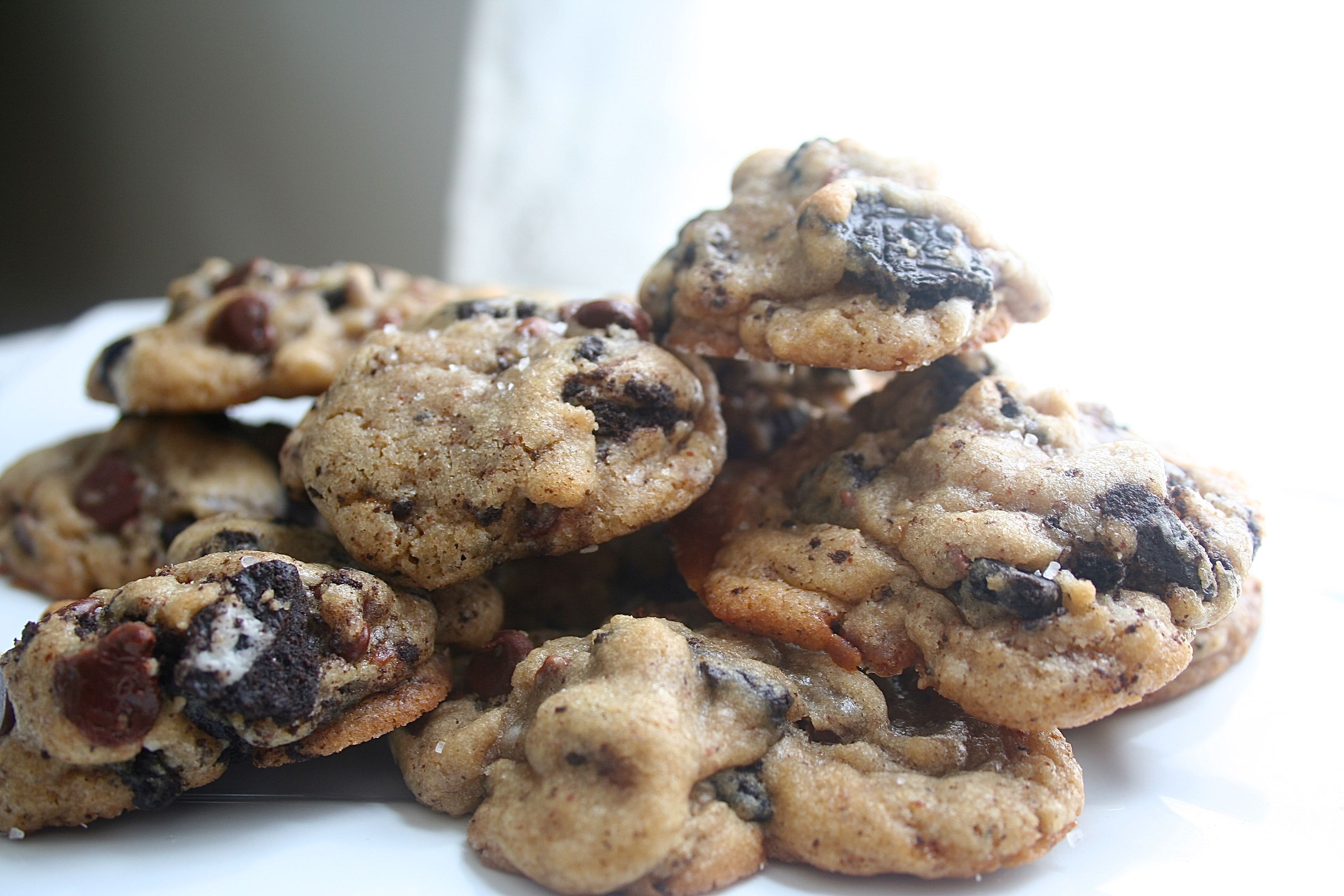 If that doesn't sound decadent enough, I then stirred in a bunch of chopped up oreos, health bars, and dark chocolate chips.  To keep the balance, the cookies get a coarse sprinkling of sea-salt hot out of the oven.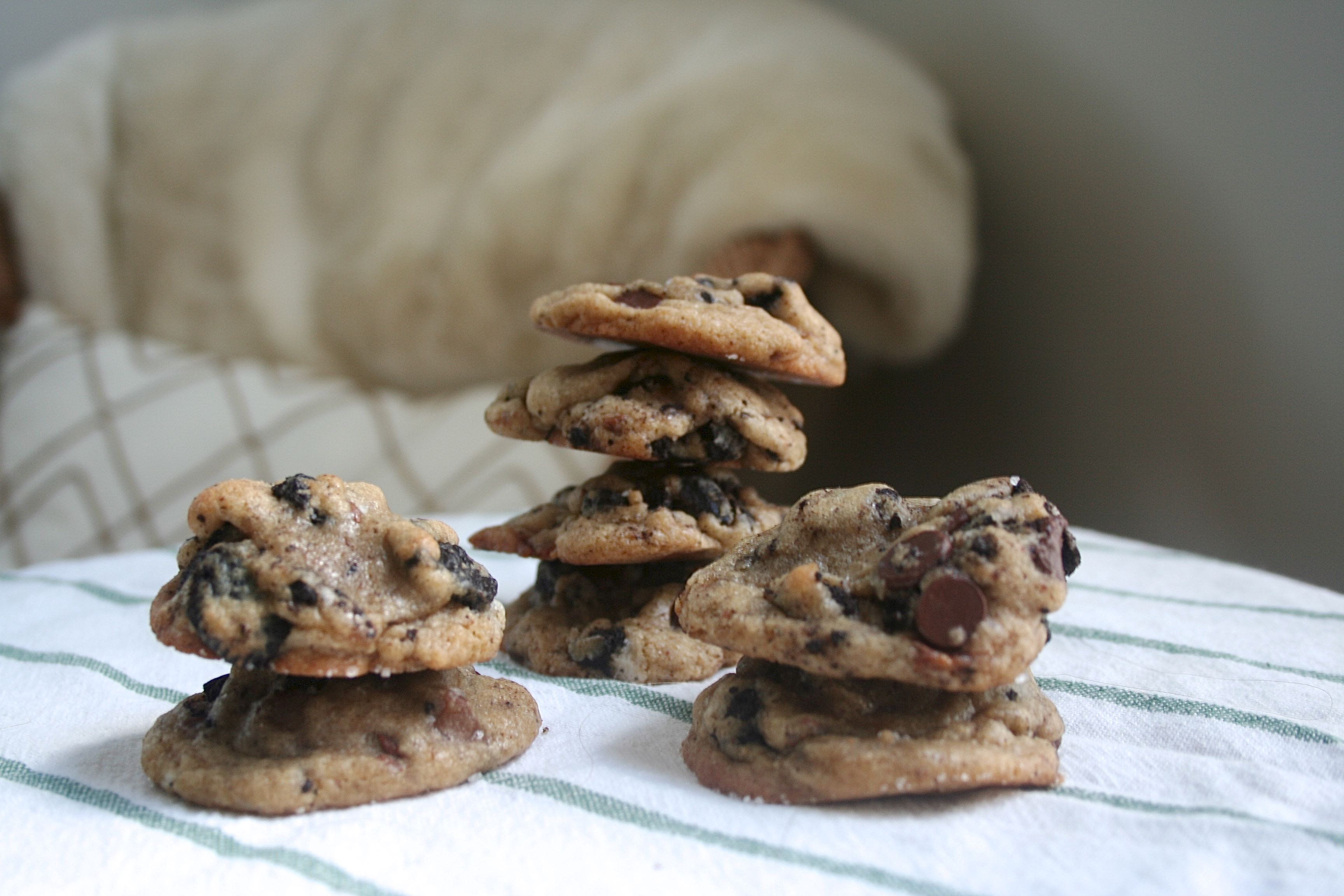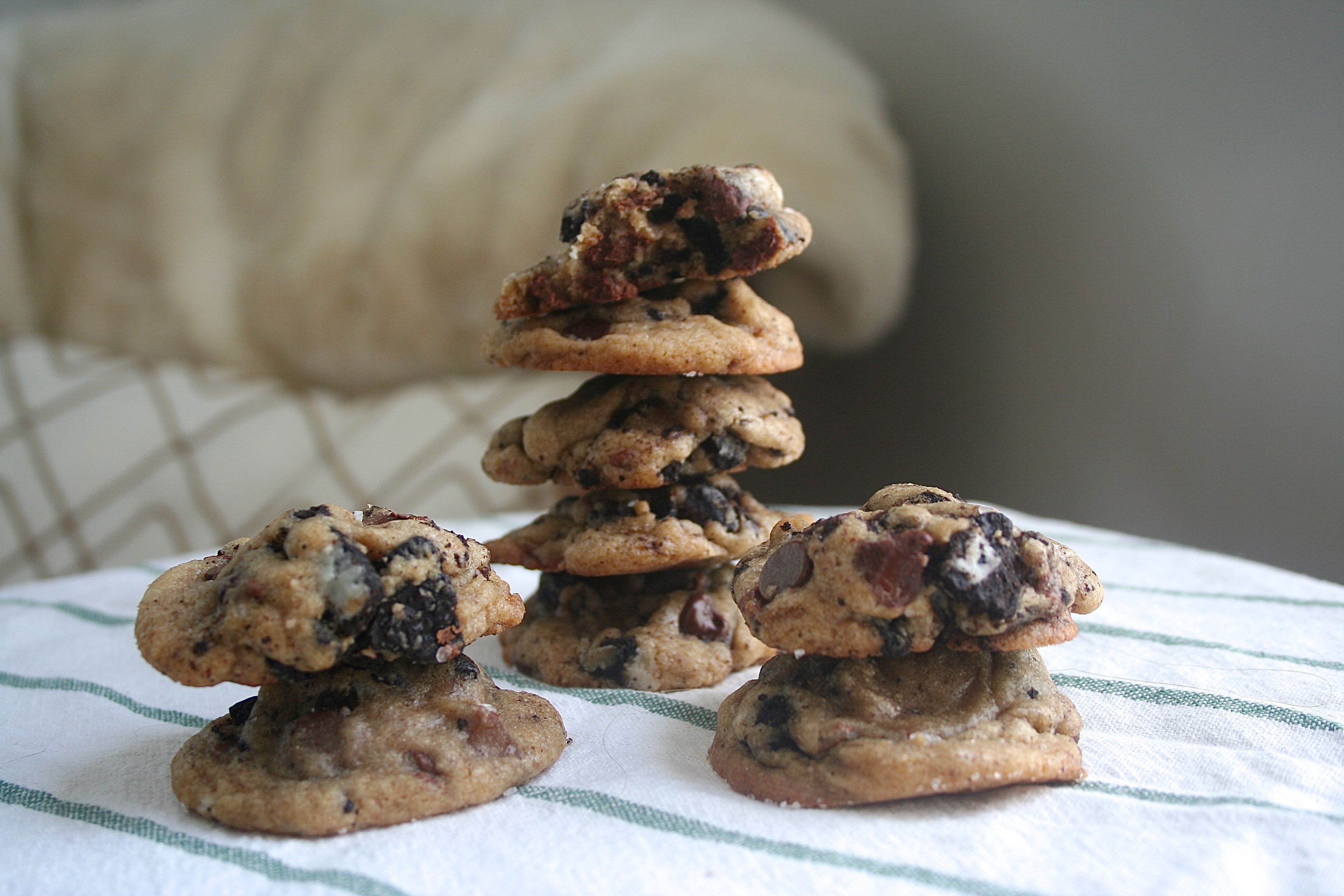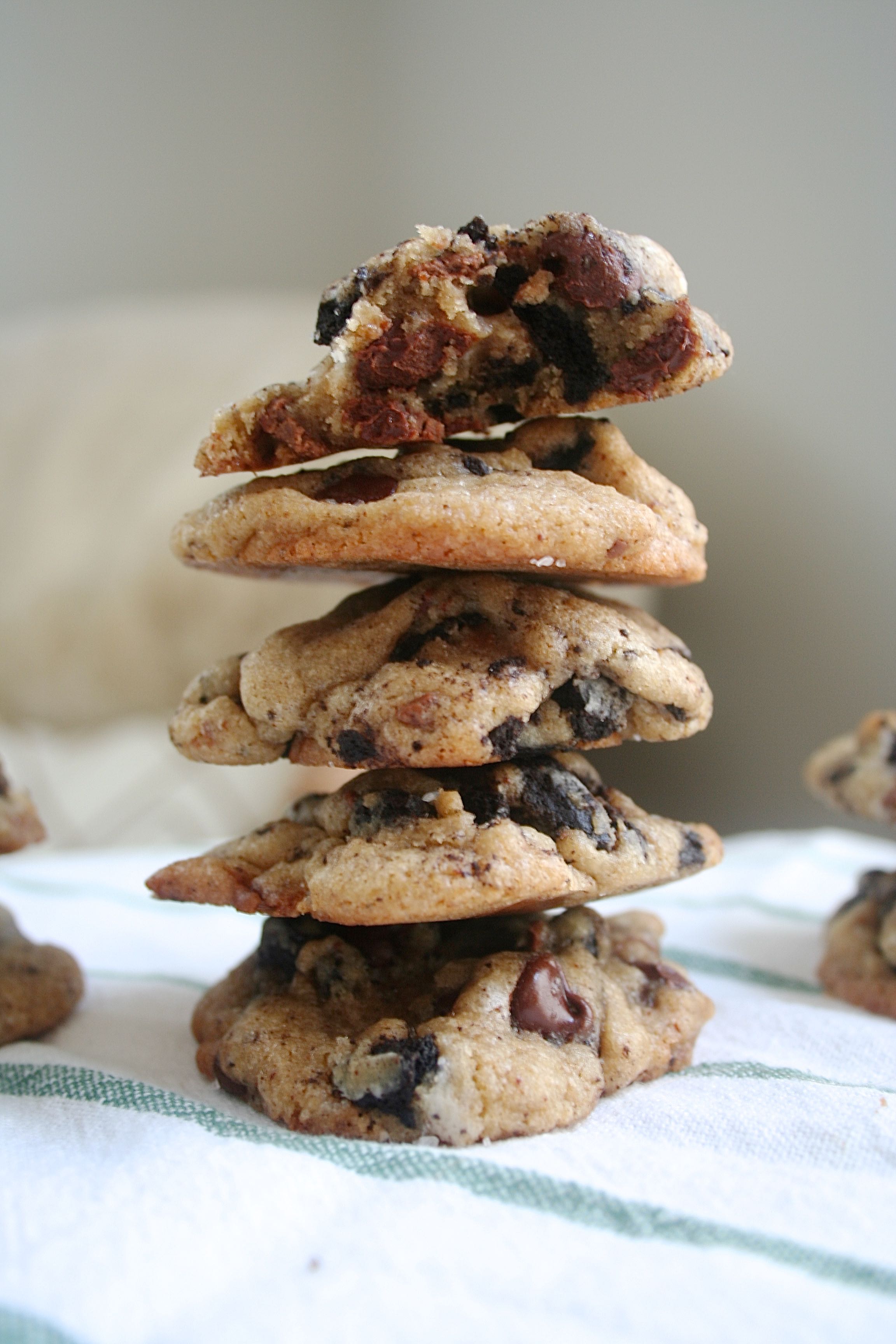 Can you see that texture?  These cookies mean business.  And by business I mean fun.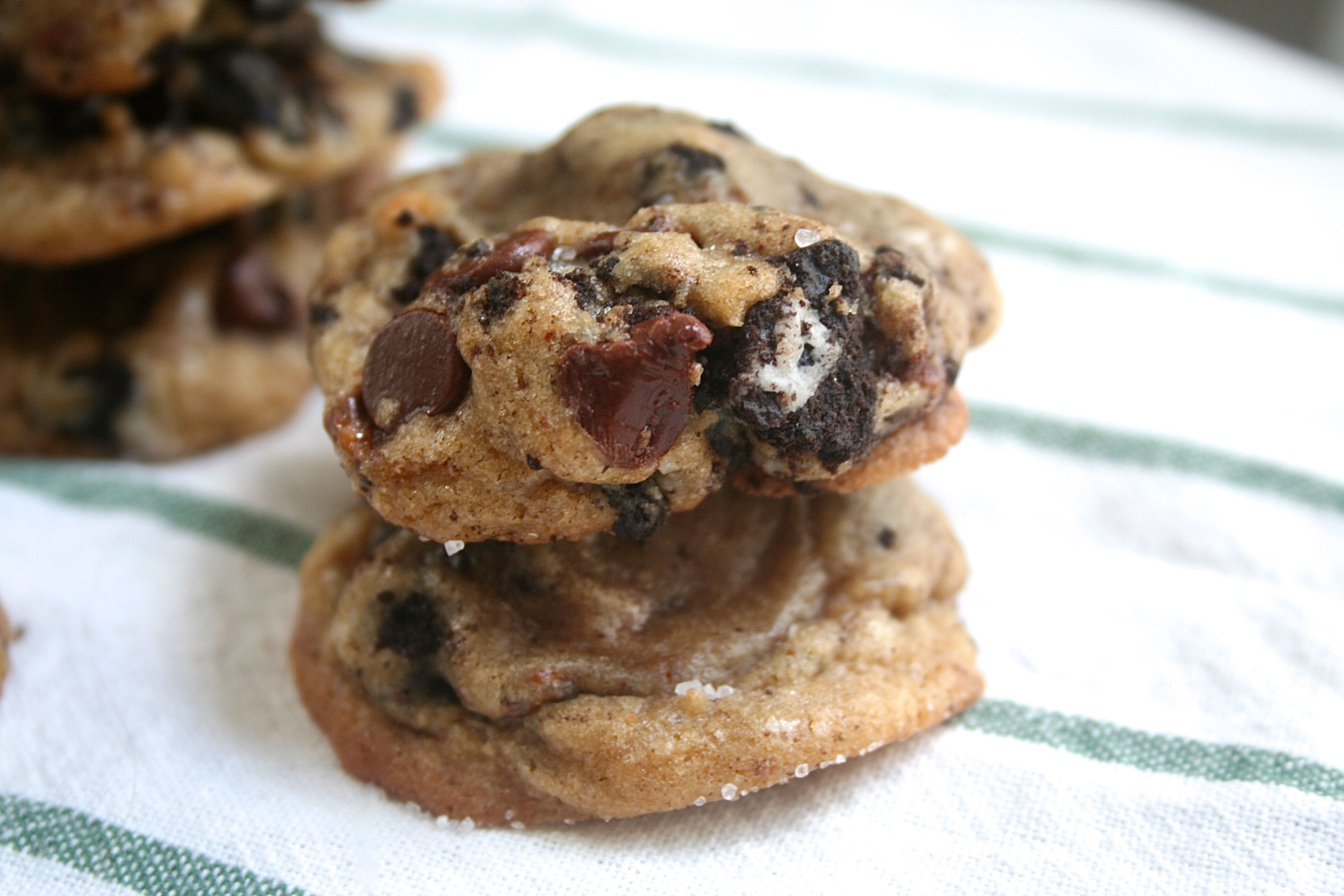 I baked a batch of these cookies to watch the Tony Awards with some friends because nothing works up an appetite like watching people with far more athleticism and talent than I'll ever have.
Browned Butter Oreo Toffee Chocolate Chip Cookies with Sea Salt
(recipe adapted from The Wild Season)
1 3/4 cup all purpose flour
1/2 teaspoon baking soda
14 tablespoons unsalted butter
1/2 cup granulated sugar
3/4 cup packed brown sugar
1 teaspoon kosher salt
2 teaspoons vanilla extract
1 large egg
1 egg yolk
2 cups mix ins (oreos, health bar, and chocolate chips)
coarse sea salt for sprinkling
Directions
Melt the brown butter in a pan on the stove, stirring constantly until you start to see specks of brown surface as you scrape the bottom of the pan.  This is best to do in a lighter colored pan so you can see the color of the butter deepening.  Pour the butter into a heat proof bowl and let it cool in the fridge for 15-20 minutes (don't let it solidify).
Combine the flour and baking soda in a medium bowl. Place the cooled butter in a stand mixer along with the sugars, vanilla, and salt.  Mix on medium until light and fluffy, about 3-5 minutes.  Mix in the egg and egg yolk until combined and then stir in the flour mixture.
By hand, stir in the mix ins.  There will be an impressive ratio of toppings to dough and this is how I prefer it.  Chill the dough in the fridge for at least an hour.  When ready, preheat the oven to 375 degrees and scoop out 2 tablespoon sized mounds of dough onto parchment lined cookies sheets.  Bake for 8-10 minutes until the edges start to turn golden.  Sprinkle with course sea salt while still hot.  I think these cookies are best fully cooled because the health bar bits return to their crunchy glory and the oreo stays soft but not so soft it blends in with the dough.  However, I am definitely not going to stop you from diving into one of these puppies while they're still warm.
I scooped out all the dough initially but then froze most of the unbaked cookies because I'm trying to be a responsible human.  And as a responsible human, I then proceeded to bake 2 at a time pretty much every day until the dough ran out.
We can't be perfect.
Enjoy!