Making challah bread is a love hate process for me.  I love the idea of letting the dough rise, rolling it out, and filling it with whatever I'm fancying.  I'm less thrilled with the sheer panic I feel when it doesn't seem to be turning out right. This time I went with one loaf that had pistachio, marzipan, and cinnamon, and another loaf that had blackberry jam, marzipan, and shredded coconut.  The whole challah baking process is very slow, which makes you take time to focus and do things the long way.  In theory it's all good.  In reality it goes a little something more like this.
Step one: Get really excited about potential challah combinations and clear off your counter space because things are going to get messy. Make 10-12 "challah at your girl" jokes.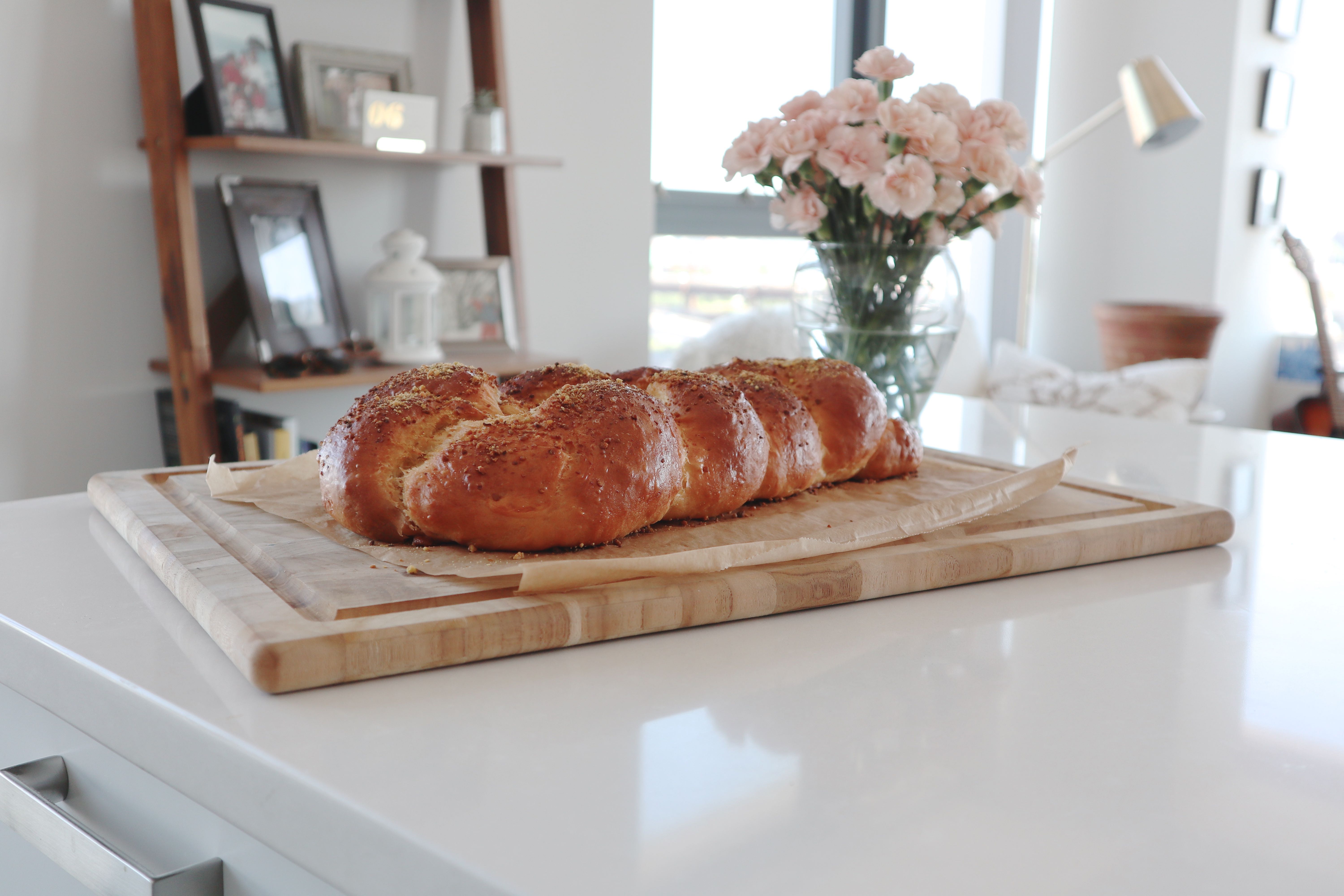 Step two: Take a risk, go for the full batch and watch your yeast mixture accidentally spill all over the impossible to reach space between your oven and your countertop.  Pretend you don't notice.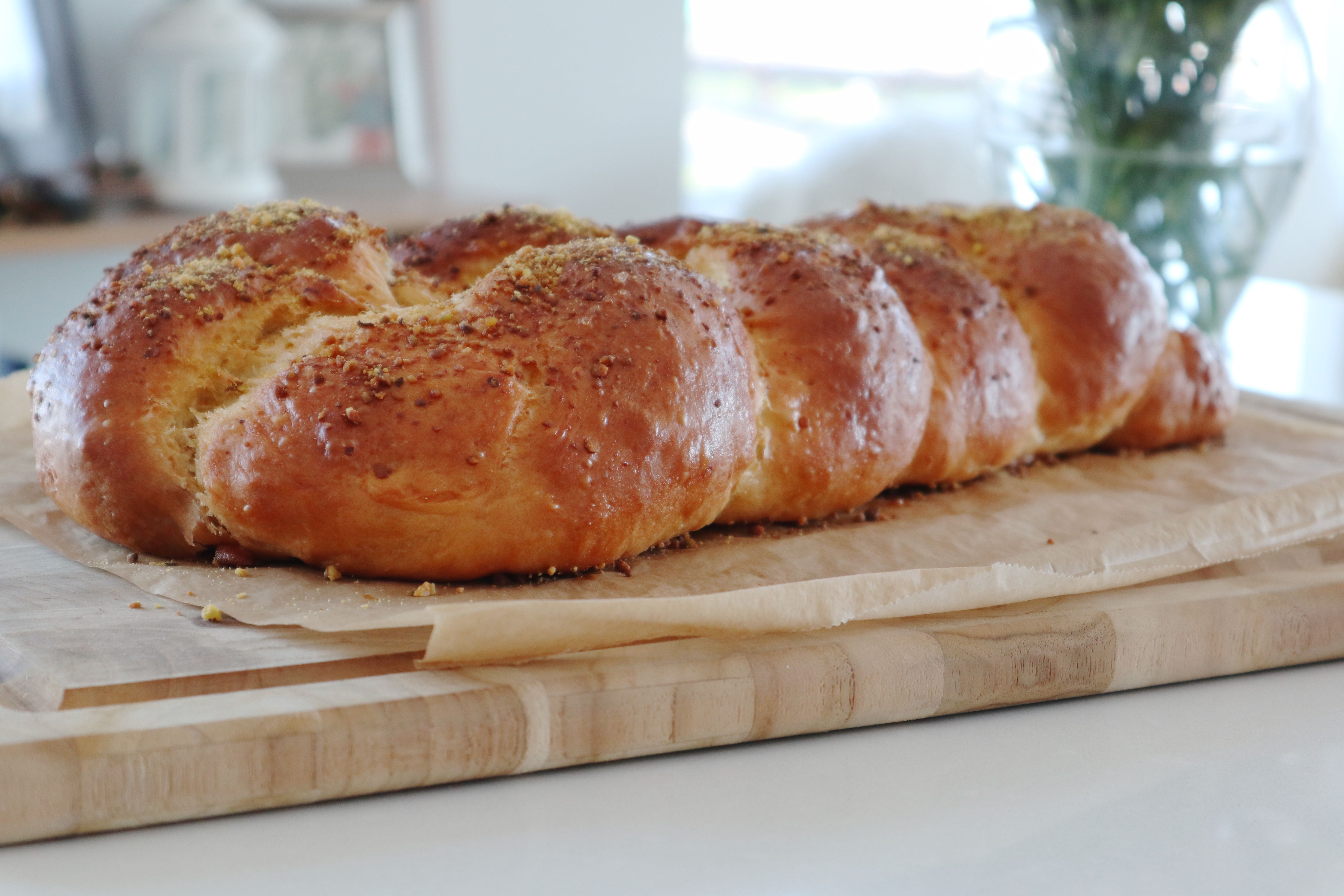 Step three: Ok this looks really sticky, I don't think the batter is coming out ok. Should I add more flour? Are three extra cups of flour considered part of the "add flour as needed" recommendation?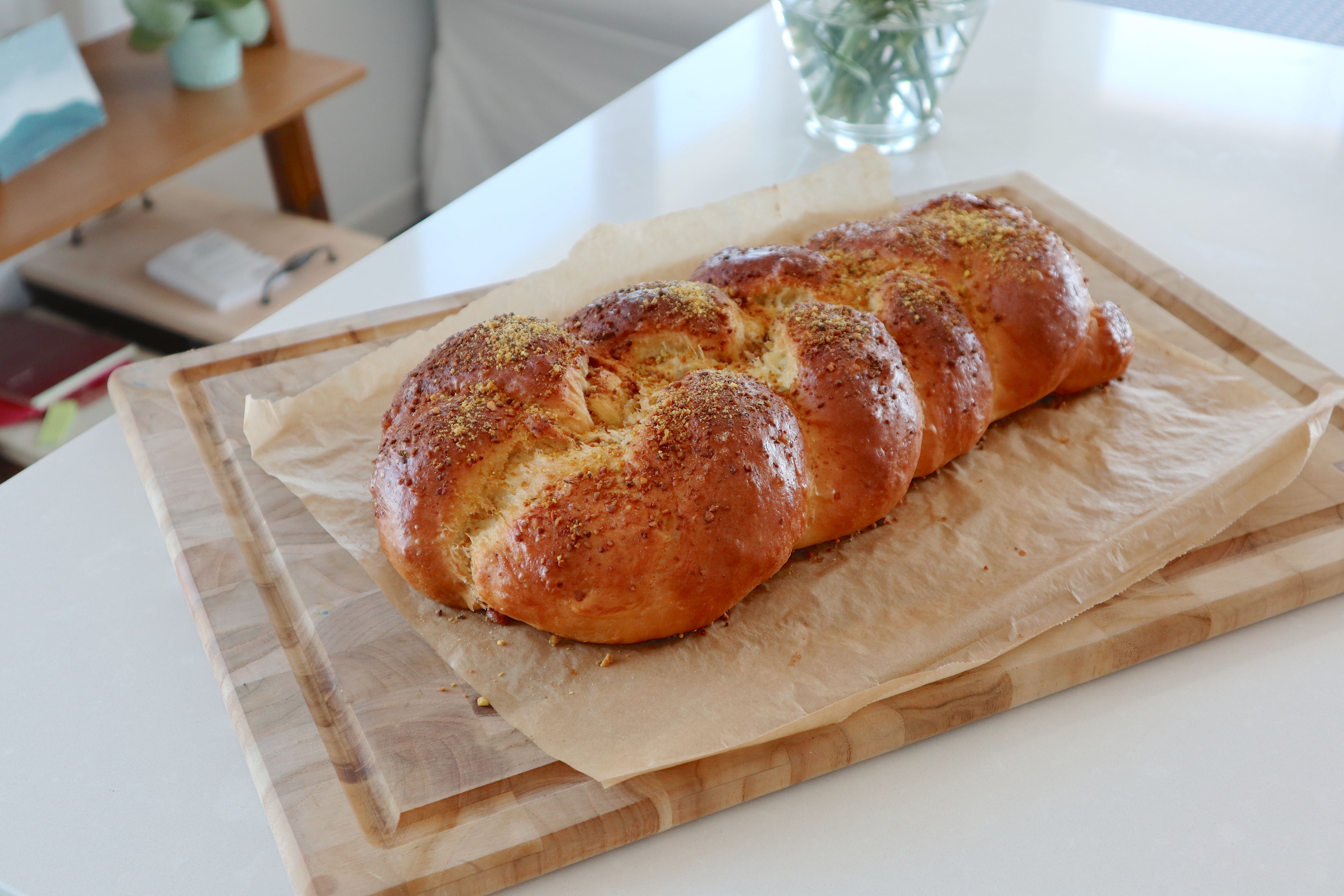 Step four: Anxiously stare at your dough every 15 seconds while it rises. Convince yourself that it is simultaneously rising too fast and also too slow.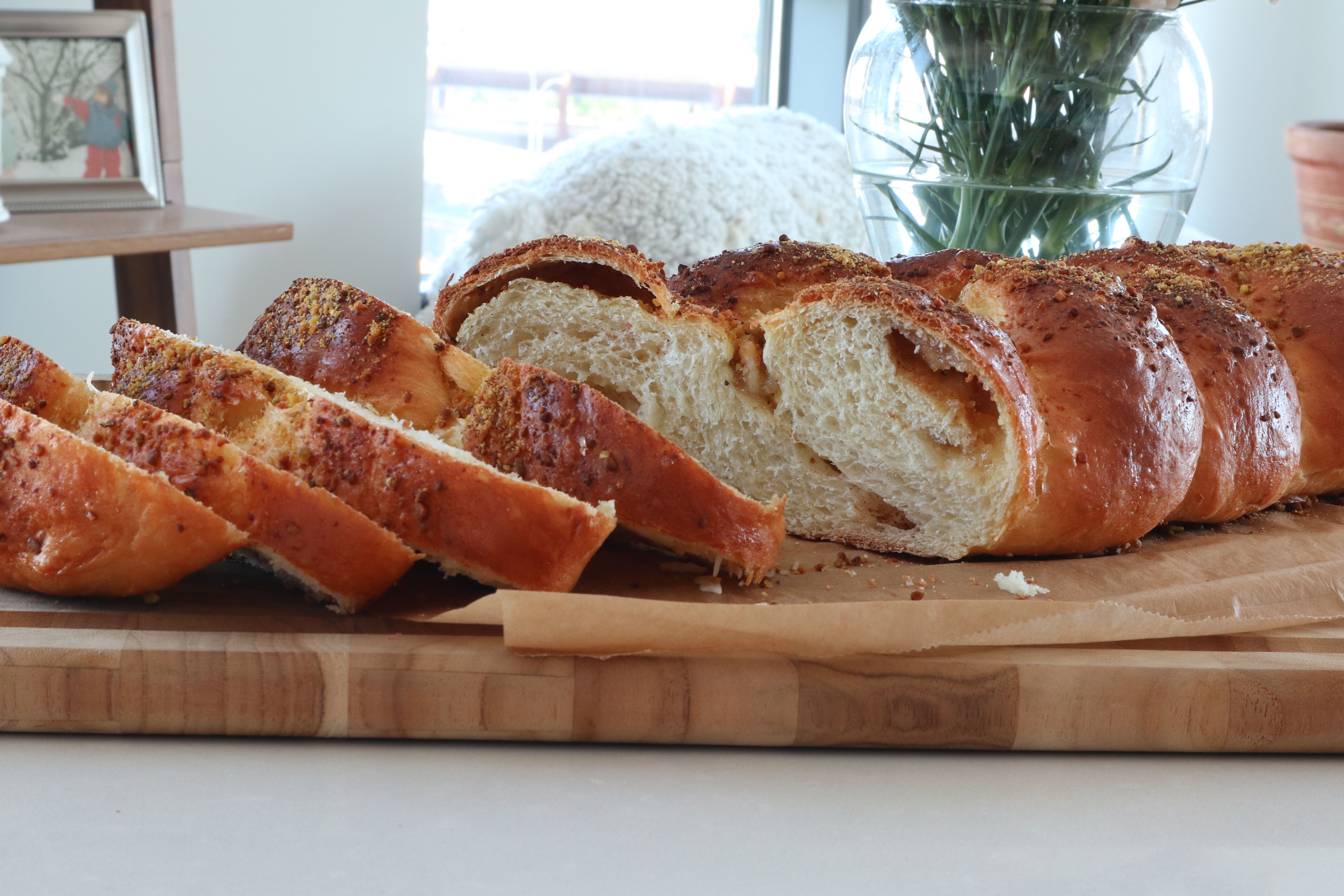 Step five: Roll that sucker out. This is actually pretty fun and you should sprinkle on those fillings like you are the Jackson Pollock of baking.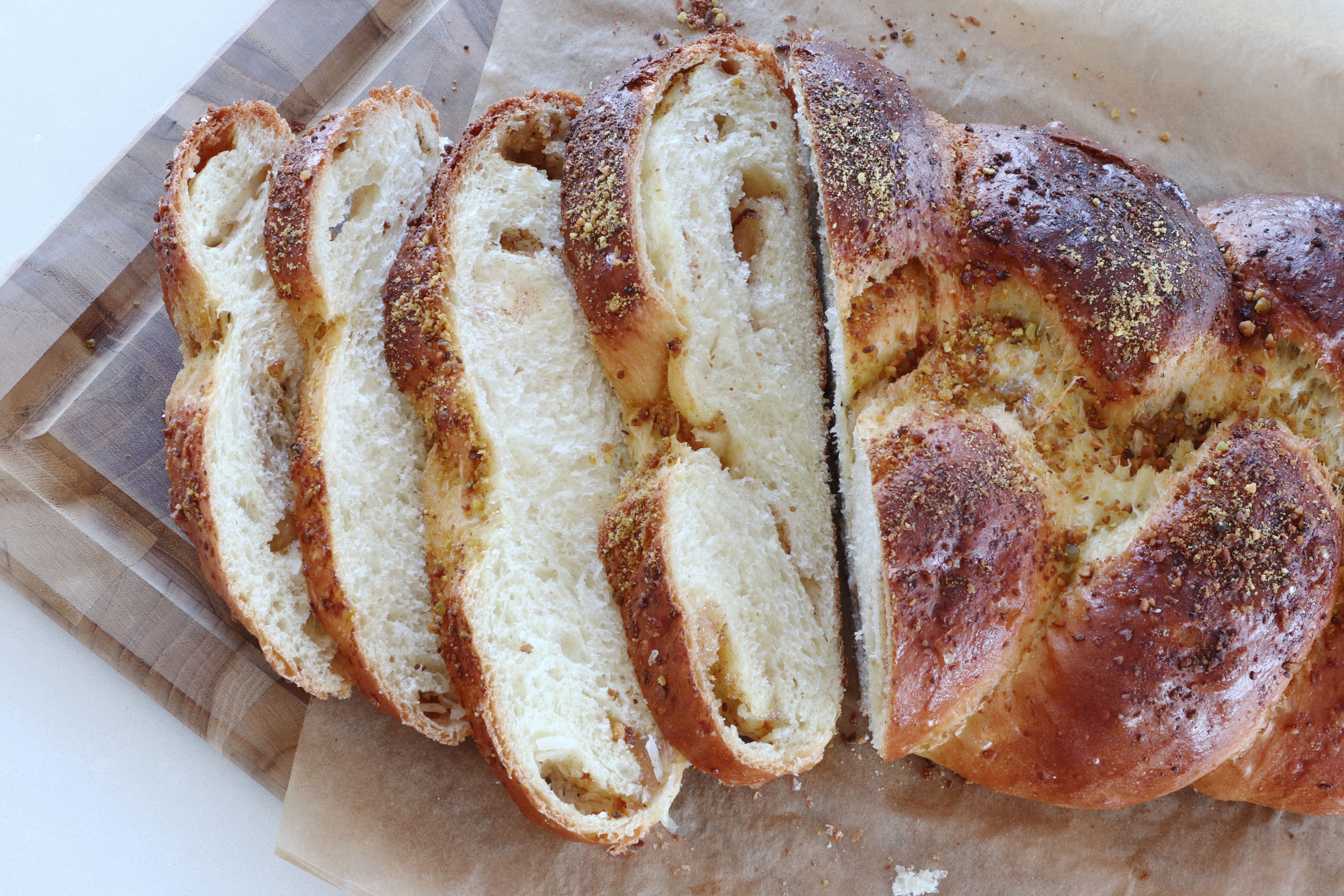 Step six: Shape the dough and get pretty excited about how it looks. Pat yourself on the back for being so domestic and cover it up for the second rise.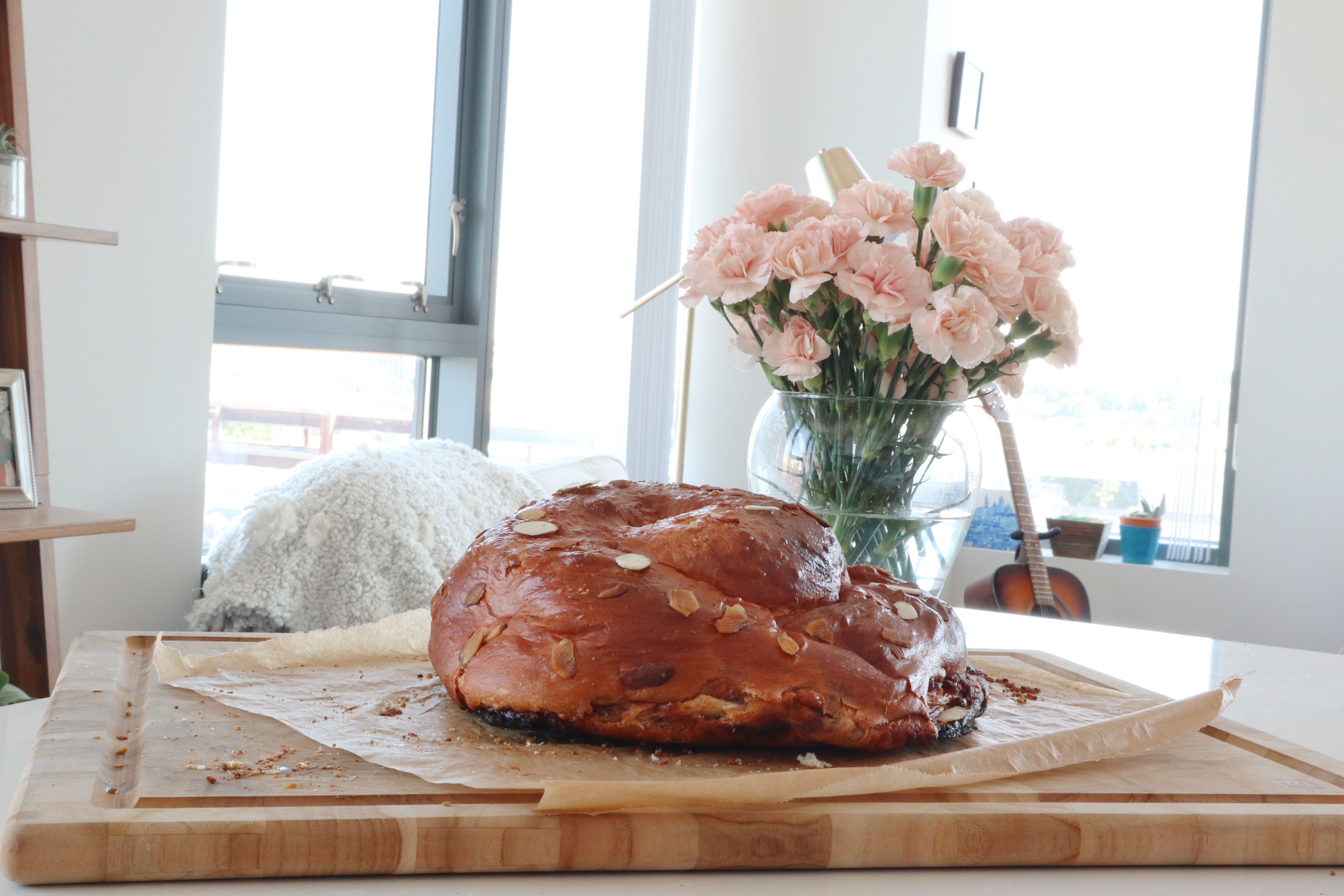 Step seven: OH MY GOD IT'S HUGE AND DEFORMED. It's the jabba the hut of challah bread. Will this even fit in the oven?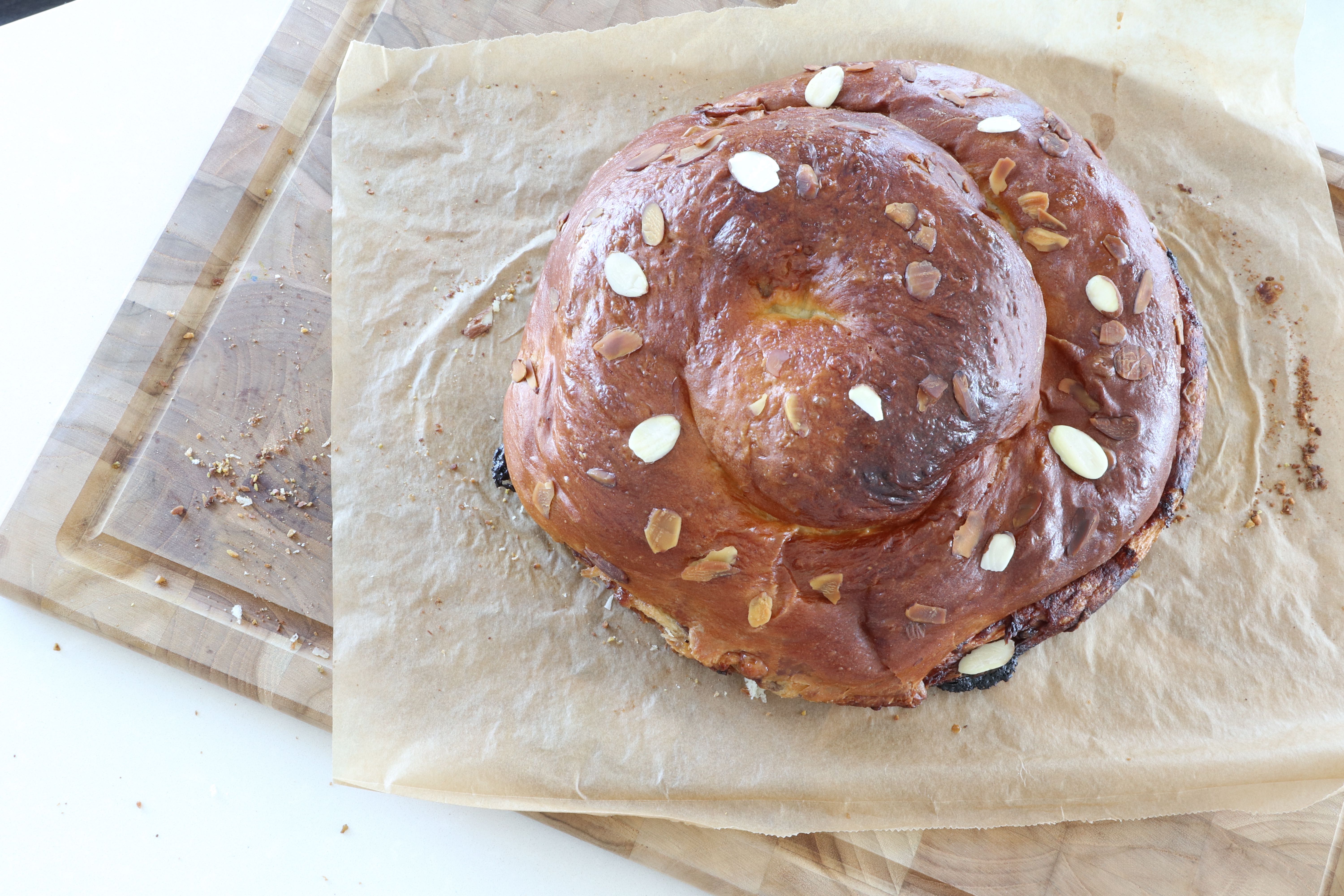 Step eight: Put the dough in the oven and stop body shaming your challah because your kitchen now smells amazing and it's what's on the inside that counts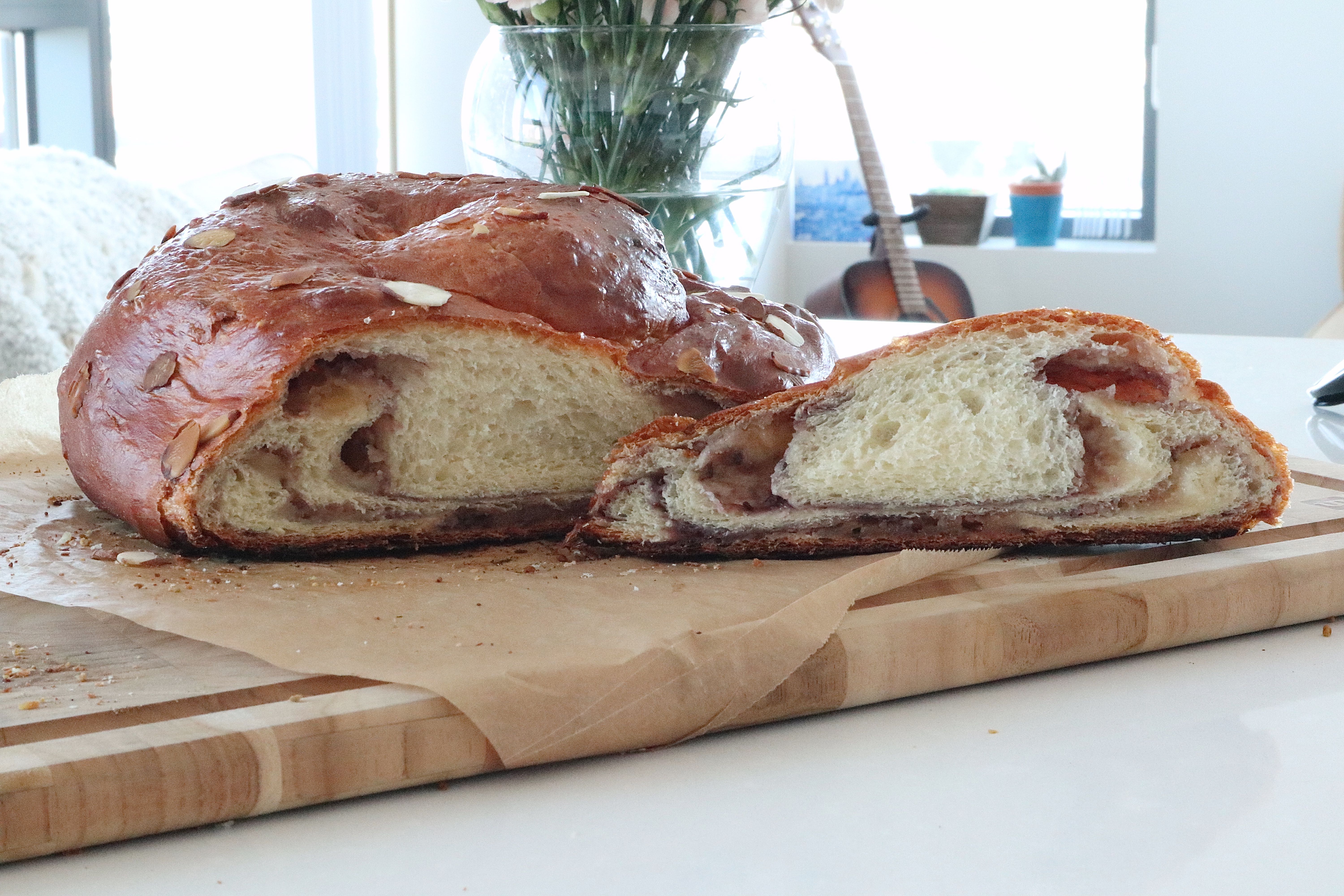 Step nine: She's so beautiful. I never doubted her for a second and I don't know why I don't do this every weekend.  Eat three or four slices warm with butter and honey and bask in feeling like the queen of carbs.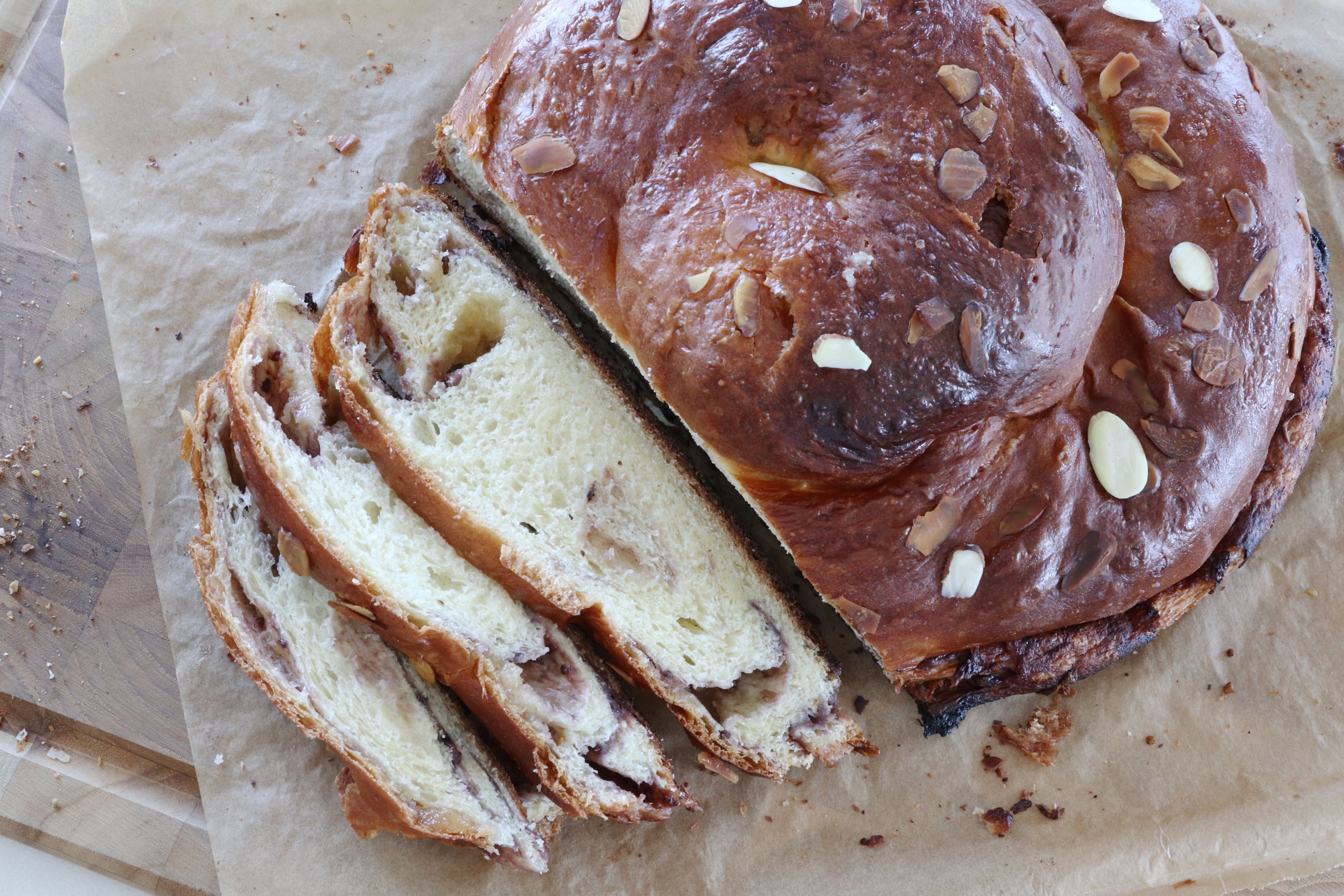 Step ten (the next morning): Admit your freshly baked bread is now already stale and it's time to give it second life as french toast.
In all seriousness, I love this roller coaster of bread baking.  Fresh baked bread and changing into pajamas the second you walk in the door are two of life's greatest comforts.  I've listed the "real directions" below but I think the above steps pretty much sum it up.
challah bread two ways
(recipe adapted from my name is yeh)
This recipe makes 2 loaves and is easily halved.
challah dough
1 1/2 cups warm water
2 tablespoon dry yeast
1/2 cups sugar, plus 1 tablespoon of sugar separated
6 cups all-purpose flour (plus more for dusting your counter and potentially a lot more if things get sticky)
2 teaspoons salt
4 large eggs, plus a 5th egg for the egg wash
2/3 cup oil
1 teaspoon almond extract
marzipan pistachio filling
3.5 oz marzipan
3 tablespoons of butter
1 teaspoon cinnamon
1/2 cup finely processed pistachio nuts, plus more for sprinkling on top
blackberry coconut marzipan filling
3.5 oz marzipan
3 tablespoons butter
1/2 cup sweetened shredded coconut
1/2 cup blackberry preserves
directions
In a pyrex or small bowl, combine the water, yeast, and 1 tablespoon of sugar. Let this sit and get foamy while you measure out your flour, remaining sugar, and salt in the bowl of your stand mixer. Give this a quick stir and attach your dough hook to the mixer.
In a smaller bowl, whisk together your 4 eggs, oil, and almond extract.  Once the yeast has proofed, add it to the stand mixer bowl, immediately followed by the egg mixture.  Mix to combine with your dough hook for 7-10 minutes or until smooth.  I usually need to add some more flour at this point because I can't leave well enough alone.
Transfer your dough to an oiled bowl (a large one because this will double in size) and cover with a damp towel.  Let this rise of around 2 hours.
Once the dough has doubled, divide it into two parts if you made the whole recipe, or use the whole thing is you halved the batch.  On a well-floured surface, roll of the dough to about 10 inches by 14 inches.
Spread your filling ingredients across the surface of the dough, leaving a small border around the edges.  For the marzipan, I break it up into small pieces and sort of flatten those pieces out like play dough with my fingers and distribute it evenly across the dough.  For the butter, it's easiest to stick your butter in the freezer for a few minutes and then use a grater to grate the butter across your sheet of dough, otherwise spreading it can be quite tough.  The other ingredients can just be spread out as usual.
For the seashell shape above, roll your dough into a log starting with the long side, then coil into a circular shape, tucking the end of the spiral underneath the "body" of the dough at the end.
For the braided shape, divide your dough the long way into three equal parts, roll those into logs, and then braid them together. Try to keep the seams closed to prevent the filling spilling out during the baking process.
Whatever shape you choose, transfer the dough to a cookie sheet lined with parchment and cover with a damp towel to let rise for another half an hour.  Preheat your oven to 375 degrees. After the final rise, lightly brush your egg wash (a mixture of the remaining egg and some water) across your dough and sprinkle with a little sea salt, sliced almonds, or pistachios.
Bake for around 40 minutes total, rotating halfway through and creating a tent with foil to place over the top of your bread about 20 minutes into baking.
Challah is best enjoyed that day but if you don't slice into it, it's just as fresh inside the next morning.  If you have cut into it, be prepared to use the leftovers for french toast and be really happy about it.
Enjoy!
SaveSave
SaveSave
SaveSave
SaveSave
SaveSave
SaveSave