I made these caramel shortbread bars back in February and completely forgot to post them until my coworker mentioned she had something similar over the weekend.  Also, I'm not sure why I'm insisting on calling them caramel shortbread bars – these are homemade twix and we all know it.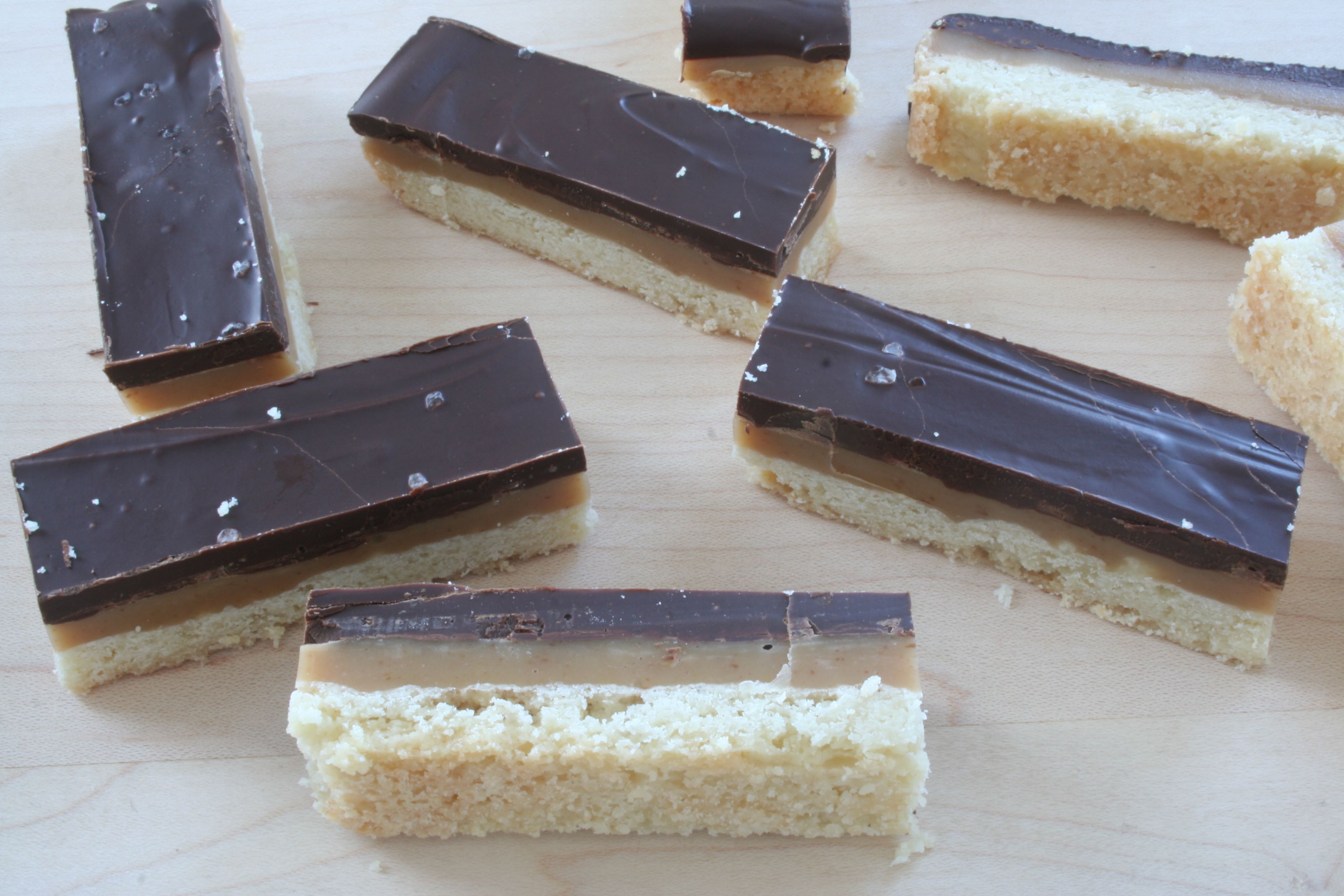 Despite the unnecessary delay, it is pretty perfect timing since it's now October and socially acceptable to buy family sized bags of halloween candy every time you 'need something' at CVS.  Don't ever stop doing that but I also highly recommend also making your own version.  These are basically twix bars on steroids and I feel really good about that.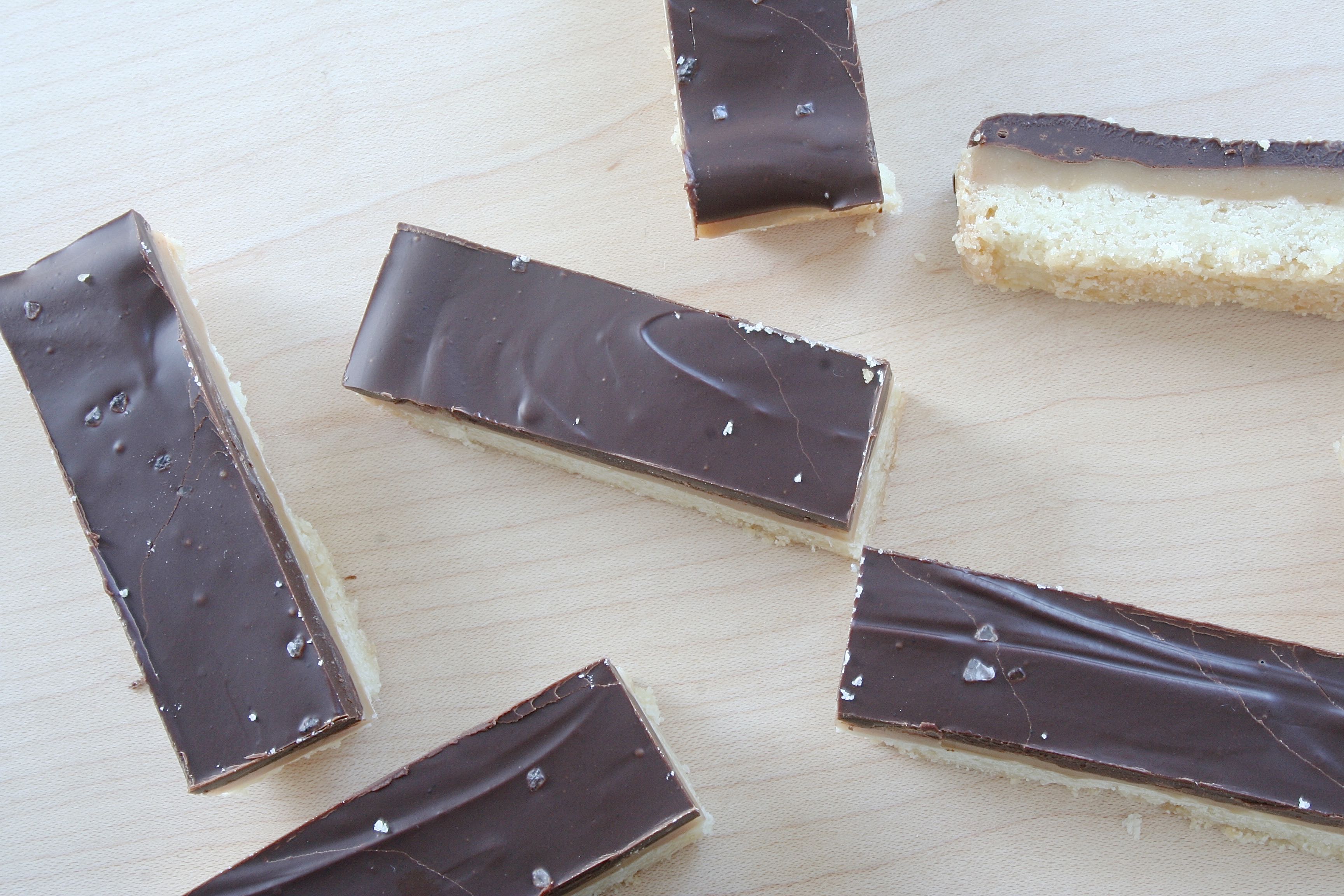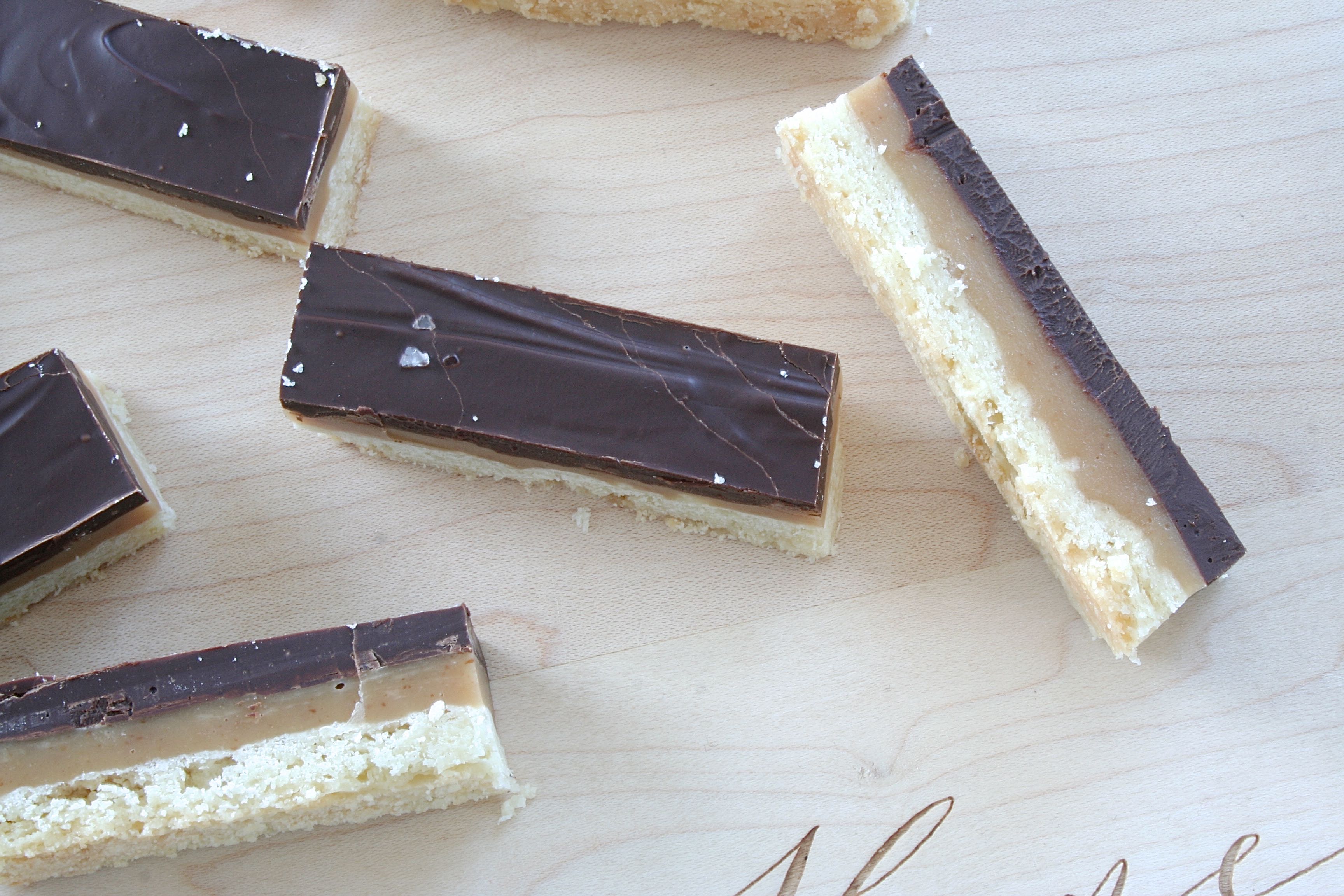 The shortbread is a 3 ingredient wonder and the caramel layer doesn't require a candy thermometer which is super convenient seeing as I don't own one.  You can make these bars in everything from an 8×8 pan to a 9×13 depending on how thick or thin you want the layers to be. I think the above bars were made in a 9×9 inch pan because I never have standard sized pans around when I need them.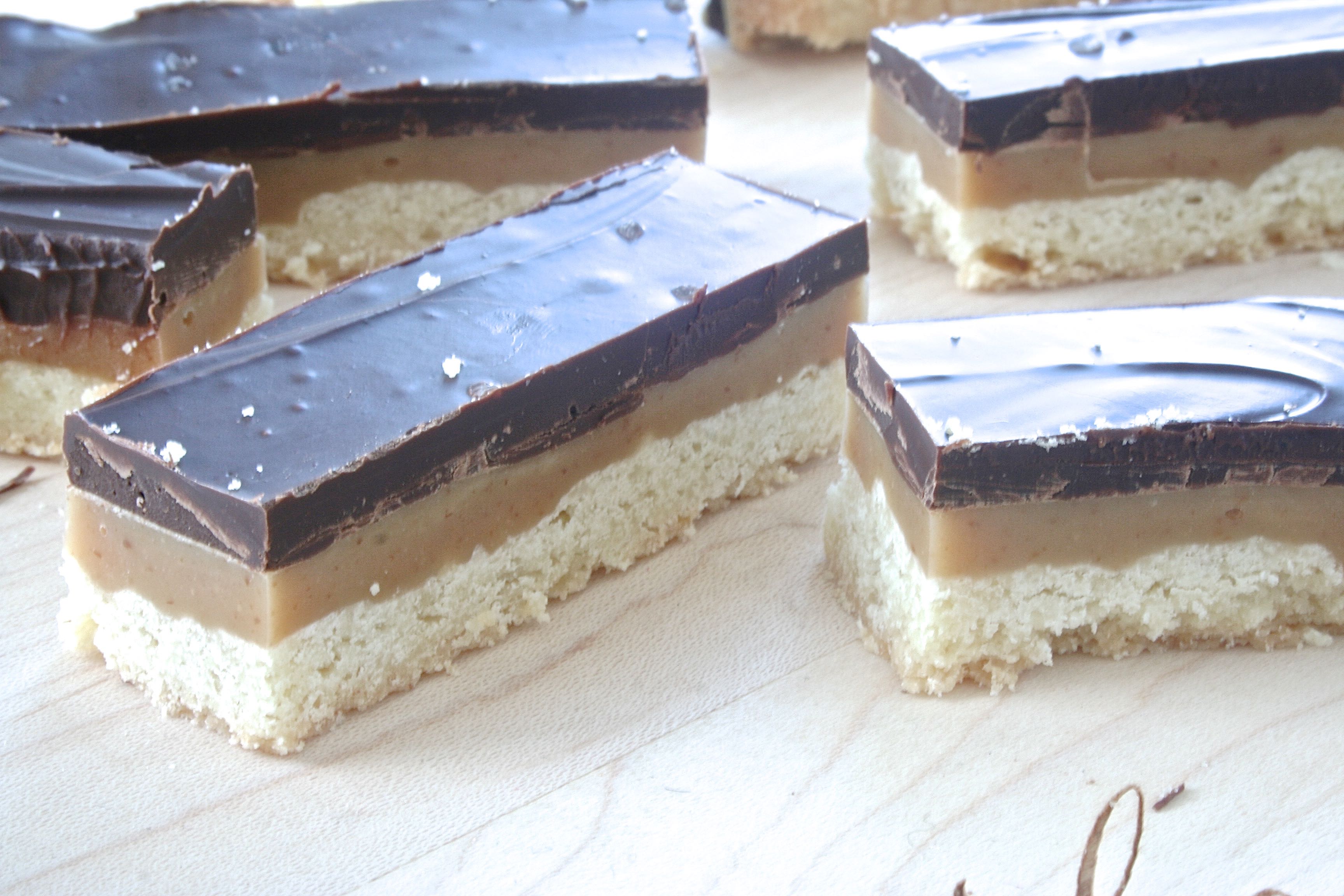 I'm now really attached to the idea of having a halloween party where it's all homemade candy and spiked cider and there's a 15% chance I actually make this happen so who wants to come?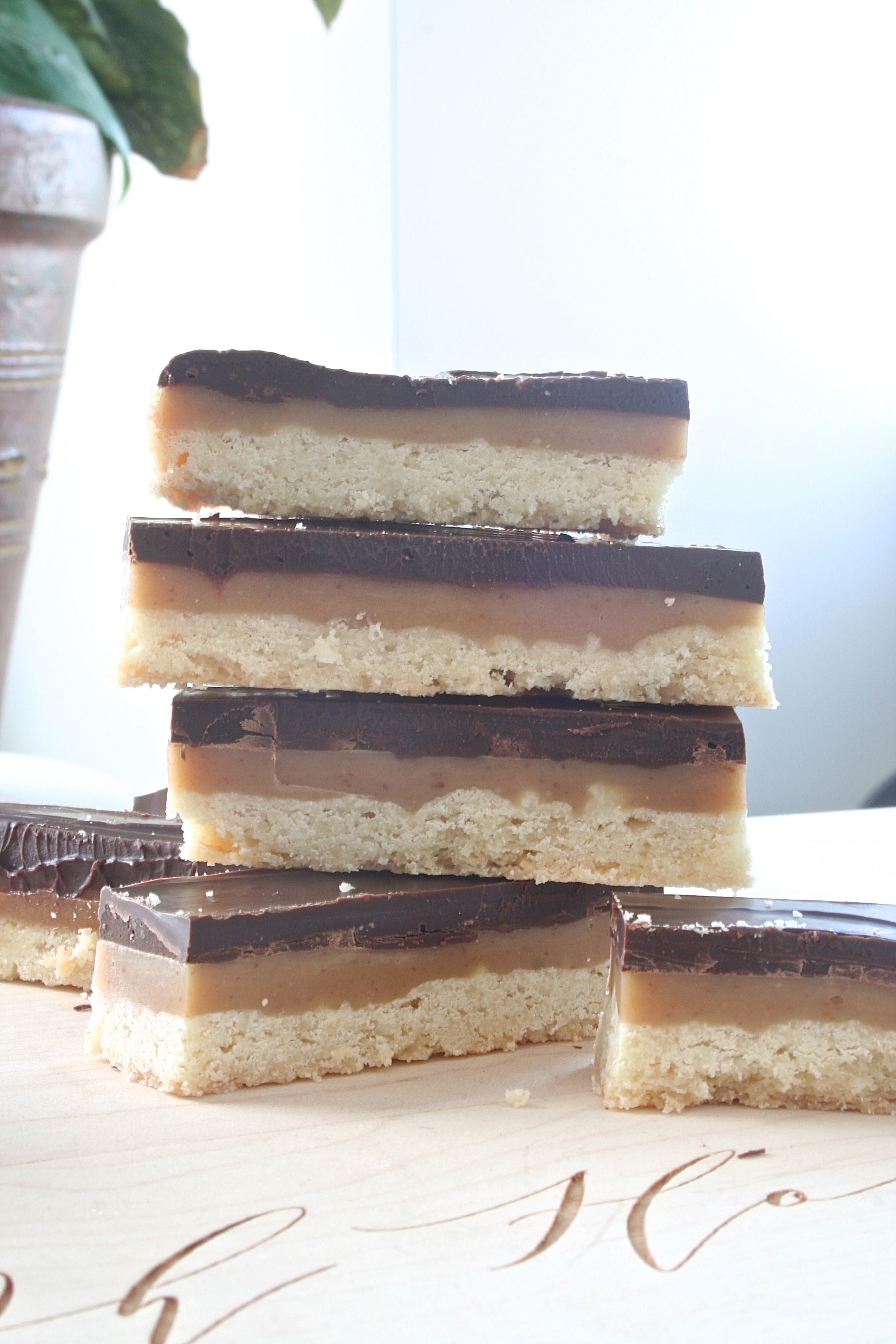 Please RSVP to my halloween party but also bring plates and cups because I'm in between apartments and don't have either.  I have twix though.
caramel shortbread bars
(recipe from sweet, salty, tart)
shortbread
1 1/4 cups all purpose flour
1/4 cup sugar
1 stick unsalted butter
1/2 teaspoon salt
caramel
1 can sweetened condensed milk
1/2 cup sugar (brown or white, both work)
3 tablespoons corn syrup
1 stick unsalted butter
salt to tast
chocolate
8 oz of your favorite chocolate (I used dark)
1 teaspoon olive oil or coconut oil (I find this helps the bars not shatter when you cut them but it's optional)
directions
Preheat your oven to 350 degrees and line your pan (8×8 up to 9×13) with foil.
Using a pastry cutter or your hands, cut the butter into the flour, sugar, and salt until it looks lumpy but you can squeeze it together a bit to press it into your pan.  Press the dough into your prepared pan (it will seem dry, it's fine) and bake for 20 minutes.
As the shortbread bakes, combine your condensed milk, sugar, and corn syrup over medium heat until thickened and browned.  Stir throughout this process and when it starts to look like caramel, you've done it.  Take this off this heat and stir in your butter. This takes a little whisking energy so don't panic.  Pour the caramel over your shortbread crust and smooth it out evenly.  I sprinkled some sea salt on at this point for good measure.
For your chocolate layer, just melt your chocolate and little bit of oil and then pour over your caramel.  You can use a double boiler for this or do it in the microwave in 30 second increments.  Sprinkle a little salt over this too.
Cool your bars into the fridge until they are set up (an hour? I forget but it's not long).  Slice them into whatever shape you fancy.  I'm now a little disappointed in myself for not getting creative here so I probably have to make them again.
Enjoy!